Snowboarding has always been dominated by big corporate brands that manufacture the largest portion of new snowboards. While these boards have the notoriety and reputation, they often lack the personal touch and care that a smaller independent snowboard brand has.
Public Snowboards is a grassroots snowboard company started by pro rider Joe Sexton. Started in 2015, they are a relatively new company to the board space but are already making waves with the products they put out.
Let's check out what Public Snowboards offers and determine if they truly are good boards.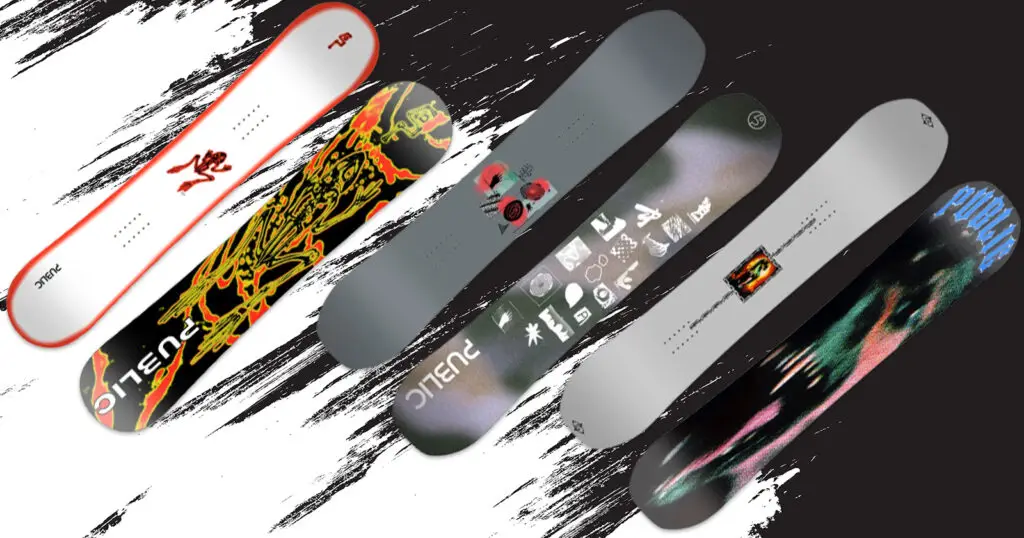 What's the Public Snowboard Selection Look Like?
When looking at snowboard selections we're generally used to seeing large lineups with a diverse range of boards that fit into niche categories. Public Snowboards take a quite different approach.
Each year Public Snowboards only release around five boards. They have some very specific models that they run, and over the course of their inception really haven't changed these around too much.
If you're looking for a unique shape or a board with a special purpose, Public might not have what you're looking for. Every board they offer fits under the all-mountain category, with most leaning towards the freestyle side of things. They don't offer separate boards for women or youth and lack longer board sizes for larger people.
However, the boards they do have they do right. You can feel confident in your purchase knowing it was designed by a pro rider himself, with other snowboarders in mind.
For the smaller board selection – while still acknowledging the brand is relatively new – we rate them a 7 out of 10.
What is the Quality of Public Snowboards Like?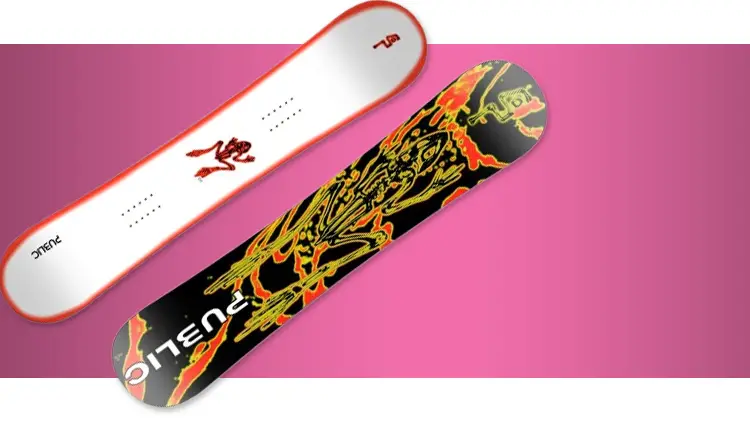 Prospective buyers will know that the utmost quality goes into constructing Public's snowboards, as Joe Sexton is integrally involved in the entire process. He's mentioned in multiple interviews how he only wants to put out snowboards that are tried and true.
Public doesn't spend a whole lot of time and resources experimenting with (and advertising) obscure snowboard technologies. At the end of the day, the basic qualities of a well-constructed snowboard are easy to identify, and Public doesn't try to push it.
Most of their snowboards rely heavily on flat base camber, which is an interesting choice. It's a personal riding preference of Joe Sexton that seems to seep down into all his board designs. Some boards do have "micro-camber", but for the most part, they are flat or rocker dominant boards for optimum jibbing flexibility.
For the overall rider-oriented attitude Public puts into their snowboards, minus the advanced technologies or camber styles, we rate quality at a 7.5 out of 10.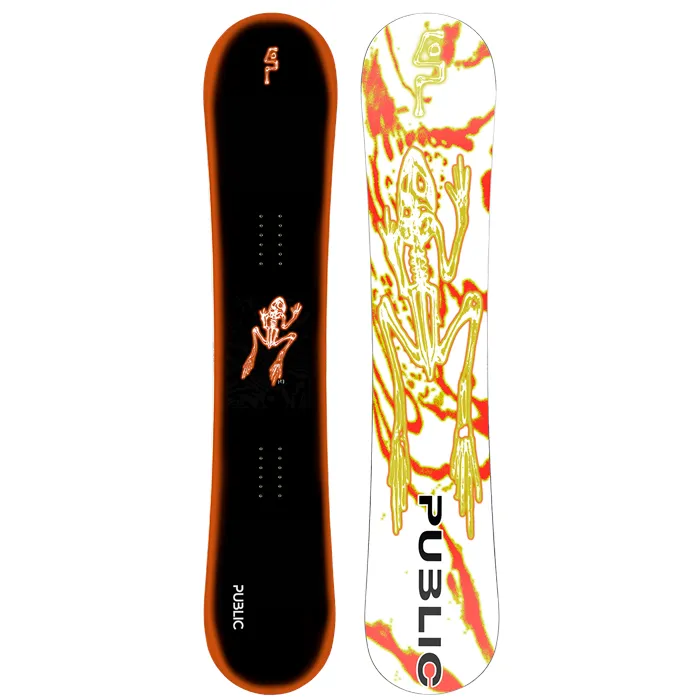 Public Snowboards Price – How It Compares to The Industry:
When it comes to pricing, Public is very reasonable, and their prices align with the rest of the industry. Every board offering falls within the $400-500 range which is typical for a brand-new board from any brand.
Amongst this range, Public offers more price-conscious boards as well as higher-end models. The Public General is the most affordable board geared towards the average snowboarding population. Going up the scale, the Public Dispute has a few more bells and whistles and core technologies making it priced closer to $500.
With typical pricing, Public comes in at an 8 out of 10.
Public Snowboard Graphics: The Art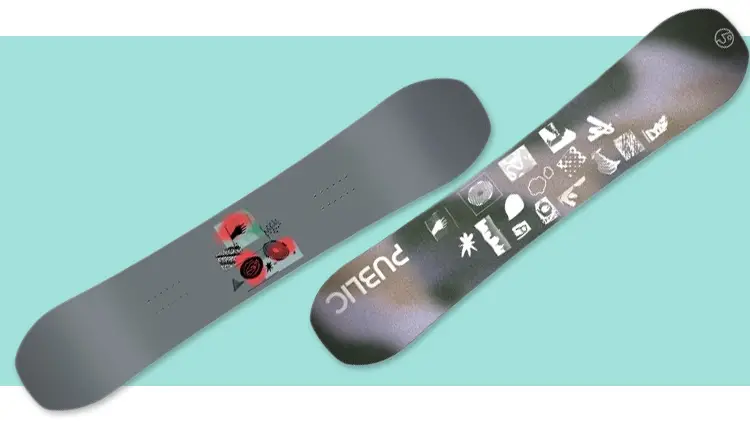 The artwork on Public Snowboards is where the brand really shines and where the designers put the most effort. All board graphics are done in-house by their art director Josh Manoles.
The graphics on their pro model boards are entirely influenced by the riders who ride them. Each of these boards has an individualistic style to them that reflects the pro rider's personal tastes and touch. Public tries hard to go against the grain when designing the graphics of their boards.
They choose to "take a risk" and incorporate complex patterns, vintage photo prints, and other alternative design elements. Some of their snowboard graphics are literal hand-drawn sketches printed onto the base. Pretty sweet.
Certainly unique, Public truly focuses on bringing originality to their snowboard designs. We rate them a 9 out of 10 for creativity.
Read More:
Check Out the Top 21 Snowboard Brands (Ranked)
What are the Best Public Snowboards right now?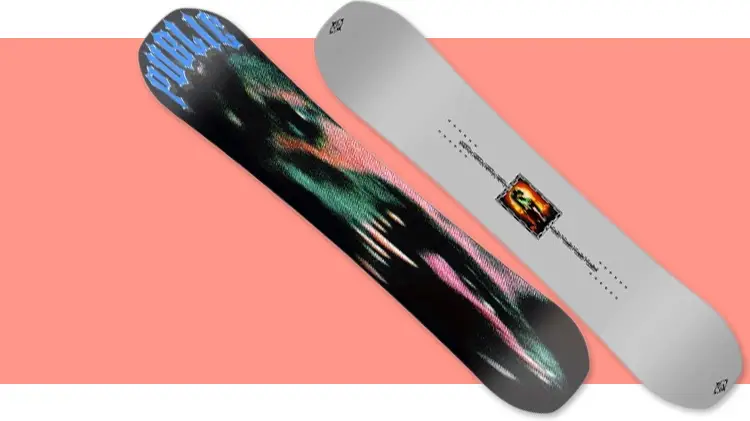 While there isn't a huge variety to choose from, there are two snowboards that really stand out to us:
Public General – This is the most affordable and beginner-friendly board in Public's lineup. Unlike other boards, the General features traditional camber between the bindings, with rocker on the tip and tails.
This is a pretty customary board profile, and it promotes optimum float while retaining responsive pop.
Public Disorder – The Public Disorder is the Joe Sexton pro model. Aligning with his riding style, the Disorder is geared towards street and park style riding. Extraordinarily flexible, it can handle all the bumps and grooves that street riding demands.
This board has a small micro camber between the bindings for extra stability.
Additionally, all Public Snowboards feature Urethane sidewalls, a much more durable material than the traditional P-Tex or ABS used by other board brands. This results in increased dampness, as well as more durability against delamination.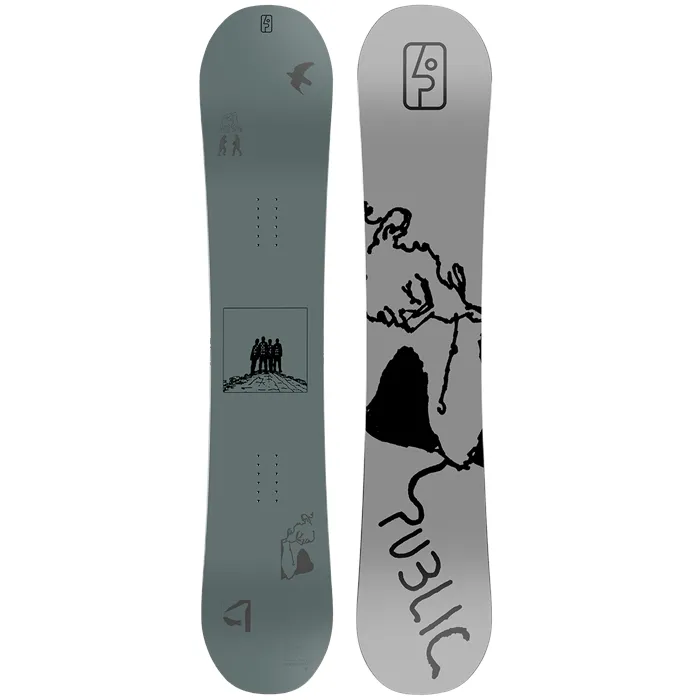 So Are Public Snowboards Good?
Public Snowboards is a unique board brand that is still new to the market. While the big box brands have been around for decades and have amassed a devout following, Public isn't afraid to charter something new. For this, we commend them.
They seem to take a very simple approach to snowboard manufacturing, focusing solely on the raw utility of what makes a good board. They don't experiment with crazy shapes or designs and stick to classic profiles. Take this for what it's worth.
If you're looking for a snowboard that screams "futuristic", Public may not be for you. However, if you know exactly what type of board you like to ride, and appreciate unique and creative graphics, Public Snowboards will be right up your alley.
Our total rating for Public comes in at a healthy 8.1. With years ahead of them, they have nowhere to go but up.