Updated August 15, 2023 by Jessie Gonzalez. This post contains affiliate links at no extra cost.
Have you seen those snowboards that look like they were cut from the center of a tree, flying down the slopes? Those are Arbor snowboards. Famous for their snowboards that have a natural and refreshing feel in a world of ever-advancing plastic, metal and carbon. But, are arbor snowboards good?
Just because something looks good doesn't always mean it is good. Read on to find out are Arbor snowboards good and should it be a snowboard to consider.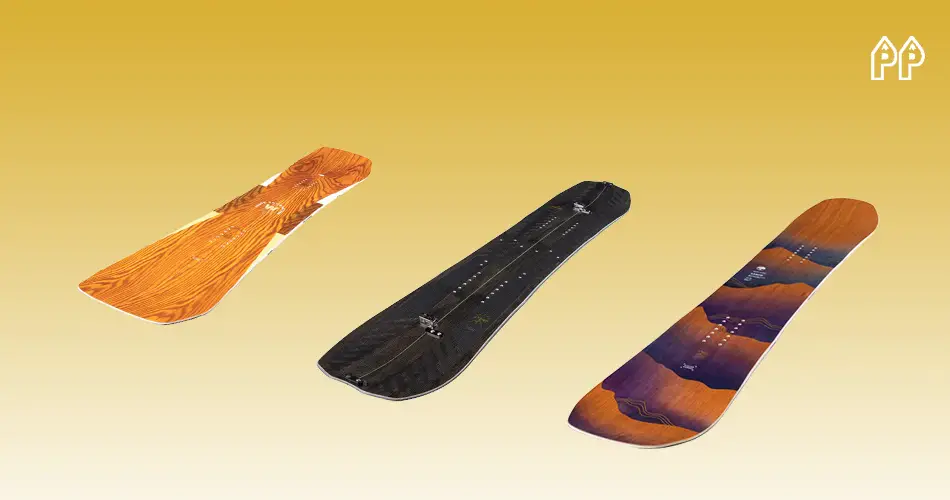 Types of Arbor Snowboards: The Selection
Arbor snowboards have an all-around offering of snowboards but some of their best options are below –
Women's
Splitboards
Camber
Rocker
While many companies don't have big lineups of women's snowboards, Arbor snowboards certainly do. They have both women and unisex snowboards in addition to their men's line of snowboards.
From there, you can niche down and find camber, richer and splitboard specific snowboards. You can even rock their signature Bryan Iguchi boards.
Again, you don't see too many companies putting out as many splitboards as Arbor as they do with their women's snowboards too. It just goes to show that Arbor embraces the natural experience, the uncharted and the freshest lines. They can set you up to explore the unknown.
While splitboarding isn't for everyone, it is if you want to skip the lift ticket, skip the lines and see fresh pow. If that sounds enticing then let's get to the quality. You might just end up splitboarding with an Arbor snowboard this year.
We give Arbor a high 9.1 for the crazy selection of snowboards they are putting out in different styles to choose from. Grab an Arbor snowboard and we may receive a small commission from the links in this post which we'll use to run Proper Peaks, so we appreciate you.
Arbor Snowboards Quality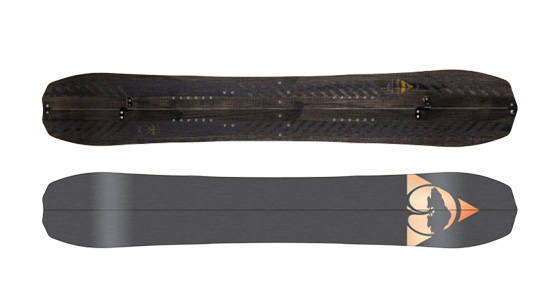 Compared to the other boards we have ridden, Arbor quality is up there with the top of them. They use premium materials when crafting their boards such as Popular and Bamboo. If you want a poppy core, they have it. If you want something stiff as a rod to carve a steep, they got it too.
Overall their quality is impressive for the price. The edges are as sharp as you'd expect from any high-end board manufacturer. The graphics and finishing are very well done if you visit a shop and look at a lot of Arbor boards up close. Clearly, their quality control is doing their job before letting the boards out the door.
We find that you can count on Arbor's quality if you take care of their board and surely can get season after season out of it.
We rate the quality of Arbor snowboards as a 8.7 out of 10.
How The Quality Compares to The Price
So what about the price? Arbor snowboards have boards priced all the way from the $400 range up to the $800 range. They are packing quality into all their boards no matter the price point, all while being eco consensus.
100% of their snowboards are made using power from solar. Many of the sidewalls are made using recycled abs and many of the edges are made using recycled steel. Arbor collective has even been introducing "no waste bases". They basically cut the snowboard bases using a die and reduce waste in the manufacturing process.
At the higher price point, a lot of the bases are sintered which makes them easy to fix if you get a ding on the trails.
We rate the affordability and price of Arbor snowboards at a solid 7.4 out of 10. Plus you can just forgo the season pass and grab a splitboard. It's almost an even trade-off or money-saving proposition.
Arbor Graphics
While Arbor snowboards aren't super flashy, they have their own style. You can't find another mass snowboard brand that makes the wood shine through as good as Arbor. Sure, they might not be about all the crazy monsters and aliens but they put out some funky boards suck as the Frank April Westmark if you are lucky enough to get your hands on it.
Their boards like the Westmark Rocker and Camber that go hard on the wood are more than a board to just beat up on the trails, they are a showpiece in the off-season. While some people might want something flashier than Arbor, we love what they are turning out each year. They stick true to the outdoors, let the wood shine through and keep it mellow.
Arbor snowboard graphics are a respectable 8.7 out of 10.
The Best Arbor Snowboards
If we had to pick our top three Arbor snowboards, they would be as follows –
The Arbor Westmark
Arbor Women's Swoon Rocker
Bryan Iguchi Pro Splitboard
The Westmark is a staple and really shows off everything Arbor can put out in a good-quality snowboard. Meanwhile, the Swoon Rocker is a treat for women snowboarders who love the powder.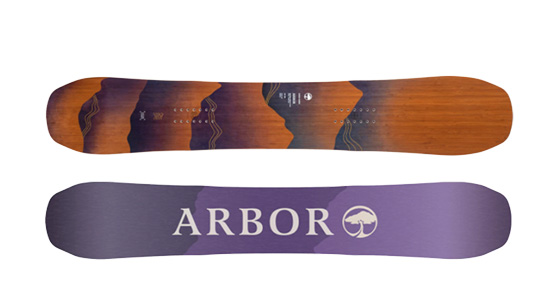 You just get a close connection to the company and the outdoors when buying a board that highlights as much wood as Arbor does. There is something different, something special compared to these super plastic-heavy companies.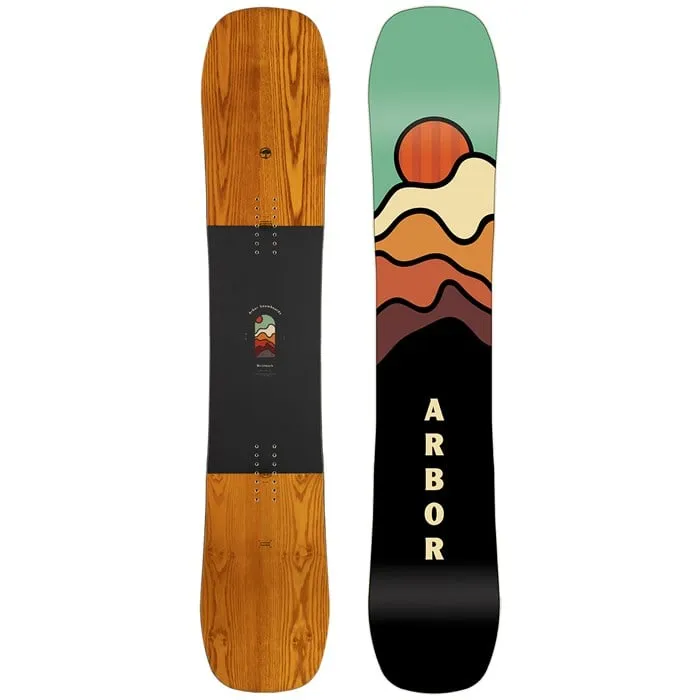 Lastly, Arbor brings everything they stand for together with the Bryan Iguchi Splitboard. It is environmentally friendly but all about exploring the winter environment. They want you to get off the slopes, ditch the mainstream and go back to classic snowboarding in the sense of exploring new terrain. You can't go wrong with any of Arbor's splitboards, they are all good but the Bryan Iguchi Pro Splitboard is exceptional.
Final Thoughts if are Arbor Snowboards Good?
Arbor snowboards are certainly a good snowboard for the mountain. When considering the price, quality, selections and graphics, we give Arbor snowboards a 8.5 out of 10.
That is a great score, any day in our opinion. On splitboarding days, we will certainly keep Arbor in the mix. Not only do you have fun riding their boards but you feel good about the environmental and social impact too!