Updated August 17, 2023 by Alec Wilson. This post contains affiliate links at no added cost.
If you have ever had the thought of using a knee brace while skiing then you might just need one. The best lightweight knee braces for skiing will not only help you stay on the mountain longer but they should be almost unnoticeable when skiing. They reinforce the muscles and ligaments while you ski and also help prevent future injuries. Knee braces for skiing aren't just for aging skiers but rather proactive skiers.
We'll explore some of the biggest questions surrounding knee braces and skiing, while exploring some of the best lightweight knee braces for skiing as well.
Should I Wear A Knee Brace for Skiing?
Knee braces are often used by people who participate in sports that involve a lot of lateral movement and twisting of the knee, like skiing. A knee brace can help to protect the ligaments in the knee from being injured when skiing.
If you are new to skiing, or if your skiing involves a lot of jumping or turning, you may want to consider wearing a knee brace. Also, if you are older or have had previous knee injuries then in can make sense to wear a knee brace when skiing.
However, not everyone needs to wear a knee brace when skiing. If you are an experienced skier who doesn't do any tricks and doesn't ski on difficult terrain, you may not need one. In fact, wearing a knee brace can actually be more harmful than helpful in some cases, because it can restrict movement and make it difficult to ski properly.
Talk to your doctor or physical therapist about whether or not you should wear a knee brace when skiing is one of the best things you can do. If you are in doubt then a lightweight knee brace for skiing is a good option. Start with a lightweight knee brace and move heavier if needed.
Do Knee Sleeves Help Skiing?
Knee sleeves are one of the best things you can wear skiing if you need more support around you knee. Knee sleeves are the lightest weight solution in terms of all knee braces.
One good thing about knee sleeves is that they can be worn for a full skiing day. With that being said, some people get concerned of rubbing from a knee sleeve. The best way to prevent rubbing from a knee sleeve while skiing is to wear it overtop of a pair of cold gear leggings.
What to Look for In a Skiing Knee Brace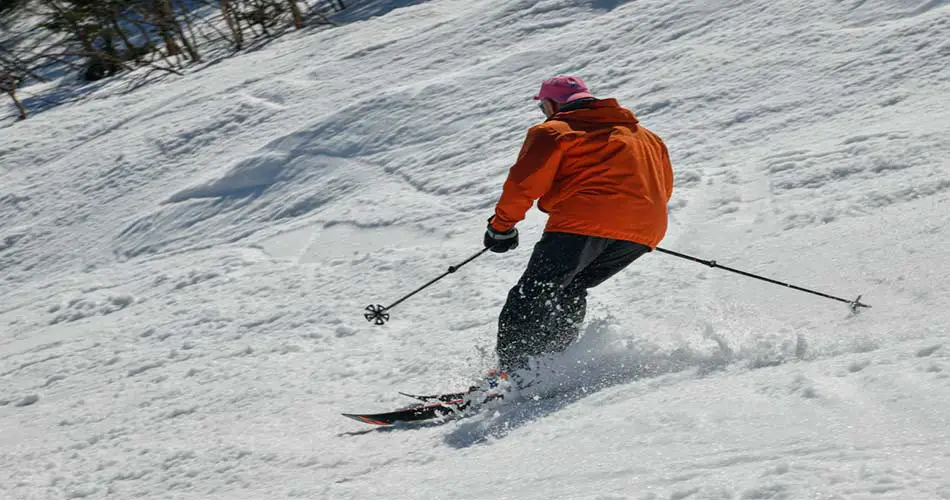 All knee braces aren't created equal. You can walk into your local CVS, Walgreens or pharmacy store for a knee brace and they have them but it doesn't mean it is the best if you are doing an activity like skiing. Here are some things to look for when getting a skiing knee brace.
Look for a skiing specific knee brace
Match your injury to what the brace is made for unless you need a general brace
Consider a drytex material for skiing
Think about how high your boot comes up and if it will interfere with your brace
Once you factor in these points, you'll be in a better spot to make an informed decision on which brace is best for you.
What Are Some of The Best Lightweight Knee Brace for Skiing?
When it comes to knee braces for skiing, there is really one name that comes to mind, Donjoy. They are the specialists when it comes to lightweight knee braces for skiing and knee sleeves. Depending on where the issue is with your knee, they make a knee brace to target the problem. Here are a few.
Donjoy Webtech Lite Knee Sleeve – General Lightweight Knee Brace for Skiing
If you have pain when skiing in the general anterior of the knee, osgood-schlatters or mild arthritis then the webtech knee sleeve can be a great option. It is certainly one of the lightest models by Donjoy for skiing and stays in place above and below the knee with two straps.
The webtech lite knee sleeve provides-
Support
Compression
Absorbs shocks when riding
For a truly wear all day, lightweight knee brace for skiing, the webtech lite is a great choice.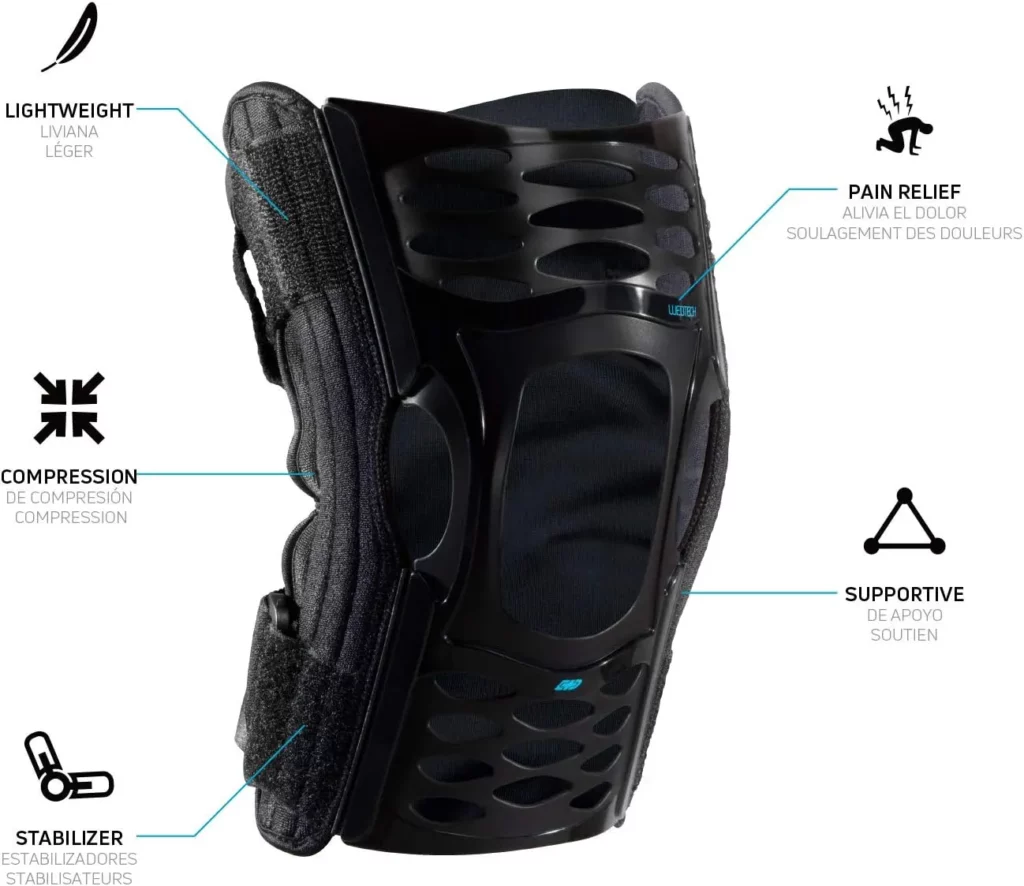 Best ACL Knee Brace for Skiing
The ACL is a different animal in terms of protection. The top two options are the Bionic Fullstop Knee Brace and the Bionic Knee Brace. While the Fullstop offers maximum protection for the knee, be sure to make sure you have long enough legs so it isn't running into your ski boots. Otherwise you might need to go with the Bionic Knee Brace.
The full stop has all the features of a high end ACL knee brace for skiing including dampening hinges to prevent hyperextension, 4 straps for support and a unique anti slip design. Once you put it on, you'll forget to notice it is there after just a few runs on the slopes.
Meniscus Knee Brace for Skiing
For meniscus support while skiing, you don't want something heavy and clunky. That is why Donjoy has the Deluxe Hinged Knee Support. It has moderate support with hinges on each side of the knee. You can also opt for drytex or neoprene. We prefer drytex personally for the slopes and neoprene collects all the sweat.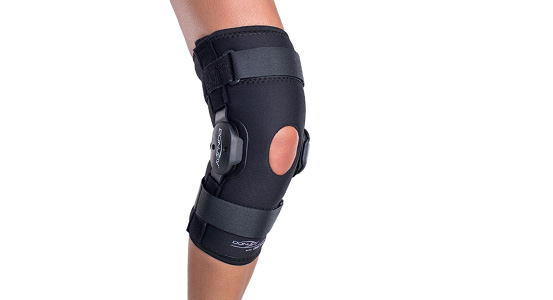 If you are facing meniscus issues then you can often sort them out to get back on the slopes. This lightweight knee brace is exactly the way to sort them and keep on doing what you love. Just make sure you check the fit chart to get the best size for your knee and considering how high up your ski boot comes.
Read More:
Final Thoughts on the Best Lightweight Knee Brace for Skiing
One thing you'll notice when looking at skiing knee braces is it is good to go lightweight. Lightweight and breathable, while still providing the support you need to stay safe on the slopes is the ticket to a good day on the slopes.
If you are having any thoughts about skiing with a knee brace or not, do it, you will almost always find improvement for any knee pains and if you don't, you can take the brace off and go back to skiing how you were before.