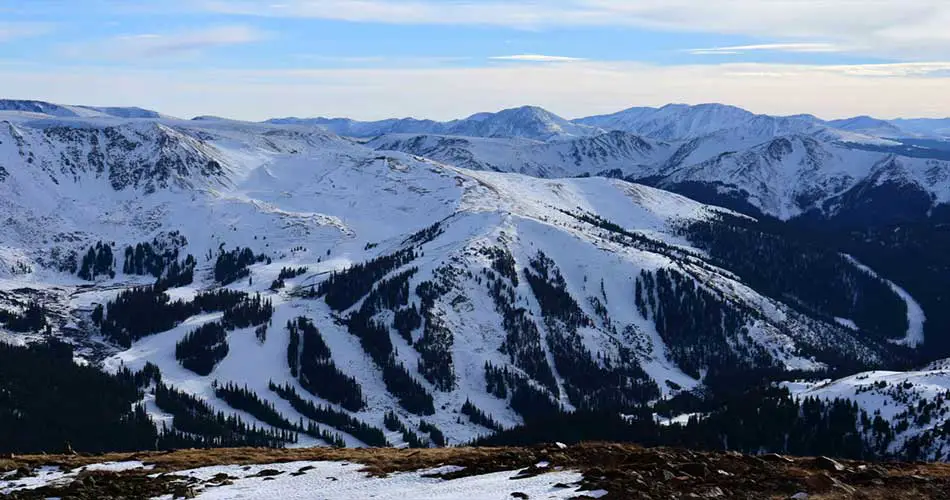 Arapahoe Basin ski resort, or A-Bay as you'll hear the locals refer to it as, has an oddly specific reputation. Not only is Arapahoe Basin ski resort one of the tallest resorts in North America but it's special weather patterns has allowed it to sport one of the longest running seasons in Colorado. Arapahoe Basin is one of the few resorts where it's possible to ski and snowboard in a pair of shorts in the middle of May.  
First opening in 1946, Arapahoe Basin ski resort started out as a single tow rope high the Rocky Mountains of Colorado. The five original founds had a singular love or to some, an obsession with skiing and the world of snow. During it's opening years the founders had used an old army four-wheeler to take skiers up the mountain to the tow rope.
Since then it has expanded into well over 1,000 acres and offers some of the steepest terrain in North America. Read on to find out why Arapahoe Basin is one of the legends of Colorado skiing and riding. 
Where is Arapahoe Basin Ski Resort?
Arapahoe Basin and it's towering peeks stand only 11 miles east of Dillion, Colorado in Summit County. If traveling on I-70 West it will be just south on US-Road 6 inbetween Georgetown and Dillon. If flying in from out of state or driving from Denver, Colorado, Arapahoe Basin ski resort will be 64 miles or roughly a two to three hour drive from downtown Denver. 
An Overview of the Runs at Arapahoe Basin:
Arapahoe Basin ski resort is, generally speaking, thick in snow and thin in oxygen and beginner runs. This mountain will push your skiing or riding abilities with steep pitches, rock chutes, howling winds and exposure at the summit, and a majority of expert runs.
A large majority of the expert only runs will require 30-40 minute hikes to the summit or back to any chairlifts. After navigating deep powder bowls of course. However, don't let this dissuade you. Arapahoe Basin will push you, but you'll leave with a pure sense of utter bless and amazement.
Here's the mountain stats at Arapahoe Basin:   
147 trails 
9 lifts 
Back side bowl and some the steepest inbounds chutes in North America 
Skiable Area: 1,428 Acres (5.7 Km2) 
Base Elevation: 10,520 feet (3,206 Meters)
Summit Elevation: 13,050 feet (3,978 Meters) 
Longest Run: 1.5 Miles (2.4 Km) on the Loafer trail 
Lodging Options:
To put it plain and simple, Arapahoe Basin ski resort doesn't offer any type of lodging on the resort. It's base is simply to small and at too high of an elevation to be able to support any kind of permanent lodging. However, the near by towns of Dillion and Sliverthorn offer high-end hotels, condos, and townhomes.
Activities for Non-Skier and Riders:
Given Arapahoe Basin's history and size this wouldn't be the best mountain for the non-skier or rider in your family or group. To be frank, this ski resort was made by skiers, for skiers and riders. That being said if your heart is set on testing your high-mountain skiing or snowboarding skills there are a couple of options for the non-skier or rider in your life.
Arapahoe Basin is the place to go in Colorado if your heart is set on testing your high-mountain skiing or snowboarding skills.
On Arapahoe Basin there is a sanded area at the base of the mountain nicknamed The Beach. You will need to reserve a spot but there, it is a great place to socialize, drink, watch the skiers and riders on the front side, and relax in the crisp mountain air. Another option is to go on a self-guided snowshoe tour of the stunning mountain.
Is There Night-Skiing?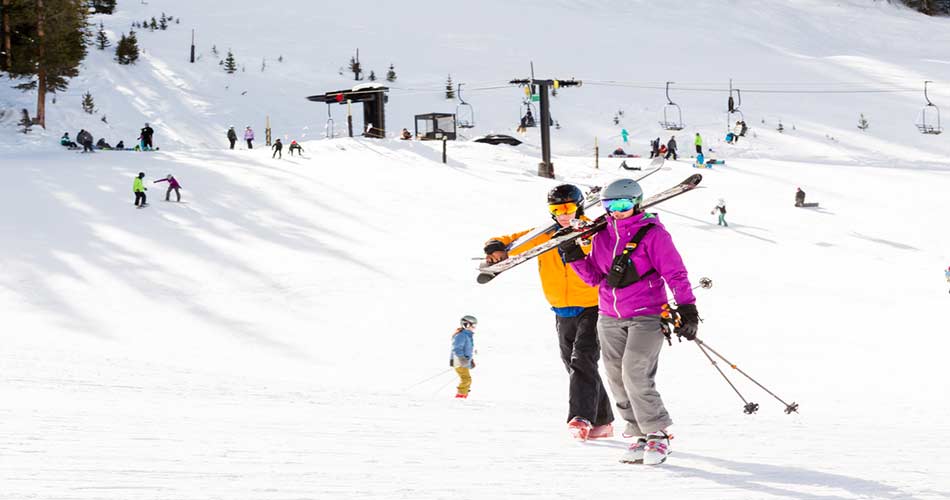 No, there is no night-skiing at Arapahoe Basin ski resort. The steep pitches and challenges of the mountain make adding lights near impossible. The lifts run from 9:00 a.m. – 4:00 p.m. There are some exceptions for certain lifts. Always check with ski patrol for accurate and up-to-date information. 
Is There Cross-Country Skiing?
Arapahoe Basin was built for downhill and sadly, only downhill. There are no cross-country skiing trails or areas at Arapahoe Basin. 
Does Arapahoe Basin Ski Resort Offer Rentals or Gear Shops?
Yes, Arapahoe Basin ski resort and it's connected ski school offers online rentals at Base N' Edge Rentals and Repair. There you can find anything a new skier or rider could need to rent. The ski resort does not have a full retail gear shop.  
More In-depth Look at the Trails at Arapahoe Basin Ski Resort:
Arapahoe Basin ski resort is a challenge for even the most experienced skiers and riders. This mountain and it's terrain should not be taken lightly. The famous East Wall chutes were ranked 3rd steepest in North America and rescue can be a challenge if anything goes wrong.
Always check with ski patrol for conditions and closures. That being said, if you feel up to the challenge you will be rewarded with world-famous high-apline skiing and riding that will leave you with the world's biggest smiles and maybe just a small heart-attack on the drop.
Here's the breakdown of trails by difficulty: 
1,428 Acres are split into 147 trails 
7% beginner
20% intermediate
49% advanced
24% expert
With such a low beginner amount of trails, we really caution beginners who want to go to Arapahoe.
Does Arapahoe Basin Ski Resort Make Their own Snow?
Fortunately, Arapahoe Basin's elevation and weather patterns make snow making a rare necessity. However, if needed to better build up the base, Arapahoe Basin can make up to 125 acres of snow coverage.  
Best time to go: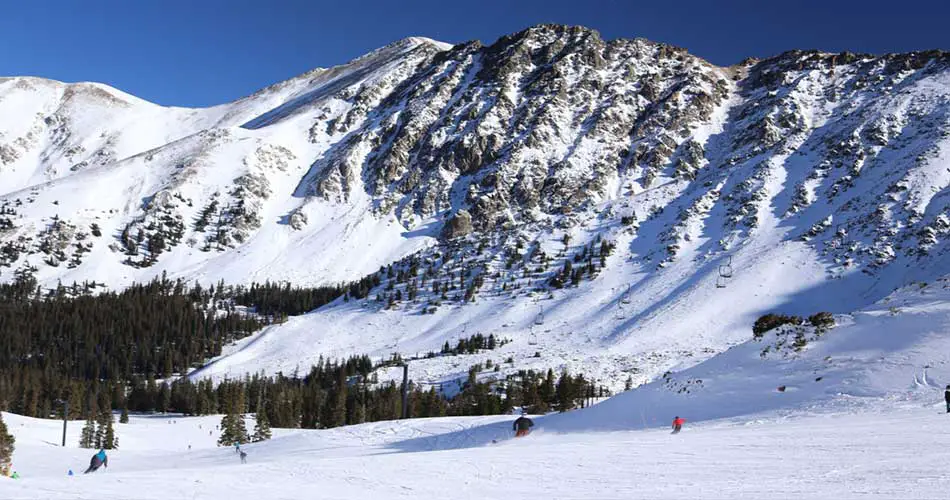 There really isn't a bad time to go Araphoe Basin. They generally open the earliest and close the latest. Of course mid-January will see the best snow conditions and due to the skill required and size of the resort it's mainly only Colorado locals that go to Arapahoe Basin, therefore, it generally never sees the crowds that some other Colorado mountains see. Holidays excluded of course.
Another thing to consider is the that fact that you can ski in a pair of shorts in May at Arapahoe Basin. It might be worth it to you to go in early summer. If only for bragging rights. 
Closing thoughts:
Arapahoe Basin ski resort is one of the Colorado legends for a reason. It will push you and if you push back in return, you'll be rewarded with seeing your skill level skyrocket, earn every single bragging right for conquering the East Wall chutes, and never forget what this oddly specific high-apline ski resort has to offer. 
Have you already conquered the east wall chutes at Arapahoe Basin? Let us know down in the comments below!
Explore More Colorado Ski Resorts