Sitting in the heart of the Rocky Mountains, Breckenridge Ski Resort in Colorado is one of the most visited ski resorts in the country, and this comes at no surprise considering the resort has everything a skier needs from beautiful mountain views to a high-energy surrounding town.
Breckenridge provides what feels like endless terrain with five peaks and countless trails to explore on skis and snowboards. Plus, Brekenridge is equipped with a lively terrain park. Not only is the resort a fun family getaway, it's also an easy drive west from Denver for those hoping to get out to the mountains during a trip to the city.
Breckenridge at a Glance:
187 trails
35 lifts
5 peaks
2,908 acres of skiable land
A summit elevation of 9,600 feet
A vertical drop of 3,398 feet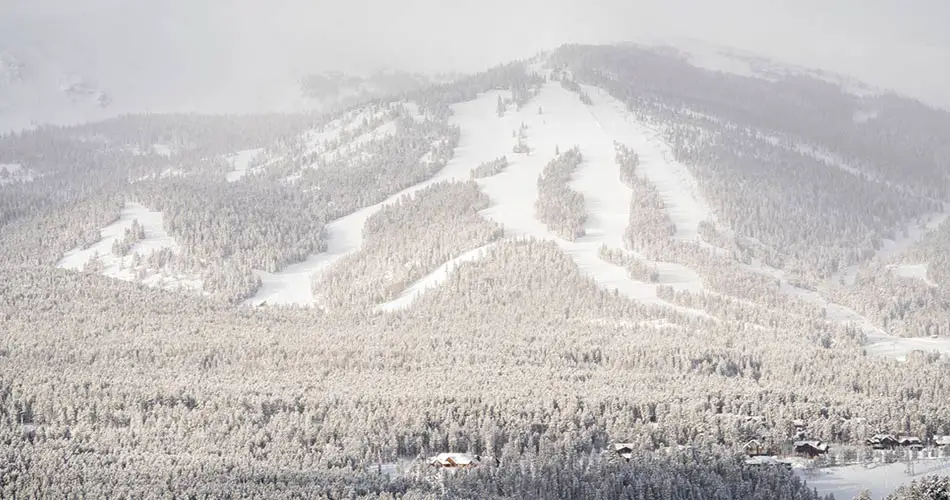 Where is Breckenridge Ski Resort Located?
Breckenridge Ski Resort is located west of Denver, Colorado in the Rocky Mountains. At only 90 miles from the Denver International Airport (DIA) and 70 miles from the Eagle-Vail Airport, this resort is an easy commute. If driving in from Denver, I-70 takes visitors roughly two hours by car to stopover. The Victorian-esque surrounding town of Breckenridge is known for its colorful restaurants and shops, that visiting skiers and snowboarders wouldn't want to miss. This area of Colorado has an average winter temperature of around 28 degrees fahrenheit.
Lodging at Breck
Due to the overwhelming amount of visitors Breckenridge Ski Resort sees each year, there are plenty of lodging options. Breckenridge has lodging options right on the mountain that visitors can ski out of, or lodges slightly further down on the base of the mountain. Many lodges have spas, hot tubs, and dining, making them exceptional for any vacationer, even if not skiing.
On the other hand, Breckenridge has even more lodging options outside of the resort site, more in the surrounding town. These lodges have a traditional cozy cabin-style or hotel feel, but still offer many creative activities like hot tubbing and dining.
Read More:
Breckenridge Apres Ski: What to Know and (7 Spots to Go)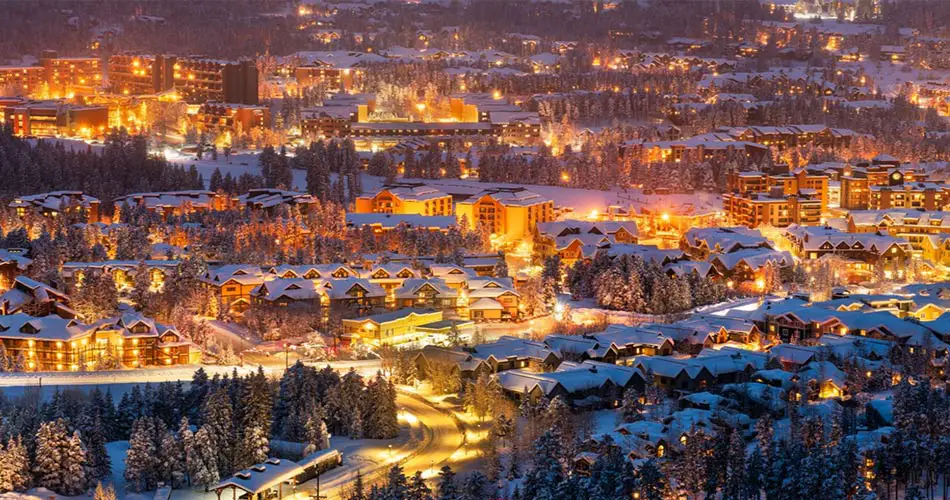 Parking at Breckenridge Ski Resort
For those driving into the resort, there are large parking lots near the gondolas that will bring skiers up to the mountain. Keep in mind, the parking lots right near the gondolas are paid lots not owned by the resort.
However, if visitors are willing to walk a block or two, there are free parking lots owned by Breckenridge Ski Resort. All the lots are walkable distance from the gondolas, and there are also shuttles owned by the resort that can assist in transporting visitors to the gondolas or back to the parking lots. Essentially if you want to save a bit of cash, you'll need to park a bit further and walk.
When is the Best Time of Year to visit Breckenridge and How Long Should Visitors Spend?
For snowboarders and skiers, the best time to visit Breckenridge Ski Resort is November through April. This is when the slopes are at their "peak" and the weather is right. During this time frame, boarders and skiers can expect to encounter snowfall, making the slopes nice and powdery, best for learning new tricks or going out of comfort zones! It is also recommended visitors stay for between 4-5 days. With this amount of time, visitors will have the opportunity to try all the slopes while also taking rest days in between.
If visiting during the off-season, the best time to visit the Victorian ski-town is during the summer months of June through August. This offers visitors the chance to hike or mountain bike in the sunny mountains. Breckenridge receives over three hundred days of sunshine a year, so summer visits are just as picturesque as in the winter.
Breckenridge Ski Resort also offers summer scenic lift rides ahead of the 4th of July. The Colorado SuperChair ride is up to Alpine Camp on Peak 8 and starts at $23 per person. There's never a lack of activities in Breckenridge, even during the off-season.
What Time Does Breckenridge Ski Resort Open and Close?
Breckenridge Ski Resort opens the mountain at 9:00 a.m. and the gondolas close at 4:00 p.m. This means that skiers and snowboarders have seven skiable hours per day. Breck doesn't offer night skiing.
How Busy Does Breckenridge Ski Resort Get?
During the weekend or on a good snow day, Breckenridge Ski Resort can tend to have more hustle and bustle than during the week, and on holiday weekends, Breckenridge gets highly busy with visitors from all around. By Christmas time, Breck typically has around 70% of its terrain open and skiable, and only grows from there. Breck gets thousands of skiers and snowboarders daily. Is Breck a good place for beginner skiers and snowboarders?
Breckenridge Ski Resort is a great place for new skiers and snowboarders to learn! Breckenridge offers private lessons, adult lessons and child lessons for all levels looking to up their ski game. Breck also offers rentals for learners or for visitors who don't own or bring their own equipment.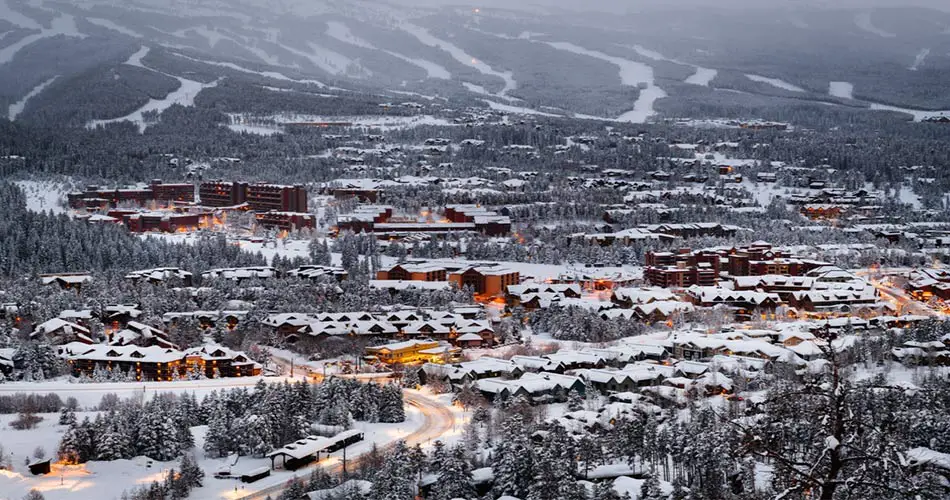 Passes to Breckenridge Ski Resort
Breckenridge is affiliated with the Epic Pass, meaning guests can purchase an Epic Pass to have access to the mountain for the season and use discounts with the pass. This gives passholders 20% buddy tickets, food on the mountain and more. Another perk passholders have, is the EpicMix app, which gives riders live updates on what lift lines look like, trail statuses (last time the trail was groomed), check on mountain conditions, and make on mountain dining reservations – which is a necessary COVID protocol to dine on the mountain.
Breckenridge Live Cams
Breckenridge Ski Resort has a live cam that broadcasts both the base of peak 8, as well as a snow stake cam to let viewers know how many inches of snow are on the ground and how fast it's coming down on the mountain. Checking the Breckenridge live cams is also a good way to see how busy the slopes are.
Takeaways:
Breckenridge Ski Resort is one of a kind. The breathtaking mountain gives skiers and snowboarders alike the opportunity to feel on top of the world on one of Breck's five peaks. Breckenridge's resorts surrounding the base of the mountain are unbeatable when stacked up to other popular resorts in the area, Breck's luxurious resorts certainly make for the perfect mountain vacation and place to relax.
The Victorian town in Breckenridge captures what travelers seek in a traditional mountain town with an abundance of vibrance and character. Whether visiting Breck during the holidays, or later in the ski season, Breckenridge Ski Resort truly offers something special for all visitors, and that's what makes Breckenridge Ski Resort possibly one of the best resorts in Colorado. But you'll have to experience it for yourself!