Aspen Mountain ski resort, nicknamed Ajax by the locals is the quintessential Colorado ski area for anyone looking to discover what Colorado skiing is all about. With powder-filled aspen tree runs, ionic mogul runs, and a century's old town, this ski resort has everything you could ever ask for in a rocky mountain ski or snowboard vacation. 
Aspen ski resort was first opened in 1936 by a local man named Ted Ryan and from his one singular ski lodge and ski school, Aspen ski area has exploded into a world-class mountain and town to serve skiers and riders from all over the world.  
Read on for everything you need to know to make Aspen ski resort your next winter wonderland vacation.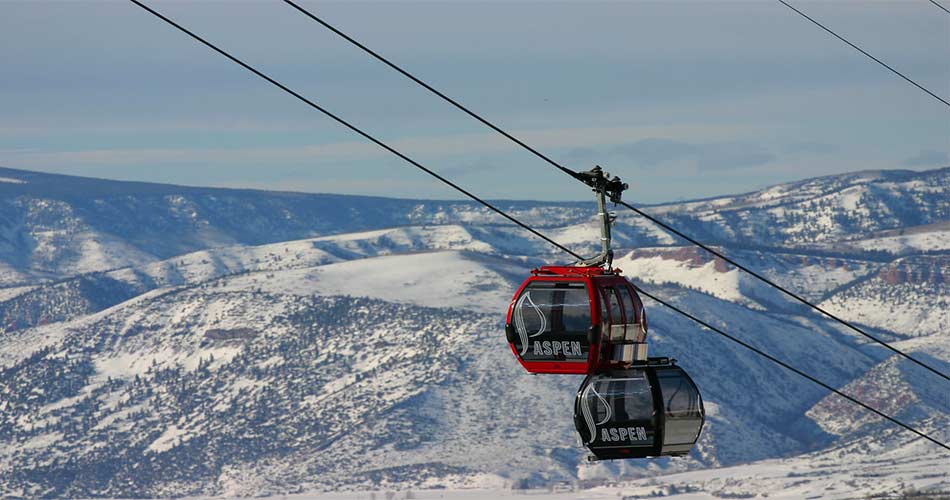 Where is Aspen Mountain Located?
Aspen Mountian is located in heart of the town of Aspen, Colorado, only a few blocks from the main street in downtown Aspen. The town of Aspen is roughly 200 miles west on I-70 from Denver, Colorado.
If you are driving in from Denver, the town of Aspen is around three and a half hours. However, if you are not feeling up to the drive, the town of Aspen has an airport that services multiple hour-long hopper flights from Denver International Airport. 
Mountain Stats at Aspen Mountain:
Given the size of Aspen Mountain and the pitch of Aspen Mountain, you will be put to the test. Aspen Mountain has zero beginner runs, however, you will be blessed with world-class powder, stunning tree-dodging runs, and steep, narrow chutes. Here's what kind of a mountain to except at Aspen Mountain ski resort. 
76 trails 
7 lifts and 1 Gondola  
Skiable Area: 675 Acres (2.73 Km2) 
Base Elevation: 7,945 ft (2,422 Meteres)
Tallest Summit: 11,211 Feet (3418 Meters)  
Longest run: 3 miles (4.83 Km) The longest run at Aspen is actually a

combination of 3 runs

. Start at the summit and take 1&2 Leaf to Gentleman's Ridge to Jackpot for a thigh-burning joy ride of moguls, powder, and unforgettable lines. 
Aspen Mountain Ski Resort Lodging Options:
With Aspen Mountain ski resort being located central to the town of Aspen your lodging options are seemingly endless. The town has everything from ski-in, ski-out options, 5-star hotels and lodges, family-friendly condos, to long-term rentals and everything in-between.
The town of Aspen even has a free bus system called the Roaring Forks Transit Authority (RFTA). With the RFTA you can get to any of the four ski areas in the Aspen area as well as all over the town just as the locals do. While your options are seemly limitless here are some honorable mentions to fit almost every type of ski or ride vacation. 
Aspen Meadows 
Hotel Aspen 
Alpen Blick Townhomes 
Aspen Alps Condominiums 
Dining Options:
With the combination of having the town of Aspen to your back and the ski resort to your front, you will be spoiled for choice both on and off the mountain. You'll have access to everything from simple pub grub and local beers to 5-star rated steak and seafood houses stocked with decades-old wines and spirits.
In addition to the dining, Aspen has a whole host of spas, heated pools, and amazing cafes to keep your loved ones or friends occupied while you hit trail after trail!
Whether you're on the mountain grabbing a quick lunch or going out on the town for a fancy dinner, here are some can't miss options. 
Marble Bar Aspen (Downtown Aspen): Wine, Seafood, French cuisine 
White House Tavern (Downtown Aspen): Gastropub, local beers, and cocktails 
Bonnie's (On-Mountain): Breakfast and Lunch Spot 
Sundeck (On-Mountain): Burgers, pizzas, traditional American
Activities for Non-Skier and Riders:
With the high likelihood that you would be staying in the town of Aspen, the non-skiers or riders in your family or group won't find themselves getting bored with all of the wonders the town of Aspen contains. There is world-class shopping for any manner of clothing, tech, jewelry, or gifts they ever imagine.
Aspen has a whole host of spas, heated pools, and amazing cafes to keep your loved ones or friends occupied while you hit trail after trail. With the RFTA bus system, they also have access to tubbing, snowshoeing, an alpine coaster, and a whole host of events the other mountains in the Aspen/Snowmass area offer.
Is There Night-Skiing at Aspen Mountain Ski Resort?
Sadly, there is no night skiing. The lifts are open from 9:00 AM to 4:00 PM with the ticket office being open from 8:15 AM – 4:45 PM. 
Is There Cross-Country Skiing?
Yes! There is great cross-country skiing connecting Aspen with Snowmass. Aspen Mountian has trails for all levels of experience, skill, and fitness. The longest trail in the area, the Rio Grande trail runs from the town of Aspen to the town of Basalt 20 miles away. 
What kind of Rental and Gear Shops does Aspen Mountain Have?
With Aspen Mountain Ski resort located at the edge of the town of Aspen, you will have dozens of rental shops to choose from. For a simple all-in-one, rental package Four Mountain Sports has you covered.
They offer online booking, a huge selection, free gear storage, and early pick-up so you can be hitting the slopes as soon as possible. If you feel it's time to buy your own gear these are some honorable mentions to consider while you're on your hunt for exactly the right boots, skis, or board. 
The Ski Shop Aspen
Miller Sports Aspen 
Ute Mountaineer 
Important Information About The Aspen Mountain Trails:
Aspen Mountain Ski Area is focused the more experienced skier or rider as the ski area has zero beginner runs. However, with amazing tree runs, powder chutes, and world-famous moguls. You'll feel ready and willing to truly test your skills. 
  Here's the breakdown of the trails available at Aspen Mountain Ski Resort: 
675 Acres are split into 76 trails 
0% are Beginner 
48% are Intermediate 
26% are Advanced 
26% are Expert 
Does Aspen Mountain Make Their own Snow?
Yes, Aspen Mountain does make its own snow when mother nature doesn't want to dump the way we need her to. However, the ski resort can only make as much snow as local water limits will allow. 
Best time to go to Aspen Mountain Ski Resort:
Taking Colorado's weather patterns into account the best time to go is mid-December to late January to ski or ride the best powder and have the best snow conditions.
Of course, the holidays will bring the crowds so keep that in mind while planning your next Colorado mountain getaway. Be sure to stay on top of the crowds with the Aspen Mountain webcam which shows the current trails.
Closing thoughts:
Aspen Mountain is one of Colorado's oldest ski resorts and it's proven time and time again that it can stand up to the test of time. If you are looking to have a classic, unforgettable, rocky mountain ski or ride vacation, Aspen Mountain Colorado is your new second home for the winter. 
Been to Aspen Mountain before? Let us know what you think about the trails in the comments!
Explore More Colorado Ski Resorts