Beaver Creek has a strong reputation amongst Colorado's ski resorts for being one of the best. Not only is the mountainous scenery breathtaking, but the ski routes are also unmatched. Countless visitors make the trip to Beaver Creek Ski Resort for a fun skiing day or to find cozy lodging options to spend some extra time in the mountains. No matter what Beaver Creek visitors are coming to explore, there is no lack of excitement in this area of the Rocky Mountains.
Although the size of Beaver Creek is considered medium in comparison to other Colorado ski resorts, Beaver Creek Ski Resort is often viewed as one of the best family ski resorts to visit in the state of Colorado, especially around the holidays. Beaver Creek is transformed into a mesmerizing and spectacular winter wonderland, one that you're not going to want to miss.
Beaver Creek at a Glance:
Are you familiar with Beaver Creek's resorts stats? If not, here is a refresher…
169 trails
25 lifts
2,082 skiable acres
A summit elevation of 11,440 feet
A vertical drop of 3,340 feet
Average yearly snowfall of 325 inches
Where is Beaver Creek Ski Resort located?
Beaver Creek Ski Resort is located west of Denver, Colorado and in the Rocky Mountains. The ski resort is around 109 miles outside the city of Denver, and about 133 miles from the Denver International Airport (DIA). The closest airport to Beaver Creek Ski Resort is the Eagle County Regional Airport (EGE), located only around 28 miles, making it an easy drive to the resort.
The nearest town that borders the resort is Avon, which sits next to the Eagle River. Beaver Creek is also close to various ski resorts in the Rocky Mountains. This makes it the perfect centrally located resort if you want access to more peaks in the area. Surrounding Beaver Creek Ski Resort, visitors will find ice skating and outdoor fire pits for the public.
Lodging at Beaver Creek
There is no shortage of lodging at the famous Beaver Creek Ski Resort. Lodges, cabins and private homes surround the resort, giving visitors many options for how to spend their ski vacation. These lodging options are known for having great amenities. Some amenities include spas, the choice of ski in/ ski out stays, hot tubs and amazing mountain views. Even if part of the family isn't planning to ski, the lodging options that Beaver Creek Ski Resort offers are unbeatable in terms of rest and relaxation.
There are also lodging options nearby in the town of Avon. These provide similar amenities like pools, hot tubs, and spas, however, these resorts require visitors to find transportation to the ski resort rather than the closeness of Beaver Creek owned lodging.
Free Parking and Transportation at Beaver Creek
Beaver Creek is often remembered for more than just its well-groomed terrain, its home to escalators that bring guests up to the gondolas. This is unique and makes a special impact on visitors. On top of a one-of-a-kind escalator experience, Beaver Creek offers free parking to its guests after 1:00 pm. You can find the free parking at its parking lots behind the gate.
With two, paid day-use lots owned by the resort, they cost $10 before 1:00 pm, payable by credit card when leaving. These lots are easy walking distance to the escalators and gondolas.
When is the Best Time of Year to Visit Beaver Creek and How Long Should Visitors Spend There?
For snowboarders and skiers, the best time to visit Beaver Creek Ski Resort is during the peak ski season of November through April. The prime skiing months pick up from December through March. Skiers and snowboarders should expect a lot of snowfall during these months. All that snow fall gives visitors the opportunity to experience some great powder days!
It is typically recommended to stay in Beaver Creek for around five days to have the best possible experience for ski days and rest days. This gives skiers and snowboarders enough time to try all the trails you want and really explore the mountain. For those looking for difficult terrain, Beaver Creek also has highly rated black and double blacks for advanced skiers to enjoy. The resort also leaves plenty of room for beginners.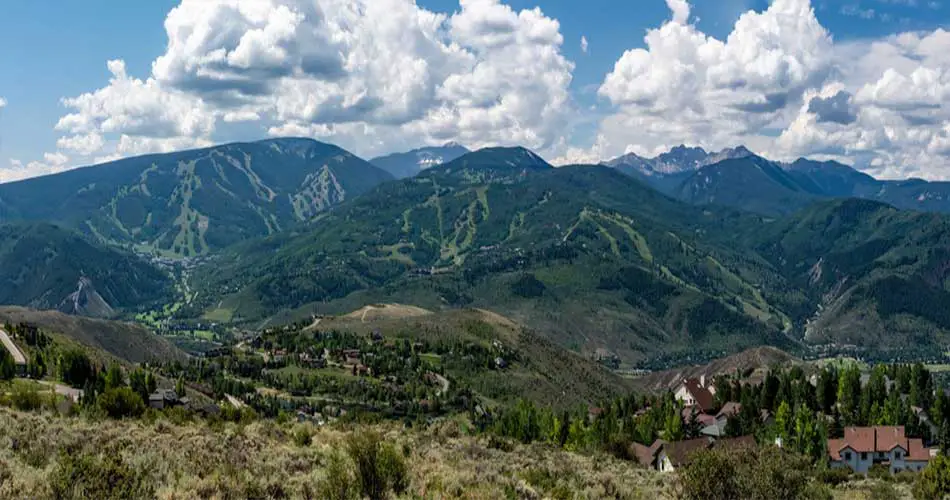 If you plan to visit during the off-season, Beaver Creek doesn't fall short of summer activities. Beaver Creek invites guests to check out the scenery on lift rides, has beautiful hiking trails, and even has three world-renowned golf courses.
On top of this, there are wine excursions, mountain tours, horseback riding, tennis, and even mountain biking all as activity options. Just as Beaver Creek is an amazing family-friendly resort to visit in the winter months, it still offers so many great activities for the family to enjoy during the summertime.
What Time Does Beaver Creek Open and Close?
Beaver Creek Ski Resort opens their lifts at 9:00am and the gondolas close at 4:00pm. This means that skiers and snowboarders have seven skiable hours in the day. Beaver Creek has options for night skiing, although this may only be a few times within a season. Likewise, night skiing is allowed if booked as a private event for groups, but these are closed to the public.
How Big is Beaver Creek?
Beaver Creek is a medium-sized resort in comparison to surrounding resorts in Colorado. That doesn't mean it doesn't get busy though. Like most ski resorts, Beaver Creek will see the most visitors on the weekends.
Guests can expect the weekdays to not be too busy. In total, Beaver Creek is about 2,082 acres, and is considered a major ski resort in Colorado.
Passes to Beaver Creek Ski Resort
Beaver Creek Ski Resort is affiliated with the Epic Pass. This means guests can purchase an Epic Pass to have access to the mountain for the season and use discounts with the pass. This gives passholders 20% buddy tickets, food on the mountain and more.
Another perk passholders have, is the EpicMix app, which gives riders live updates on what lift lines look like, trail statuses (last time the trail was groomed), check on mountain conditions, and make on-mountain dining reservations.
Without the Epic Pass, visitors can expect lift tickets upwards of $100 per day. Prices vary depending on the time of the year, week and during the holidays. It is important to reserve your tickets in advance for the best possible prices.
Is Beaver Creek a Good Place for Beginner Skiers and Snowboarders?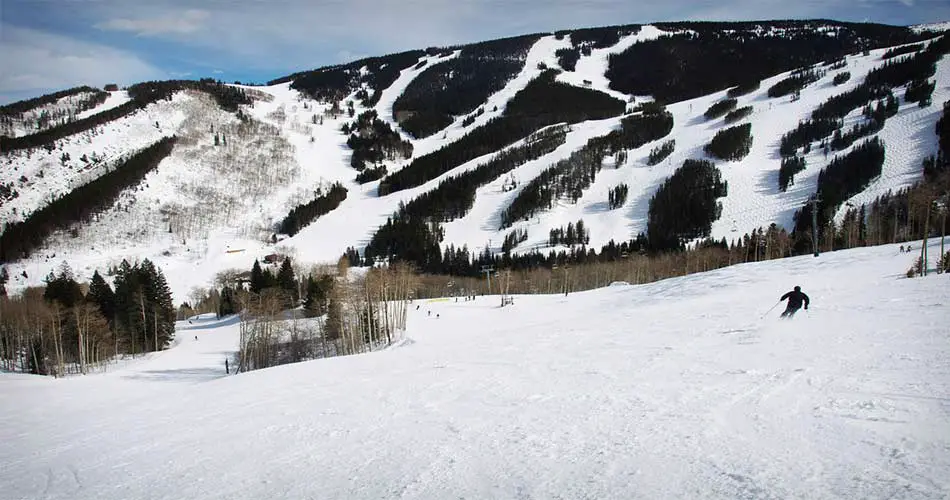 Beaver Creek is considered a great place for beginner skiers and snowboarders to learn. It is even referred to as an "ideal place" for beginners to learn, which speaks volumes to learning the sport in Colorado (since it's not always easy to pick up skills while looking down a mountain).
There are easy slopes for beginners, including runs that lead back to the village. Around 20% of terrain at Beaver Creek Ski Resort is designated for beginners learning their skills with open runs and wide paths making it an excellent place for new skiers and snowboarders to get their bearings.
Beaver Creek Webcams
Beaver Creek provides a mountain webcam that is updated every five minutes throughout the day. This includes Arrowhead Village, McCoy Park, Beaver Creek Village, two Beaver Creek snow stake cams. This offers live footage of the mountains for visitors to check out conditions and capacity.
Takeaways:
Beaver Creek Ski Resort stands out in terms of quality ski resorts due to the exceptional vacation activities that are offered to visitors. There is really no better place to be in both the winter and summer months if you're planning to visit the Rocky Mountains. This family-friendly resort has the whole package from skiing to fly fishing, what range!
Beaver Creek Ski Resort is known for its picturesque holiday village and its escalator up to the mountain. Plus, Beaver Creek Ski Resort is excellent at upkeep, its terrain is well-groomed very often throughout the ski day, giving beginners even more chances for learning success! Beaver Creek service and dining is rated outstanding and its backcountry terrain is unbeatable.
If you're still trying to find the perfect family Colorado ski resort, look no further, Beaver Creek has it all!
Explore More Colorado Ski Resorts