Loveland Ski Resort has found its way into the hearts and souls of generations of Colorado skiers and snowboarders. Known as one of Colorado's most affordable ski resorts. This independent resort prides itself on its astonishing amounts of snowfall, its free snowcat in-bounds backcountry skiing.
Read on to find out everything you need to know to plan your next ski getaway at Loveland Ski Resort.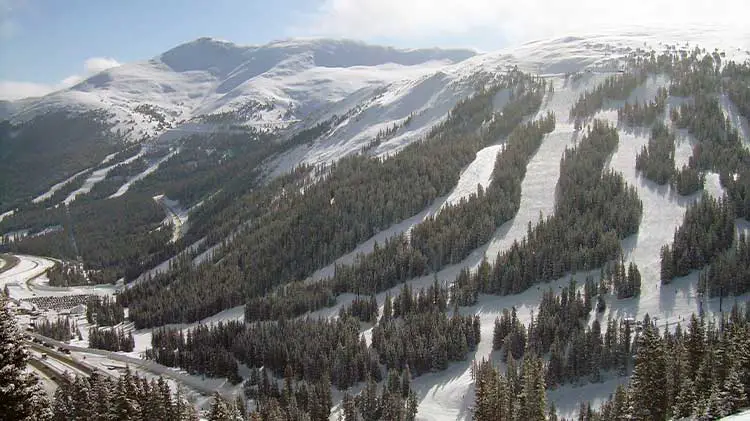 Where is Loveland Ski Resort Located? 
Loveland ski resort is located quite literally just before the Eisenhower Johnson Tunnel on I-70 West at the edge of Clear Creek County in the Rocky Mountains of Colorado. From downtown Denver, Loveland is located roughly an hour or roughly 57 miles away.
If you are flying in from out-of-state, Loveland is roughly an hour and a half or 88 miles away driving from Denver International Airport. 
A General Overview of Loveland Ski Resort
Loveland is a rather unique resort. In the middle of the resort runs both I-70 west and the Eisenhower Johnson Tunnel. The resort was built and developed before the tunnel was opened in 1973 so the resort was broken up into two different areas.
On the eastern side of Loveland Ski Resort is a small area with a handful of beginner and advanced runs made for the newer and younger skiers and snowboarders learning with the ski school.
Up I-70 is the rest of the resort. On the summit, you will find wide-open bowls and chutes full of mostly expert and expert-only runs. In the mid-mountain, you will find mostly short tree runs and the majority of advanced runs. There are very few beginner runs at Loveland Ski Resort so keep that in mind before heading up with any novice skier or snowboarder.
A Little Loveland History
The history of Loveland Ski Resort is just as humble as the ski resort aims to be today. First opening in what's now Loveland basin in 1936, a man armed with nothing but a dream and a portable tow rope created the first ski-slope in what would become the Loveland Ski Resort many people know and love today.
Throughout the 1940s and 50s, an old Ford Model T was modified to run more tow ropes. Soon, Loveland Ski Resort became the Loveland Ski Tow Inc . Throughout the 1960s to today, Loveland opened more of the mountain, and tows were replaced with lifts and the modern-day Loveland ski area was born. 
Here's the Breakdown in Numbers at Loveland Ski Resort
Now that you are familiar with the back story, here's what Loveland has grown to over the years-
94 Trails 
11 Lifts 
Skiable Area: 1,900 Acres (7.68 Km2)  
Base Elevation: 10,800 feet  (3,292 Meters)
Summit Elevation: 13,010 feet (3,966 Meters)
Longest Run: 2 Miles (3.2 Km)
Hotels, Lodges, and Condo Options
Because of Loveland Ski Resort's location, there is no hotel or lodging options on-mountain. For the simplest lodging option, it would be wise to head down I-70 West an extra 20 minutes driving to the nearby town of Dillon, Colorado. In Dillon and around Dillon reservoir you can find several options ranging from the luxurious to the more family-friendly place.
For the more luxury-minded skier or snowboarder consider the Homewood Suites by Hilton. Furnished with modern elements and the level of class Hilton is known for, it is a perfect place to unwind in a big fluffy robe after a long day in the snow. For a more family-oriented trip consider staying at the Comfort Suites Summit County.
It's a classic Comfort Suites hotel with a good mixture of value, comfort, and space for the whole family. Lastly, for the younger skier or snowboarder consider The Pad Hotel. More of a modern hostel than a hotel, The Pad has both private and shared dorm rooms, a beautiful lake view, and the social aspect that hostels are known for.
Check Out These Other Options:
Loveland Ski Area Rentals (Lodging for All Vacation Budgets)
Activities for Non-Skier and Snowboarders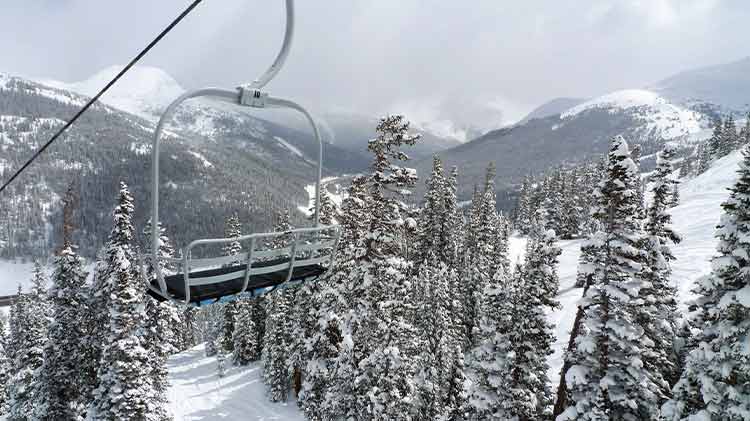 Unfortunately, Loveland Ski Resort is mainly known for its skiing and snowboarding. Because of this and Loveland's unique location, non-skiers and snowboarders may find themselves disappointed as the only other options would be shopping at Loveland's local ski shops or taking a ride up and down the gondola.
Is There Night-Skiing?
No, Loveland ski area does not offer any night skiing. Loveland has its operating hours set as 9:00 am to 4:00 pm Monday through Friday and 8:30 am to 4:00 pm on weekends and holidays.
Is There Cross-Country Skiing? 
No, Loveland is mainly focused on downhill skiing and snowboarding. Loveland does not offer any cross-country skiing. There is uphill access for those wanting to still get a taste of Nordic skiing.
Rental And Retail Options At Loveland:
Loveland Resort is extremely close to the city of Denver, Colorado so it's not hard to imagine having your Denver family or friends taking you up to Loveland to ski for the day. However, what should you do if you don't have any gear to use or borrow? Loveland Ski Resort has you covered with their own full rental shop right next to the main base in the Loveland Basin.
At this shop, you can rent full ski and snowboard gear packages. Loveland even offers clothing rentals to keep you warm and dry all day long. If that one day of skiing or snowboarding was enough to develop your passion for the snow, Loveland Ski Resort has a full retail shop in the main base area if you need to invest in your own gear.
More In-depth Look At The Trails At Loveland Ski Resort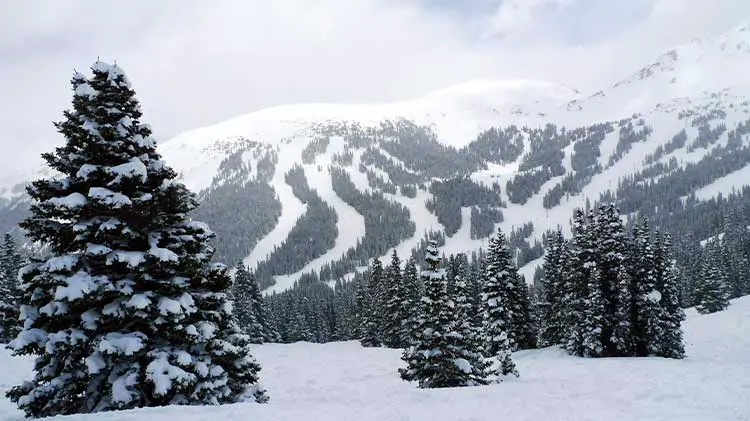 Loveland Ski Resort's location offers unbeatable convenience for any skier or snowboarder traveling up I-70 for a day of fresh powder. Visitors from out-of-state may find that Loveland Ski Resort literally takes their breath away. Not only from the gorgeous wide-open bowls and amazing views of the continental divide, but also an oxygen-lacking base elevation of over 10,000 feet.
Loveland is a timeless resort with distinct areas to explore. Starting at the summit you will find huge steep expert and expert-only bowls. At the summit, you will have the ability to try out some high-altitude snowcat skiing or snowboarding. In the mid-mountain, you will find the majority of advanced tree runs and groomed trails.
This area will usually be the most crowded so keep in mind the number of people and your speed. Thankfully, the ski school has its own area just down the road on I-70 to keep everyone safe, relaxed, and most importantly stoked about the snow and their day of skiing or snowboarding.
Here is the Breakdown of All the Trails at Loveland
1900 Acres are split into 94 trails 
13% Beginner 
41% Intermediate
46% Advanced
Does Loveland Make Their Own Snow?
Yes, when natural snowfall isn't quite enough to cover the mountain, Loveland Ski Resort has the snow-making capabilities to cover 240 acres of the mountain with man-made snow.
The Best Time To Go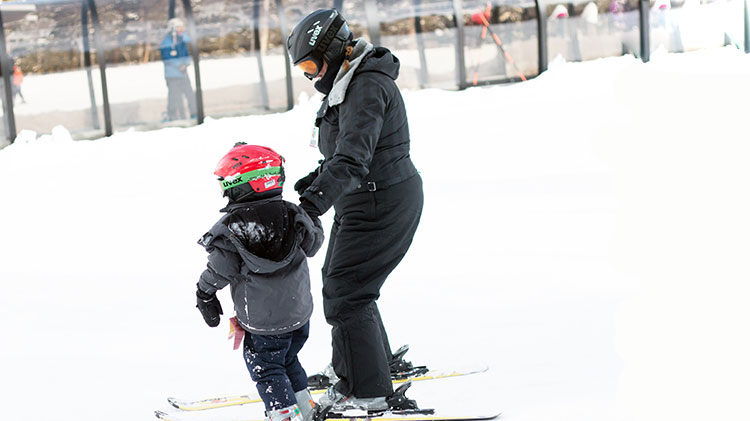 Loveland Ski Resort is blessed with good snow, all season long thanks to its high elevation. It's blessed again with its location and its reputation for being more of a local ski resort. In turn, the holiday and vacationer crowds generally overlook Loveland Ski Resort to visit the bigger vail mountains instead.
The best time to go will be in mid-January to late February when the snow is the deepest and most of the vacation crowds have gone back home after the holidays. Be aware that Loveland Ski Resort does host several events so always check their event calendar before making the trek up the hill.
Final Thoughts
Loveland Ski Resort was made by skiers for skiers and that ideology continues to this day. It's a local mountain for local Colorado skiers and snowboarders. With this in mind, the resort has been carefully crafted and protected to keep the resort local and away from corporate influences.
So, if you want an amazing local mountain to carve up fresh lines, then Loveland should be your next Colorado ski destination.  
Have you skied or snowboarded at Loveland before? Let us know your experience in the comments below!