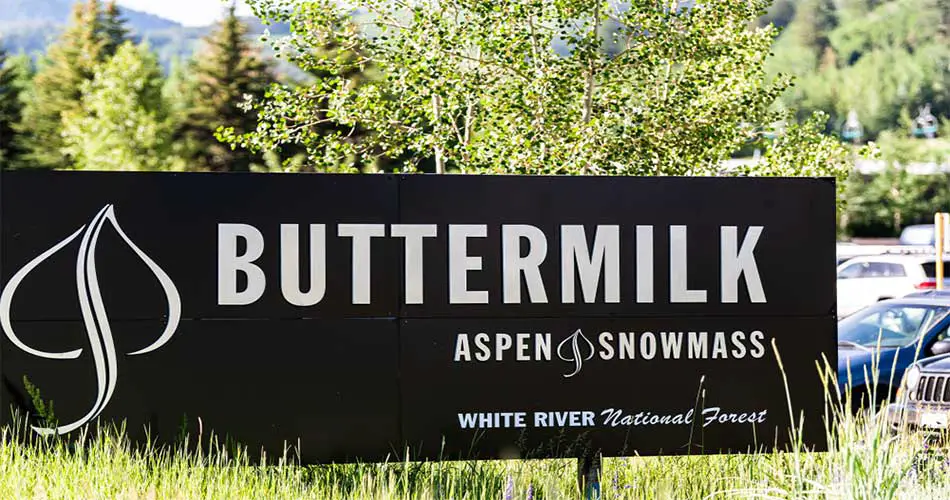 There is nothing better for any parent to get to share and pass on their favorite sport. Especially when that sport happens to be skiing or snowboarding. At Buttermilk Ski Area this dream can become a reality for any parents introducing their children to the joy of snow for the first time. Even if you're a newbie still discovering all the amazement that skiing or riding has to offer Buttermilk is the mountain for you. 
First opened in 1958 Buttermilk ski resort has a history of being one of the most family-friendly resorts. This gentle pitched hill is loaded with easy runs, great powder bowls, small crowds, and a perfect environment to learn. 
Read on if you just added Buttermilk ski area to your "have to visit" mountains and need more information before packing up the car, and kiddos and heading off this winter. 
Where is Buttermilk Ski Resort Located?
Buttermilk ski resort is located smack dab in between Snowmass Village and the town of Aspen, Colorado. Located roughly three and a half hours or 195 miles from downtown Denver, Colorado on Interstate-70 west, Buttermilk's accessibility is one-hundred percent part of its appeal.
However, if you would rather fly than drive-in, Buttermilk is a short two-minute drive from Pitkin/Aspen Airport. There are short 1-hour hopper flights from Denver International Airport if you are flying in from out of state. No more constant, "are we there yet?" questions. 
Best time to go:
Buttermilk is generally open from November until April which can make for great early season and late spring access. However, the crowds from different holidays and the X-Games can make the smaller area feel crowded. The best time to go is without a doubt mid-December to January skipping the biggest crowds and taking advantage of the best snow conditions. 
Mountain Stats at Buttermilk Ski Area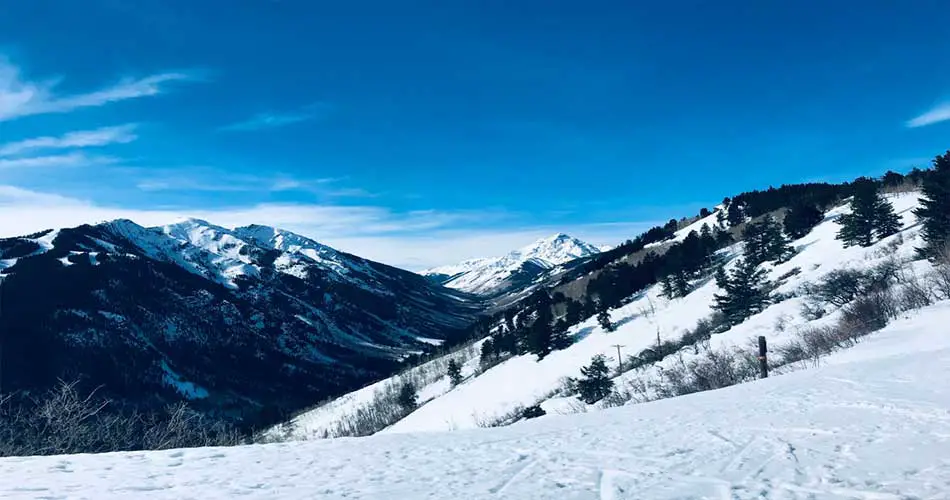 Buttermilk is considerably smaller than the other resorts Aspen/Snowmass has on offer. However, this makes it's perfect when you want to hit every trail in a couple of days and if you have older kids that want to go explore some trails on their own. Here's what to expect from the mountain.
44 trails 
8 lifts 
2 Terrain Parks and a massive 22-foot Superpipe 
Skiable Area: 470 Acres (1.90 Km2) 
Base Elevation: 7,870 feet ( 2398.78 meters) 
Tallest Summit: 9,900 feet ( 3,018 meters)  
Longest Run: Homestead Road at 3 miles (4.9 km)
Lodging options:
Unfortunately, Buttermilk mountain only has one lodging option if you want to stay as close as possible to the ski area. However, this shouldn't be a huge concern. Thanks to the Roaring Fork Transportation Authority (RFTA) you'll get to travel like a local and catch a free bus from either Snowmass Village or the town of Aspen directly to the base of the Buttermilk ski area.
It's a simple process, just slide your skis or board in the bus's racks, hope on and off you go. With loads of RFTA stops you can really expand your options to either town. 
Here are some options to consider. 
 The Inn at Aspen by Vacasa (The only option in Buttermilk) 
Annabelle Inn (Downtown Aspen) 
Hotel Jerome (Downtown Aspen) 
Aspenwood Condominiums (Snowmass Village) 
Seasons Four Condominiums (Snowmass Village) 
Dining Options:
Due to the nature of Buttermilk's location and focus on skiing and riding your dining options will be limited to what's available on the mountain and at the base. That being said unless you're staying at the base of Buttermilk, you will have still access to top-rated restaurants, bars, and cafes littered all over both Aspen and Snowmass Village depending on where you are staying. 
Here are some of the dining options found in the Buttermilk ski area: 
Home Team BBQ: BBQ and comfort food 
Bumps Restaurant: Pasta, Mediterranean, Burgers, and Sandwichs 
Cliffhouse: Asian inspired plates and classic American Dishes 
Snowmass village and Aspen are both top places to stay if you want access to restaurant, bars and nightlife.
Great Activities for Non-Skiers:
Buttermilk is mainly a ski and snowboard-based mountain, however, that doesn't mean that the non-skier or rider in your family can't still have an amazing time. They can find incredible snowshoeing, hiking, and spectating in the various terrain parks.
If none of that piques their interest, thanks to the RFTA bus system they can always take a short bus ride to other mountains to find tubbing, cross-country skiing, amazing shopping, dining, and much, much more. 
Is There Night-Skiing?
Because of the Ski resort's small size, there is no night skiing. The lifts are open from 9:00 AM to 4:00 PM with the ticket office being open from 8:15 AM – 4:45 PM. 
What to know about Buttermilk's Trails:
Buttermilk's reputation is the family and beginner-friendly mountain, and Buttermilk's trails are a clear example of it. 
Here's the breakdown of the trails available at Buttermilk Ski Resort: 
470 Acres are split into 44 trails 
35% are Beginner 
39% are Intermediate 
21% are Advanced 
5% are Expert 
Does Buttermilk Make Their Own Snow?
Yes, Buttermilk ski resort will make their own snow when Colorado weather doesn't dump enough to create a solid base. However, be warned that Buttermilk is only permitted to make snow until January so, after that, the powder days are entirely up to mother nature. 
Is there Cross-Country Skiing?
Yes, there is the Owl Creek Trail connecting Snowmass ski resort to the Buttermilk Ski Area. The trail is ​​5.75 miles (9.3 km) long and is considered to be an easy, beautiful, and downright stunning trail. 
What kind of Rental and Gear Shops does Buttermilk Have?
Four Mountain Sports has you covered. Part of the nine locations through the Aspen/Snowmass Area, Four Mountain sports at Buttermilk will make the rental part of your family's next ski vacation a breeze.
They offer early pick-up, amazing deals, online booking, and free storage if you're not feeling up to luging everyone's boots, skis, and boards back to Aspen or Snowmass village at the end of a long day. The Four Mountain Sports at Buttermilk does have some gear for sale but there will be better options in either Aspen or Snowmass Village.  
Closing thoughts:
Whether it's a family ski trip or it's your first time ever on the mountain, Buttermilk has a little bit of everything for everyone. With smaller crowds, great ski and ride schools, and amazing powder Buttermilk Ski resort in the heart of Colorado will make your next or even first ski vacation a cherished memory for years to come! 
Let us know your favorite trail or memory at Buttermilk in the comments below! We also want to know what other Colorado ski resorts deserve a closer look and that you love to ride.
Explore More Colorado Ski Resorts