Updated August 12, 2023 by Jessie Gonzalez. This post contains affiliate links at no added cost.
For serious skiers, there's no better place to hit the slopes than at Utah's Alta Ski Area. The ski area first opened for business in January of 1939 with one single-seat chairlift to whisk skiers up the mountain for 25 cents per ride. Alta formed a partnership with Snowbird more than 20 years ago that connects the two ski areas via Peek-A-Boo Pass and Snowbird's Baldy Express lift. Combined, the two now offer 256 trails, 20 chairlifts, and 5,114 acres of skiable territory.
Let's get take a further look at Alta before you head out there.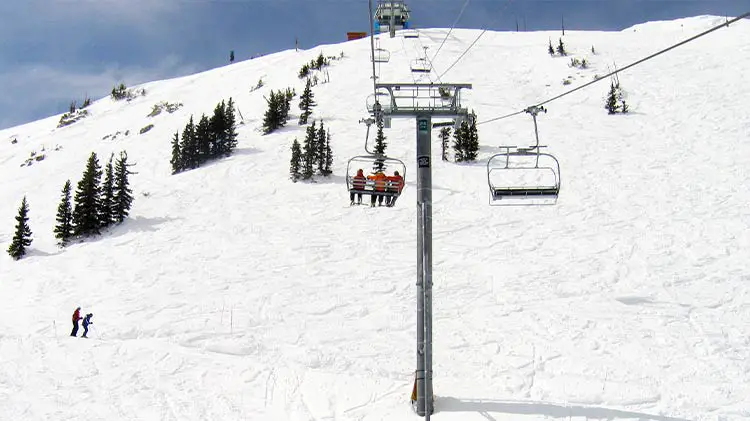 How Do I Get to Alta?
Part of the beauty of skiing in Utah is the proximity of the slopes to Salt Lake City, Provo, Ogden, and other Wasatch Front Range communities. Downtown Salt Lake to Alta is just 29 miles; a 35-minute drive not accounting for any traffic delays.
If you're coming from the Salt Lake City International Airport, you can figure on driving 33 miles in about 40 minutes.
And here are some distances and estimated driving time from major cities in the region:
Provo – 44 miles/one hour
Ogden – 65 miles/1 hour and 10 minutes
Pocatello, Idaho – 191 miles/ 3 hours
Twin Falls, Idaho – 245 miles/3 and a half hours
St. George, Utah – 300 miles/4 and a half hours
Las Vegas, Nevada – 420 miles/7 hours
Fly to SLC and Skip Renting a Car
For skiers who prefer to use alternative means of transportation to Alta, there are several options. Alpine Transportation, Alta Shuttle and Canyon Transportation all provide direct service from SLC International Airport in private luxury 4×4 vehicles.
Once you're at Alta, you'll find various shuttles to help you get from your lodge or chalet to the chairlift. There's really no need for a car here.
Car and Flight Options
Book your rental car, flight and get on the slopes!
Discover deals on cars and flights to Alta now.
If you live in or are staying the Salt Lake City area, you may want to consider riding to Alta via the Utah Transit Authority "Ski Bus". IKON pass holders always ride for free.
Alta Mountain and Snow Stats
3,000 skiable acres
Summit: 11,068 feet
Base: 8,530 feet
Vertical rise: 2,538 feet
Average annual snowfall: 547 inches!!
Largest seasonal snowfall: 748 inches, 1981-82
Tell Me About the Trails and Lifts at Alta Ski Area
Here's the rundown on Alta's trails:
119 runs
15% for beginners
30% intermediate
55% expert
6 lifts: 2-doubles, 1-triple, 3-quads
Click here to have a look at Alta's Trail Map
Where Should I Start Out at Alta?
The Albion Base Area is best suited for beginner and intermediate skiers, as well as for families who may need to be close to the childcare center. The Alf Engen Ski School is also located here.
Advanced skiers usually start their day by parking at the Wildcat and Collins lot by the Wildcat Base Area. The Goldminer's Daughter Lodge is located here and is the place to plan your day and take advantage of the two ski shops, lockers, and other amenities.
Take an Early Look via Alta Ski Area's Mountain Cams
Alta has, not one, not two, but five mountain cams strategically placed across the skiing area, giving you a broad look at what's happening in real time. Cameras operate around-the-clock during the ski season, updating every 15 minutes. Alta Mountain and Little Cottonwood Canyon never looked so inviting.
Does Alta Have Night Skiing?
There is no night skiing at Alta. However, just 45 minutes away is Brighton Resort, which is open until 9 p.m. for those who want to ski later in the day.  
Tell Me About Alta's Terrain Parks
We hate to be the provider of bad news, but just like Alta doesn't allow snowboarding or offer a tubing hill, the Utah ski area also is devoid of terrain parks. Like we've said before, Alta is for downhill skiers. Period.
Does Alta Ski Resort Allow Snowboarding?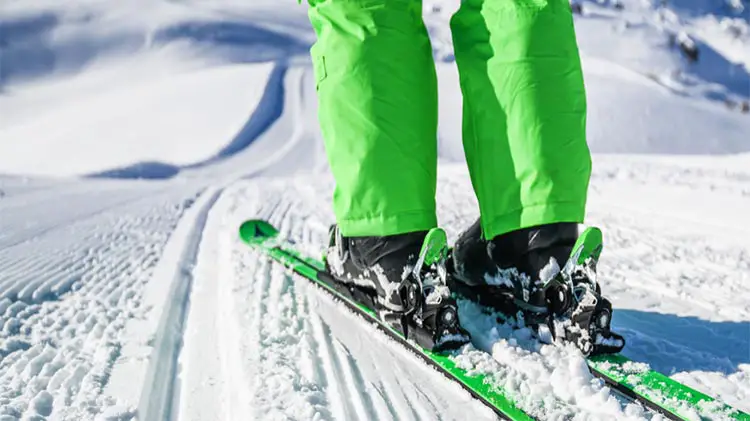 Alta is 100% a ski resort. If you're seeking a snowboarding getaway, you'll have to head elsewhere. Luckily, finding a ski resort that allows snowboarding and skiing isn't hard to do in Utah's Wasatch Mountains.
If you're wondering why Alta doesn't allow snowboarding, the general consensus is that Alta's marketing approach has long been to attract more of an upscale crowd. A bit older, perhaps more affluent, and skiing traditionalists. So far, the decision to offer a skiing-only mountain has served them well, as Alta has grown and prospered over the years.
Does Alta Make Snow?
Alta is known worldwide for its abundance of natural powder, 540 inches of which falls from the skies, on average, each season. That's equivalent to a foot of snow every five days during the late fall-winter-early spring, period that the resort operates.
However, the snow experts here know that exactly when and how much snow will fall is impossible to predict, so they also make snow utilizing leading-edge technology. Melted snow is recaptured in the spring so that they can conserve water for the next season.
So that they can announce an opening date and stick to it, Alta typically makes snow early in the season for a base, just in case the snow Gods aren't cooperating just yet. The snowmaking capabilities covers 140 of the ski area's 3,000 skiable acres.
Making snow during the heart of the ski season is unusual here, but the "never say never" attitude means the resort is always prepared to shoot "water out of the barrel".
Is There a Tubing Hill at Alta?
Sorry, snow tubers. Alta isn't the place for you. But they do boast of some of the best snow on earth for downhill skiing. A reminder, there is also no snowboarding at Alta. It's purely a downhill skier's paradise!
What Are Alta's Dining Options?
If your idea of a perfect ski vacation means superb powder and incredible food, Alta is the place for you. Get caffeinated or warm up with a hot chocolate in the morning at Cecret Coffee on the mountain or grab a breakfast burrito or waffles at Alta Java in the Base Area.
Choose a cafeteria-style lunch, or sit and relax while chowing down a pizza, sandwich, bowl of soup, burger, or salad at several popular spots in the various lodges, or on the mountain.
Evenings truly come alive at Alta, with a superb variety of fine dining experiences to savor, with casual surroundings that might just include a roaring fire. While your condo or chalet may tempt you to prepare a special meal "at home", getting out at Alta for a delicious meal is hard to pass up.
Brewpub aficionados will find a huge assortment of suds at Baldy Brews, the Gulch Pub and Goldminer's Saloon, and extensive wine lists will more than satisfy your desire for an oaky, full-bodied Cabernet or Malbec.
Alta Ski Area Lodging
To say that Alta has a diverse range of accommodations would surely be an understatement. The ski area has been planned and developed so that once you're here, there's no need to go anywhere else for the duration of your stay.
Alta offers lodge rooms for solo travelers, couples, and families that just want a comfortable place to stay, close to the lifts and restaurants. Beyond that are a wide variety of condominiums offering full kitchen facilities, stocked with everything imaginable to prepare meals and dine "at home".
Living rooms and multiple bedrooms are standard, and some even include a fireplace or balcony.
Book Your Stay
Don't Settle for Anything Except on the Slopes.
You Still Have Time for a Vacation!
For larger families, extended family getaways, and groups of friends who want to hang out together and socialize, Alta offers chalets and private homes with plenty of room to spread out. How'd you like to have a private hot tub, or even a private chef to prepare special meals? Alta offers all of this, and more, on-site, and conveniently situated to everything the ski area has to offer.
All accommodations at Alta Ski Area are individually owned, with Alta's contracted management company handling reservations for all properties.  
Alta's Lift Ticket Options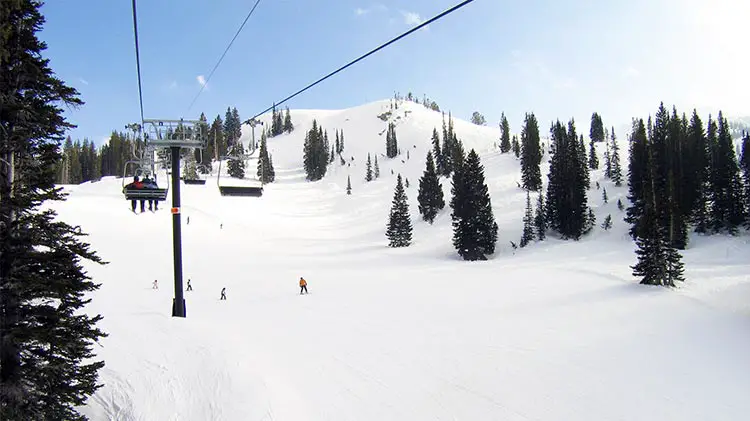 As seasoned skiers know, the large ski resorts, aka Alta, offer a multitude of lift ticket options that can make your head spin. Be sure to check online for special offers that pop-up each season.
Here are some of the most popular options:
Season Pass – includes free weekend & holiday parking (a HUGE perk!); also includes one midweek day of skiing at Brighton, Deer Valley & Snowbird. There are also friends & family benefits, and 50% off day tickets at 26 partner resorts. Lower rates for seniors, kids, and families.
Alta-Snowbird Season Pass – discounts apply for these adjacent ski areas
Purchase your daily lift tickets in advance, online, and save up to 20%
Lift ticket pricing for the full season, 10-days, multiple days, or daily, offer savings for seniors (65-79, and 80+); kids (13-17, 7-12, and 6 & younger), and families
IKON Pass – allows for seven days of skiing at Alta and Sunbird, with NO BLACKOUT DATES. The IKON Base Pass provides five days of skiing at Alta and Sunbird, but peak holidays are blacked out. One friend or family member accompanying you will receive a day of 25% lift ticket discount at the ticket window.
Mountain Collective Pass – allows for two days of skiing at both Alta and Snowbird. Additional tickets are half-price at the lift ticket window. There are no blackout dates.
Alta Ski School
For beginning skiers and those looking to brush up on their skills, the Alf Engen Ski School is the perfect place to start your Alta experience.
Choose from private or group lessons for kids and adults. The school offers kid and adult camps for more intensive training, adult multi-week programs, as well as kid's season-long programs.
For those history buffs out there, Alf Engen was a Norwegian-American skier who set numerous ski-jumping world records in the 1930s. In fact, his father and two younger brothers also were renowned skiers. Engen was instrumental in the establishment of several Western ski areas, most notably Alta.
The Alf Engen Ski Museum is located at Utah Olympic Park in nearby Park City.
Can I Rent Equipment Here?
Alta makes it easy to rent whatever gear you need to ensure an amazing skiing experience. Skis, binding, poles, boots, helmets, goggles, and much more are readily available. With four locations – Albion, Wildcat, Alf's and Watson – you're never far away from finding what you need. Check out the latest gear or try out some demo skis.
Rental reservations can be made by phone up to 2 p.m. the day prior to your arrival. Rent for three or more days and save 10%.
Other services offered by the Alta Ski Shop include waxing, edge tuning, base grinds, and repairs. Overnight equipment tune-ups are also available. Featured brands include Atomic, Dynastar, DPS, Elan, Head, K2, and Nordica.
Alta's Special Features
As we've mentioned several times above, Alta offers virtually everything you'll need to ensure a memorable getaway.
Other attractive features include:
Ski storage and delivery for those who ship their gear ahead.
Urgent care medical clinic to treat any bumps and bruises, as well as general maladies.
Fun and professionally staffed Alta Children's Center for the little ones to play (and nap) while you're on the slopes.
Relaxing spas at the Rustler Lodge and Snowpine Lodge.
Can I Ski Between Alta and Snowbird?
The surprising answer here is YES! Alta and Snowbird are right next door to each other, making skiing at both very possible. The word on the street, or perhaps on the slopes, is that intermediate and above skiers will do just fine at Snowbird, where the vertical rise is more than at Alta, and overall, the trails are somewhat steeper, too.
Be sure to purchase a combined Alta-Bird pass to take advantage of this fun option. This will allow you to ski from Alta to Mineral Basin, down the front side of Snowbird, and then back to Alta.
What's the Parking Setup at Alta?
Alta is a VERY popular place to ski. Plain and simple.
To avoid disappointing guests who may drive to the ski area looking forward to a fun day on the slopes, only to find that there is no parking available (this has been a problem in past years), Alta requires paid parking reservations for non-annual passholders. (Weekends and holidays from 8 a.m. to 1 p.m.) For further information, click here for Alta's parking reservations page.
A word of advice: book parking reservations early, as parking DOES fill up on peak-season weekends and holidays.
Final Thoughts
If skiing is your sport, this is the place for you. Alta caters to the skiing crowd, and they are superb at doing just that. From start to finish, Alta is magnificent, and that goes well beyond the slopes. Lodging, dining, and additional services are all top-notch. Come here once, and it may just become your preferred ski destination for years to come.