The history of Powder Mountain Resort goes back to its inauspicious opening on February 19, 1972, when the ski area first opened with one lift, a handful of runs, a ski school and night lighting. Steady growth has been the mantra over the years as new lifts were installed and new runs developed. That has led to a wide range of services being added to the resort as well.
"Pow Mow" as it is known locally, was a little-known ski resort until new ownership in the mid-2000s decided to take their 'secret' reputation to the masses for their winter enjoyment. Obviously, the master plan succeeded with skiers come from near and far to relish in the beautiful fresh powder at Pow Mow.
Where is Powder Mountain Resort Located?
The largest ski resort in the U.S. by acreage, Powder Mountain Resort is located just over one hour north of the Salt Lake City International Airport, which is served by all major airlines. By grabbing a quick rental car or Uber, you'll be up to the resort in no time.
Delta Air Lines operates a major hub there, too, with direct service from dozens of cities across the country. It doesn't get much easier to find a flight!
While Eden is a very small town on the uphill climb to the ski area, Ogden and North Ogden with a combined population of 110,000 are the nearest cities to Powder Mountain Resort. They are each just a 20-to-25-minute drive from the center of town to the mountain.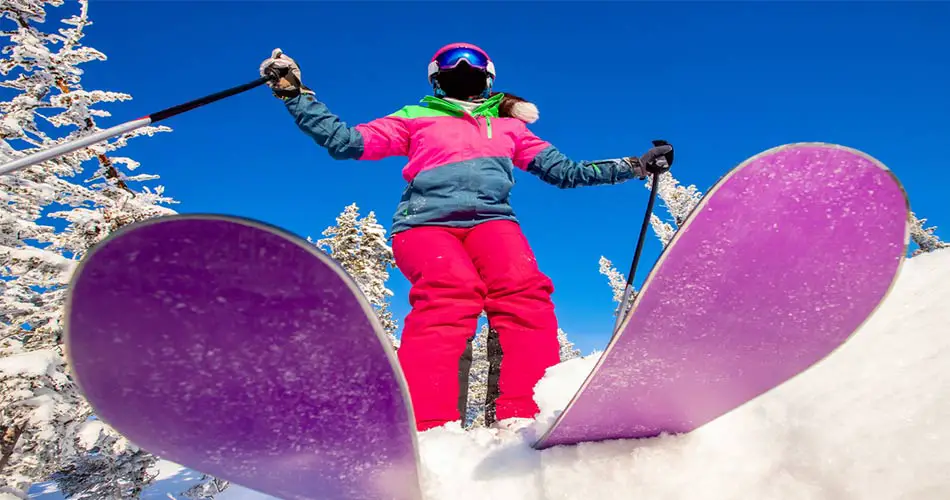 Powder Mountain Ski Resort Mountain Stats
Number of trails: 154 marked, spread over 8,454 acres (the most of any U.S. ski resort)
Trail difficulty: 25% Beginner; 40% Intermediate; 34% Advanced
Number of lifts: A total of nine. Four fixed grip quads; one high speed quad; one fixed grip triple; one platter tow; two surface tows
Seasonal snowfall average: 500 inches
Summit elevation: Hidden Lake & Mary's Lift, 8,900'; James Peak, 9,422'
Vertical drop: Lift serviced: 2,205'; Lift accessible, 2,519'; Total: 3,346'
Directions to Powder Mountain Resort in Eden, Utah
From Provo, Salt Lake City, SLC Airport and other points south: I-15/I-215 north to exit 44 for UT-39. Right on UT-39 which will merge with UT-158 and take you directly to Powder Mountain.
From Logan, Brigham City and other points to the north:UT-89 or I-15 south to exit 44 for UT-39. Left on UT-39 which will merge with UT-158 and take you directly to the ski resort.
This Place is HUGE! Take a Tour to Learn Your Way
Pow Mow offers a free tour hosted by knowledgeable staff at 10 a.m. daily. Meet-up outside the Mountain Adventure Yurt outside of Timberline Lodge. This tour will introduce you to groomed runs only. Minors must be accompanied by an adult.
The In-Bound Guided Tour is designed for experienced powder riders who want to find the best off-piste expert terrain available. This is a half-day or full-day opportunity with a specialized in-bound guide.
Is There Lodging at Powder Mountain Ski Resort?
There are six different types of accommodations. One is bound to be right for you and anyone else you're traveling with! Check out these options:
Horizon Cabins – for single, doubles and families
Cascade Townhomes – four to six bedrooms, 2,000 to 3,600 sq. ft., sleeps six to 15 guests depending on the size of the chosen townhome
Spring Park – located mountainside, chalets at 9,000 feet that provide indoor/outdoor living with floor to ceiling windows and a gourmet kitchen
Copper Crest East – new ski-in/ski-out townhomes at the Village Lift
Heartwood – nestled in the Wasatch Range, simplistic style with amazing views from the heated, wrap-around deck
Moose Hollow Condos – one to four bedrooms; 1,100 to 1,500 sq. ft, sleeps up the 12 guests, community pool and jacuzzi
For skiers who may prefer to spend their nights in town, there is a wide selection of national hotel brands available in the Ogden area.
One more great option for lodging outside of the resort is to check vacation rental by owners. You can save a little bit by staying nearby. Put that little extra towards your lift tickets.
Powder Mountain Utah Lift Tickets & Season Passes
All lift tickets and season passes, as well as equipment rental and lessons can be purchased in advance of arrival, online. Get your tickets in advance because the mountain can limit the number of people on the slopes.
On busier days it isn't unheard of that walk-up ticket booth purchases are sold out early in the day as the daily skier quota has been met. The purchase of a $5 reusable Powder Mountain Card is required with each lift ticket, season pass, lesson or rental purchase. Keep that in mind!
What's to Munch for Lunch at The Resort?
Nobody gets hungrier than a skier or boarder after a few hours of downhill activity. Thankfully, Powder Mountain has multiple restaurants to restore your energy. Timberline Cafeteria is open for breakfast and lunch; Hidden Lake Cantina is lunch-only Mexican grab and go food; Sundown X Lucky Slice Pizza is, um, pizza that's available from lunch time into the evening; and the Powder Keg serves burgers, wings, salads and brews from lunch until late afternoon.
After a quick bite, you'll be ready to jump back on the slopes.
Does Powder Mountain Resort Offer Night Skiing?
Yes, there is night skiing at Powder Mountain with 'night' considered as 3 p.m. to 9 p.m. Full-day lift tickets start at 9 a.m. and include night skiing. Night-only lift tickets allow access after 3 p.m. and are heavily discounted as only one lift, Sundown, operates after 4:30 p.m. Only the runs served by the Sundown Lift are night-lit.
Equipment Rental at Powder Mountain Utah
When it comes to rental equipment for skiing or snowboarding, it's available to rent. Get a standard package for the entire day or just for the night session. Alternatively you can upgrade to the performance or demo gear. If you just need certain items, you can rent them piecemeal, too.
Easy Savings: reserve in advance, online, and save $15 versus on-site prices.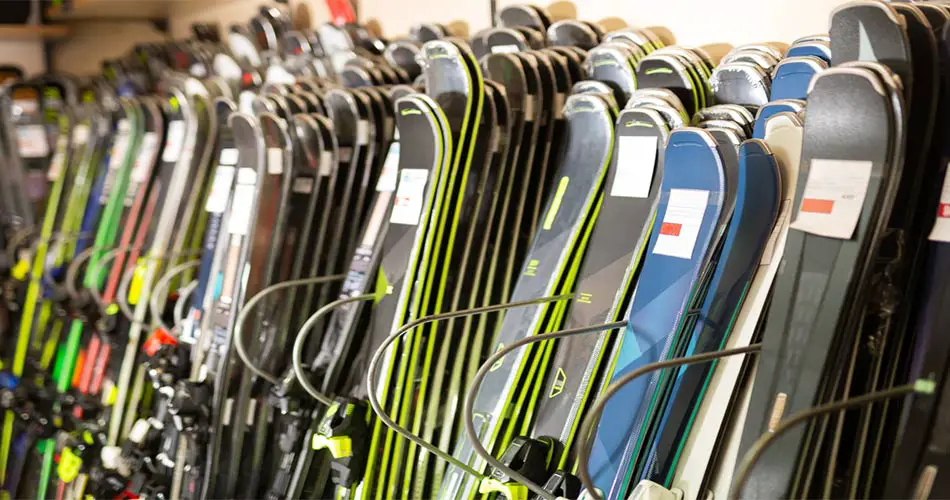 Does The Resort Sell Gear & Clothing?
The Timberline Ski Shop at the Resort Center has products for sale from DPS, Salomon, The North Face, Burton, Dakine, Smith, Dragon, Scott and Skull Candy. If you need a quick repair then consider stopping by the shop. This full-service shop offers overnight repairs, tune-ups, and stone grinding.
The Sundown Ski Shop is located on the lower level of Sundown Lodge, adjacent to the night skiing area. Featured here are Salomon skis and Burton snowboards. The Powder Mountain Snow Sports School is just moments away.
Powder Mountain Utah Ski Lessons
Private and group lessons are available for children and adults. First-time skiers and boarders can take advantage of a half-day (3 hours) lesson that includes rental equipment and lift passes. Advance reservations are essential.
The Powder Club focuses on developing the downhill skills of children with varied capabilities. Options are a private two-hour lesson for skiers ages 3 to 5 and boarders ages 4 to 6; half-day mornings or full-day lessons for skiers ages 6 to 12 or boarders ages 7-12.
The All-Mountain Adventure Team is an 11-week program for students ages 7 to 14 This five-hour weekly experience that includes lunch.
Is There a Tubing Hill at Powder Mountain Utah?
No, there is no tubing hill at Pow Mow Resort in Utah. That's not to say that this exciting family-friendly winter experience isn't a popular activity here. If tubing is what you're looking for, click on this link for a complete listing of Utah's snow tubing hills. There are several in the Logan area.
Do They Make Snow at Powder Mountain?
A simple question with a simple answer. NO. With annual average natural snowfall of 500+ inches, there's really no need to make snow here. Sometimes a November behemoth storm comes along and Powder Mountain can open for Thanksgiving. Often there isn't the necessary snow until sometime in December. Check out the Powder Mountain live webcam here for the latest mountain views.
What Special Events Take Place at Powder Mountain?
You will always see the locals and season pass holders show up and show out. Popular with everyone, local or not, is the Grom Fest, a ski, jump and race for the 12-and-under set. Turn 'N Burn is a downhill slalom competition that draws large crowds of onlookers, and the Tetra Race, where enthusiasts with complex disabilities race using the world's only specially designed Independent Alpine Skis.
Some Closing Thoughts
Attention Advanced Skiers! While most runs at Powder Mountain Resort can be reached by lift, there is plenty of back-country terrain that requires special transportation in at least one direction.
Powder Country and Woody's World Shuttles service the 1,200 acres of off-piste powder that are reached by way of the Sundown, Timberline and Hidden Lake Lifts. Your lift ticket purchase includes shuttle service back to Sundown and Timberline after your exhilarating run down the mountain.
If you want to access the Lightning Ridge and Raintree areas, you'll need to purchase an Unguided Snowcat Ride up the mountain. While these rides cost $25 each in addition to your lift ticket, you'll be able to experience Pow Mow's freshest powder and lightest crowds here.
Explore More Utah Ski Resorts