Snowbasin Ski Resort is a true riders mountain. And that's no surprise since it's one of the oldest continually operated ski areas in North America. There's not much to do here other than ski or snowboard and with what this mountain has to offer, that's plenty.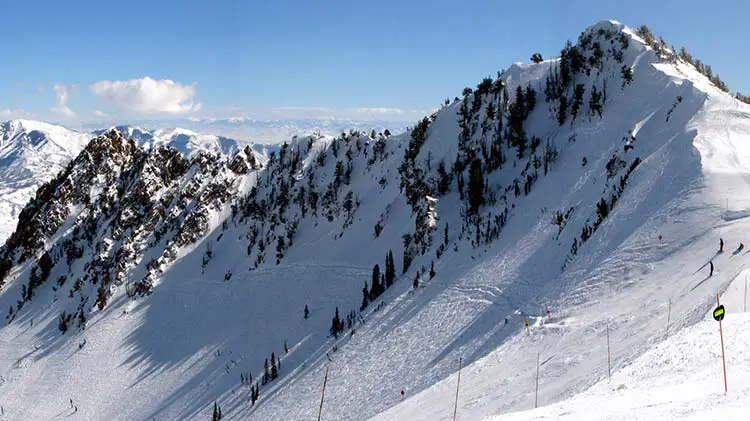 Snowbasin Highlights
Snowbasin Ski Resort is known for its top to bottom groomers, big open bowls and its steep tree skiing. Snowbasin also hosted part of the 2002 Winter Olympic Games, so you know the terrain here is world class.
Here are some more key stats:
Trails: 111
Lifts: 12
Base Elevation: 6450'
Summit Elevation: 9350'
Skiable Terrain: 3000 acres
How to Get to Snowbasin Ski Resort
Snowbasin is located in the Ogden Valley. There aren't a ton of convenient options for getting to the mountain. So, your best bet is to travel by car or take advantage of the UTA Bus Service. The bus can either pick you up at a designated stop or you can "park and ride" which is a great option if you don't want to lug your gear around.
If you do drive to Snowbasin, know that there is ample parking. In fact, the parking lot is so big that they have a free shuttle that will pick you up, so you don't have to walk that far with all your gear.
Here's an idea of how far Snowbasin is from nearby cities:
Ogden, UT – 30 minutes, 20 miles
Salt Lake City, UT – 45 minutes, 40 miles
Park City, UT – 1 hour, 60 miles
Boise, ID – 4.5 hours, 330 miles
Las Vegas, NV – 6.5 hours, 460 miles
Lodging Near Snowbasin Mountain
Part of the reason the Ogden Valley is so beautiful is because it's not over developed. But that also means there aren't a ton of hotel options near Snowbasin. So, if you want to stay as close as possible, be sure to check out rental options. Websites like VRBO have lots of properties that range in price and size near Snowbasin.
And if hotels are more your speed, know they'll be a drive. In the valley there are a few boutique hotels and inns. A standout among them is certainly the Compass Rose Lodge. It has fifteen rooms and a coffee shop. But down in Ogden is where you'll find your bigger chain hotels like a Courtyard Marriott and Hampton Inn & Suites.
If you do stay in Ogden, the closer to 25th Street the better. That's where you'll find lots of shops and restaurants. There's even a comedy club. It's also walking distance to The Junction, which is Ogden's entertainment center. There's a movie theater, indoor rock climbing, indoor skydiving, an arcade and a bowling alley.
Hours of Operation & When to Visit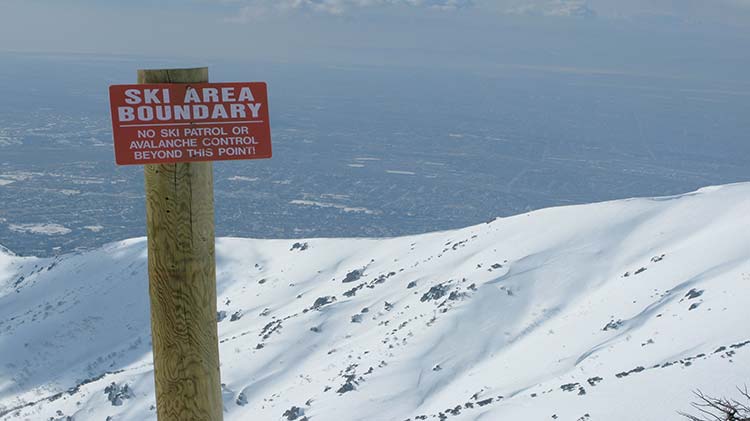 Snowbasin Resort is a great place to visit year-round. The ski season typically kicks off in late November/early December and wraps up in the spring. But, Snowbasin really values their guests so there have been a few seasons where they close and then an epic storm rolls through and they reopen for a weekend or two.
The summer months at Snowbasin also have great programs too. They have concerts, beer festivals, mountain biking, rock climbing, hiking, and yoga. There's also a mini-golf course called Wildflower that's a ton of fun located right on the mountain.
So, no matter what time of year you decide to visit, Snowbasin is guaranteed to deliver.
Snowbasin Ski Rentals: Where to Find
Snowbasin has its own rental shop inside the Grizzly Center. You can't miss it. It is right at the base of the mountain. And inside you'll find everything you need.
In the winter months they've got you covered based on the day's snow conditions. So, if it's a big powder day, they'll be sure to put you in gear that's suited towards that. And they'll even throw in a free helmet with your rental.
In the summer months, Snowbasin has a ton of mountain bike rentals. But be sure to either call ahead or book online a day before your visit to ensure they have everything you need.
If for whatever reason Snowbasin doesn't have what you need, there's always Diamon Peak Mountain Sports which is nearby or Alpine Sports which is down in Ogden.
Snowbasin Trails: What to Know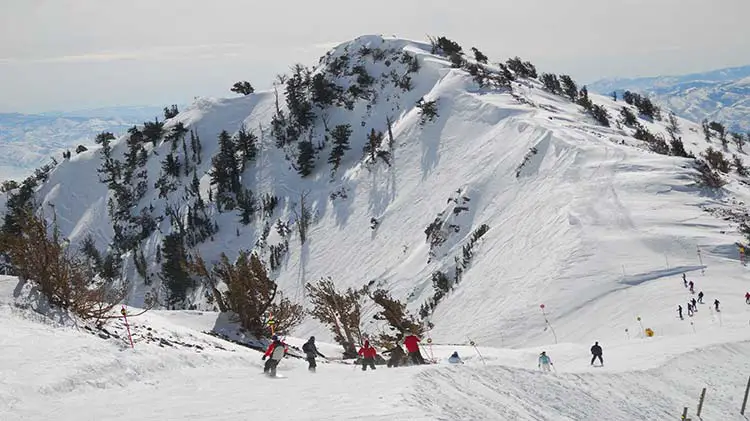 Snowbasin is an easy mountain to navigate. There are three main lifts to get you from the bottom to the top in no time. Here's what they're called and what they each provide:
Needles Gondola

Great for beginner and intermediate riders.

Access to three terrain parks.

Loads of groomed runs to choose from.
Strawberry Gondola

Great for intermediate and advanced riders.

Access to open bowls, groomed runs, and expert terrain like, Lone Tree.

Gorgeous views of the Great Salt Lake.
John Paul Express

Access to steep tree skiing and 2002 Olympic downhill course.

Views of the entire Snowbasin ridgeline.
Snowbasin Ski & Snowboard Lessons
Like any big resort, Snowbasin has an expert team of ski and snowboard instructors. They offer private lessons and group lessons for adults and children. But, by far the coolest thing they have to offer is their Learn and Earn Program. It's a three-year long program that helps beginner skiers and snowboarders grow into the sport.
Snowbasin is also a leader in adaptive snow sports. They're the go to mountain for Ogden Valley Adaptive Sports. OVAS is a non-profit organization that has a team of certified instructors who use the latest equipment and techniques to meet a variety of adaptive athlete needs.   
Snowbasin Tickets
Snowbasin accepts several types of passes. Their Premier Pass grants you access to the mountain year-round, and it gives you five days at Sun Valley Resort, too. If you want to have that sort of access but are looking for a cheaper option, Snowbasin also offers a Value Pass. It's basically the same thing as the Premier Pass but you can't access the mountain during holiday blackout periods.  Alternatively, you can always snag a full day pass or even a half day pass if you're only visiting for a short while.
Snowbasin also recently joined the Ikon Pass and Mountain Collective. Also, if you're someone who wants to hike up and ski down, there's a pass for that, too!
Snowbasin Ski Resort Terrain Parks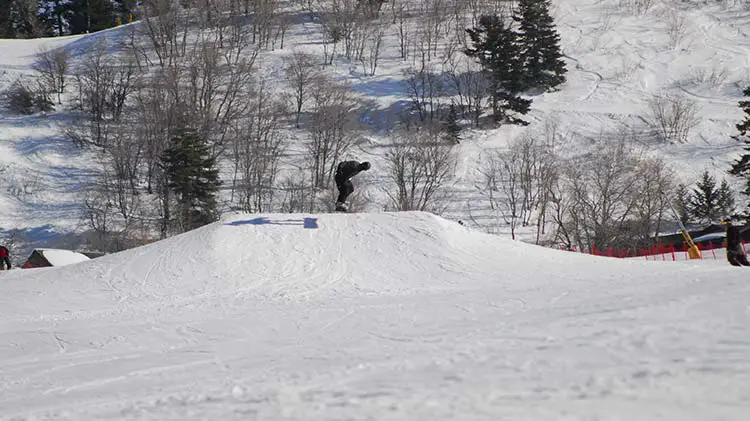 Snowbasin Resort has three terrain parks to choose from. Here's a breakdown what they have to offer:
Littlecat

Small features great for beginners    

Blue Grouse

The most popular park with something for everyone          

Orson's

More of a slopestyle feel       
Snow Conditions at Snowbasin
Utah has the greatest snow on earth and if you ride Snowbasin, you'll agree. It's the lightest, fluffiest snow. Snowbasin is also great at making their own snow if the weather isn't cooperating. They groom trails nightly, too.
You can check out Snowbasin's Twitter or the Snowbasin webcams to get a sense of what the conditions are before you head to the mountain.
Snowbasin's Future Plan
Snowbasin is already such a solid mountain but know that it's only going to get better. There are big plans to develop the village with more hotels, condos, and dining options. Snowbasin is also going to expand its skiable terrain by adding new lifts. Their goal is to have phase one of the development plan done by 2024 so be sure to keep an eye on this place as it's sure to experience a total resurgence as one of the top ski and snowboard destinations in the world.
Conclusion
It's no surprise that Snowbasin has been around forever. It's a friendly and reliable mountain where adventure seekers are guaranteed to be satisfied year-round. And the fact that it's just going to get bigger is even better.  
Explore More Utah Ski Resorts