It comes surprising to many skiers that they aren't drinking enough water when skiing. More skiers should be wearing hydration packs for skiing but they don't Even though it can be freezing out on the slopes, you need to stay hydrated!
Let's look at 8 really good hydration packs for skiing so you have an option for this winter.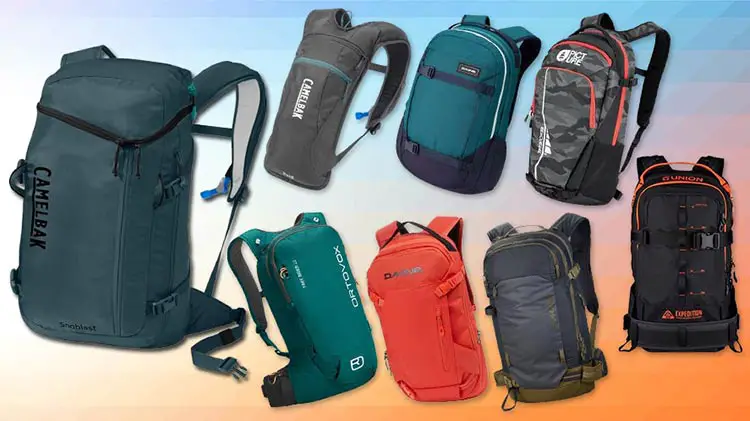 Hydration Packs for Skiing: Some Solid Options
Look for These Features in a Hydration Pack for Skiing
Some hydrations packs go for a more streamlined approach while others are all about the size. It really depends what style of riding you plan to do for determining how big of a hydration pack you need and how many features it should have.
We look for the following features before wearing any hydration pack out skiing.
1. Water Repellant and Resistant
Unless you want a soaked bag on your back all day then you'll want a water resistant bag for your hydration pack. Luckily manufacturers know this and make hydration packs specifically for skiing.
You'll just want to avoid any that are for running or other sports as they are not water resistant. If you need to wear one of those then it should be inside your jacket on your back.
2. Decent Storage
For most people, smaller is often better in terms of storage. Yes, you'll want enough water storage but storage for your keys, wallet and snacks to take skiing doesn't have to be large. As a general rule of thumb, 12 liters is plenty for most people but the 24 liter range can even carry items for two people.
3. Insulated Sleeve
Pay attention if the hydration pack has an insulated sleeve. The high end packs do but not all packs do. It's not a make or break. If you get a hydration pack without an insulated sleeve then you just need to blow air back into the hydration pack after drinking. This will clear the tube and prevent any in-tube freezing of water.
Easy Choice: CamelBak SnoBlast Hydration Pack
Made specifically for snowsports the CamelBack SnowBlast Hydration Pack is a simple choice to take skiing. It has everything you need. You can store your gear, keep 2 liters of water and even attach your helmet to the outside when not in use.
The SnoBlast has an insulated sleeve for the liquid to pass through which is perfect for days on the slopes to avoid freezing. Built with materials to repel the snow, the SnoBlast is a great option for skiers.
Pros:
Lots of storage
Insulated sleeve for drinking
Great value for what you get
Cons:
One size fits all
Limited colors
Key Specs:
Holds 70 fluid oz | 2 liters
3 main storage compartments
15% nylon | 45% polyester
1.3" diameter display
Plenty of Storage: Dakine Poacher 22L
Dakine doesn't make the list once but three times so take your pick. Kicking it off is the Poacher 22 liter. If you want to keep your pack lightweight while still having room to store stuff then this is the hydration pack for you.
The hydration reservoir is not included but the pack is compatible. This is pretty common with hydration packs. We also like the Dakine Poacher because you can carry your skis diagonally or in the A-frame shape. Even if you aren't riding backcountry, this helps for hiking from your ski vehicle.
Pros:
Large storage space
Can carry your skis
Hydration compatible 
Able to add a spine protector (DK impact)
Cons:
Can be more space than you need
Only two colors
May not be the most optimal women's fit
Key Specs:
Made from recycled nylon
Bag volume of 22 liters
Can take any hydration reservoir
Minimalist: CamelBak Zoid Hydration Pack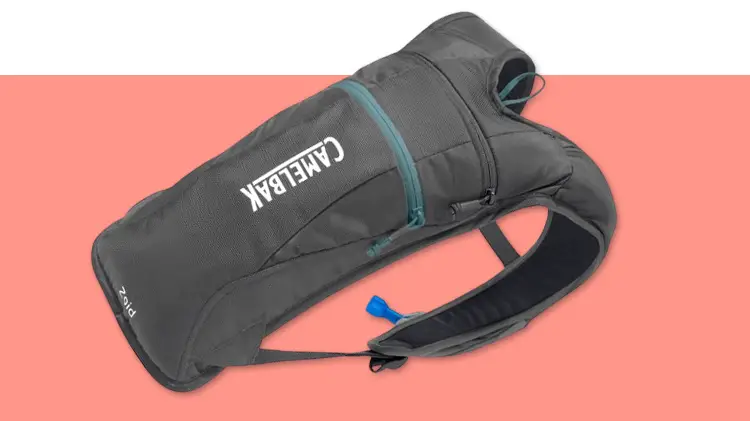 Do you want to take a minimalist approach to your hydration pack when skiing? With the CamelBak Zoid, you will hardly know it is even on your back. While this hydration pack by CamelBak has a back panel to repel snow, it is still small enough to wear the whole pack under your ski jacket.
The beauty of the Zoid is you won't feel bulky on the slopes. You'll have access to water but also a place to hold your keys, wallet and other small items. If you are new to hydration packs for skiing or just looking to slim down what your are wearing on the slopes then give the CamelBak Zoid a try.
Pros:
Slim design
Can carry all your essentials
Reservoir included
Insulated sleeve for drinking
Cons:
Small storage
One size
One color
Key Specs:
Carries 2 liters of fluid
1 liter of gear
19% nylon | 81% polyester
Women Specific: Dakine Mission Pro 25L – Womens
As a woman, maybe you have put on a backpack and notice the fit isn't just right. That's why Dakine designed the women's mission pro backpack. It has everything you need in a hydration ready backpack like and insulated hydration sleeve and a diagonal ski carry but best of all, comes in a women's design.
With 25 liters of space, you will never need another hydration pack to store your other belongings when skiing. Make the Dakine Mission Pro your go to hydration pack this ski season and you will improve your days on the slopes.
Pros:
Built for women
Water repellent
Insulated sleeve for drinking
Goggle pocket
Cons:
Limited colors
Not made for men
A Cheap Option: Picture Rescue 24L Backpack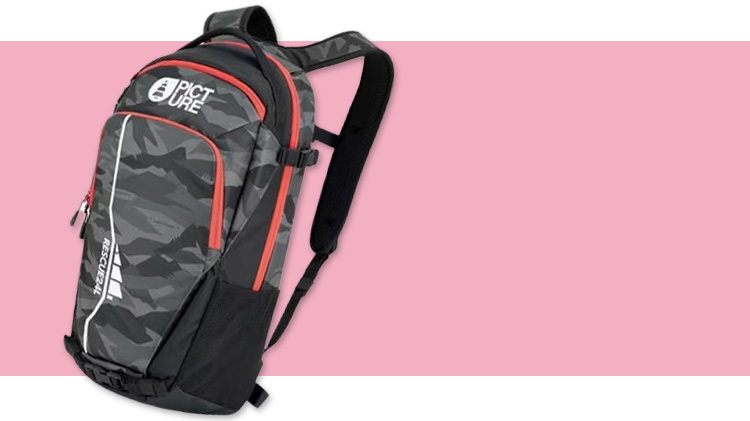 If you want a hydration compatible pack that doesn't break the bank that the Picture Rescue 24L will do the trick. It is hydration ready and has a lot of features of nicer packs like being ski and snowboard carry compatible.
The major drawback though is the hydration pack is not waterproof. This can leave you desiring for more on a ski day when there is snow coming down.
Pros:
Inexpensive
Can carry skis or snowboard
Goggle pocket
Cons:
Not waterproof
Design feels a bit cheap
Limited color choices
Key Specs:
55% polyester | 45% recycled polyester
24 Liters in volume
Hydration compatible
Ready for the Backcountry: Union Rover 24L Backpack
Built for an absolute skiing mission the Union Rover looks more like a tactical pack than a hydration pack. Impressively it is pretty much both. It has an insulated hydration strap that is ready for the coldest days and tons of webbing to hook on any tools to the back.
If you plan to hit the backcountry then pack in your tools and strap them on. The Union Rover is the hydration pack that was made for your style of skiing.
Pros:
Extremely functional
Backcountry ready
Insulated hydration strap
Cons:
One color
One size fits all
Doesn't have a streamlined look
Key Specs:
100% Recycled Polyester
24 Liters in volume
Can carry skis or snowboard
Compact & Efficient: Dakine Heli 12L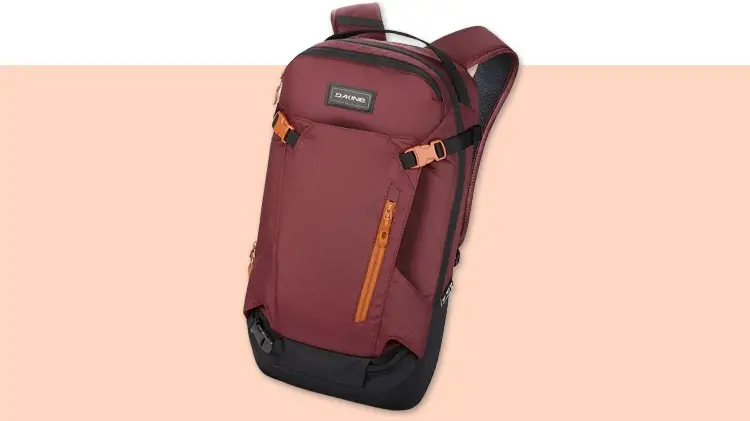 Right on the line of minimalist is the Dakine Heli 12 Liter pack. We must say this one brings the looks. Coming in multiple colors, and being hydration compatible, this fits the needs of most skiers.
If you don't need tons of space in your pack then don't bring it. Go with something smaller like the Heli 12L and you will hardly know you have it on you.
Pros:
Plenty of space for being smaller
Hydration ready
Can carry skis or board
Lots of color choices
Cons:
Doesn't have massive amounts of storage when compared to larger hydration packs
Feature Rich: Ortovox Free Rider 22L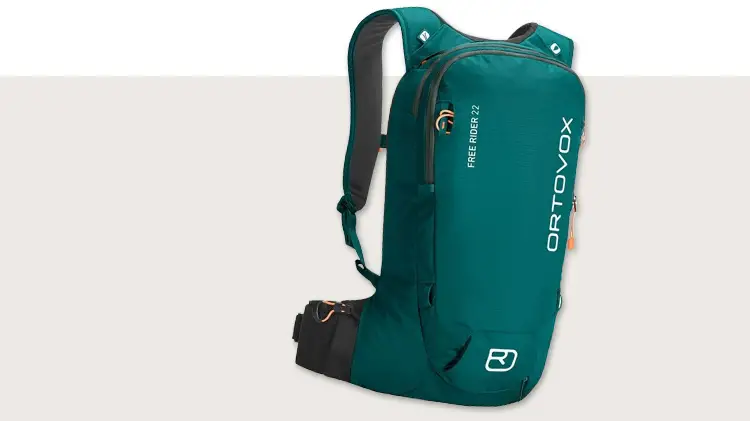 Closing off the list of hydration packs for skiing is none other than the beautiful Ortovox Free Rider. The multiple compartments make storing your keys, goggles and food a breeze.
It doesn't matter if you are lapping the groomers, hitting the glades or adventuring into the uncharted, the Ortovox has your back. It is hydration system compatible and has points attached for any safety tools. If you want a bit of high end style and a lot of features then the Ortovox is for you.
Pros:
Hydration compatible
Feature rich pack
Plenty of storage
Cons:
Single color
May be too much storage for some people
Key Specs:
Made from Polyamide
22 Liters
Can carry skis or snowboard
Final Thoughts Which Hydration Pack to Take Skiing
Does everyone need a hydration pack when skiing? No, definitely not but if you are skiing long sessions, backcountry or have a tendency to not be drinking water when you ride then you should consider a hydration pack.
Our two favorites, are the CamelBak SnoBlast Hydration Pack and the Dakine Poacher. Take your pick!