If you come from a snowboarding family, chances are that your mom has gifted you plenty of gear over the years, from your very first board to that goofy sweatshirt that you never wear to those really warm mittens.
Now, it's your turn to return the favor! Read on for the ultimate list of snowboarding gifts for snowboard moms' birthdays.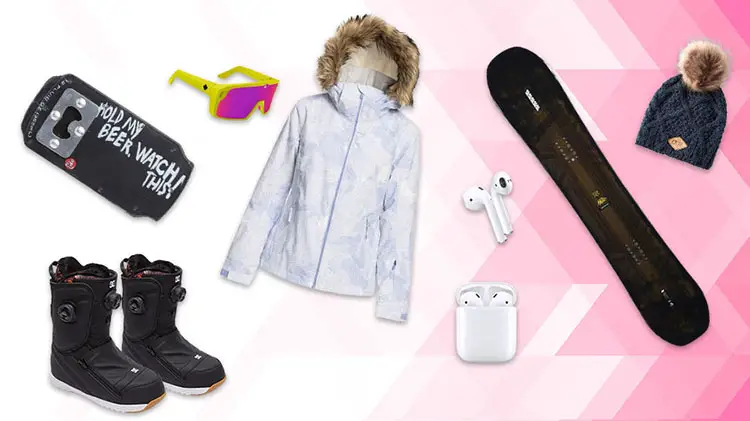 1. Snowboard
There's really no better gift for any snowboarder than a brand new snowboard. Of course, new boards can get expensive quickly, but if you can swing it, treat her! There are a ton of boards on the market, and which one is best for her is going to vary. We recommend by starting with looking at the top snowboard brands.
If she's super specific about what she likes out of her board, you can get her a gift card to her favorite brand. 
Otherwise, find the most delicate way to get her height and weight and check out Evo's Women's Snowboarding Selection. Here, you can filter by ability level, board type, width, price, and more to find the best board for your mom and your budget.
2. Smart Watch
Look, a Fitbit might do it for any old mom, but your mom is not any old mom. She needs to count more than her steps. A good sports watch measures heart rate and calories burned, as well as tells you the temperature and altitude.
Maybe now that she's getting a bit older, (not that she looks a day over 30) keeping track of her fitness is a little more important. 
We recommend the Garmin fēnix 7S – Standard Edition. This watch tracks all the regular stats, as well as measures oxygen levels for those high Colorado and Utah altitudes. Not to mention it has a built-in GPS (perfect for finding her way back to the lodge) and can receive texts so you can meet up on the hill!
3. Snowboard Jacket
Chances are mom has some of the coolest retro gear on the hill. The problem with old gear–it's old. It isn't as waterproof, as warm, or as windproof as some of the newer gear. Keep her looking awesome and feeling more protected from the elements with a new jacket! 
Just make sure to do some recon before buying–everyone likes something different out of a jacket. Some prefer their jackets to be super thick or even fur-lined while other people want a shell that is as thin as possible. That's not the only style to consider! There are a ton of options so be sure to find one that she loves.
4. Crocs Clogs for Mom
Sure, snowboard boots are more comfortable than ski boots, but that doesn't mean that you want to hang around in them all day long. Changing up footwear during breaks and aprés doesn't only give your feet a much-needed break; it also helps make your boots last longer!
There's no use in wearing out the sole of your boot on the pavement. 
We recommend Crocs Clogs, which can come either fur-lined or standard rubber. The key with these shoes is they're lightweight (carrying around snowboarding gear alone is heavy enough without a pair of snowboots added to the mix) and insanely comfy.
Sure, she might laugh taking them out of the box, but we guarantee that once she throws these on, they won't be coming off.
5. Sunglasses
While goggles are an essential piece of equipment, tons of boarders switch to sunglasses during spring skiing time. This is because they don't heat up as much and they aren't as prone to fogging up.
While sunglasses might not be as effective at blocking the wind as goggles are, they are more versatile when it comes to moving from the slopes to aprés. 

Now, even though your mom might not be rocking Pit Vipers (although we love her if she is), there are plenty of sunglasses with ergonomic designs that offer more wind protection than a classic style, but are versatile enough to be used all year round!
After the winter season, she'll be able to rock them at the beach, the lake, or around town.
6. Helmet
Everyone needs a helmet on the mountain, and your mom is no exception! Protect her noggin with a new one. While you might not think that a helmet is something that needs replacing, it's actually really important! Most companies recommend replacing your helmet every five years or after any considerable impact.
So even if she doesn't need one today, it'll be great to have a stylish new backup just in case. 
We highly recommend getting a helmet with MIPS (Multi-directional Impact Protection) technology, which is becoming more and more common. Giro, Smith, and Anon all have helmets with MIPS technology. Pick one in your mom's favorite color so she stays looking good and being safe on the hill.
7. Gloves
We all need a pair of either gloves or mittens, and a fresh pair will up your mom's hand warmth by more than she might expect. But, that introduces the age-old debate among winter sports fanatics–gloves or mittens.
Which camp is your mom in? If she's a gung-ho-glove-girl or mitten-loving-mama, your choice is easy enough. But if it's open to interpretation, why not choose the best of both worlds? 
There are plenty of crab-style mitts on the market nowadays, which are a mitten for four fingers and leave the pointer free. There are also half and half styles (ring/pinky and index/middle split). They might look a little silly, but they allow for the dexterity of gloves without sacrificing the warmth of a mitten.
8. Snowboard Socks
Too many riding moms are lost to the lodge each year due to cold toes. And while toe warmers are an acceptable temporary fix, they don't last all day and the cost adds up over the course of the year. Nowadays, you can get rechargeable electric socks.
They're better for the environment than disposable toe warmers, but these can be pretty finicky, and if you forget to charge them overnight, it'll be a cold day on the hill. 
That's why we're still fans of tried and high-quality merino wool. Check out Darn Tough for a variety of thicknesses (remember that thicker doesn't always mean warmer!) and a lifetime warranty, so you'll never again have to see your mom staring at the powder sitting next to the fireplace.
9. Beanie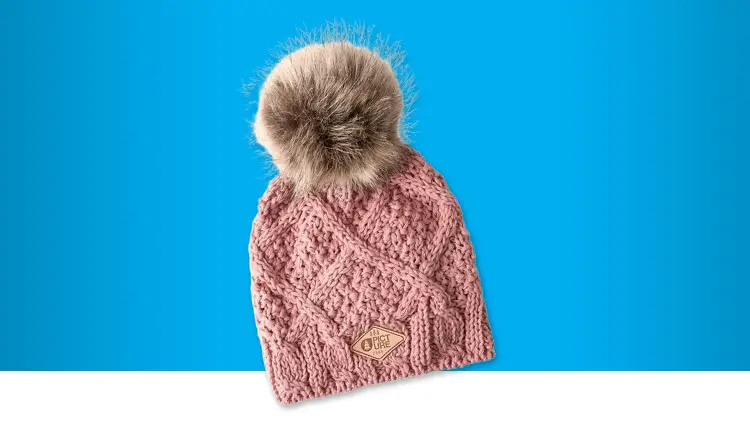 Most riders like to throw a beanie underneath their helmet. Even if your mom isn't a fan of that style, it's always nice to have one to keep warm at the outdoor bar or to cover helmet hair in the lodge! 
The great thing about giving a beanie as a gift is that it doesn't have to be expensive and is super customizable. You can find one in her favorite color or with a design that she loves on it. The House has a ton of different types, and you'll be sure to find one she loves! Just be sure to skip the pom-pom if she likes to layer beneath her helmet.
10. Splitboard
Whether your mom is an experienced backcountry boarder or has recently started trekking, a splitboard is an amazing investment for any rider serious about backcountry terrain. Like the name suggests, splitboards split into two boards that can be equipped with skins to make it easy to walk uphill to terrain unreachable from resorts. 
While they are a bit more expensive than regular snowboards, their purpose is two-fold! Just make sure that you get splitboard bindings as well if she doesn't have them already. Rossignol and Arbor have some of the most beloved women's splitboards on the market.
If neither of those seems right for your mom, Evo has plenty of options at all different price ranges and skill levels so that you can pick the best one for you mom!
11. Headphones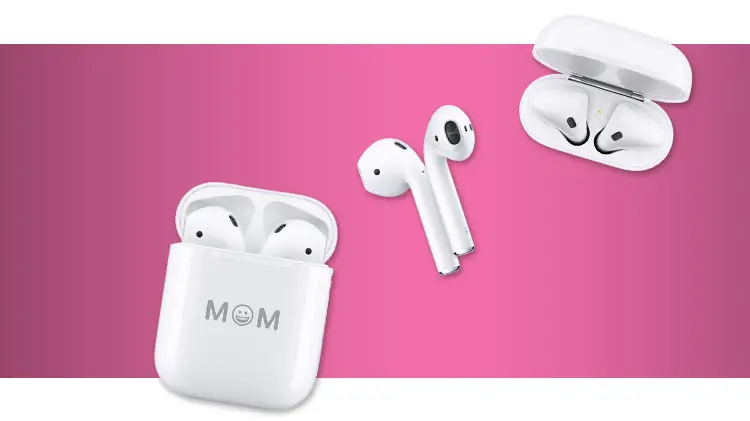 No matter what genre of music your mom listens to, she's going to be stoked to be able to listen to it as she heads down the slopes.
The days of the corded headphones sticking out of jackets are long gone, and there are plenty of options for listening to music going down the hill. If you're feeling super high tech, you can even combine two gifts on this list and get your mom a helmet with headphones built-in. 
Personally, I'm a fan of Apple's older generation AirPods (not the noise-canceling ones!) or a similar wireless headphone. That might sound like crazy talk, I know, but the older style fits snugly in the ear without pushing hard against helmet pads.
The downside of both built-in headphones and noise-canceling wireless headphones is that it can be difficult, or even impossible to hear riders around you. Being oblivious to your surroundings is an absolute no-go on the slopes. Make sure your mom can vibe safely down the hill with wireless earbuds.
12. Crash Pants
When you're in your teens, boasting about your boarding bruises is a badge of honor. As you get older, it's literally just a pain in the behind. But your mom doesn't need to sport them anymore with a pair of crash pants.
They slide on right underneath her other layers and offer protection from impact. They're perfect if she's just starting out on a board or looking to improve her chops in the park. 
Another great thing about crash pants is they'll protect her in all types of sports! If she goes mountain biking or ice skating, these are a gift that will let your mom stay active in the outdoors without having to worry about getting hurt!
13. Stomp Pad
Stomp pads are grippy stickers that attach to the top of your board. While they certainly aren't a necessity, they can be really helpful, especially for beginners. They allow riders to comfortably put their foot down while it isn't strapped in. It'll make getting off the lift or coasting along the flats much easier.
Stomp pads aren't expensive, and they're super customizable as well. If you have a design in mind, you can even go on a site like Etsy and have one made just for your mom. They aren't difficult to install either–you could surprise her by putting it on for her with just a little guidance from Youtube!
14. Lift Tickets
Lift tickets are a phenomenal gift for any rider, and your mom is no exception! If you grew up riding with your mom, she bought your tickets for years. It's only fair that you return the favor this season.
Oftentimes, people who love snowboarding will forego a trip because they don't want to pay for lift tickets because they can run over $100 a day easily. 
If you're willing to drop the cash, your mom will love that factor being taken out of the equation. Pick the nearest mountain and send it! If you think early enough in advance, you can also get early bird prices for next season during the spring and summer to make it more affordable for you.
15. Boots
Just because snowboard boots are comfortable compared to ski boots, your mom shouldn't be wearing the same pair until the soles fall off! Ideally, you should be replacing them every season or two, and so chances are, your mom is due for a new pair.
You can either replace her current pair with the newest model, or try and find her something brand new. If you're nervous about fit, look for a pair that is heat moldable, so that no matter what you get her, it's bound to fit perfectly in the end. 
Of course, boots don't come cheap, but they're still cheaper than a snowboard or splitboard! Treat your mom without breaking the bank with a new pair of boots that will improve her performance, maintain her comfort, and keep her warm on long days on the hill.
16. Gear Bag
As the season ramps up, the parking lots fill up earlier and earlier. If your mom doesn't want to get up at four in the morning to get a close parking spot, carrying all her gear from a mile a way can get pretty taxing. In the worst case, it might stop her from going to the mountain altogether!
A nice gear bag can make all the difference when making the sometimes long trek between the parking lot and the lodge. 
A bag like Thule's 60 Liter Boot Pack has pockets for boots, a strap to hold the board. The main body is big enough for a helmet, gloves, and even extra layers. We know you probably still forget your gator when you're riding with your mom, and we know she always carries an extra for you.
Free up her hands and her pocket space with a nice gear bag that will last her years to come.
17. Epic Pass
For some moms, a couple of days on the hill each year is enough. Not your mom though. She needs the unbridled freedom of a season-long Epic Pass. Now, these don't come cheap, but if your mom is riding more than 25 days a year, the bang for your buck is immeasurable. And Epic has enough pass options to make anyone happy. 
Check out all of the options before you buy! There's the Local Pass, which is more affordable in exchange for more blackout dates, and all kinds of Regional Passes if you live near one of Vail's many resort conglomerates.
If the Vail mountains aren't your mom's favorite, you can also check out Epic's biggest competitor, the Ikon Pass, which has slightly more east coast variety.
Final Thoughts on Snowboards Gifts for a Snowboard Moms' Birthday
No matter what you choose, she's sure to love it because it came from you. Just don't forget–while everyone loves getting gifts, the best thing that you can gift your mom is time on the slopes with you.
So, grab her something to enjoy, and then enjoy it with her all season long!