Updated August 15, 2023 by Jessie Gonzalez. This post contains affiliate links at no added cost.
Are Rome snowboards good? You've heard of Rome SDS and you're ready for new gear in anticipation of snowboarding season but don't know if getting a Rome snowboard is your best option as they're a relatively young brand. Understandable as there are so many options on the market today.
Read on to discover more about this underrated innovative brand made by riders for riders and learn if Rome snowboards are good or not.
Types of Rome Snowboards: A Look At The Selection
Rome SDS stands for Rome Snowboard Design Syndicate. The idea for this company started in 2001 in Waterbury (Vermont) by two American riders who were working for Burton before deciding they wanted to start their own quality snowboard brand. They've managed to build a solid reputation ever since.
Rome SDS offers a variety of snowboards for men, women and kids. It also offers a wide range of sizes and two different widths; standard and wide to cover the needs of every customer while ranking well in our roundup of top snowboard brands. Rome SDS also made sure to design various types of snowboards for all your snowboarding needs:
All Mountain
Powder
Park
Splitboards
If you're looking for versatility and want an all purpose snowboard, Rome's All Mountain product line is perfect for that and suits beginners as well. For the more professional riders looking to float in deep snow in the backcountry or interested in doing tricks in the snowpark, their Powder and Park collection will be perfect for you.
Rome SDS offers at least 7 different models in each of the All Mountain, Powder or Park product lines so plenty for you to choose from. They also give you the option of different shaping from fully symmetrical to significantly longer nose than tail or slightly longer nose than tail.
If you're specifically looking for splitboards, unfortunately, the variety is not comparable to Burton or other big known brands but after all we've mentioned above, this is no biggy. For selection, we score Rome SDS a good 7.6 out of 10.
See Where These Other Snowboard Brands Rank
Are Rome Snowboards Good? The Quality Tells All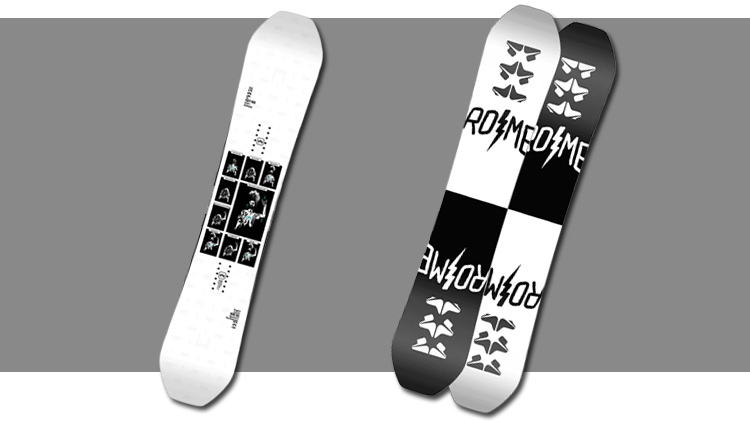 Quality in Rome SDS snowboards is undebatable. These guys really took the knowledge out of Burton and then added extra miles to improve the snowboarding world. They're also always open and receptive to improvements to create and manufacture better snowboards for riders. Another big plus is their customer experience, which is at the top of their priority. We all know this might not be the case across the industry.
One technology that makes Rome SDS stand out is the integration of Hot Rods in different areas of their snowboards.Hot Rods are thin rods that are milled into the cores of Rome's snowboards. This results in more power and responsiveness when riding on a Rome snowboard.
Rome manufactures their snowboards using a range of Isosport base materials which is known in the industry for providing increased durability. They also use Impact Plates which helps lessen impact and chatter. This is very greatly beneficial to reduce exhaustion if you are on the slopes for hours.
Don't Miss Exclusive Ski & Snowboard Gear Deals
Straight to your inbox, savings on skis, boards, boots and more.
You may get 1-2 mails a month MAX but man are they worth it!
Lastly, let's not forget about the Diamond 3D technology used in Rome's snowboards which improves smooth turn initiation and helps floating in deep snow and benefits riding in all types of surfaces.
Overall, Rome Snowboards are durable, high quality and we can't forget about their high customer service, which might be considered one of the best in the industry. We would score Rome SDS quality as an excellent 7.9 out of 10.
How The Quality Compares to The Price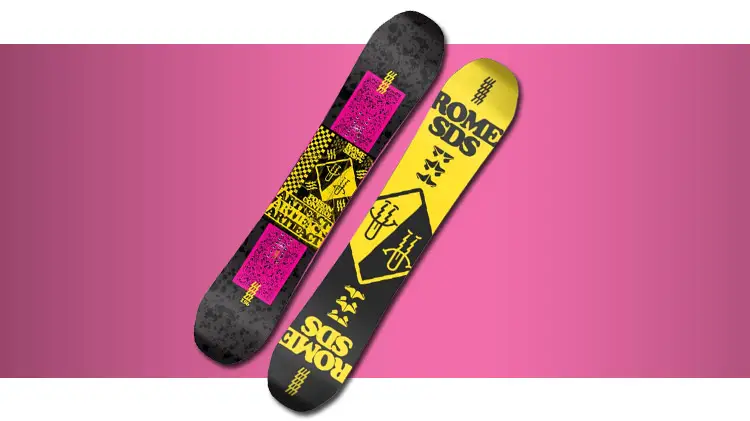 After all the interesting facts we pointed out about the technology and quality of Rome SDS, one might think their snowboards must be costly. Well not at all! Rome SDS snowboard pricing is actually quite affordable and comparable to Burton and some other well known brands.
You can get your hands on a snowboard for $300. Most of them will be in the $400-$500 range with highest at $630. That's really exceptional pricing for quality boards if you ask us. Again, don't forget Rome is reputable for their customer service so if you encounter any issues, they're known to be super responsive.
No doubt we would give a 8.3 out of 10 when comparing the quality to the price of Rome snowboards.
Rome Snowboard Graphics
The graphics on Rome snowboard are definitely worth exploring. They offer a range of colors and designs that puts the brand name in the spotlight. We believe with a Rome snowboard, it will undoubtedly catch peoples eyes when you are riding. After all, isn't that what we all desire, to ride freely in style?
Three of our favorite boards' graphics are:
Ravine
Artifact
Party Mod
Since this is still considered a younger company, new designs and boards are always in the pipeline so be on the lookout for anything out of the ordinary!
We give Rome snowboard graphics a 7.9 out of 10.
The Best Rome Snowboards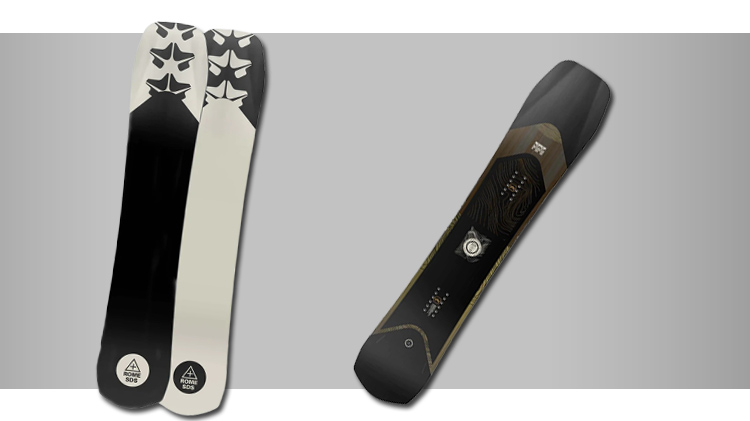 Shopping for the snowboard of your dreams always depends on your style, your experience level and how you want to ride.
If you're the type to go straight to snowparks, we would definitely recommend the Artifact. Built with what they call the Double Kick, which is a two-part rise in the nose and tail of the snowboard, that will provide better landings on your jumps and increased pressability.
The Agent would be best suited for an "all-purpose" board from beginner to advanced if you're just looking for a durable high quality product to ride the slopes every winter.
Lastly, if you really just want the top notch board that has all the qualities we enumerated previously, then go for the Ravine. You'll no doubt feel like riding on clouds with this versatile board fit for Powder and All-Mountain!
Final Thoughts: Are Rome Snowboards Good?
Rome snowboards are without a doubt high quality and a great option for riders from all levels. With their innovative technologies and awesome customer service, we can't give Rome SDS any less than a score of 8.0 out of 10. That puts them coming in just behind K2 snowboards in our total roundup.
This year can be the year that you ride Rome. Grab one and send it on the slopes.