All skiers have to start somewhere. While people start out with no knowledge of the sport, they progress through the skiing skill levels the longer they ski. Having a good idea of your ability level will help you pick ski slopes, lessons and know which mountains to ride.
Being an informed skier is always better than an uninformed skier. Let's take a look at the skiing skill levels and see what level you are!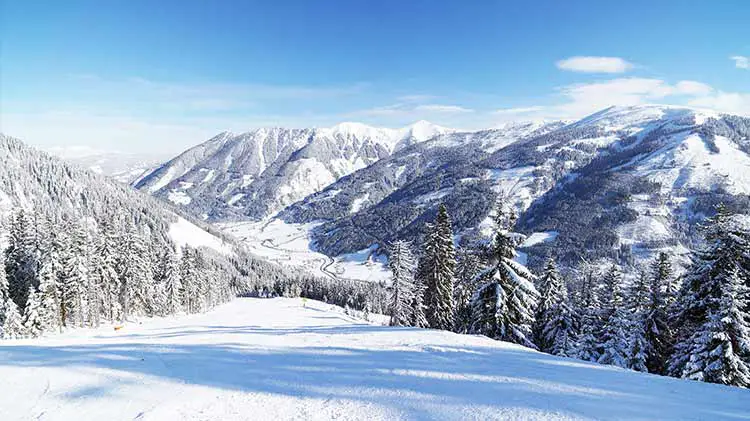 What Are Skiing Skill Levels?
Skiing skill levels break out people's abilities in different levels so people can either acknowledge they can do the skills or not. It helps put all skiers on a level conversation about what level they are when you have baseline standards for each level.
Why Should You Know Your Skiing Skill Level?
Knowing your skill level is not only about having an intelligent conversation with other skiers as it is important to safety. At the end of the day, beginner levels will be most confident on green trails in the U.S. and intermediates with blues.
Another important reason to know your ski level is if you are taking lessons. You might want to tell the instructor that you are a level 5 and needs to work on moguls to progress. Having a strong idea of your skill level will get you lessons suited for you without a lot of back and forth.
Let's Look at the Skill Levels for Skiing
Beginner Skiing Levels
The beginner skill level of skiing ranges from people who have never been on skis to riders who can link turns on greens. There is a wide range in the beginner category of skiing levels but often a beginner can go from a level 1 to a level 4 in a quick amount of time. Here's how each beginner skiing level breaksdown.
Level 1: Brand new skiers who have never put on skis or been on the slopes before.
Level 2 Skiers: Skiers at this level may have went out to the slopes for a day or two but didn't make much progress. They know how to get their boots and skis on, can make a wedge and slightly change direction.
Level 3: This level of beginner can be achieved in one day of skiing if a person is a fast learner. Essentially level 3s can stop using the wedge confidently on beginner green trails.
Level 4: A lesson or two should get you to an ability level of 4. These are skiers who are nearing the end of these green phase and are almost or ready to try a very easy blue. Before that, they can control they speed on greens, can wedge stop, keep their skis in line and can link turns.
Finally skiers are this level are testing the parallel stop or hockey stop.
Intermediate Levels of Skiers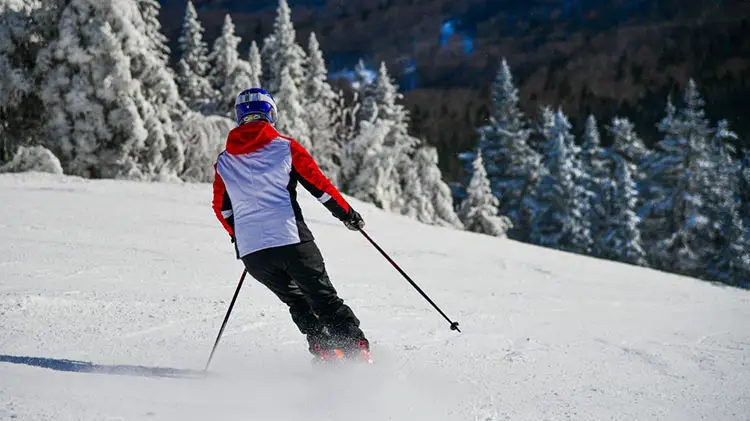 Skiers at the intermediate levels can ride the green trails with no concerns. They are also ready to start easy blue trails and pick up speeds. At the far end of the spectrum, intermediate skiers may test their ability to try black diamonds as they continue to push their skills.
Level 5: The mountain starts to open up as level 5 skiers can get onto the blue trails. A complete level 5 skier has learned to parallel stop on greens and is finished with the wedge. There still may be a little bit of wedge stopping on their blue runs.
Other skills that level 5 skiers have is experiencing new terrain that is a bit steeper or ungroomed. On harder blues, a level 5 skier may still resort to using the wedge if they find the trail is too much for their ability level.
Level 6: At this stage, a level 6 intermediate skier is a confident skier. They can parallel stop on any blue trail and are testing themselves on black trails.
Some other areas where level 6 puts their skills to the test are:
Small moguls
Beginner park features
Off piste/ back country
Tree skiing
To challenge themselves in these new areas, these skiers can use their poles to start their turns and make their turns tighter than a level 5. Lastly, level 6s are still taking lessons to master the further levels and trails.
Advanced Ski Levels
The advanced skill level in skiing can be the the results of days, weeks or a season of learning on the slopes. It depends how much you get to the mountains. At these levels, skiers are riding the terrain park with confidence, exploring challenging terrain and skiing in less than perfect snow conditions.
Level 7: To achieve level 7 mastery, skiers needs to be able to control their speed on blues and blacks. This is done by having a firm grasp on parallel turns. Skiers can explore more terrain park features and are getting into the easy and intermediate tree skiing.
Two other areas level 7s have under control are adjusting their turns for the snow and adjusting for the terrain. Their riding style adapts to the terrain they are reading.
Level 8: There isn't terrain that can be thrown at a level 8 skier that will give them much problems. They are riding the trees, moguls and powder with confidence. They can skill almost anything they want in the terrain park.
Additionally, at level 8, skiers have perfected their carving to a high skill level.
Expert
It can take easily more than a season to get to an expert level of skiing. Experts can confidently check off levels 1-8. When experts show up at a new resort, they have no concern with starting on a high level blue or even charging a black. Many experts add in their own nuances to their skills to ski at such a high level.
Level 9: Single and double black diamonds are no issue for expert skiers. Level 9s look to find the hardest trails and get the thills of high speeds and deep carves. You'll find these experts in the deep mogul fields, backcountry, trees and on the big jumps at the terrain park. They are ready for any challenge with their skills.
What Ski Level Are You?
Is it clear which skiing skill level you are? A common remark we hear at the resorts is either, " I thought I would be a lower level" or alternatively, skiers think they are a higher level then they actually are.
Knowing the skills that make up each level will make it simple to bucket yourself into a level and working towards the next level.
Final Thoughts
Skiing skill levels shouldn't make you feel constrained but rather help you set your goals and open your eyes to see what you need to learn to hit the next level. Remember, lessons are one of the fastest ways to level up in skiing along with being out their on the slopes.
The more time you are on the slopes and improving your abilities, the faster you will achieve the skiing skill level that you are aiming for!