Once you have been skiing or snowboarding for a while, ski trail rating and ski slope levels don't take any thought to understand. The markings can seem like a foreign language to someone who has never seen snow. Luckily ski slope levels and markers are universal from resort to resort.
One drawback though is that the marking doesn't mean they are all the same difficulty but there is some method to the madness. In this post, we'll look at what the ski trail markers mean and what the different colors stand for.
North American Ski Slope Levels Explained
While the trail markers are universal, they vary from North America to Europe and Japan. Don't worry, it will only take minutes to understand and you'll have it all figured out by the time you get to the resorts. One of the most fun parts of planning a ski trip is studying the ski map and trails. Soon enough you'll be riding blue squares and black diamonds but first, let's start with green circles.
The Green Circle: Beginners Trails
All beginners in North America will start on green circle trails. Generally speaking, these trails have a grade that is less than 25%. It's just enough to get you going down the slopes and enjoying it. Green circles are perfect for learners and families who want to ski or snowboard together. There is nothing wrong with only skiing or snowboarding on green circle trails if that is what you enjoy. Riders can often find a wide range of green trails and some are much harder than others.
Peak Seeker Pro Tip: Not all green circles are the same from resort to resort. Some are much steeper than others. If you are brand new, speak to someone when getting your ticket or if you are taking a lesson and find out the easiest green trails vs the harder green trails. You don't want to bite off more than you can chew on the slopes!
At the green level, it's important to master the following skills even before attempting to move up. Here's a list of the beginner skills to work on, on green trails.
Stopping using the wedge technique (Skiers)
Skating to the lifts (Skiers and snowboarders)
Getting on and off ski lifts safely (Skiers and snowboarders)
Heelside and toeside turns (Snowboarders)
Stopping using heel edge (Snowboarders)
Linking turns (Skiers and snowboarders)
Controlling speed (Skiers and snowboarders)
The list may seem long for beginners but it's all techniques you will need to learn to ski or snowboard green trails properly before even thinking about blues. Once you have those down, you'll be ready to move up.
The Blue Square: Designed for Intermediates
The next step up in ski slope levels after the green circles is the blue square. These trail gradients range from 25 to 40%. The Blue Square Ski Trails are a great place to ski or snowboard for someone who is comfortable on their skis or snowboards. The trails are well-groomed and have a variety of difficulty levels. Often the resort will light a few of these trails if there is night skiing so you can ski or snowboard into the night.
You shouldn't move up to blue square trails until you have a good handle on the following skills –
Stopping confidently and quickly
Making short turns
Can control your speed at all times
Loading and unloading from lifts.
It can take days to go from a green circle to a blue square and for others, it can be just a few days. Not everyone picks up skills at the same pace. Plus since skilling is a bit easier to learn, skiers often make it to blue squares before snowboarders.
Get a lesson if you need it so you can increase your abilities and skill set then you'll be on the blue squares in less time. This will unlock a whole new part of the mountain for you.
Once on the blue trails, you'll learn new skills including:
Increasing your speed
Improving your carving
Stopping immediately when needed
Blue slopes are the stepping stone to black diamonds. Let's see what skills you need for black diamonds and what those trails are all about.
Black Diamonds Ski Trails:
Black diamonds are only for advanced riders. They also aren't for the faint of heart. Many beginners look at them and question how someone could even ride such a slope. Black diamonds have a gradient of 40% or higher. That is doubling some greens.
The black diamond trails can be found at ski resorts all over the country. They're typically located on the most difficult slopes, and they can be identified by their distinctive black markings. While they may seem intimidating, these trails provide a unique and thrilling skiing experience. Some black diamonds may have moguls, trees and are often not groomed.
If you're looking for a challenge while skiing, look no further than the black diamond trails. These expert-level slopes offer a serious workout and plenty of thrills Only experienced skiers should attempt to navigate them. You will need all your skiing and snowboard skills, which will be put to the test when riding a black diamond. For the black diamond level, you should have mastered carving and stopping. You'll need it for the steep grades.
If you're up for the challenge, be sure to check out the black diamond trails at your local ski resort once you have worked up to them. Sometimes it can take a whole season to work up to black diamonds. Once you have made it, you'll enjoy some of the most challenging skiing imaginable! Plus, you are almost riding the entire mountain at this point!
Double Black Diamonds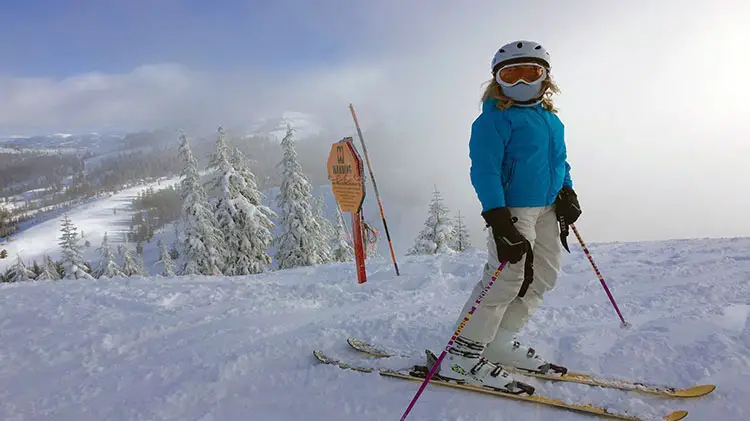 Slopes do not get harder than double black diamonds. This is the hardest of the trails in North America.
Double black diamond ski trails are for experts only. These trails are incredibly dangerous, and should only be attempted by those who have a lot of experience skiing in difficult conditions.
Double black diamond slopes are usually very steep and have a lot of twists and turns. One fall can send you and your gear flying all the way to the bottom.
The most important things to have a hand on before riding double black diamonds is reading terrain and making fast decisions. The terrain can change quickly and there can be a multitude of obstacles on the trails.
These expert levels slopes often include:
Trees
Rock lined chutes
Cliffs
Cornices
Varying snow conditions.
Another thing to be aware of with double black diamonds is the drop-in. Since riders start near the peak of the mountain, you can expect low visibility, difficult drop-ins and strong winds. Knowing your line you will ride will ultimately help but having a handle on your technical skills is a must before riding double black diamonds.
European Ski Slope Levels and Trail Markings
Europe's ski slope levels and markers follow a similar marking system to North America. If you have learned North America's marking system then Europe's will be easy to learn as well.
The slope in Europe are rated by blue, red, black, double black and triple black trail ratings.
Blue Colored Markers
Almost always groomed, blue-colored trails are the easiest trails in Europe. You'll need to learn the same skills as North American green trails to ride the blue trails of Europe. Like North American green trails, Europe blue trails grades are typically less than 25%.
Once you can get on and off the lift, stop and turn, and you'll be ready to give the red slopes a try.
Red Ski Trails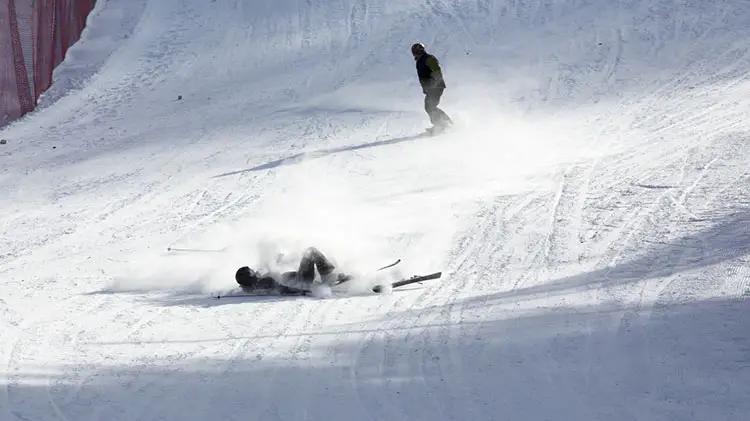 Red marked trails have a gradient of less than 40% in Europe. While they are still groomed, they are steeper, often have more turns and aren't as wide as blues. Think of these as intermediate to advanced trails depending on which ones you ride.
You'll need all your basic skiing and snowboard skills, along with improved turning and stopping capabilities to ride these slopes.
Black Runs
Be ready to step up your game on the black trails in Europe. A good rule of thumb is if you can ride a black diamond in North America then you'll be able to make it down the black trails in Europe.
Black trails inherently come with more danger like trees, cliffs and ungroomed snow. You should have mastered stopping, carving and reading terrain before you get onto a black-marked trail at European ski resorts.
Double and Triple Black Diamonds
Double black and triple black diamonds take the cake in Europe. Nothing gets harder. If you even have to question your ski or snowboard skills and abilities then you shouldn't attempt a double or triple black diamond trail.
We can't stress it enough, how high your skills need to be to ride these trails. One look at these trails will dissuade most riders.
Japanese Slope Levels Explained
If you are headed to ski or snowboard in Japan then it's important to know their trails don't follow the North American trail marker system. They follow the European trail rating color system with the exception of beginner trails, they are marked green.
Final Thoughts on Ski Slope Levels
Just because two trails are marked blue, it doesn't mean they will be the same grade. North America and Europe follow their own ski slope level systems. Getting familiar with these systems before hitting the trails will make for a stress-free and fun day on the slopes.
It may feel like a lot of information to digest now but once you hit the trails a few times, the ski slope levels will come to your naturally.