Updated August 15, 2023 by Jessie Gonzalez. This post may contain affiliate links at no extra cost.
Southwestern Colorado's San Juan Mountains are home to Purgatory Resort, a ski area well-known for fabulous dry powder and incredible views. The historic town of Durango is just 25 miles to the south, filled with great shopping, microbreweries and restaurants. A family-friendly resort, Purgatory offers steep- tree ski trails as well as wide-open runs and is a superb mountain resort for beginning skiers and boarders. More seasoned downhill enthusiasts will find no shortage of challenging runs to attack for days on end.
How Do I Get to Purgatory Resort?
Most visitors heading to the Purgatory ski area arrive by car, though its remote location in southwestern Colorado can make for a long ride. The closest major city isn't Denver or even Colorado Springs, though they are located in the same state. They are seven and six hours away respectively, which is a long way when there are other closer options.
The nearest major city happens to be Albuquerque, New Mexico, making for an easy drive of four hours north via U. S. Highway 550.
For those considering flying directly into the region, there is seasonal scheduled airline service to the Durango – La Plata County Airport via United Airlines from Denver (DIA), and American Airlines from Phoenix (PHX) and Dallas/Ft. Worth (DFW). You can rent a car at the airport (reserve your car early!), and be at Purgatory in just under an hour (41 miles). Just 20 minutes from the airport, about 15 miles into the drive, you'll pass through Durango, so if you are staying in town, now would be the time to check into your hotel.
Parking & Shuttle Service at Purgatory Resort
FREE parking lot shuttles operate throughout the day during ski season. Both Upper and Lower Columbine parking lots are served, as is the Beginners Area and the Gelande overflow parking lot. No matter where you park each day, quick and complimentary transportation to the arrival court is just moments away.
Read More:
Purgatory's Mountain Stats
Base elevation: 8,793 feet
Summit elevation: 10,822 feet
Vertical drop: 2,209 feet
Total number of trails: 105
Longest run: 1.3 miles
Trail ratings: Beginner 23% (24) Intermediate 35% (37) Advanced 30% (31) Expert 12% (13)
Average annual snowfall: 260 inches
Terrain Parks for Everyone at Purgatory
Purgatory offers seven (7!) terrain parks, so there's bound to be one or more that will match up with your skills. Here are your options:
Paradise Freestyle Area – a large park with large jumps.
Pitchfork Terrain Park – medium size, half-pipe jumps & more.
DC Terrain Park – medium size, known for its rails & jibs.
Animas City Adventure Park – a fun, small, kid friendly park.
Pinkerton Starter Park – the perfect place for terrain park beginners.
Angel's Tread – small, with plenty of boxes to keep you busy.
Mark's Park – Purgatory's only organic, natural terrain park. Medium size.
Mountain Webcams
Check out the conditions and views before heading for the slopes. Click here to see the resort from Purgatory's multiple webcams.
Do They Make Snow at Purgatory?
Yes, 250 acres of the 1,635 total skiable acres receive blown snow when needed, though this is typically early in the season if Mother Nature hasn't fired up just yet.
Snow Tubing at Purgatory
Fun and exciting snow tubing isn't just available at Purgatory, but it's amazingly affordable at just $15 per person, per hour. The tube is included in the price, and should be picked up at the hill. Riders must be at least three years of age, with younger riders required to be at least 36 inches tall, and accompanied during each ride by an adult. On select days the tubing hill remains open until 7 p.m., with the hill night-lit and simply dazzling.
Purgatory Season Pass Options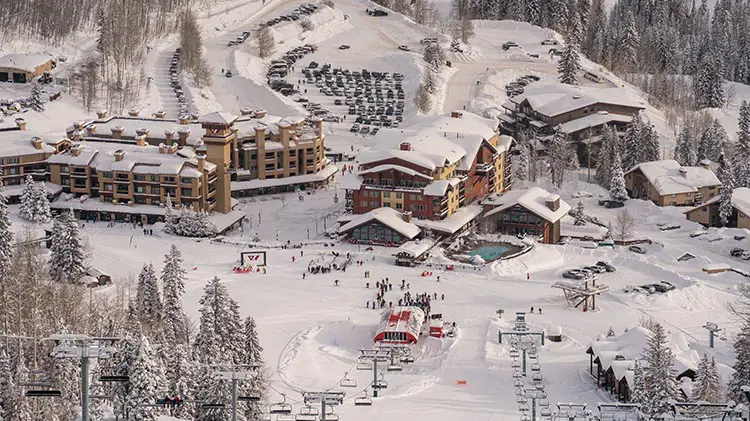 There's clearly no shortage of season pass options at Purgatory. One of these is bound to fit your lifestyle:
POWER PASS – If you're one of those people who just can't get enough of a good thing, this is the ultimate pass for you. For one season-long price the Power Pass gives you unlimited skiing at Purgatory, Hesperus (CO), Snowbowl (AZ), Brian Head (UT), Sipapu (NM), Pajarito (NM), Nordic Valley (UT), and Willamette Pass (OR). PLUS, unlimited uphill access for the Spider Mountain Bike Park in Texas. No blackouts or any other restrictions. You'll also get six 25%-off online tickets and a 10% discount off on-mountain services.
4-DAY POWER PASS – 4 restricted days at Purgatory (blackouts during Christmas/New Year's, MLK weekend, President's Day weekend), six 25% off online tickets. 3 FREE days at Snowbowl, Brian Head and Spider Mountain Bike Park. Added benefits: unlimited skiing at Hesperus, Sipapu and Pajarito; Nordic Valley and Willamette Pass access with some date limitations. Rates for adults, young adults, youth, and seniors.
12-DAY POWER PASS – Twelve (12) unrestricted days at Purgatory and Snowbowl (blackout dates apply). Six 25%-off online tickets at Purgatory, 10% off on-mountain services, unlimited skiing at Hesperus, Sipapu, Pajarito, Brian Head, Nordic Valley and Willamette Pass (blackouts during Christmas/New Year's, MLK weekend, President's Day weekend).
POWER KID'S PASS – This amazing value provides unlimited FREE skiing for kids 12 and younger at Purgatory, Hesperus, Snowbowl, Brian Head, Sipapu, Pajarito, Nordic Valley, and Willamette Pass.
WEEKDAY PASS – Valid for unlimited Monday-Friday skiing at Purgatory with the only blackout dates being during the Christmas/New Year's week.
SUPER SENIOR PASS – Just because you're older doesn't mean your skiing days are over. Active seniors ages 75+ ski FREE at Purgatory, Hesperus, Snowbowl, Brian Head, Sipapu, Pajarito, Nordic Valley, and Willamette Pass. And best of all, there are NO BLACKOUT DATES!!
PARENT SHARE PASS – Two parents can share one pass when they have kids ages 3 and younger, allowing both parents to enjoy their own time on the mountain.
ACTIVE DUTY MILITARY PASS – A specially priced pass for full-time active duty U.S. military members. Blackout dates during Christmas/New Year's, MLK weekend, and President's Day weekend.
Read More:
Helly Hansen vs Spyder: Which Ski Brand is Right for You?
Purgatory Skiing and Snowboarding Lessons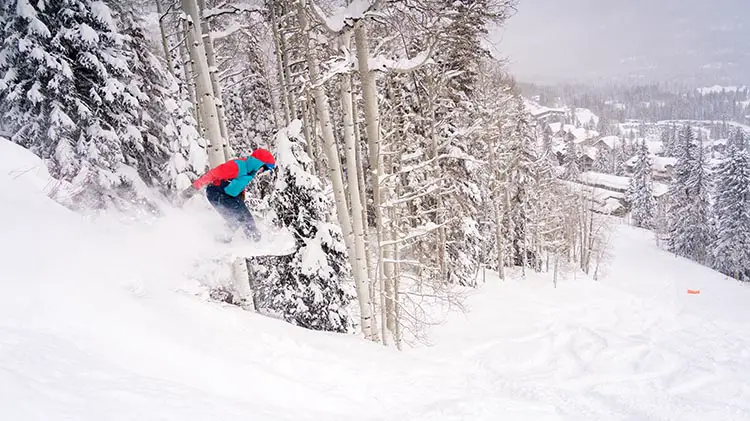 A wide range of lesson opportunities are offered at Purgatory, so no matter what your skill level is, there's something for you. Choose from group or private lessons, but be aware that all participants ages 12 and younger must wear a helmet. Of course, helmets are highly recommended for everyone.
Check out these lesson options:
Half-day a.m. or p.m., with the afternoon session being priced lower (both are 2.5 hours long)
For adult group lessons you'll be matched with people of similar skill levels. Click here for complete details, to reserve a lesson, and to determine what your skill level is. Availability is limited, especially during holiday periods and on weekends, so Purgatory suggests making your arrangements at least 72 hours in advance.
Child lessons are for ages 4-6, and the youth range is 7-12.
Locals may want to take advantage of the 8-week program for either men or women. Held one weekday morning weekly, you'll really get to improve your skills and meet some of your neighbors at the same time!
Private lessons are offered in two-, three-, or five-hour increments.
Equipment Rental
Purgatory's rental shop is located slopeside so you won't have far to go after picking up your skiing or snowboarding equipment. The shop is fully stocked with equipment for all skill levels from basic packages to demo and higher performance skis and boards.
To ensure availability, reserve your equipment in advance online by clicking here.
While rental skis, poles, boards, helmets, etc. that you've reserved in advance will be waiting at the mountain, if you haven't pre-reserved you can save yourself some time and avoid the crowds at the slopes by picking up your equipment at Purgatory Sports in downtown Durango. You'll also find tech shop services here for tuning your gear or handling needed repairs.
Purgatory season passes can be purchased at the Durango store, too, and there's a retail store with logo apparel if you're looking for some new swag to take home.
Childcare at Purgatory
If you're bringing the kids to Purgatory but they aren't old enough or interested in joining you on the slopes, make plans for them to hang out at The Den. This safe, fun and engaging facility provides an environment for your children to stay and play, while you enjoy some 'me' time skiing or riding down the mountain.
Daily activities are available indoors and outside, too, if the weather is cooperating. Your kids will enjoy winter fun, with snow toys provided for them to play with.
The Den's staff have all completed background checks and in-house training, with their primary goal being the safety of your child, while they of course also have a lot of fun.
Click here to make advance reservations for child care.
Dining at Purgatory Resort
It would be a major challenge to go hungry while at Purgatory Resort. The ski area offers a variety of options that are sure to please you and your traveling companions.
Village Dining in the base area is home to:
Rocky Mountain Roastery in the Plaza is the place for coffee, tea, hot chocolate, morning pastries and breakfast sandwiches.
Purgy's Slopeside Restaurant – modern American food with a full bar. Open for lunch and dinner until 9 p.m.
The Bear Bar & Grille – in the heart of the base area on Purgy's patio at the Purgatory Lodge. Known for its array of microbrews, signature cocktails, variety of bar foods, and superb mountain views.
Paradise Pizzeria – in addition to great pizza, Paradise offers wings, salads, scrumptious desserts, and draft beer to wash it all down.
Village Market & Deli – hot drinks, pastries, bagels, sandwiches, or have your own picnic with the many choices available all day long. Paleo, gluten-free and vegetarian options, too. This is also the place to pick up popular grocery items and personal essentials.
Plus, on the mountain you'll find these Purgatory favorites:
The Powderhouse & Pitchfork Pub – a family-friendly spot overlooking the Pitchfork Terrain Park. Burgers, paninis, pizza, and other quick-bite items are on the menu. Plenty of beverage options including a variety of local beers.
Dante's – Purgatory's signature food court featuring a noodle bar, Taqueria, and All-American grill.
Backside Bistro – accessible via lifts 5 & 8, reservations advised weekends and during peak weeks. French cuisine in the San Juan Mountains? Absolutely. Raclette, steak frites, and mushroom ravioli to savor along with full-table service, a wide selection of local and domestic beers, as well as French wines.
Lodging At Purgatory Resort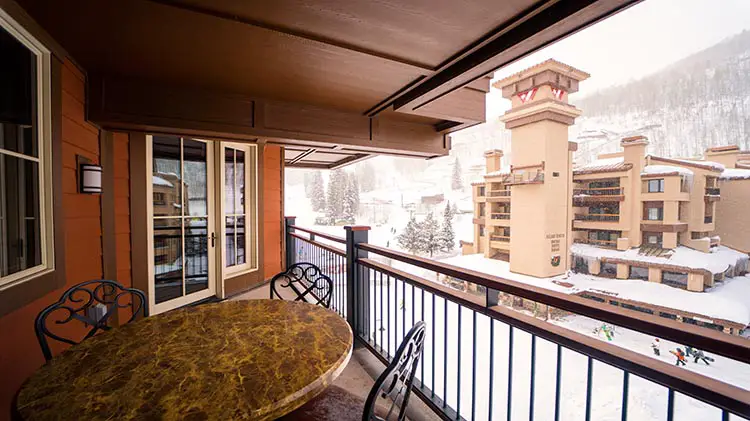 The slopes are just steps or a short walk from your private vacation rental at Purgatory Resort. Easily view and choose from scores of individually owned units of varying sizes, one of which is sure to fit your needs. Apartments, townhomes, and homes are beautifully decorated, and offer multiple bedrooms, bathrooms, kitchen and dining area, and some also feature fireplaces. The mountain views are spectacular, and you're never more minutes from the lifts.
Check Lodging Prices
Book lodging close to the slopes!
Discover deals on lodging.
On-site properties include Purgatory Lodge/Peregrine Lodge, Purgatory Village, Cascade Village and Sheol Street Lodging.
If you prefer to spend your nights in Durango which is about half an hour south of Purgatory, some of the more popular locally owned properties are the Strater Hotel with old-time 1800s charm, the Adventure Inn motel, downtown's historic Victorian General Palmer Hotel, and The Rochester Hotel, a charming downtown boutique property.
Travelers with a preference for chain hotels will find a Hampton Inn, Doubletree Hotel, and Homewood Suites, all of which are Hilton brands, as well as a La Quinta Inn, Comfort Suites, and Quality Inn. Marriott branded hotels include a Residence Inn, Fairfield Inn, and Springhill Suites.
Durango is the place to be for a great selection of dining spots, gift shops, breweries and local entertainment venues. And don't forget to visit the Durango location of Purgatory Sports for all your skiing and snowboarding needs.
Wrap-up
Purgatory Resort may not be the easiest ski area to get to, but trust us, once you visit for a few days you will no doubt become a repeat visitor. Returning skiers and riders have found that Purgatory is laid-back, unpretentious (not a hot spot for the rich and famous), family-friendly, and more affordable than many of the big name resorts in Colorado and adjacent states.
With more than 100 downhill runs and seven terrain parks, Purgatory is perfect for the novice skier or boarder, as well as people with skills levels from intermediate all the way up to expert.
Add the quaint and lively town of Durango to the mix, and you've got the makings of a fantastic getaway. This is a part of Colorado that you won't want to overlook, and one that will become a regular destination for you.