Updated August 10, 2023 by Jessie Gonzalez. This post contains affiliate links at no extra cost.
There wouldn't be snowboarding without SIMS snowboards. Are SIMS snowboards good? Well, they certainly have been perfected over the years. What all started in a woodshop class by Tom SIMS has evolved to making thousands of snowboards a year. We will look at a few key areas that make up a SIMS snowboard and if they are good to ride.
SIMS Snowboards: The Lineup
When we think of SIMS, the first thing that always comes to our minds at Proper Peaks is big backcountry lines, fresh powder and slicing up big mountain runs. While they have boards that are freestyle, all-terrain and backcountry, the most notable to SIMS roots are the backcountry and all-terrain snowboards.
The countless photos of Tom SIMS and Terry Kidwell, just show how much the SIMS lineup has evolved over the years and helped shape modern snowboarding. Now with about 15 snowboards in the lineup, there is a choice for everyone.
So Where are SIMS Snowboards Made?
SIMS snowboards are made just outside of Denver at the Never Summer snowboard factory. If you want to buy a made in the U.S. snowboard then SIMS is one of the few brands still committed to it, thanks to the help of Never Summer snowboards manufacturing.
If we just look at the large lineup of snowboards and hitting all the important areas of riding, we score SIMS an 8.5 out of 10 when it comes to their selection.
Are SIMS Snowboards Good? The Quality [Deep Dive]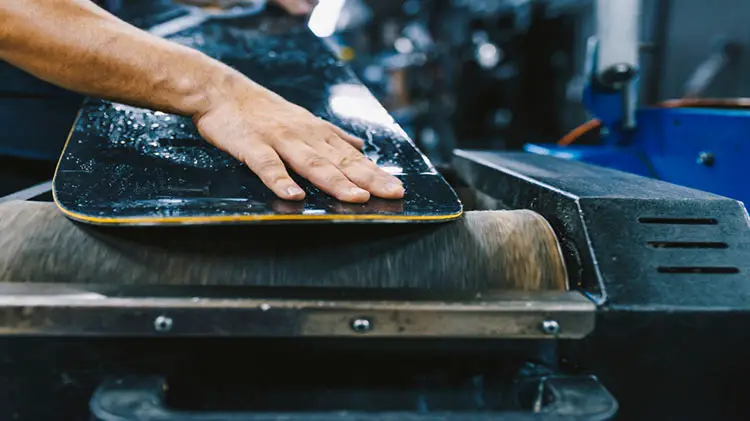 If you didn't already take notice, SIMS snowboards are made in the Never Summer factory outside of Denver. We already established that Never Summer is putting out some high-quality snowboards.
Everything the staff is doing for the Never Summer quality carries over to SIMS. We like to think Tom was always a stickler for quality even though he probably preferred to spend his time on the mountains.
SIMS snowboards are often using light poplar cores that are built up further with strong sections of bamboo running through it. The nose and tail have carbon running through them to provide even more strength.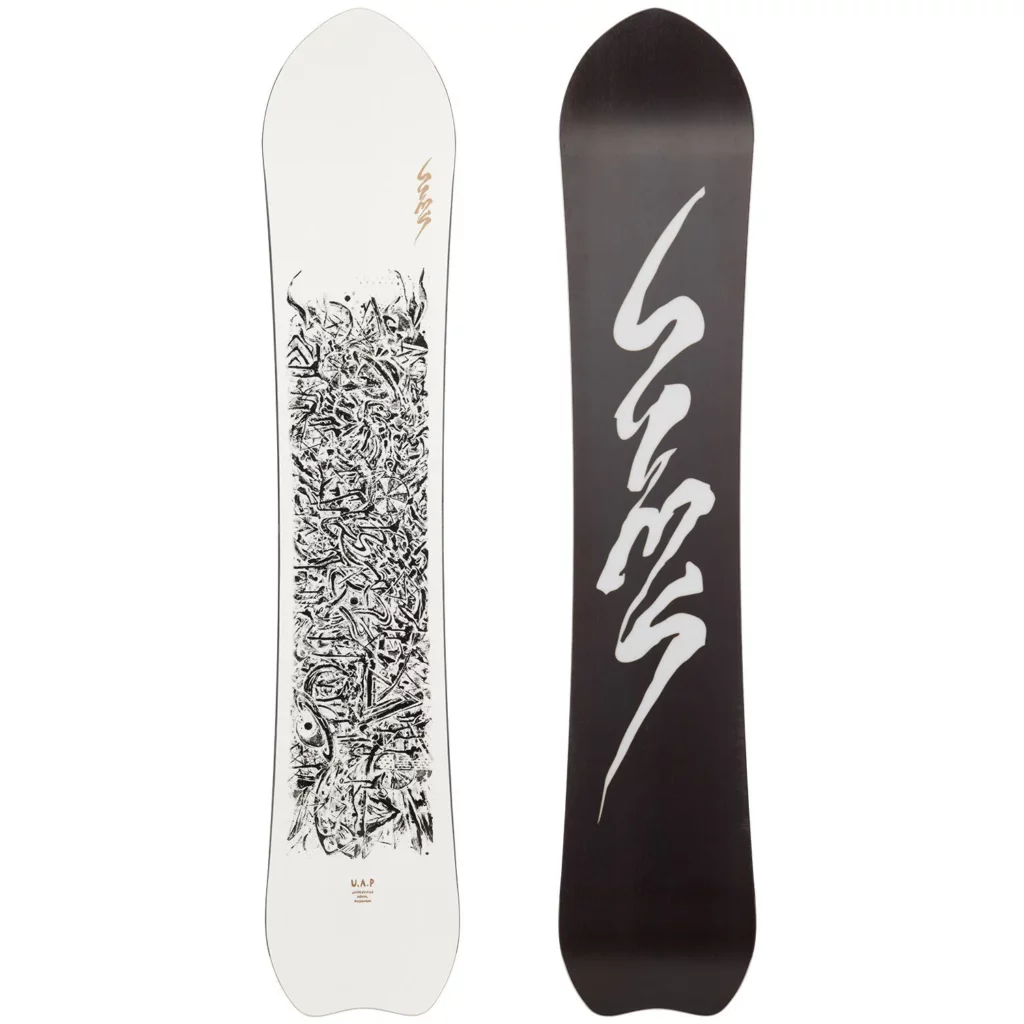 The one part we like most on SIMS boards is the bases, especially their premium racing bases. See if you can beat a SIMS rider down the mountain on a premium racing base and get back to us. They are lightning fast!
As SIMS doesn't cheap out on the materials, that means riders get a snowboard that lasts for years. The edges, base and topcoat hold up well, certainly better than some of the overseas boards.
We rate SIMS quality 8.4 out of 10. Solid boards for solid riders.
How The Quality of SIMS Snowboards Compare to The Price
SIMS snowboards are mostly in the $400-$600 range. That puts them about mid-market in terms of pricing for a higher-end snowboard. Most of their boards in the $400 range are better than their competitors in our opinion.
Their higher-end ones in the $600+ range are totally justified if you look at how they are making their bases, the woods they are using and the quality that the Never Summer team finishes the boards to.
Sign Up for Exclusive Ski & Snowboard Gear Deals
Straight to your inbox, savings on skis, boards, boots and more.
You may get 1-2 mails a month MAX but man are they worth it!
The quality compared to the price is certainly worth it and everything that is coming off the manufacturing line seems to be with it with SIMS. It may not be the most ridden brand but the real riders know the quality. If you know, you know!
The price of SIMS boards scores 8.4 out of 10 when comparing the quality to what you pay for.
SIMS Snowboard Graphics: Retro Vibes on a Modern Snowboard
SIMS really have their own unique style of snowboard graphics and have followed it over the years. They are one of the pioneers of snowboarding and still carry some of those roots in their graphics.
The light greens and pinks just have the vibes of throwback and retro snowboarding that you see across some of their decks. While there is certainly more modern designs in their lineup, SIMS don't stray too far from where they began. Even the name on most of their bases has that retro feel.
You don't find too many cluttered graphics from SIMS but something rather a clean look that you can see when people are going uphill on the lifts. It just works!
We love what SIMS is still doing with their graphics and score them an 8.7 out of 10.
The Best SIMS Snowboards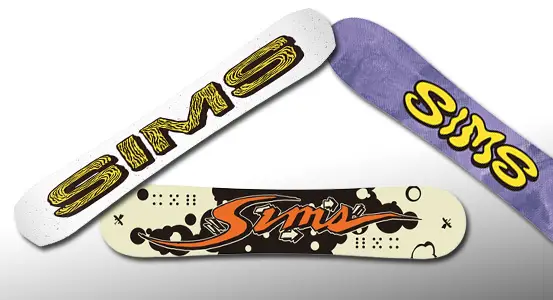 Three of the most popular SIMS snowboards are the following –
The SIMS Solo – a classic fish shape to surf the deep pow.
SIMS Goon Gear – a true twin to help you progress at the park.
SIMS UAP – a mountain freestyle workhorse
While we would ride any board that SIMS is putting out, their fish tail designs go all the way back to the 1980's. While boards like the Solo are built with modern materials, it will give you the vibe of when SIMs was just first getting onto the sceen and making a name for themselves at the resorts.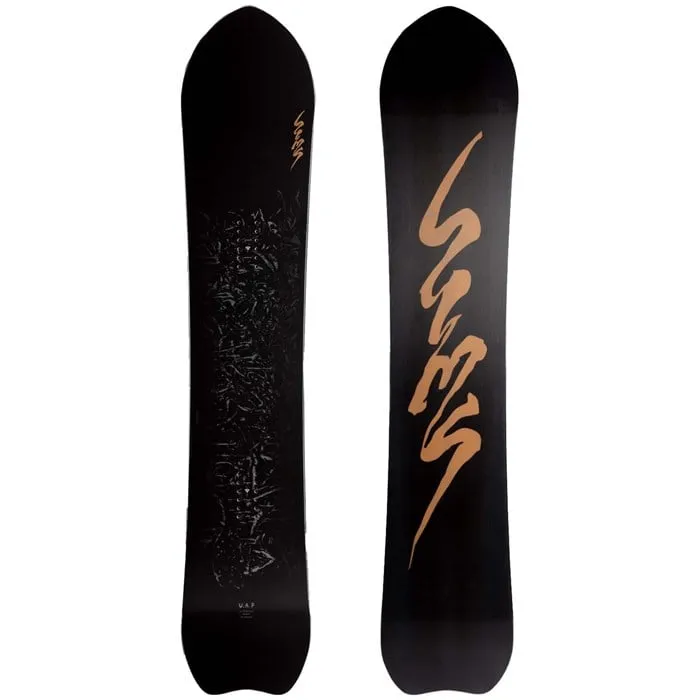 If you don't have a powder board then you can't go wrong with SIMs.
Conclusion: Are SIMS Snowboards Good?
SIMS has stood the test of time. From a pioneer in snowboarding to now a classic. While some snowboard manufacturers push production overseas or close down shop, SIMS is more alive than ever and being made just outside Denver. SIMS boards may be evolving but they will never lose sight of their history and heritage.
Drumroll please… SIMS total score tallys to a 8.5 out of 10.
If you don't see us out in the powder on a SIMS boards then we hope that you will be.