Updated August 27, 2023 by Jessie Gonzalez. This post contains affiliate links at no added cost.
If you are anywhere near board sports then you probably already know Santa Cruz skateboards. Their snowboard line was started later down the line and plays off those skate-style graphics. Are Santa Cruz snowboards good though?
We will take a full look at Santa Cruz snowboards and see if you should go with the brand or ride something else this winter.
The Santa Cruz Lineup Examined
Santa Cruz doesn't have a big lineup of snowboards but they do cover most of all the bases. You'll find powder boards, freestyle and all-mountain in their lineup. They don't get into the splitboards or backcountry boards. Thankfully women should be able to find a board for themselves and even men looking for wide boards.
While Santa Cruz checks all the boxes on the selection, there's really no new innovation to other brands. The selection is a bit smaller than major brands but stacks up well against some of the other small brands. We get it, they are skate first and snowboard later.
Nothing wrong with that but you'll definitely find Santa Cruz turning out more skateboards than snowboards.
We scored Santa Cruz's snowboard selection a 7.3 out of 10.
Are Santa Cruz Snowboards Good? Quality Check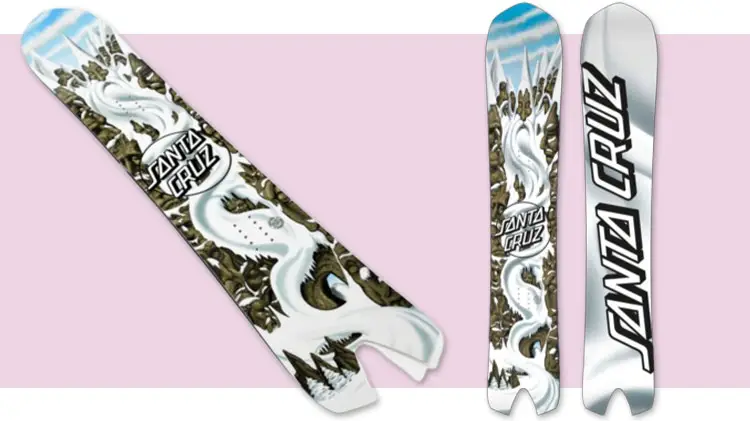 The quality of Santa Cruz skateboards has never been a concern among the skate community but how about the snowboards. We found that the quality lives up to par with most other boards in the sub $400 region.
It may not be the longest-lasting laminate or the highest end base but it seems that Santa Cruz uses their snowboard line to convert their loyal skaters at a decent price when compares to other brands
The Super Speed bases are similar to what is seen in many other mid-market brands and of course the ABS sidewalls. Simply put, it gets the job done. While there is nothing too innovative about the bases, they hold up to some hard riding on the slopes with no issues.
If you want to get a few good years out of a Santa Cruz snowboard, there shouldn't be any problems. In fact, that's great for beginners who can get into the sport and upgrade later to boards with sintered bases and more unique profiles.
Considering it all, Santa Cruz quality comes in at a 7.6 out of 10. It's more than enough for casual riders!
A Sweet Price Point But Are Santa Cruz Worth it?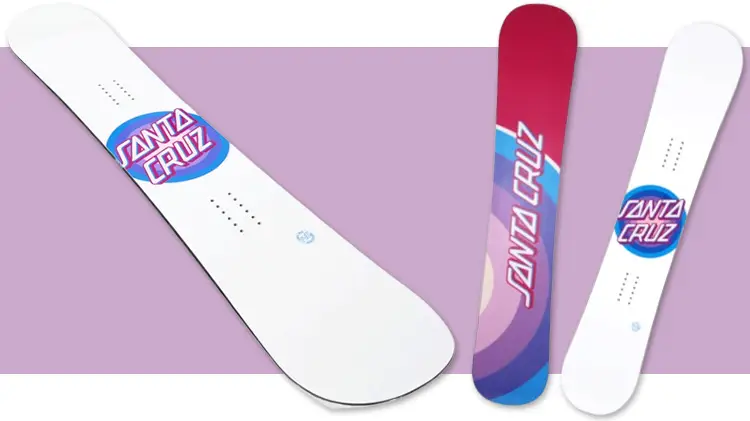 Aside from the graphics which we will touch on in a minute, the other place Santa Cruz shines is the price point. Coming in at sub $400 for almost all their boards will start to get riders drooling. Compared to some of the premium brands, you could get two Santa Cruz snowboards for the price of one high-end board.
Most people balk at the thought of riding a used snowboard but with Santa Cruz, their snowboards are the price of some used snowboards from other brands.
For just about any rider, you'll find that Santa Cruz is more than enough. They have multiple profiles and offer directional boards and twin boards as well. At this price point, you'll probably find everything you are looking for and more.
Santa Cruz is affordable when it comes to its snowboards without question. This scores them an 7.4 out of 10.
Santa Cruz Snowboards: Skate Art on Snowboards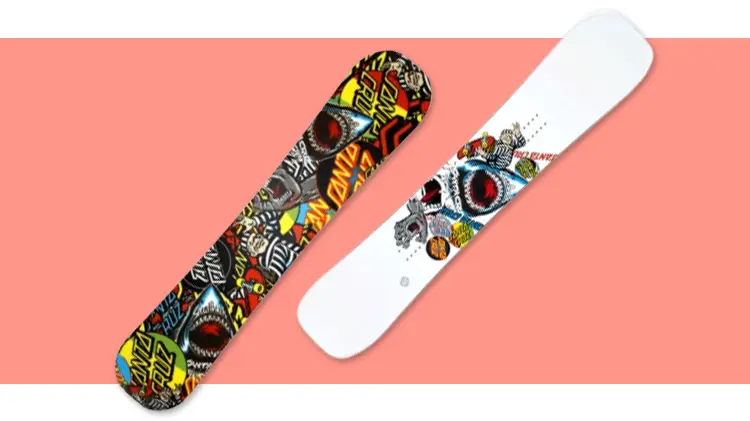 You might think most snowboard companies have a skate influence to their graphics but the true one is Santa Cruz. Rooted in their iconic skateboard graphics, they don't miss a beat when it transitions over to snowboards.
The boards have those classic Santa Cruz vibes that hold true to the brand. We get it, not all people will love the graphics on Santa Cruz snowboards but it feels like a seamless transition from the summer skateboard season to the winter snowboard season with the style they are going for.
The fire on the words, the bright colors and the old skool style as we say. Santa Cruz packs it all into their boards.
It's not for everyone but the people that are loyal to Santa Cruz will surely appreciate them sticking to the same style as their snowboard decks. Santa Cruz scores an 7.4 out of 10 on the graphics.
Which Santa Cruz Snowboards are Good?
It doesn't have to be a huge lineup to start to get confusing. That's why we will break it down even further for you. Here are three Santa Cruz snowboards that anyone can pick up and ride.
Mens – The Wizard by Santa Cruz
Womens – Gleam Dot
Kids/Young Adults – Santa Cruz Decal 2
Will you become a Santa Cruz loyalist? You just might after you try one of their boards. The above workhorses will put a smile on anyone who likes to shred the mountain and crush the groomers.
Related Reading:
Final Thoughts. Are Santa Cruz Snowboards Good?
If you love that skater style of graphics but want to hit the trails for a decent price point, Santa Cruz can get you in the game. It's no doubt that Santa Cruz makes some great snowboards that cater to new, to intermediate riders.
We know you have been waiting for it and that final score comes to an 7.4 out of 10. Earning Santa Cruz an okay spot on the roundup of top snowboard brands.
We'll keep our eye out. As we don't see Santa Cruz super often on the trails, we'll be sure to give you that nod of approval if we see you riding them on the slopes.