There is one name that is changing the landscape of youth development in snowboarding and that is the Chill Foundation. The foundation which was set up by the founders of Burton, Jake and Donna Carpenter has been running since 1995 and has now spread to a globally known name.
If you are a snowboarder looking to volunteer or help with youth development then Chill is a perfect way to get involved with your community.
Let's look at why we think they are the best winter foundation right now: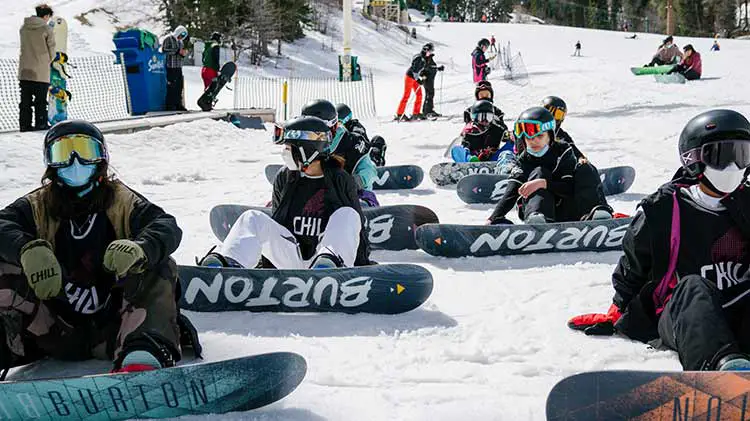 Building a New Generation of Riders
Helping new youth riders discover snowboarding and learn life skills is at the heart of the Chill Foundation's programs. The Chill Foundation offers programs in 24 cities across the world. Chill Foundation leans on its staff and volunteers who want to impact their community.
They are improving communities the entire year, here's how:
How They Do It
There are 3 main programs they run which include-
Core – Core programs define Chill and provide youth the opportunity to tackle progression on and off their boards through a uniquely cool and experiential approach.
Discover – Discover programs provide an opportunity for partner agencies and youth to discover Chill's philosophy through an introductory program.
Explore – Explore programs provide youth who have participated in Chill with the opportunity to build leadership skills, advance their boardsport experience and passion, and explore unique career opportunities through structured experiences.
Core and Discover get many kids out on the slopes that may otherwise never have the opportunity. Explore is almost like a capstone for 16-19-year-olds and helps them be further their skills and explore new opportunities on and off a board.
With these programs, it is easy to see the many lives that Chill is changing. They impact over 3,000 youth annually while working with community agencies and schools. The foundation implements a Core value curriculum while giving youth a therapeutic outlet.
Chill's Sports
It's not all about snowboarding either. You might expect with Burton as a partner that they only focus on snowboarding, but they have a larger boardsport approach at Chill.
They also run programs in-
Snowboarding
Skateboarding
Stand-up paddleboarding
Surfing
The programs are mainly driven by the location of the youth agencies. For example, Los Angeles has surfing as you'd expect on the west coast but then if you head to Baltimore on the east coast, you'll find the Chill Foundation more focused on snowboarding, skating and paddleboarding.
The Chill programs run year-round, and are seasonally dependent, all across the U.S., in Europe and Japan.
Who Can Participate?
Community youth service agencies are the driving force in partnership with Chill. Chill Foundation works with these local agencies in communities that are serving young people locally.
Some examples of the types of agencies that participate in Chill's programs are-
After school programs
Mental health agencies
Juvenile justice programs
Community centers
These organizations work with youth directly and enroll in Chill's programs to offer an exciting opportunity to experience boardsports.
What the Riders Learn With the Chill Foundation
Learning is everything with the Chill Foundation. Not only do participants learn boardsports skills but they also learn a Core values curriculum-
Respect
Courage
Patience
Persistence
Responsibility
Pride
These values don't just stick with the youth for their boarding session but are also applied in everyday life on and off a board.
How Can You Join the Stoke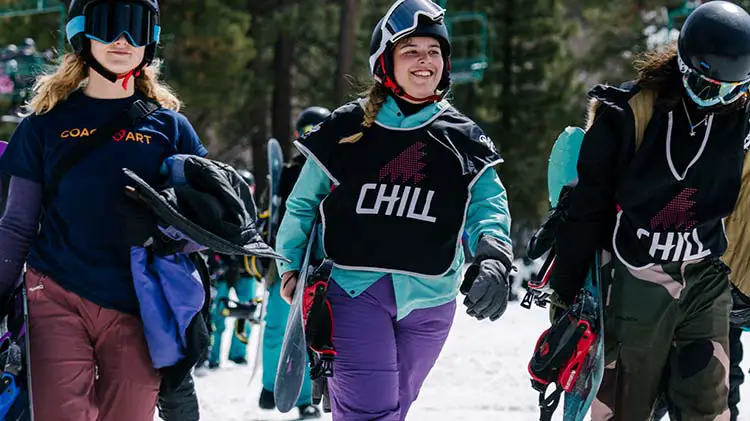 Are you a community-driven agency or individual looking to volunteer? There are two easy ways to get involved.
If you are a community-driven agency then reach out to the foundation and think about implementing Chill programs in your city or area. At the end of the day, you don't need snow. One of the most popular programs is the skate program.
For individuals with board skills, the Chill Foundation can be an amazing place to volunteer. You get to work with kids and teens who are excited to get out and do some physical activity while learning at the same time. Volunteering with the Chill Foundation will put a smile on your face.
Final Thoughts on the Chill Foundation
Instead of being stuck inside in the winter, the Chill Foundation gets young people outside. It's not only about the winter but you know we are a bit biased towards the winter months! If you don't want to get involved in their cause as a volunteer or local community agency, remember you can always donate.
Your support helps youth participate in one of the Chill Foundations programs, which can be both incredibly fun and life-changing!