Have you been out on the slopes and noticed those boards with the three-fingered salute? Perhaps you spotted one leaning against the ski rack, or maybe you caught a glimpse from the chair when someone threw down a sick method.
Today we're talking about Bataleon snowboards. In recent years, this innovative board brand has garnered attention and amassed a devout following. At first, you'd think they were new to the snowboarding market because of their widespread popularity that has seemingly popped out of thin air. In actuality, Bataleon has been busy trailblazing since 2003.
Let's break down some of the more crucial aspects of Bataleon snowboards and decide if they're worth a buy.
What's the Bataleon Snowboard Selection Look Like?
Bataleon likes to keep its board selection simple, and this is by no means a negative. Instead of classifying their boards into a long list of vague categories, Bataleon keeps it to just three:
The most interesting thing about these boards is that they all fit into every category. Bataleon doesn't make terrain-specific boards. They make board technology that adapts to variable conditions and landscapes. Just because you have a floaty swallowtail pow board doesn't mean you can't rip it in the park.
Versatility is where Bataleon truly shines. However, larger riders will find it exceedingly difficult to pick a board that fits into their size range. Out of their stock selection, the largest board available is a 162. Anyone on the taller and heavier side will have to look at other brands for better options.
For these reasons, Bataleon's selection receives a respectable 8.2 out of 10.
What is the Quality of Bataleon Snowboards Like?
The dedication and research that goes into a Bataleon snowboard is unlike any other board brand we've seen. Since the brand's inception, the Bataleon creative team has focused on developing snowboard technology that is unparalleled. They are the inventors of the patented triple base technology, or "3-D" technology as they like to call it. This concept is what gives rise to the brand's iconic three-fingered logo.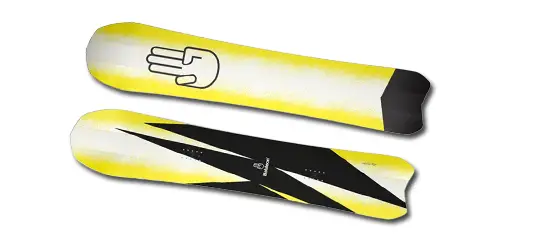 Triple base technology was developed long before rocker or hybrid boards even existed. It focuses on alleviating excess edge initiation at the widest points of the board commonly found on camber boards, while maintaining responsiveness by adding camber down the middle of the board, tip to tail. Essentially, Bataleon utilizes rocker on the edges and camber down the middle.
No other board brand is as technologically focused as Bataleon. The ones that try seem to simply follow Bataleon's lead. For their devotion to innovation, we give Bataleon's quality rating a 9.5 out of 10.
Bataleon Snowboards Price – How It Compares to The Industry:
Engineering such technically precise boards does not come cheap. Compared to other board brands, Bataleon is certainly on the more expensive side. Their lowest-priced boards start at $399, which for many brands is a low mid-grade price. Furthermore, the boards that Bataleon does offer at this price range are limited. Most are either children's or women's boards, so sizing availability is non-existent.
Moving up the price ladder, Bataleon offers a few boards in the $450-$500 range, but the vast majority of their selection falls between $500-$600. This is a solid $100-$150 more than the average board brand, making Bataleon noticeably more expensive.
On the flip side of this, you get what you pay for. While Bataleon does charge more, they put exponentially more R&D into their products, ensuring that the riders get the most precise technology available. If you have the budget, it is no doubt worth it.
Overall, we rate Bataleon pricing at a 7.2 out of 10.
Bataleon Snowboard Graphics: The Art
Bataleon employs its own graphical style in all its boards that make it stand out from the competition. Almost all the boards seem to have a futuristic, "space-like" design to them. They utilize bright neon accent colors, variations of straight lines, and geometrical patterns.
Honestly, this is something that we haven't seen in other brands. Many times, snowboard brands seem to copy each other each year, and they all put out artwork that represents the current trends. Bataleon seems to reject what's in vogue and walks its own path. Not only is it refreshing, but their designs are pretty sick as well. It's hard to find a Bataleon board that is just straight ugly.
And no one can hate on the brand's trademark logo stamped on all its boards. Not many other boards can be identified as easily as Bataleon. Although the logo is bold, it always seems to fit in with the overall design of the board.
Graphics Rating: 8.8 out of 10.
What are the Best Bataleon Snowboards right now?
On trips to the mountain, we've seemed to notice the same Bataleon boards repeatedly. While their board selection is large, there are two snowboards in particular that always appear to be rider's go-to choice. These are: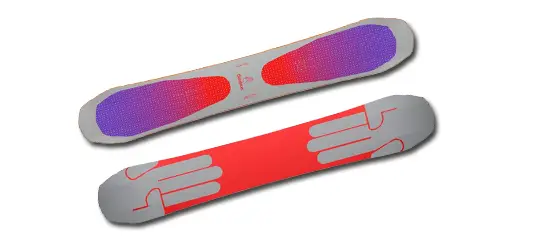 The Evil Twin is Bataleon's quintessential board that started it all. Completely symmetrical, this true twin is an absolute beast in the park, but it equally excels on fresh groomers as well. It's completely designed of poplar wood, making it ultra-responsive and lightweight, and has carbon cross stripping underneath the inserts to promote maximum torsional stability.
The Party Wave is a playful, energetic board that is Bataleon's second best seller behind the Evil Twin. It's designed as an ultra-wide shortboard that is meant to be ridden 5-10cm shorter than what you would normally ride.  It features extra "sidekick", Bataleon's term for lifted edges outside the contact points. This creates a forgiving, responsive board that excels in variable conditions like rough terrain and spring slush.
So Are Bataleon Snowboards Good?
When considering what makes a snowboard "good", quality is always the dominant factor. In this realm, Bataleon blows other board brands out of the water. Their dedication to advancing snowboard technology through "3-D" has been an integral part of the brand since its inception.
In other areas like selection and pricing, Bataleon does offer less than other brands. Their size range is limited, and their price levels are higher end to reflect the board quality. These shortcomings are easily balanced out by Bataleon's unique and futuristic graphics.
In total, our Bataleon snowboards review comes in at an 8.4 out of 10. If you're a rider looking to invest in the highest-quality board technology on the market, with a small sacrifice in pricing, Bataleon will not disappoint. You'll be thanking yourself for spending the extra cash as soon as you strap in.