Nitro has been in the game for over thirty years. They started in Seattle, WA and now if you head to any mountain, you are guaranteed to spot at least one of their boards. Nitro is a privately owned company and pride themselves on leading with respect and integrity. They have a diverse lineup of products, and they make a conscious effort to produce their boards sustainably. Read on to learn more about why or why not a Nitro board could be right for you.
What's The Selection of Nitro Snowboards Look Like:
The Nitro family is made up of all different types of riders. So, it is no surprise that they have all different types of boards. For starters, they have snowboards for women, snowboards for men and snowboards for kiddos. Within those categories they have snowboards for all types of terrain and for all types of abilities.
So, if you are a beginner and you are looking for an all-mountain board, Nitro's got you covered. Or, if you are more advanced and looking to get a splitboard to do some backcountry exploring, Nitro has that too. We scored Nitro's selection a 7.8 out of 10.
What is the Quality of Nitro Snowboards Like?
Like any good ski and snowboard brand that's been around for a long time, Nitro makes top quality gear. All of their snowboards have a wood core that is harvested from well-managed forests. All of their snowboards and bindings have a two-year limited warranty.
They are also a company built by and for snowboarders, so they avoid making products that they would not want to buy or ride themselves. Their quality comes in average with a score of 7.5 out of 10.
Nitro Snowboards Price – How It Compares to The Industry:
Nitro is not a company that wants to exclude anyone from being a part of the snowboarding community. You are never going to buy a Nitro board that is thousands and thousands of dollars. They price their products right on par with the rest of the industry and they also have snowboards that are on the cheaper end, too.
The one thing Nitro does not have going for them though is that you cannot purchase anything directly from their website. They encourage you to buy local so if you find the snowboard of your dreams, they will reroute you to a local shop in your area that is a certified dealer. As their price won't break the bank, it scores a 7.9 out of 10.
Nitro Snowboard Graphics: The Art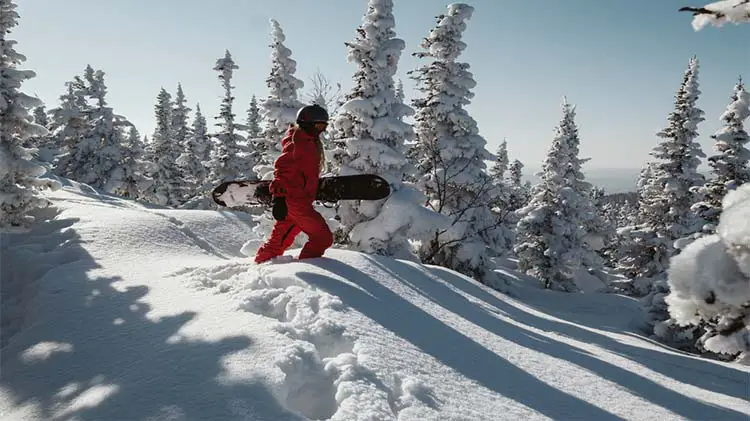 Burton's got the retro thing down, Arbor's got the natural thing down and Nitro? Nitro's got the edgy thing down. Their graphics are moody, dark and abstract for the most part. Their women's stuff is slightly lighter in tone but still packs that hardcore punch.
They also have a new line of snowboards called The Quiver that does not have a busy design at all. The Quiver line is all black on top with a spray-painted orange effect on the bottom. They are super distinct compared to their other stuff and they are growing in popularity. So, maybe the future of Nitro graphics will be more simplistic. Only time will tell. Nitro puts out some cool board art but we know they can step it up a notch. Their graphics score a 7.6 out of 10.
Pay Attention to These Nitro Boards, They are Great Choices
As mentioned above, The Quiver line of Nitro Snowboards is super popular. Especially their Cannon board. It has a Swallowtail that makes floating super easy. A lot of Nitro's professional riders use the Cannon board. It comes in two sizes. One is 173cm and the other is 203cm. The smaller board is more versatile but still floats exceptionally well. It also rides smaller than it is because of where the contact points are. And the bigger board is perfect if you want to go fast and turn some heads in line for the chair.
Nitro is also a leader in the Splitboard space. Their Doppleganger board cannot be beat. It is lightweight and easy to lock together with gloves on. So, you can hike up to find the freshest powder and rip down easily with this board. The Doppleganger board also ranges in size from 148cm up to 164cm.  
Nitro's professional standard of women's board is the Victoria. It's a reliable board that can master any snow condition for a wide variety of riders. Nowadays, Nitro's upgraded things a bit with the Victoria Pro 152. It uses something called Antiphase Technology which means you get a smooth ride no matter what.
Are Nitro Bindings Good?
Nitro designs all their gear under one roof. So, the shape of their bindings goes perfectly with their boots and their boards. And, because their design team is made up of riders, they've perfected the binding over the years.
At Nitro, they think the best binding is one you do not feel as your ride, and they pride themselves on having achieved that.
Where are Nitro Products Made?
Every single Nitro product starts out with an inhouse design done in Seattle, WA. From there, all their products are manufactured overseas with top technicians. Their stuff is not mass produced so you know the quality is going to deliver every time.
So Are Nitro Snowboards Good?
Nitro Snowboards are good if you just want a top-quality snowboard and nothing else. They do not have big marketing gimmicks or an endless supply of products. They are environmentally conscious, community driven and a valued part of the snowboarding community. Their total score comes up to a 7.7 out of 10.
If those qualities speak to you, then take a trip to your local snowboard shop and get yourself a Nitro Snowboard.