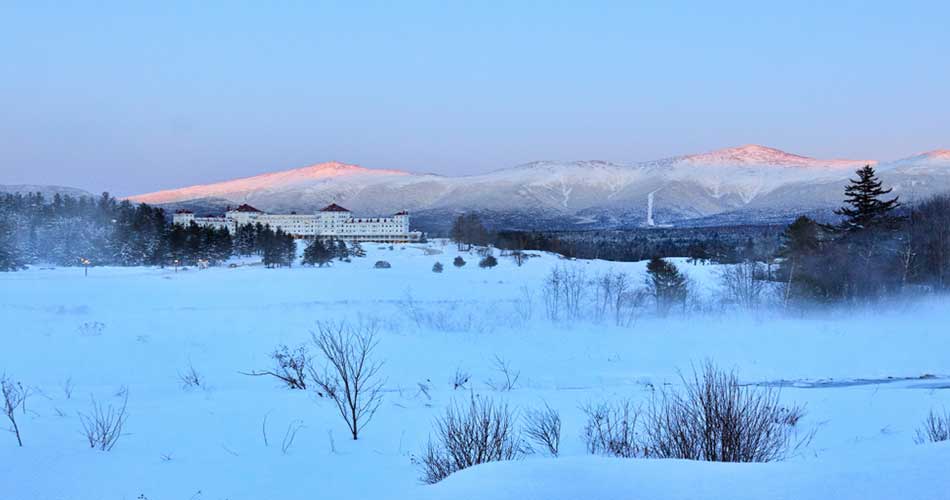 Visit Bretton Woods Ski Resort if you want to ride the New Hampshire powder. Did you know Bretton Woods is the largest ski resort in New Hampshire? We're sure you did but if you didn't, look no further for the resort with the most skiable acres and most powder.
We'll cover some of the things Bretton Woods in NH has to give you and some must know knowledge before visiting the slopes this winter.
Highlights of Bretton Woods in NH
Bretton Woods is just above White Mountain National Forest. Some of the highlights include –
63 Trails and 35 glades
464 skiable acres
10 lifts
1,500 foot vertical drop
Where is Bretton Woods Ski Resort?
Bretton Woods Resort is located in Bretton Woods, New Hampshire. You may have heard of the White Mountains or the Mt. Washington Cog Railway. The ski resort is just minutes to both.
Based in North central New Hampshire, the ski area is 30 minutes to Littleton. It is an hour and a half North of Concord, NH and a little over 2 hours West of Portland, Maine.
Bretton Woods is one of the major resorts in the East Coast and gets people to drive from all over to see the mountain ranges and lodging.
Read More: Want to Ski a Huge Vermont Resort? You Gotta Try This One!
Does Bretton Woods NH Have Lodging?
Not only does Bretton Woods have lodging but Omni Mount Washington Resort is one of the most famous places to stay in the state. 3 presidents and lots of celebrities have stayed at Mount Washington Resort. Rooms start at a little over $350 so it isn't cheap but it is a memorable experience.
There are 350 rooms in total so it is a little easier to get one than the Bretton Arms Inn.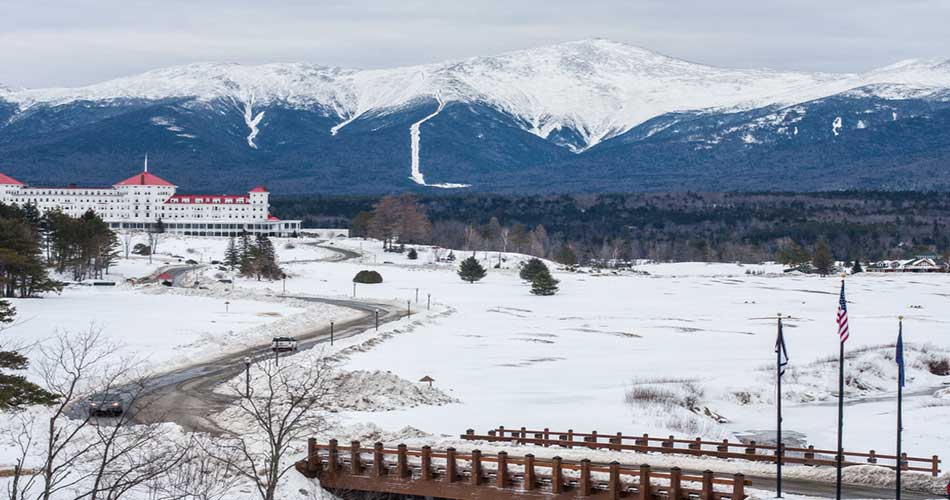 The next place to stay at Mount Washington is the Omni Bretton Arms Inn. It is also just minutes to the ski slopes. The beautifully restored inn has rooms from around $400 a night.
It is a little harder to get a room since there is 34 guest rooms in total. If you have already had an experience at the Mount Washington Hotel than this is a great alternative.
The 3rd option to stay near Bretton Woods resort is the Lodge at Bretton Woods. At $199 a night, it the generally the most affordable option near the resort. There are 50 rooms but they book up quick in the Winter since it is a cheaper option.
Large families can also book the townhomes at Bretton Woods but you are lucky to get these for under $700 a night. The town homes are great for groups of 4 to 8 people. The townhomes ranges from 2 to 5 bedrooms.
Lastly you can always stay close by and rent a private rental. It is one of the easiest ways to save money when you know the lift tickets are also going to cost a bit of money. Checking Vacation Rental by Owner sometimes has cabins within a close drive. Just be sure to look into them early as well.
Pro Tip: Check out the private lodging options near by Bretton Woods if you want to try to save some money.
Does Bretton Woods Ski Area Have Night Skiing?
Bretton Woods Skiing has night skiing often starting the week after Christmas. Although due to COVID cleaning policies, they will not be offering it this year.
Read More: Want to Go to a Resort with Night Skiing? This is the One.
The Best Time to Go to Bretton Woods to Ski or Snowboard
The best time to go to Bretton Woods Ski Resort is to get on the slopes midweek. If you head up on a Tuesday or Wednesday, you can generally beat the next weekend's incoming guests.
Another tip is to get ready 90 minutes before the first lift time with your own gear in hand so you can beat most of the rentals out onto the mountain. It will make sure you are one of the first people on the gondola.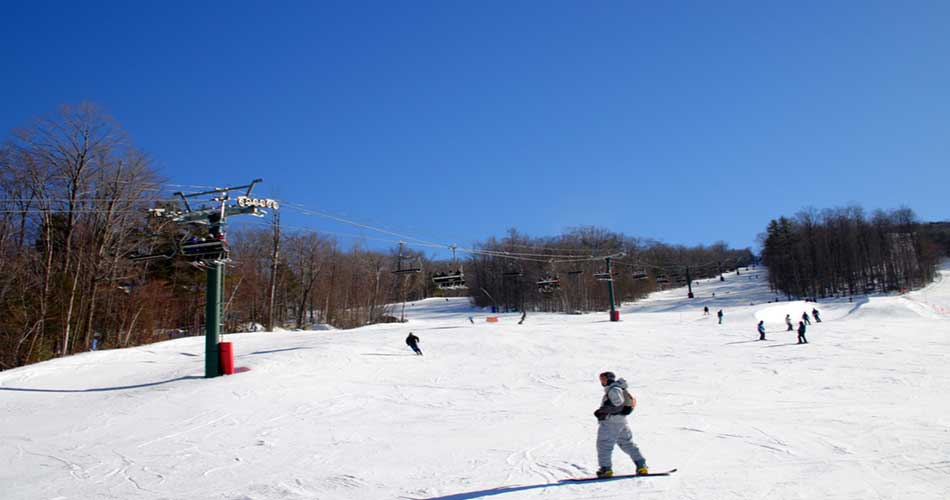 Does Bretton Woods Ski Area Have a Ski Shop?
TreeTop Sports at Bretton Woods has everything for sale when you don't want to rent. They carry goggles, cold weather gear and accessories. TreeTop sports stocks Burton, Oakley, Scott and Anon just to name a few.
If you don't want to buy near gear and don't have your own, then Bretton Woods also has a rental shop that offers half day, full day and two day rentals. You need to reserve rentals online 48 hours prior to arriving. Otherwise, you'll be out of luck if you try to get walk in rentals.
Key Takeaway: Rentals MUST be reserved 48 hours prior to arriving at Bretton Woods slopes. You can do this online.
Terrain Park at Bretton Woods
If you have been to Bretton woods and are a freestyle rider, you've probably seen Midway Park. It has everything from boxes to jumps and rails. Since it is a progression park, it is a good place for beginner to expert freestyle riders.
Everyone is welcome at Bretton's Midway Terrain Park.
Read More: Do You Hit The 35 Foot Jumps? If You Are Brave, Try This Resort
Is Bretton Woods Good for Beginners?
Personally we would pick a smaller resort to learn at than Bretton Woods for first timers. Bretton Woods is good for beginners who have maybe snowboarded or skied a few times already. Otherwise showing up on the weekend and seeing how large everything is and trying to get rentals can be a bit daunting for a first timer.
For beginners, there are plenty of trails to ride and progress on.
Read More: If it is Your First Time Skiing Or Snowboarding, Go to This Small Resort Instead
Does Bretton Woods Blow Their Own Snow?
There are quite a few trails and glades that rely on natural snow but lucky Bretton Woods is in a good place to get that every Winter. Even though they have 63 trails, they have snowmaking on 92% of trails. That is about 426 of there 464 skiable acres, pretty amazing is you ask us.
Going after the December holidays will put you in the best position that all trails are open.
The Trails at Bretton Woods – Things to Know
There are 63 trails at Bretton Woods and 35 glades spread over 464 skiable acres. The mountain has some serious expert runs but it is still split pretty evenly among beginner, intermediate and advanced riders. The tougher the trail tends to see fewer riders so that is the place to go if the resort gets crowded.
Key Takeaway: There is more than enough trails to get away from crowds if you ever go on a more crowded weekend. You might just need to wait for the lift to get up the mountain.
What Are Some Other Winter Activities at Bretton Woods Ski Area?
If there is one place in New Hampshire that offers tons of Winter activities, it is Breton Woods. Some of the other things the resort offers is –
Winter fat bikes
Cross country skiing
Snow tubing
Guided winter backcountry adventures
Snowshoeing
Scenic gondola rides
Just because someone can't ski or snowboard doesn't mean they should stay at home. There are so many activities that someone new can try at Bretton Woods. It is New Hampshire's ultimate Winter destination.
Final Thoughts
It is time to plan your trip if you haven't already. If not visiting to ride the largest ski area in New Hampshire than visit for the history or scenery. It is just beautiful once the fresh snow coats the trails and trees. Don't forget to take a ride up the memorable cog railway nearby and we'll hope to see you on the slopes at Bretton.
Let us know in the comments below, your favorite place to stay when you visit the resort!
Explore More new hampshire Ski Resorts