You could say that Sugarbush Resort combines a little bit of the thrill of west coast big mountain ski areas to the charming historic east. Sugarbush Resort is home to two mountain peaks, premier lodging and dining and a real cool, laid-back ski town vibe that's only found in Vermont.
Packed with fun and adventurous terrain, Sugarbush is bound to surprise even the most seasoned skier. And the winter season is only 1/4 of it. Sugarbush is truly an all-season resort with activities like hiking, mountain biking, golf and of course skiing, snowboarding and snowshoeing.
Sugarbush Resort in the Mad River Valley of northern Vermont is a year-round destination that you won't want to miss. Feel like a local and read on for the complete guide to Sugarbush Resort.
Highlights of Sugarbush Resort
Sugarbush Resort is not just one mountain – it's two! Lincoln Peak and Mt. Ellen are the two mountains that makeup Sugarbush Resort. Each offers unique terrain and lots of adventure! A weekend of skiing may not be enough! Some more highlights include:
Mt. Ellen is Vermont's third-highest peak at 4,083 feet
2,600 feet of vertical
111 trails
16 lifts
28 marked glades
4 terrain parks
418 skiable acres
2 base lodges
Where is Sugarbush Resort?
Where is Sugarbush Resort? To find it you just need to know these three phrases: Sugarbush Resort, Forest Drive, Warren, VT.
Tucked away in northern Vermont lies Sugarbush Resort, nestled in the Mad River Valley. Surrounded by mountains, rivers and nature's beauty yet only an hour from the hip city of Burlington, Sugarbush has easy access to all of Vermont's top attractions. Just 3.5 hours from Boston, MA and other metropolitan areas, there's no excuse to not head out to Sugarbush. Check out some more distances below:
Boston, MA – 3.5 hours, 188 miles
Burlington, VT – 1 hour, 45 miles
Albany, NY – 3 hours, 147 miles
New York, NY – 5 hours and 50 minutes, 301 miles
Concord, NH – 2 hours, 126 miles
Portland, ME – 4 hours and 20 minutes, 229 miles
Montreal, Quebec – 3 hours, 223 kilometers
Pro Tip: Because Sugarbush Resort has two mountains, it also has two addresses! (One for each base area: Lincoln and Mt. Ellen) Be sure to check their website for the exact address of where you'd like to go! Both have parking, dining, ticket counters and rentals.
Does Sugarbush Resort Have Lodging?
Yes! Sugarbush Resort offers a wide variety of lodging options from quaint lodges to modern hotel rooms and condos. Some featured properties include the Clay Brook Hotel which is a bright red Vermont-style barn with a silo in the middle! Complete with a heated pool and hot tub!
For those wanting a full kitchen and living room space, the Gadd Brook Condos are an excellent choice and bring continuity to Sugarbush's classic Vermont farmhouse style with modern twists and elegance. The Resort Condos are also a great option for those looking for more space and comfort.
Finally, The Sugar Lodge located a half mile from the Lincoln main base area is a classic Vermont alpine lodge and a stay here includes access to the health and recreation center. The classic Vermont farm-house style amenities are everything you'll want on a ski trip: classy and cozy.
Does Sugarbush Resort Have Night Skiing?
There is no night skiing at Sugarbush as lifts close at 4:00pm. There are so many great dining options and seasonal events like live music and après activities, you'll be glad to finish the day off warming up in the lodge with friends and family.
The Best Time to Visit Sugarbush
The "best time" to visit Sugarbush depends on the activities you are interested in! Sugarbush has something for everyone in the dead of winter, the heat of summer and everything in between. Just 2 hours from Lake Champlain and minutes from some of Vermont's best hiking, biking and outdoor activities, Sugarbush is a great destination no matter the season!
Extra Pro Tip: Be sure to check the Sugarbush website for details and pricing on Sugarbush Resort lift tickets as well as Sugarbush Ski Resort discount lift tickets!
Does Sugarbush Have a Ski Shop?
Yes! There are ski shops throughout the resort, at both Lincoln and Mt. Ellen base areas. Sugarbush has all your needs covered. Whether you're looking to buy some new gear, need an extra layer or just want to browse some souvenirs and Sugarbush branded apparel, there's a shop for that!
There's even a shop specifically for our younger skiers and riders – the Schoolhouse Gear Shop. And don't forget the Farmhouse Rental and Tune Shop- for all your rental and tuning needs. There is a comprehensive map of both base areas on the Sugarbush website so if you're unfamiliar with the resort you can always check to make sure you know where to go!
Terrain Parks at Sugarbush Resort
Sugarbush Resort features four terrain parks: two on Mt. Ellen and two on Lincoln Peak. Head over to Mt. Ellen for the Reimergasse and Sugar Run parks. Reimergasse is Sugarbush's premier park, located on Mt. Ellen. It boasts 6 acres and a 2,100 foot long slope. This is your park for the more advanced freestyle riders as features tend to be on the medium to larger scale.
Sugar Run is the other park located on Mt. Ellen. This park offers smaller features and is great for a warm up run or for those trying out new tricks and skills. This is definitely a great progression park!
Sugarbear is the best park for introductions to freestyle riding and provides a secluded, relaxed environment to test out new skills.
If you're looking for parks on the smaller side check out Sugarbear Forest and Slowpoke on Lincoln Peak. Sugarbear Forest is the best park for introductions to freestyle riding and provides a secluded, relaxed environment to test out new skills. In the Sugarbear Forest you will find boxes, rails and jumps set low to the ground.
Slowpoke, also located on Lincoln is a great park for the whole family and is full of rollers, berms and small jumps.
Is Sugarbush a Good Mountain for Beginners?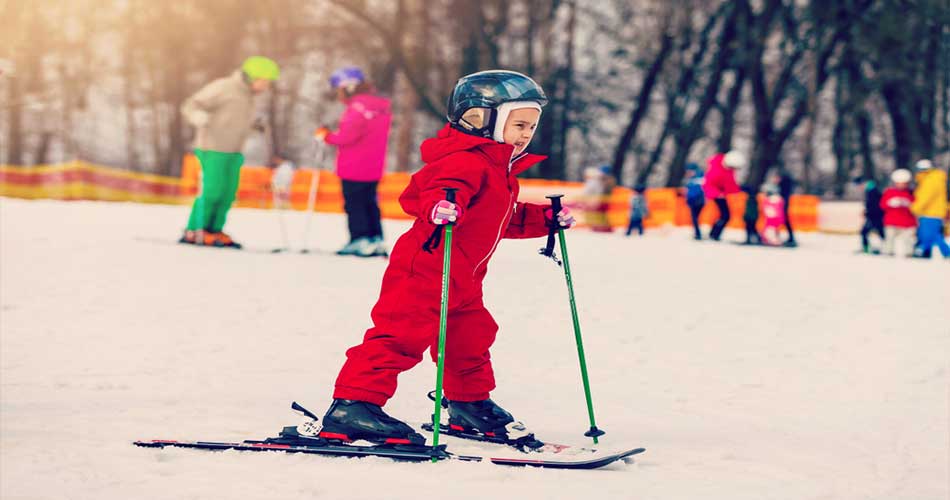 Absolutely! Sugarbush is an excellent mountain for beginners. Their renowned Ski and Ride School offers great lesson programs for all ages and abilities with passionate and highly-trained education staff. Sugarbush is even home to the Vermont Adaptive Ski and Sports facility at the base of Mt. Ellen, making skiing and snowboarding accessible to everybody!
In addition to lessons and camps, Sugarbush also has a great variety of beginner-friendly terrain on both mountain faces that allow even beginners to find a level-appropriate adventure!
Its large size and different base areas could be confusing for beginners so always be sure to make a plan and bring. You can even download the Sugarbush app to always have the interactive map handy!
Pro Tip: For beginners and first-timers it is recommended to start at Lincoln Peak. This is where you can find most amenities, rental and the ski and ride school. Lincoln Peak also has overall more green circle terrain and more lifts.
Does Sugarbush Resort Make Snow?
Yes, Sugarbush makes snow on almost all of its terrain. Currently, there is snowmaking on 406 acres or 97% of its terrain. In addition to snowmaking, on average Sugarbush receives 250 inches of snowfall per year! With snowfall and snowmaking like that you'll always be sure to find some fresh pow!
Trails at Sugarbush- What to Know
Sugarbush classifies their trails as follows:
20% Beginner (green circle)
45% Intermediate (blue square)
35% Advanced & expert (black and double black diamond)
The two mountain faces at Sugarbush have some differences in regard to terrain. The terrain on the southern Lincoln Peak has more mellow cruisers for beginners. Lincoln Peak is also where you can find Castlerock Peak with its narrow, steep, and winding trails.
The northern mountain known as Mt. Ellen stands at 4,083 feet and is home to more advanced terrain and where you can get in on some true vert. Mt. Ellen has fewer lifts and trails but opens early at 8:00am. So it's perfect for you early birds!
Both mountains are connected by a chair lift as well as a shuttle bus. In between the two peaks you can also find the Slide Brook Basin. Be sure to check out the Sugarbush Resort trail map to plan your runs and get the most out of your day skiing or riding!
Other Winter Activities at Sugarbush
There's so much more to do at Sugarbush than just skiing and snowboarding! Sugarbush Resort has some excellent restaurants that you won't want to miss out on! Embracing farm-fresh Vermont ingredients, Rumble's Bistro & Bar is their premier restaurant located on Lincoln Peak.
Most restaurants, lounges and eateries are located at the base of Lincoln but Mt. Ellen also has some great options like the Green Mountain Lounge and the Mt. Ellen Cafeteria.
If that wasn't enough, Sugarbush also offers great shopping, a rock wall, a spa, group fitness classes, pools and hot tubs as well as guided snowshoe tours! Not to mention the Sugarbush Resort events! There is always something fun going on at Sugarbush from Sunset Groomer Rides to live music, scavenger hunts, night tours and so much more!
Summer Activities
Not only is Sugarbush a prime winter destination, it is also a spectacular place to visit in the summer! With awe-inspiring venues for weddings and gatherings as well as a top-notch golf club, all just minutes from all the summer fun Vermont has to offer!
Having a "Sugarbush Resort Wedding"
Ever thought about a scenic mountainside wedding in the beautiful green mountains of Vermont? A Sugarbush Resort wedding is an excellent option to celebrate your love in the heart of the Vermont wilderness. Sugarbush offers everything from lodging, catering and beautiful facilities for both indoor and outdoor ceremonies.
The charming Vermont farmhouse style lends itself to a classic yet stylish and modern wedding with exquisite catering. Have a celebration as unique as you and get married on top of a mountain with scenic chairlift rides up and down from the ceremony! It will sure to be a day to never forget and a dream come true.
Be sure to contact Sugarbush via their website for the full details on how to book a wedding and the variety of accommodations and options available! Whether you want a big wedding or a more intimate ceremony, Sugarbush is sure to have the right wedding option for you!
Playing at "Sugarbush Resort Golf Club"
For the golfers out there, Sugarbush didn't forget about you! The Sugarbush Resort Golf Club designed by the legendary Robert Trent Jones is an 18 hole masterpiece. Embracing the natural landscape and stunning views you'll want to stay on the course all day!
If you like to golf or are interested in learning don't miss out on the Sugarbush Resort Golf Club's Par 70 (men) and 72 (women) course! There are different membership options! Greens fees and timetables are available on the Sugarbush website.
Conclusion
Sugarbush Resort in the Mad River Valley of Vermont is everything you could ask for in a 4 season mountain resort. Excellent skiing and snowboarding with not just one but two mountain peaks, pools, hot tubs, restaurants, shopping, a world-class golf course and stunning wedding packages, Sugarbush Resort has it all.
No matter the time of year a visit to Sugarbush is definitely worth it!
Explore More Vermont Ski Resorts