The winter ski season is almost upon us already, and Bolton Valley Ski Resort is getting ready for ski season! Opening day is the day after Thanksgiving, on November 26, 2021. So why not spend "Black Friday" on the slopes in beautiful Vermont? Here are some reasons why Bolton Valley Resort should be on your winter holiday vacation list.
The Highlights of the Bolton Valley Ski Resort
Some of the highlights awaiting you at Bolton Valley Ski Resort are some awesomely groomed runs. Your days will end with a beautiful sunset that will take your breath away. Besides the beautiful scenery, you will also discover the following at Bolton Valley Resort VT:
71 exciting ski trails
6 Lifts
1,704 feet of vertical
Night skiing 5 nights a week until 10:00 pm
Nordic and Alpine skiing
Backcountry and uphill tickets are also available
A ski shop available for ski rentals and memorabilia
Vertical peaks ranging from 3200-3650 feet high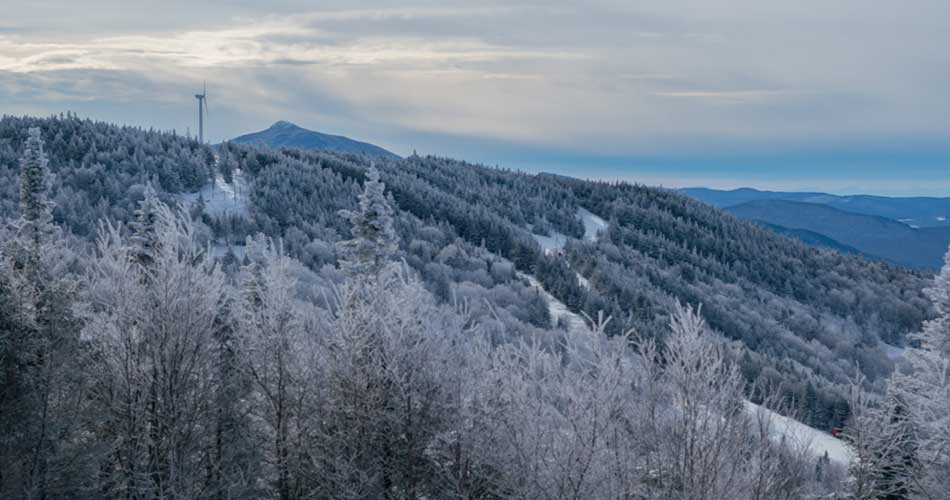 Where Can You Find Bolton Valley Ski Resort?
The resort is located in Bolton Valley, Vermont. You can find it by taking the I-89– just a half-hour drive from Burlington. Bolton Valley resort is a short jaunt of 2 hours from Montreal and 3 hours from Boston!
There are a number of ways to get to Bolton Valley–you can drive, fly, or take the train. If you choose to fly in, the Burlington International Airport welcomes all major airlines. There are rental cars available and the resort is only a short 30 minutes drive. In addition, the Amtrak train has service from Washington D.C., New York, Boston, Montreal, and will take you to Waterbury Station. Just a quick 10 minute drive away from the resort.
However you decide, make sure you get here! The fun awaits your arrival.
Does the Ski Resort Have Lodging?
There are renovated luxury slopeside hotel rooms to assure you have amenities available all in one prime location. Check-in time is 5 pm for suites and check-out by 10 am–however, hotel protocol mandates a 2-night minimum in most cases. (Certain occasions might require a 3-night minimum). At the time of booking one of these luxurious hotel rooms, you are required to put down at least a 50% deposit.
Does the Ski Resort Have Night Skiing?
If it's skiing or snowboarding at night that you enjoy, this resort offers that, too. Every Tuesday thru Friday until 10 pm you can enjoy the nightlife on the slopes! When you purchase a lift ticket it is good for a whopping 13 hours of fun on the slopes.
You can also purchase an additional $25 "scoop up the Night Ticket" and ski from 4 pm until 10 pm. Nothing compares to a sunset framed by the Adirondack Mountains, the western facing slopes, and Lake Champlain.
The Best Time to Go to Bolton Ski Resort to Ski or Snowboard
The ski season opens up in late November, lasting through February –depending on snowfall levels! This is the best time to go skiing or snowboarding at Bolton Ski Resort, right after a heavy snowfall.
There are 71 trails for riding and Alpine skiing at Bolton Valley. Additionally there are 62 miles of terrain for Nordic skiing available. The resort has several trails for backcountry skiing available too.
Does Bolton Ski Area Have a Ski Shop?
Yes, at the Bolton Ski Resort there is a Ski/Retail shop. It is located between the Deli and the clocktower in the Base Lodge. Here you can pick up all your skiing or snowboarding supplies–gloves, goggles, helmets, sunglasses, poles, skis, snowboard boots, etc.
There are also lots of other stuff available. From cool T-shirts and pint glasses with the Bolton Backcountry logo on them to Nalgene water bottles. There is so much stuff you will have to stop in and do a little shopping while at the resort.
More Highlights of Bolton Valley Ski Resort
Bolton Ski Resort is situated in the highest base elevation in New England at 2,100 feet above sea level. The peak at the Bolton Mountain summit towers at 3,150 feet.
A complete view of Lake Champlain's basin is offered within this park's terrain. This is because of how Bolton directly faces the west, transverse of the lake's widest section. This is right in the center of Green Mountain's steepest peaks.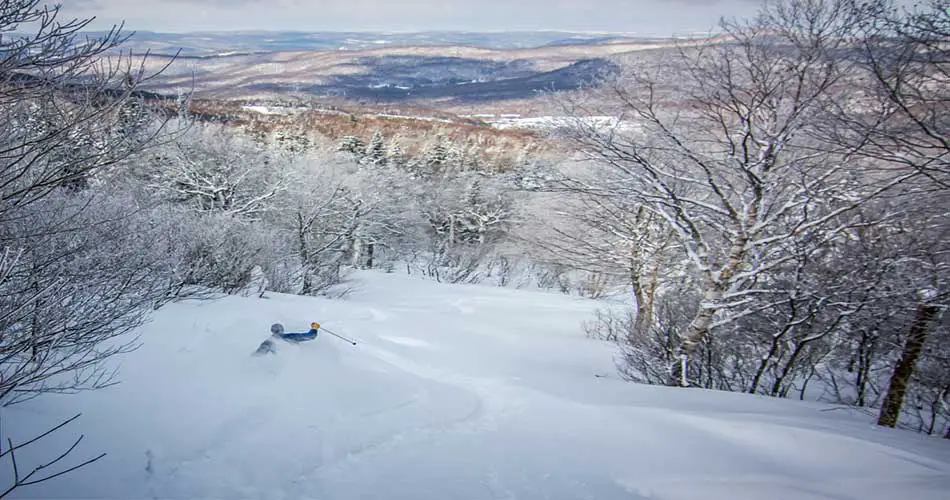 You will not only witness some pretty awesome sunsets but following a snowstorm, there is a lot of excess moisture over the lake. This moisture empties out on the flanks west of these peaks and goes up and over the higher Greens peaks. Creating a pretty awesome sight to view.
There are over 12,000 acres of wilderness that have been untouched in the base area of Bolton Valley. This provides a zone that accumulates snow sitting 3000 feet above the floor of the Champlain Valley. In which a large share of the finest terrain of the backcountry in the Bolton Valley lies.
Terrain Parks at Bolton Ski Resort
Terrain Parks at Bolton Valley Ski resort are just part of the fun. There are three parks at the resort for different skill levels-Hideaway, Moonlight , and Valley Road.
Is Bolton Ski Resort Good for Beginners?
Yes, if you or your guests are beginning skiers or snowboarders, Bolton Ski Resort is a great place to learn. There are student-centered, guest-centered programs available in Bolton which provide lessons in both riding and skiing. The ski instructors teach beginners, everything they need to know about ski/snowboard fun and safety.
Does Bolton Ski Resort Blow Their Own Snow?
Yes, Bolton Ski Resort has an upgraded system for making snow that goes back prior to the winter season 2017-18. The Timberline pump house has pumps that are efficiently balanced and permit the water to push uphill quickly.
Here at the Bolton Ski Resort, they are continuously increasing an inventory of hoses and guns for blowing snow. These upgrades permit them to blow more snow in several areas at one time. The extra hoses and guns also cut down on the time needed for crews to alter locales. This results in the snow season starting earlier and getting trails covered with snow more rapidly than in years past.
The Trails at Bolton Valley Ski Resort-Things to Know
There are 71 trails at Bolton Ski Resort to fit any style and skill level of skier or snowboarder.
The difficulty of trails is split as follows –
34% Beginner
38% Intermediate
28% Advanced
They don't have the most difficult trails in Vermont but there is definitely something to challenge you.
What Are Some Other Winter Activities at Bolton Ski Resort?
There are so many other winter activities to partake in while at Bolton Ski Resort. You can go Alpine or Nordic skiing, snowshoeing, backcountry skiing, and splitboarding. There is even an indoor bike and skate park for the kids to enjoy while their parents hit the slopes!
The sports center is complete with a pool, sauna, hot tub, and even some workout equipment. Whether it's to unwind after a long day on the slopes or to get your blood pumping in the morning, there is something for everyone.
Final Thoughts
If you are planning a weekend getaway for the holidays, Bolton Valley Resort is a great place. Just because you or your friend don't ski or snowboard, there are plenty of other activities to pique your interest.
If you want to have fun skiing in Vermont, then the Bolton Valley Ski Resort is an excellent choice. You could be skiing or snowboarding in Vermont this holiday season!