A year-round recreation area with a summer zip-line and fat tire biking on the western edge of the City of Duluth, Spirit Mountain is a top rated ski area in the Midwest. Owned and operated by the City, Spirit offers exciting downhill ski and snowboard hills. It also has groomed cross-country trails, multiple terrain parks, as well as a super-popular tubing hill.
Conveniently located just off I-35 about 10 minutes from the heart of Duluth, Minnesota, Spirit is popular locally, regionally and with out-of-town visitors. Spirit caters to more of a recreational type of skier and is more affordable as ski areas go.
With a prime location in Northern Minnesota's largest metro area of over 150,000, you'll find lots of dining and entertainment options in the area for after skiing fun. Great for singles, couples, groups of friends looking for a weekend getaway, and above all, families, Spirit Mountain offers ski and snowboard lessons for young and older alike.
Highlights of Spirit Mountain Ski Area
Number of runs: 22
Vertical rise via lifts: 700 feet
Ski Area: 175 acres
Longest run: 5,400 feet (just over one mile)
Number of lifts: 5 chair lifts, two conveyor/carpet lifts including a beginner conveyor. and a tow rope
Trail Types: Easiest, 35%, 7 runs; More Difficult, 40%, 8 runs; Most Difficult, 25%, 5 runs
Nordic Trails
Does Spirit Mountain Offer Lodging?
Mountain Villas is the sole ski-in/ski-out property at Spirit. Each villa is an individual building about two blocks from the lifts. The villas are located just off I-35 exit 249, hidden in a private wooded location which overlooks the ski area, St. Louis Bay and the City of Duluth.
Being a very popular year-round vacation destination, Duluth has a multitude of accommodations available. While the majority of the area's larger properties are located downtown (8 miles away) or at adjacent Canal Park (along with many popular restaurants), a Best Western Plus and an America's Best Value Inn are at the same exit 249 as Spirit Mountain.
In addition, several more newer chain hotels are 'up the hill' in Duluth Heights, close to the airport and Miller Hill Mall. Most accommodations are no more than 15 minutes from Spirit Mountain.
Dining Options Abound
If hunger catches up with you at the slopes, you have some great options to choose from. The Cafe is a quick grab-and-go at the Grand Avenue Chalet which also has a smallish sit-down area. For those who prefer to relax and be served, Spirit Mountain's Moosehead Bar and Grill is a popular option.
For skiers looking to chow down before or after your time on the slopes, Black Woods Grill and Bar is just a couple of minutes north of the I-35 exit on Boundary Avenue at the intersection with State Highway 2. The restaurant is attached to the AmericInn, another good option for overnighters that is close to the skiing.
For those in town for a winter weekend getaway who are staying downtown at one of Canal Park's many hotels, there are nearly a dozen dining spots within easy walking distance. Some of the dining options in walking distance including Grandma's Saloon, Little Angie's Cantina, Hoops Brewing, and the Northern Waters Smokehaus.
Is There Night Skiing at Spirit Mountain Ski Area?
Yes! Most of Spirit Mountain is night-lit for skiing after dark. Special reduced night skiing rates begin at 3 p.m., so you can still get several hours of fun in by getting started mid-afternoon. Adventure Park's snow tubing runs offer "Glow Tubing" from 6-8 p.m. on Friday and Saturday evenings.
When is the Best Time to Visit Spirit Mountain?
If you're wondering if there will be enough snow on the ground for skiing, keep in mind that this is Duluth in Northern Minnesota. That's like asking if there are beaches in Florida. As for a best time of the season or day of the week to visit Spirit Mountain, the consensus is clearly that in order to avoid crowds, come during the week.
Duluth is just 2-3 hours away from the cities which can lead to busy weekends at times.
Friday through Sunday is when the slopes will be most crowded. The same is true for holidays like President's Day Weekend and during the many spring break weeks in March. With Spirit's close proximity to the Twin Cities, Duluth is just 2-3 hours away from any part of the metro area. This makes for an easy day trip, or a weekend getaway.
Does Spirit Mountain Ski Area Have an Equipment Rental Shop?
Come one, come all. There's no need to have your own ski equipment in order to hit the slopes at Spirit Mountain. Ski equipment packages are available that include skis, poles and boots. Snowboard packages include board and boots. Helmets are available for an additional charge.
Reduced cost rentals are offered if pre-purchased online, with even better deals available for youth ages 12 and under, as well as for adults 62 and older. Lastly, if you have some equipment but not everything you need, individual rental of skis, boards, helmets, poles, etc. are also available.
Cross-country ski equipment is available for rental at the Nordic Center on Grand Avenue. Again, save a few bucks with an online pre-purchase
Is There a Local Ski Shop that Sells, Tunes & Repairs Equipment?
Skiing and boarding are big business in Northern Minnesota, so naturally there are shops that cater to enthusiasts needs. Two of the most popular shops in Duluth are the Ski Hut and Damage Boards (skateboards and snowboards). Both have an extensive inventory of must-haves for your winter sports activities, as well as outerwear, sunglasses, helmets, and so on.
Does Spirit Mountain Ski Area Have a Terrain Park?
Not satisfied with offering just one terrain park, the parks at Spirit Mountain is made up of four completely separate free-wheeling terrain areas which are located in various areas of the park. There is something for everyone here, matter what your level of expertise is, or isn't.
Spirit Park is known around the Upper Midwest for an incredible jump line and amazing jibs. In fact, it has been recognized nationally as a premier terrain park comparable to those in other regions of the U.S.
Spirit Park offers seven jumps, 16 jibs and a halfpipe.
Low Oak Tow Park features 12 jibs, a jump, and is located above the Skyline Chalet. With a 1,200-foot per minute tow rope, you'll quickly be ready to show your stuff over-and-over again.
Shark Park and 18-Line are known to offer great fun for beginners and intermediate boarders, including jumps, boxes and turns within the same run.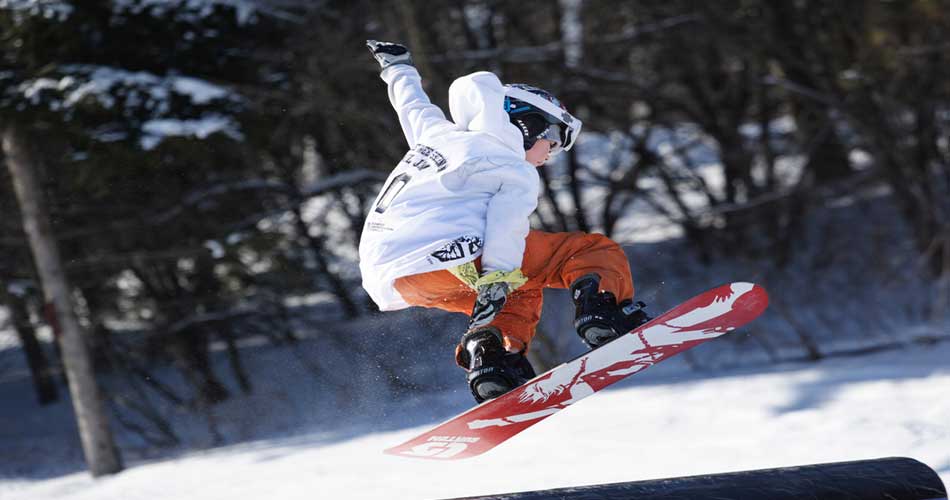 Does Spirit Mountain Also Have a Tubing Hill?
Families may love Spirit Mountain Ski Area for its skiing, but the fantastic tubing hill is another very popular attraction. Located at the Adventure Park which is a half-mile away from the ski hill, Spirit's tubing hill has a towing rope to whisk you back to the top of the hill in no time and is safe and fun for anyone ages 3 and up. Again, pre-purchase your tickets good for a two-hour session online, and you'll save some money!
Tickets for Glow Tubing must be pre-purchased as the session usually is a sell-out. Sessions are 6-8 p.m. on Friday and Saturday evenings, and everyday from Christmas to New Year's Day.
The park provides the only permissible tubes. Minimum height is 42", and riders ages 3-5 must be accompanied by another rider age 18+.
Does Spirit Mountain Make Snow?
Like most ski hills, Spirit Mountain has the capability to make its own snow. While this is typically mostly necessary early or late in the season, and some years hardly at all, we always recommend checking in advance to see what the latest snow conditions may be.
In a 'normal' winter Duluth averages 70 inches of snow but topped out at 132 inches way back in 1949-50! It's impossible to predict when it will fall and how much, but it is rare indeed for Spirit Mountain not to be piled high with the white stuff.
X-Country Skiers Have a Place at Spirit Mountain
The 'Grand Avenue Nordic Trails' at Spirit Mountain offer an array of cross-country experiences. Trails include Stadium Area East and West, a 440-meter and 600-meter beginner's loop, the Big Bend 800-meter loop, the Roller Coast Trail and Black Bear Trail.
With much of Minnesota being fairly flat, the state maintains hundreds of miles of cross-country trails for enthusiasts.
Some Closing Thoughts
If you're looking for a complete winter weekend (or midweek) getaway, Spirit Mountain is a fantastic option for virtually anyone. With its great location within a reasonable drive of the Twin Cities and most of Northern Minnesota, you can come here for the day, a weekend or more affordably, a midweek experience that will keep you active for days. In fact, Spirit's proximity and reasonable costs make it a ski area you can visit more than once during the winter season.
If you're coming down Lake Superior from Thunder Bay and Western Ontario, Spirit Mountain and Duluth offer great skiing, tubing and boarding, dining, nightlife and shopping to justify a winter family vacation. Let us know in the comments below if you are looking forward to skiing and snowboarding Spirit Mountain this Winter.
Explore More Minnesota Ski Resorts