Buck Hill is ideally located in Burnsville, a south suburb of Minneapolis, just minutes south of the Minnesota River crossing from Bloomington. Virtually all three million Twin Cities residents reside less than an hour from here, making the hill's location convenient for people coming from all direct
ions. A great place for beginners, families. teenage friends, school groups and Minnesotans who just want to get outdoors during the winter, skiers, boarders and tubers will find Buck Hill Ski Area to be a fun destination for a full day of activity.
How Do I Get to Buck Hill Ski Area?
Probably the most convenient ski hill in the Twin Cities proper, Buck Hill is located on the west side of I-35 just to the south of Burnsville Center mall. The southern split of I-35W and I-35E is just up the road. No matter what direction you're coming from, getting here is a breeze.
Downtown St. Paul – 27 miles, 24 minutes
Downtown Minneapolis – 19 miles, 26 minutes
Roseville – 26 miles, 32 minutes
Eden Prairie – 19 miles, 28 minutes
Owatonna – 47 miles, 45 minutes
Maple Grove – 31 miles, 35 minutes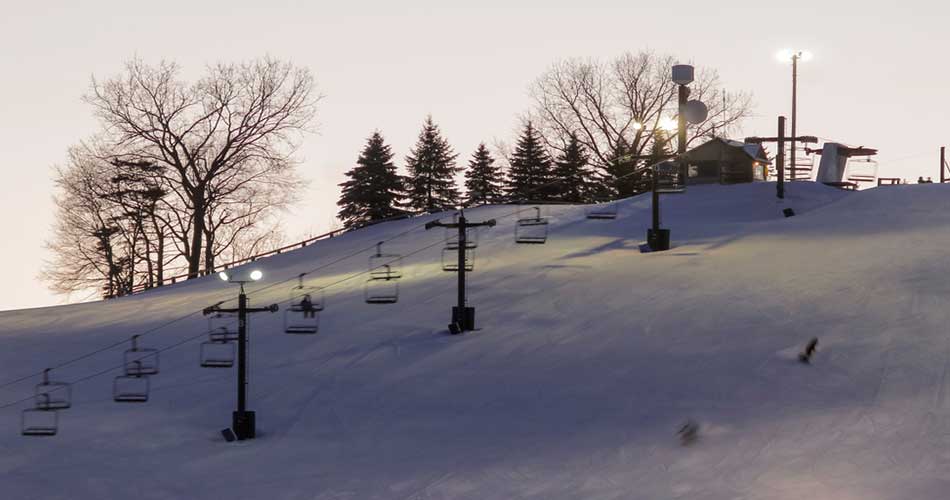 How Far is Buck Hill Ski Resort from Mall of America?
It is only 15 minutes from Buck Hill Ski Resort from the Mall of America. If you are looking to do a little shopping before skiing or snowboarding, it is an awesome place to check out. Then just throw on the GPS and drive down to Buck Hill.
Hill Stats
What started out as a moderate hill by Minnesota standards was enlarged by trucking in hundreds of tons of soil to make Buck Hill the height that it is today.
15 runs of varying difficulties,

plus a tubing hill

10 lifts – two quads, one triple, five rope tows, a snow tubing lift and two carpet lifts
What Hotels are Closest to Buck Hill Ski Area?
If you're coming to Buck Hill from outside of the Twin Cities metro and planning a longer visit, there is no shortage of hotel accommodations nearby. Here are some of our favorites:
Hampton Inn, Burnsville, a Hilton property
Fairfield Inn, Burnsville, a Marriott property
Americinn by Wyndham, Burnsville
Best Western Premier Nicollet Inn, Burnsville
Baymont Inn by Wyndham, Lakeville
What's to Eat at The Hill?
Buck '54 Bar & Grill on located right at the hill and is open from 10-10. Whether you want to grab and go or sit for a while, there's sure to be something to whet your appetite. Choose from a selection of appetizers, burgers and chicken sandwiches, soups, salads, fish 'n chips and more. A wide array of beverages is available including a full bar with plenty of local beers.
If you don't plan to eat while at the Hill, there are literally dozens of options within a 10-minute drive on County Road 42 which runs along the north side of Burnsville Center, and on other peripheral streets.
Does Buck Hill Offer Night Skiing?
Absolutely ! Buck Hill is night lit all season long so you can ski, board and tube until closing time (usually 9 p.m., but check your exact date to be sure).
Save Time and Money with a Buck Hill Season Pass
Season passes are the way to go for frequent skiers. Not only will individual and families receive a noticeable discount for the entire winter, but you will be exempt from any blackout or sold-out dates that pop up throughout the season. No need to worry on those perfect winter outdoors days if you'll be able to get a lift ticket here. Buy a season pass, save money, and guarantee your access to the fun.
Discounts Galore are Available at Burnsville's Buck Hill
The marketing folks here have really done their homework. There is some sort of discount available for almost everyone. It just depends on who you are and when you visit. And be sure to make your purchase online, in advance to save even more. Check out these possibilities:
Lower weekday rates
Lower advance purchase online rates
Child discounts
Senior discounts
Military discounts
Early Bird discounts, arrive 10 a.m. – noon on weekdays
Late night discount, 7 – 9 p.m. offered every day
Late night plus discount, 3 – 9 p.m. weekends and holidays
Equipment Rentals at The Hill
Complete ski and snowboard rental packages are available at Buck Hill, so there's no need to buy your own just yet. Helmets are rented separately from the packages and are highly recommended. As always, to avoid disappointment, reserve and pay for your rental needs online in advance, and buy your lift tickets at the same time.
Is There a Way to Avoid the Weekend Crowds?
Other than avoiding weekends altogether, it can be difficult to stay away from the weekend crush at Buck Hill. We suggest arriving early, of course, when you'll probably get at least a couple of hours without long lift lines. And be sure to purchase your lift tickets and reserve rental equipment in advance, online, so that you can bypass the lines here, too.
If there's a chance you can ski midweek during the day or in the evening, you'll find fewer people on the slopes. So why not be good to yourself and ski during the week from time-to-time? You'll get in more runs and avoid the screaming kids. Sounds like a good plan to us!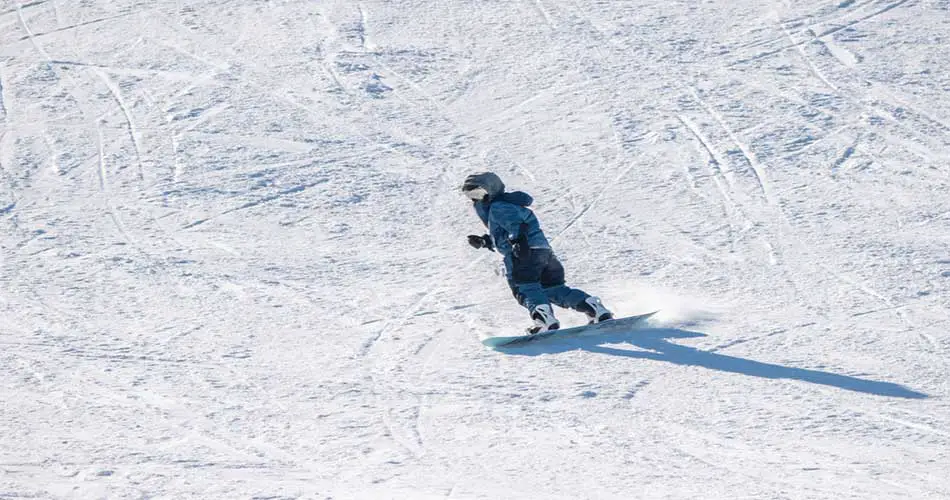 Can My Kids Get Ski Lessons at Buck Hill?
Of course, they can. And on the off chance that maybe you also need some lessons yourself, Buck Hill Ski Area offers top-notch lessons for skiers and boarders from young to old(er). Ski lesson categories include:
Private lessons, skiing ages 3+/snowboarding ages 4+
Private lesson, teens and adults ages 13+
Group lessons, teens and adults ages 13+ are offered daily at specified times
Advanced reservations must be made no later than 48 hours prior to the time of the lesson. Rates vary based on private/group and age/ability level. Check the Buck Hill website for the latest details.
Is There a Terrain Park at Buck Hill?
What's a ski hill without some terrain challenges? Buck Hill Ski Area is ready to take you on with five specially designed areas for those looking to ride the pipes, jump the line or check out for the youngsters, the Little Jibber.
Does Buck Hill Offer Tubing?
Buck Hill is widely known to have the best snow tubing in the area. Open morning to 9 p.m. Wednesday through Sunday with more days added during the peak of the season, this is a fantastic family and couples activity.
No children under the age of five are permitted to ride the hill, and the minimum height is 42 inches. In addition to 2-hour rates each day that are $5 higher on Saturday and Sunday, Buck Hill offers reduced late-night rates starting at 7:30 p.m. As with the downhill skiing and boarding prices, tubing rates are lower when purchased in advance online.
You're in Luck. There's Snowmaking at Buck.
While climate change has made running a ski area like Buck Hill a bit more challenging, the powers that be here are ready for you to arrive. Buck makes snow and lots of it. Isn't it great how modern technology can make snow before the natural stuff even arrives? Buck Hill often opens a week or two ahead of the first snowfall and stays open later too.
As long as the temperatures cooperate, there'll be plenty of snow for skiing, boarding and tubing here.
Some Closing Thoughts
While Buck Hill Ski Area may not be located in the pristine mountain air of the Rockies or French Alps, it is about as complete as a ski area can be in the heart of a major metropolitan area that is reasonably flat.
For the more serious skiers and boarders Buck Hill also offers a Ski Racing Team, a Ski Racing D-Team for ages 6-15, an X-Team for isnowboarders 7-18 and a Ski Racing Club that has a Facebook page online. Check them out for a bit more fun at Buck Hill.
Explore More Minnesota Ski Resorts