Located in the southeast suburbs of the Minneapolis/St. Paul metro area, Afton Alps is a favorite regional ski destination for families, school groups and weekend adventure seekers. Owned by Vail Resorts, the 'mountain' has developed life-long ski enthusiasts for many decades and continues to be a very popular destination during the winter season for skiers and boarders in the Upper Midwest.
How Do I Get There?
It's easy to get to Afton's beautiful St. Croix Valley location from anywhere in the Twin Cities and beyond.
Downtown St. Paul – 21 miles, 27 minutes
Downtown Minneapolis – 31 miles, 40 minutes
Bloomington (494 & I-35W) – 29 miles, 36 minutes
Maple Grove – 49 miles, 55 minutes
Roseville – 31 miles. 37 minutes
White Bear Lake – 29 miles, 36 minutes
Depending on your starting point, highways 10, 694/94 and 494/94 all provide quick highway service to within a few miles of the ski resort. While its address says Hastings, Minnesota which is a few miles south, most visitors will be arriving from more heavily populated areas to the north and west.
Afton Alps MN Stats
Elevation: summit, 700 feet; base, 350 feet
Vertical Drop: 350 feet
Ski Area: 50 trails encompassing 300 acres
Number of Lifts: 14 aerial and 4 surface tow ropes
Uphill capacity: 19,730 riders hourly
A Great Way to Spend the Day
Most Afton skiers live within an hour of the slopes, so you can enjoy a full day of activity without a lengthy drive. Afton's night lighting means you don't have to arrive for the opening bell in order to get your money's worth. Because of its proximity to the Twin Cities proper with more than three million residents, many skiers and boarders buy full-season passes knowing that they will be returning many times during the winter. Come early for the day or come later and ski at night, too.
Are there Hotels Near Afton Alps MN?
While there are a couple of smaller hotels in nearby Hastings, staying a few minutes further in suburban Woodbury is a much better option where you'll find numerous hotels, restaurants, and endless shopping. Popular hotel options include:
Sheraton Woodbury
Courtyard by Marriott
Residence Inn
Hampton Inn
Extended Stay America
Great Food Choices to Feed Your Hunger
There's certainly no shortage of dining options at Afton Alps. Here are a few of our favorites:
Alps Chalet – breakfast sandwiches, pizza, burgers and more (indoor and outdoor options)
Paul's Pub – this weekends only hot spot is great for adult beverages and quick bar food. Paul's also features a two-sided fireplace and multiple TV's
The Landing Zone – only open from noon to 3 p.m. during the weekends, this is the grab-and-go spot to quickly have a bite and get back on the slopes in no time
Does Afton Alps Offer Night Skiing?
Absolutely! Afton's entire facility is night-lit, allowing for after dark skiing and boarding for several hours after many other ski resorts have closed for the day. As a member of Vail Resorts' Epic family since 2012, Afton has seen continuous upgrades including expansion of night lighting to cover each and every run.
When's the Best Time to Ski at Afton?
With its location on the edge of a major metro area makes the weekend the most popular time to come to Afton. Area families come out during the weekends for some exercise and fun. During the busiest times during the Christmas/New Year's school break, as well MLK Weekend in January and President's Day Weekend in February, Afton may restrict ticket sales to ensure that the facility too crowded. It's a good idea to avoid these times, if possible.
The bright spot here is that Afton is completely night-lit, so peak winter hours can last up to 12 hours, from 9 a.m. to 9 p.m. These longer hours help spread out the number of skiers throughout the day and allows for a much more enjoyable experience.
Afton offers less expensive lift tickets after 3 p.m., when crowds are lighter. Be sure to check if the 3 p.m. discount is available on the day(s) you plan to ski, as it isn't offered during some weekends and peak holiday dates.
Are Rental Equipment & Lessons Available at Afton Alps?
Afton offers high quality equipment for both boarders and skiers, including your all-important helmet. To ensure the best selection and availability, reserve yours online here. Not only will you save time, advance online rates are lower than same-day walk-up prices.
Afton has also gotten creative by offering seasonal rental equipment deals for frequent visitors. Save even more with this option as you'll pay just one price that will provide you with equipment no matter how many times you decide to head for the slopes here. What a great way for families to save money!
Afton offers lessons for skiers and boarders of all sizes, and you can choose from personalized one-to-one attention, or join in a group lesson. Advance reservations are highly recommended.
Will Riders Find a Terrain Park Here?
Terrain enthusiasts aren't forgotten at Afton Alps. In fact, there are three parks so that there's something for boarders at all skill levels.
East Park – beginner boxes and rails, and a progressive jump line
West Park – designed to offer intermediate and advanced riders a chance to work on their skills
Highlands Park – for those who prefer to ride the lift instead of the tow rope, and then check out the boxes and mini-jumps off of Dawn's Highland run. Easy to repeat multiple times with a quick lift uphill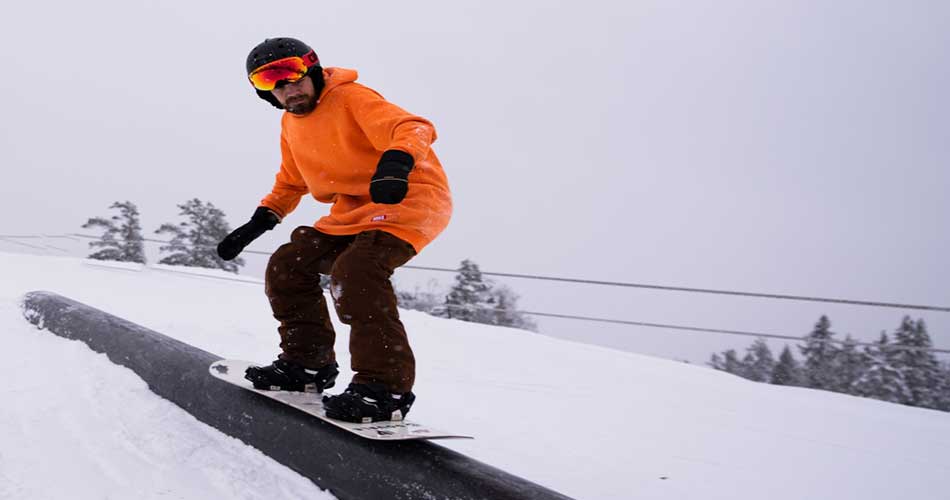 Is There a Tubing Hill at Afton?
There is currently no snow tubing here.
Does Afton Alps Make Snow?
In addition to evening skiing, Vail Resorts has dramatically upgraded Afton's snowmaking capabilities. Boasting that its snowmaking equipment makes for the region's best snow quality, Afton also can add infinite base depth to the snow that typically falls during the winter in Minnesota. A few years back skiers welcomed the addition of 72 new energy-efficient snow guns.
Some Closing Thoughts
Afton offers an exciting opportunity for strong skiers who want to develop alpine racing skills. The Alpine Race Club (ARC) is an 11-week program that follows the U.S. Skiing Association athlete development plan. Included is free skiing, training in gates, as well as focused drills to strengthen your abilities. Junior ARC members may race in the Midwest Snowsports Development League which has competitions at Afton and other ski areas in the region.