While the Sawtooth Mountains barely climb more than 1000-feet above Lake Superior, Lutsen Mountains is the largest ski area in the Midwest with a unrivaled 73-year history of family ownership. The facility includes downhill skiing on four mountains, eight lifts including a gondola, and close to 100 primary and side-country cross-country trails. Located 100 miles to the Northeast of Duluth on infamous North Shore Highway 61 of Bob Dylan fame, Lutsen is an easy drive from the Duluth MN/Superior WI area, as well as from Minneapolis/St. Paul which is just two hours further South.
Thunder Bay, Ontario is just under 100 miles to the Northeast, an easy hour and 45-minute drive including crossing the U.S./Canadian border. Whether you're looking for downhill or cross-country skiing, snowboarding or being challenged by a thrilling terrain park, Lutsen is the place for you in Minnesota!
Mountain Stats at Lutsen Mountains
Do you love the stats? Here are some of the stats skiers and snowboarders will want to know –
Tallest summit: 1,088 feet above Lake Superior
Vertical rise via lifts: 825 feet
Ski Area: 1,000 acres
Number of Runs: 95
Trail Types: Beginner, 18%; Moderate, 47%; Advanced, 25%; Expert, 10%
Steepest Runs: The Plunge and Experts Cutoff
Longest Run: 2 miles
Lifts: 1 Magic Carpet, 4 double-chairs, 1 triple-chair, 1 six-rider high-speed chair, 1 eight-passenger gondola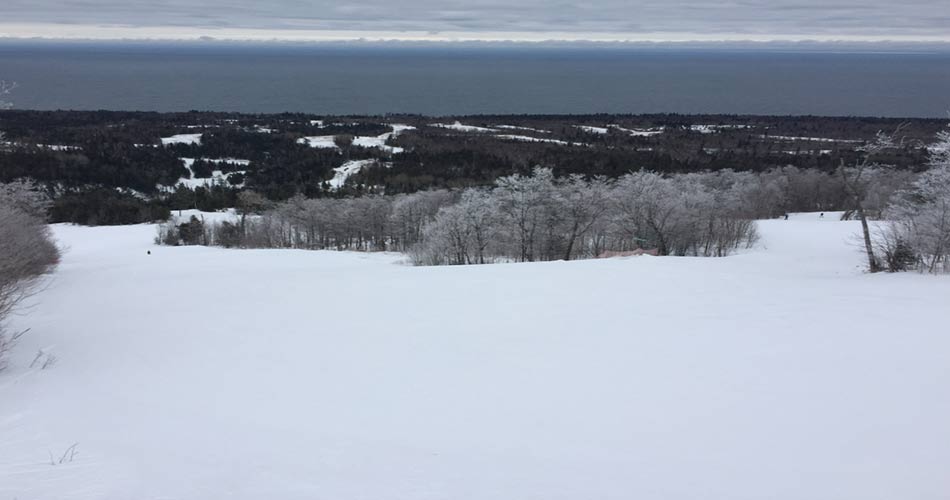 Does Lutsen Mountains Offer Lodging?
Not only is Lutsen a great place to ski, it's a complete skiing community that offers lodging within easy walking distance of the lifts. From comfortable motel rooms to spacious hotel suites , it's easy to find a place to stay that fits your budget and needs.
In fact, Lutsen Mountains makes booking a complete package easy as can be. There are more than 30 properties offering special rates for winter sports enthusiasts. Three of the most popular places to stay, Mountain Inn, Eagle Ridge Resort and Caribou Highlands Lodge are 'up the mountain'.
Key Takeaway: Minnesota's North Shore extends for 150 miles along the shore of Lake Superior from Duluth to the Canadian Border. In particular, the stretch of Highway 61 from Tofte, just South of Lutsen, to the Cascade River a few miles north of the ski area turnoff, offers a wide array of motels, cabins, small resorts and more upscale accommodations, some of which include an indoor pool and restaurant.
Properties of note include the AmericInn Motel, Blue Fin Bay, Waves of Superior, Lutsen Resort, Solbakken Resort and the Cascade Lodge.
There's No Shortage of Dining Options Here
Can you think of anything that makes you hungrier than a day on the slopes? Luckily, Lutsen Mountains has several dining options just a short walk from the lifts. Two of the most popular choices are Papa Charlie's Saloon & Grill, and Moguls Grill & Tap Room. Summit Chalet at the end of the gondola run is a great spot for a mid-day lunch.
Is There Night Skiing at Lutsen Mountains?
No, night skiing is not available at Lutsen Mountains. Lifts operate during daylight hours only, beginning at 9:30 a.m. Monday-Friday, and 30 minutes earlier on Saturdays, Sundays and holidays. The lift ticket and equipment rental office opens an hour before the lifts get moving.
Is There a 'Best Time' to Visit Lutsen Mountain Ski Area?
To be honest, it's winter in Minnesota, so you are guaranteed cold temperatures. Snow average seasonal snowfall is 120-inches. While Minnesotans have lots of options for winter sports, Lutsen is the biggest and the best of them.
Lutsen is popular with visitors from surrounding areas including western Ontario, Wisconsin, the Dakotas, Iowa and even Illinois. Visiting after the holidays is the best time in January. It will allow time for the Christmas and New Years crowds to leave. The week between Christmas and New Year's Day is always crowded. The President's Day weekend and Spring Break weeks in March are often crowded too.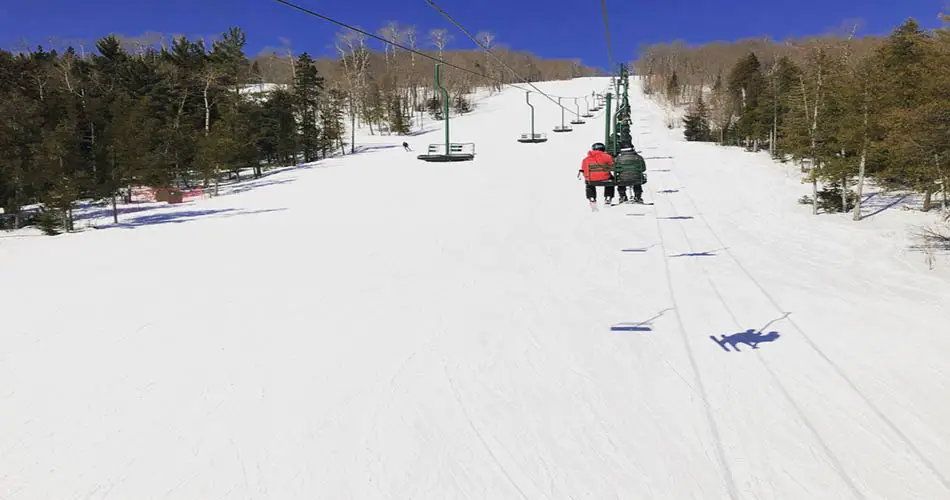 Another general rule-of-thumb is that there will be fewer people and shorter lines midweek vs. weekend. Lift tickets and housing will also be less expensive during off-peak dates. Buy lift tickets in advance online and save even more!
Does Lutsen Have an Equipment Rental Shop?
While Lutsen doesn't offer a complete equipment and clothing shop with for-sale items, ski gear is available for rental. It ranges from full packages that include everything you'll need to get started, to individual rental of skis and poles (downhill and x-country), to snowboard components, and of course, helmets.
Once again, you'll save a few bucks by pre-purchasing your equipment in advance online. There are packages for beginners, mid-level and advanced skiers, as well as ski and snowboard (bindings included) packages for kids. The shop also carries a selection of snowboard boots from a kid's size 13 through adult, size 16.
Can I Find Some New Ski Apparel at the Mountain?
As a matter of fact, you can! The Mountain Shop at Lutsen Mountains is located within the ski area proper. Under separate ownership than the ski area, The Mountain Shop is the place to go for brand name ski and snowboard clothing, as well as accessories. In addition to base layer ski apparel, the popular shop offers sweatshirts, t-shirts, outdoor clothing, hats, and a myriad of gifts and souvenirs. You'll also find a small selection of beautiful works of art by local artisans.
Is There a Local Ski Shop that Sells, Tunes and Repairs Equipment?
This will come as no surprise, but Lutsen Recreation, located mid-way up Ski Hill Road from Highway 61, is a privately owned full-service shop that offers rental and purchase options for a wide range of ski and snowboard equipment. The shop also offers expert tuning and repair of any damaged ski items. You'll find them at www.lutsenrec.com.
Tune-ups are also available at the ski hill on a first-come, first-serve basis, with an estimated 30-minute minimum time to complete basic tasks. Figure on extended wait times on peak days.
Just In Case: Does Lutsen Make Snow?
You're probably thinking that one of the Northernmost ski areas in the U.S., in one of the coldest states in the country, doesn't really need to make snow. Or does it?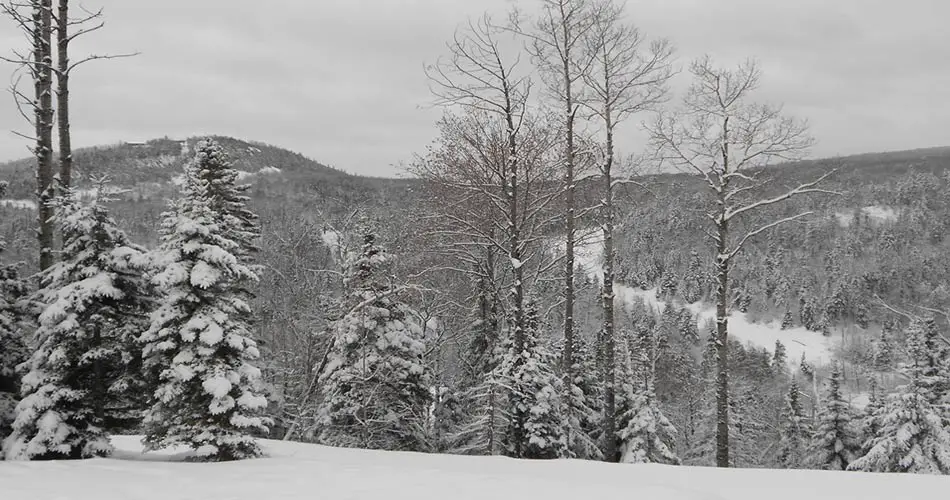 Well, even Lutsen's proximity to great lake-effect snow off Lake Superior doesn't mean that it always snows when needed. While snow-blowing equipment isn't necessary most of the season, with a ski season that lasts from mid-November into April, Lutsen does have top-notch equipment ready to cover 231-acres of runs and trails as needed.
Knowing that there will be ample snow whenever you choose to visit is another huge selling point for Lutsen. It also helps that the snowiest month of the ski season is usually November, just in time for opening!
Terrain Park Enthusiasts Aren't Forgotten at Lutsen Mountains
Lutsen Progression Parks offers terrain opportunities on two different mountains. Timberjack Progression Park off of Bridge Run on Eagle Mountain is the place to practice all of your moves, and the Mystery Mountain Boarder X run gives you the chance to impress your friends as you maneuver through jumps and banked corners.
About the only thing that Lutsen doesn't offer snow lovers is a snow-tubing hill. But with runs and trails for all levels of ski and snowboard lovers, Lutsen is without a doubt the most complete ski area in this part of the country.
Some Closing Thoughts
It really doesn't matter it you are a solo skier, an active couple, or a family seeking a winter vacation that includes lots of outdoor fun in the snow. Lutsen Mountains is a legitimate ski area for you to consider visiting. It is far larger than most Midwest ski hills and offers such an extensive array of runs and trails, that everyone from a novice to expert skier will find plenty to keep them busy, and challenged. With equipment rental and lessons affordable and plentiful, there's no better place to learn how to ski or snowboard.
Let us know your favorite trail at Lutsen in the comments below. We want to know if Bridge Run or Lighthouse make the cut!