Want to ship skis to Vail, ship skis to Park City or maybe just a small resort across country? The first thing that scares people is the cost to ship skis but it's not as much as you would imagine. We will breakdown some of the most popular ways to ship skis and look at the cost to ship skis with each of the carriers.
UPS
UPS is one of the cheapest options for getting your favorite skis to your destination by the time you need to hit the slopes.

Fedex
If you want to avoid most issues when shipping your skis then FedEx often gets skis from home to the resort without fail!
Ship Skis
For a premium ski shipping experience, Ship Skis is the way to get your skis to your vacation destination. They have shipping skis figured out!
Why Ship your Skis?
Shipping your skis is a hassle-free way of ensuring that your gear will be ready for you when you arrive at your next mountain destination. By mailing your skis, you don't have to deal with airport checked baggage fees and you don't have to spend time waiting at baggage claims. You also don't have to deal with the risk of your skis not being there when you get off the plane.
Shipping your skis also allows you to fly to your destination rather than being forced to drive or rent a car that can fit your entire party's gear.
Getting Ready to Ship Your Skis
Before you ship your skis, you must make sure you prepare them beforehand. While yes, you could just throw your skis in the first box that fits and send them on their way, this is undoubtedly a surefire way to damage them.
First, you need to decide on what type of shipping container you will use. Generally, there are three options:
Hard-sided case – while an expensive purchase,this is the most ideal way to ship your skis to ensure maximum protection. If you plan on shipping skis often, it's highly recommended to invest in one.
Soft-sided bag – soft-sided ski/snowboard bags are easy to come by and are much more affordable than hard-sided cases. Be sure to adequately wrap your equipment in bubble wrap or air cushions.
Cardboard box – while the most affordable method, shipping in a box may leave your equipment more prone to damage. If choosing this route, heavily wrap your skis with protective materials.
When shipping your skis, make sure that you either remove the brakes or secure them with rubber bands so that they are flush. This will prevent the brakes from poking through the shipping box. If shipping a snowboard, ensure that all bindings are fastened so that the straps don't get snagged. Additionally, it's recommended to protect your tips by taping thick cardboard around them.
If using a hard-sided case or soft-sided bag, it's always recommended to attach a lock for added security.
Read More:
Snowboard Bags for Air Travel: 3 Easy Bag Options for Flying
Ski Shipping Boxes: Where to Get Them
If looking for a box to ship skis, it may seem difficult to find one that fits your gear. Fortunately, most big-name couriers sell these types of boxes at a premium. If going this route, expect to pay around $20-25 per box.  These boxes can be purchased online or found in retail locations depending on availability.
Peak Seeker Pro Tip: Shipping supplies are available at most carrier drop-off locations. Prices and fees may vary and are charged at the discretion of the carrier store.
If shipping through a specialized ski courier service, rates can be much more affordable. For example, Ship Skis provides a bundle of five ski boxes for $49.99.
Shipping Skis with UPS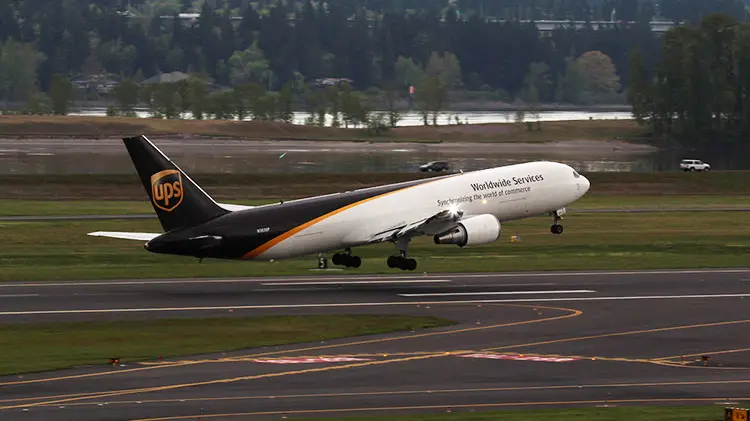 UPS is one main mail carrier that will ship your skis, although it comes with caveats. Skis and snowboards are generally considered oversized packages, which may incur additional fees. Additionally, while UPS does offer complimentary insurance up to $100, this is likely far from the total cost of your gear. To insure the total value of all your equipment, you will have to pay some extra money.
While extra insurance fees may be minimal, additional fees do add up, and eventually you'll be staring down a hefty shipping bill.
Here is a quick breakdown of pricing and delivery time:
Cost to ship skis with UPS: Starts around $55
How long does it take? On average 2 days by ground.
Padded Ski Bag for Air Travel
Featuring sturdy handles and adjustable straps, the Padded Ski Bag offers effortless portability, making it a breeze to navigate through airports or for shipping. The spacious design accommodates various ski lengths and styles, while additional compartments provide storage for accessories.
Shipping Skis with FedEx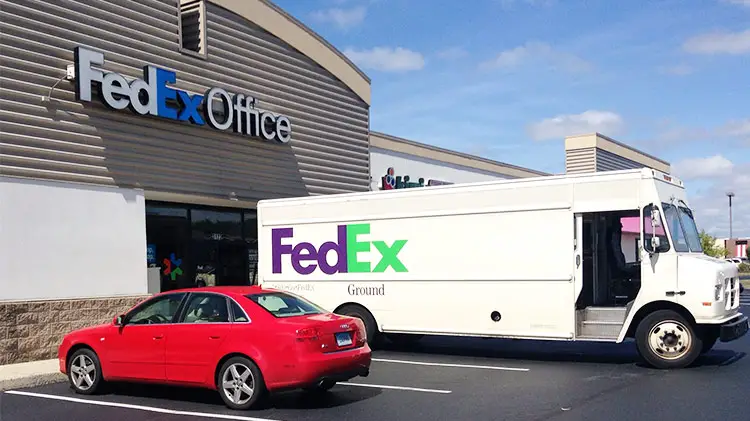 If choosing to go with a traditional mail carrier, FedEx generally offers lower rates than competitors such as UPS. Like UPS they also offer complimentary $100 insurance, with extra fees for additional insurance.
FedEx also charges additional fees for oversized packages. In some cases, they even charge extra for non-traditional packaging materials such as soft-sided bags and hard-sided cases. These are all additional charges to consider when shipping your skis.
Here is another quick breakdown of pricing and delivery time:
Cost to ship skis with FedEx: Starts around $45
How long does it take? On average 3 days by ground.
Unigear SKI-MOGUL Ski Bag
Designed to accommodate skis of various lengths, the Unigear SKI-MOGUL Ski Bag boasts a sleek and ergonomic design that effortlessly holds your skis securely in place. The durable fabric and reinforced stitching ensure longevity, with added padding for superior protection against impacts and scratches.
Shipping Skis with Ship Skis
Luckily, choosing traditional mail carriers is not the only option when shipping your skis. Ship Skis is a skier/snowboarder-oriented mail service that is specifically dedicated to shipping your winter sports gear. The service is highlighted by several features that differentiate itself from competitors. These include:
Online Scheduling: Ship Skis has an easy-to-navigate scheduling platform on its website that allows skiers to organize shipments in a matter of minutes.
Custom Packaging: As mentioned before, Ship Skis offers signature boxes to package your equipment in, all at a nominal fee compared to other couriers.
Package Pickup: Once you have packaged your skis, you can even organize an at-home pickup for your gear. Simply attach your provided label and leave the skis at your front door, and Ship Skis will pick them up at the designated time.
Resort / Hotel Dropoff: The most convenient feature of ship skis is that they will drop off your skis right at the resort or hotel you're staying at. This makes it incredibly convenient to check in to your room and have your gear ready to go. Always make sure to double-check with your accommodations to ensure that they accept packages for guests.
On-Time Guarantee: Should your skis not arrive on the day that they should, Ship Skis will reimburse up to $200 of qualifying expenses, such as ski/snowboard rentals.
Customer Service: Ship Skis prides itself on its white-glove service.  They have a customer support department that is available 7 days a week to address any questions or concerns via phone, text, or live chat.
How Much Does Ship Skis Cost?
Ship Skis pricing begins at $34.99, with incremental pricing depending on your package's weight, travel distance, and desired shipment time.
Included in your shipping fee is $500 of complimentary insurance – over $400 more than traditional mail couriers. Additional insurance can always be purchased as well, up to $10,000.
So What is the Best Way to Ship Skis?
While there are a variety of courier options when it comes to shipping skis, it is hard to rival the services offered by ShipSkis.com. The skier/rider-focused business model sets them apart from other shipping competitors that do not have this specialization.
When all pricing factors are considered, Ship Skis is arguably the cheapest way to ship skis. Their low starting prices, complimentary insurance, and zero oversize packaging fees make them the most economical choice for people looking for how to mail skis.
Above all, the tailored customer service along with the convenient pickup/drop-off makes them the obvious choice. With less time spent figuring out how to ship your skis, you'll be able to plan and enjoy your next ski vacation knowing that Ship Skis will get your gear there on time, every time.