Otis Ridge Ski Area is a family friendly ski area that is over 70 years old. Did you know it is now owned by Butternut Ski area? Otis Ridge, often referred to as The Ridge is a place that locals and tourists have been coming to for years to learn how to ski and snowboard. There is even a few expert trails for the more experienced riders.
Read on to see if Otis Ridge Ski Area should be on your list this year and if so, what to know before you go!
Where is Otis Ridge Ski Area?
Otis Ridge Ski Area is located in Otis, Massachusetts. Otis, MA is 2 hours from Boston. It is also a little over and hour from Hartford, CT and 2 hours and 45 minutes from New York City.
The Ridge is one of the furthest ski areas in Southwest Massachusetts. This makes it super accessible from surrounding states.
Does Otis Ridge Ski Area Have Lodging?
The ski area has on-site lodging at The Pinnacle House. The house which sleeps 8 is located on the backside of the mountain. You can only book through Airbnb. Some other places to lodge close by include The Berkshire Courtyard by Marriott Lenox, Berkshire Fairfield Inn & Suites and the Berkshire Holiday Inn Express are all nearby options within 30 minutes.
The Courtyard Marriott has rooms from $130-$400 depending if you go on the weekday or weekend. You know what you are getting with a Marriott property. It is a little drive to Otis Ridge but the nice rooms are worth it.
Fairfield Inn & Suites the rooms go for $150-$300. It has everything you'd look for including a fitness room, pool and hot tub.
The Berkshire Holiday Inn Express and ranges from $120-$300 depending if it is a weekday or weekend. They have free hot breakfast.
Just remember that all the hotels around Lenox get booked up with guests going to other Berkshire resorts as well in the Winter. Do yourself a favor, plan and book early.
The Best Time to Go to Otis Ridge Ski Area
Otis Ridge is a smaller resort in the Berkshires. It can fill up on the weekends but Wednesdays and Thursdays during the week tend to have light crowds. You'll get the most runs and the most open lifts on these days.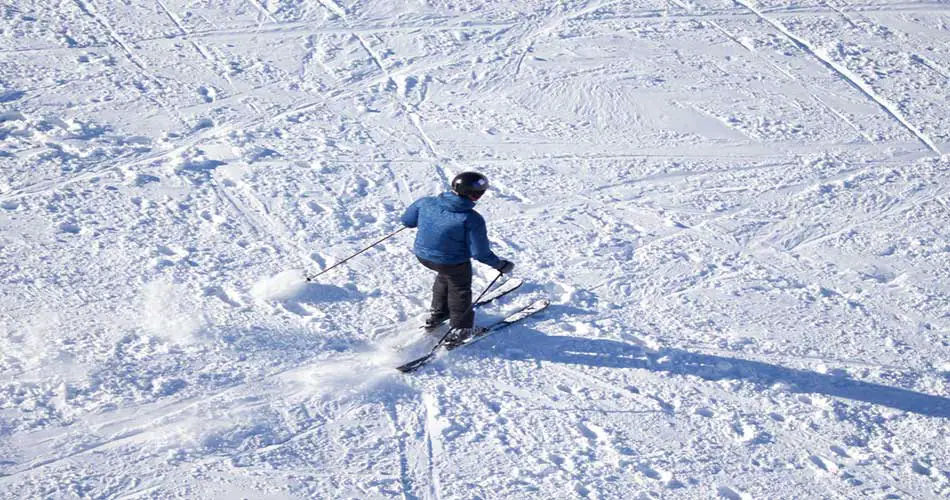 Does Otis Ridge Ski Area Have Night Skiing?
Otis Ridge is popular in the Berkshires because they do offer night skiing. The trails stay open till 9 p.m. A lot of people get off the trails and head back to their lodging so the night skiing is a good time to go.
Key Takeaway: Night skiing is one of the things that has made the ski area such a desirable place to ski and snowboard.
Does The Ski Area Have a Ski Shop?
Otis Ridge has a rental shop at the mountain. They have skis and snowboards which can be rented for daily use or for the season. Their prices for season rentals are some of the best around. You can take the gear home and to any other resort for the season if you do a full season rental.
Highlights of the Ski Area
Otis Ridge Ski Area isn't the biggest ski area in the Berkshires but what it lacks in trails, it makes up in fun. Some highlights of the ski area include –
11 Trails
1 Chair lift, 1 T Bar and 2 Tows
9 Lifts
Night skiing
Great Snowsports School
Terrain Parks – Must Read
There is no terrain park at Otis Ridge. The Ridge is focused on downhill skiing and snowboarding, as well as teaching new riders. There isn't as much staff that can create a terrain park or the acreage. Instead there is an excellent snowsports school staff at Otis.
Is Otis Ridge Ski Area Good for Beginners?
Otis Ridge Ski Area offers both private and group lessons at their ski school. They teach everyone from kids to adults and make sure they have fun out on Otis Ridge's trails. The resort is definitely good for beginners. If it is your very first time then we recommend a mid-week first timer ski or snowboard lesson. It includes rental gear, a group lesson and a lower mountain lift ticket.
Does The Ski Area Blow Their Own Snow?
Otis Ridge Ski Area has snow making coverage on their trails. In fact, you can tour their snowmaking operations which are houses in the basement of the Grouse House. Ask in advance but they will set up a tour so you can see how they blanket the mountains in fresh powder.
How Many Trails Does The Ski Area Resort Have?
There are 11 trails at Otis Ridge Ski Area. The breakdown is as follows-
4 beginner trails (36%)
5 intermediate (46%)
2 most difficult (18%)
Dutchman is one of the most popular trails alongside John's Cliff.
What Are Some Other Winter Activities at Otis Ridge?
Otis Ridge Ski Area has a race team for youth. It is a great way for kids to develop their skiing and compete at the same time.
Is There Summer Mountain Biking at The Ridge?
Otis Ridge Ski Area slows down in the summer. Ask the resort if you are interested in booking a group event or wedding during the off season.
Conclusion
Otis Ridge Ski Area is worth a visit if you are checking off all the ski areas in the Berkshires. You can't be complete without going to The Ridge. It is a classic ski area with some nice runs for all skill levels.
Let us know in the comments below if you are headed out to Otis Ridge this winter and which trail or run is your favorite.
Explore More Massachusetts Ski Resorts