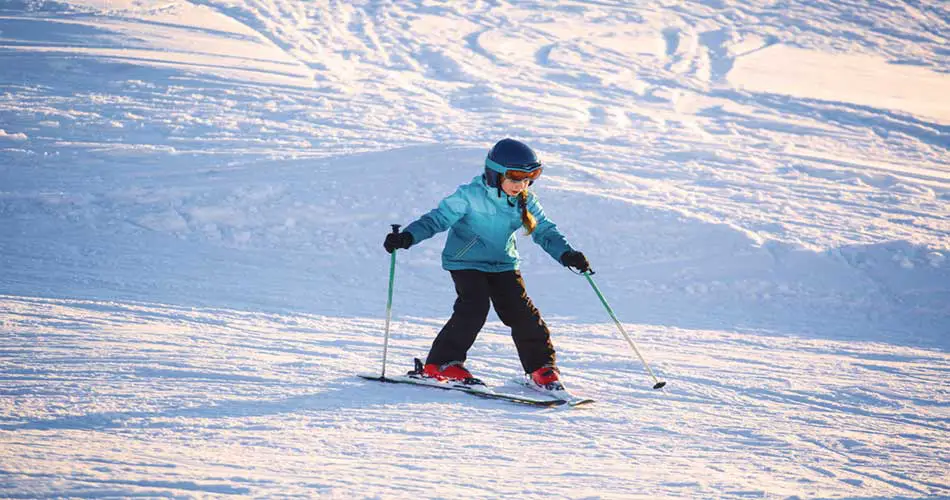 Even if you're a beginner, there's plenty of fun to find at the Blue Hills Ski Area. Though many beginners are nervous to learn, Blue Hills Ski Area has both group and private lessons to help newbies ski like pros. One pro to ski area is that it's incredibly family friendly. This is a perfect place for a weekend getaway with the kids! 
In this article we're going to go over everything you need to know about hitting the slopes at the Blue Hills Ski Area.
Where is Blue Hills Ski Area?
Blue Hills Ski Area is located in Canton, Massachusetts. The resort is only a 30 minute drive from Boston. It is 3.5 hours from New York, NY, and 5 hours from Philadelphia.
From many cities outside of Massachusetts, the drive to this resort is a bit long, but the scenery on the way makes it well worth the time spent in the car.
Why Are the Blue Hills Called Blue Hills?
The Blue Hills were in fact named by European explorers when they first arrived in the United States because of the deep blue hue they saw off the coast of their ships as they approached the shore.
Another bit of trivia is that the Native Americans who settled in the Blue Hills who gave Massachusetts its name, referring to themselves as the Massachusetts, or the "people of the great hills."
Does Blue Hills Ski Area Have Lodging?
While there's no lodging on site at Blue Hills, there are two hotels only five minutes away off site. But there are also many AirBnBs and Vacation Rentals by Owners (or "Vrbo"s) in cabins, in the surrounding area. A great highlight about renting a Vrbo is that once your busy day skiing is down, you can relax in a more private area than you would in a hotel.
Another major advantage of staying in a vacation rental is that you will experience the city from beginning to end in a completely unique way. Many hosts are very warm and friendly, and they will even give you suggestions on other gems that you should look out for! 
Key Takeaway: If you are looking for a place to stay near Blue Hills Ski Area, Vrbo is a great option because there are plenty of different price ranges and styles to choose from. As well as giving you a unique experience for your entire trip.
Does Blue Hills Ski Area Have Night Skiing?
The great thing about the Blue Hills Ski Area is that they have night skiing until 9pm every night except Saturdays and Sundays so you can hit the slopes with even less crowds! 
The one thing that you need to keep in mind when it comes to skiing at night is that the slopes tend to be icier than during the day. So if you're new to skiing it may be a wise choice to start out slow and work your way up while night skiing.
When Is the Best Time to Go to Blue Hills?
While many people who have gone to Blue Hills have no preference when it comes to the winter season, the one recommendation is to arrive at least two hours before your ticketed window. As parking and rental line times can often eat into your booked window. Blue Hills can get crowded and the rental area isn't the most organized, so just keep that in mind when planning.
Blue Hills can get crowded and the rental area isn't the most organized, so just keep that in mind when planning.
For a similar reason, many skiers recommend visiting during the weekdays so that they are able to avoid the rush of crowds and get ahead of the hustle and bustle that tends to dominate the weekends.
Does Blue Hills Have a Ski Shop?
At Blue Hills, the ski shop isn't as big as those at other resorts, as rental equipment is the main focus. However, they do carry the essentials like cold weather gear and items like goggles, lip balm, and gloves! The shop is great in a pinch if you've forgotten any of the essential items.
Highlights of the Blue Hills Ski Area
The Blue Hills Ski Area is one of the less known resorts to new skiers and snowboarders in Massachusetts, and that is sometimes a good thing! Some of the highlights of the resort include –
16 Trails and 4 Lifts
60 Skiable Acres!
1 terrain park
The Freeman Canteen concession stand
The Terrain Park
Blue Hills Ski Area has one terrain park that is located on the mountain. There are many skiers who say that this is a great place for beginners who want to get the hang of skiing before hitting some of the larger slopes.
Is Blue Hills Ski Area Good for Beginners?
First-time skiers will find Blue Hills to be more accommodating. As a beginner, Blue Hills offers trails that are generally less crowded than most resorts to the south but it still gets crowded. You won't have to worry about being surrounded by more advanced skiers as they will take to the more advanced trails.
In addition to the easier trails, the ski area also offers both private, group and multi-week lessons for those who wish to learn. The range of ages and experience levels will guarantee that you'll be able to get the hang of the slopes in no time!
Does The Ski Area Blow Their Own Snow?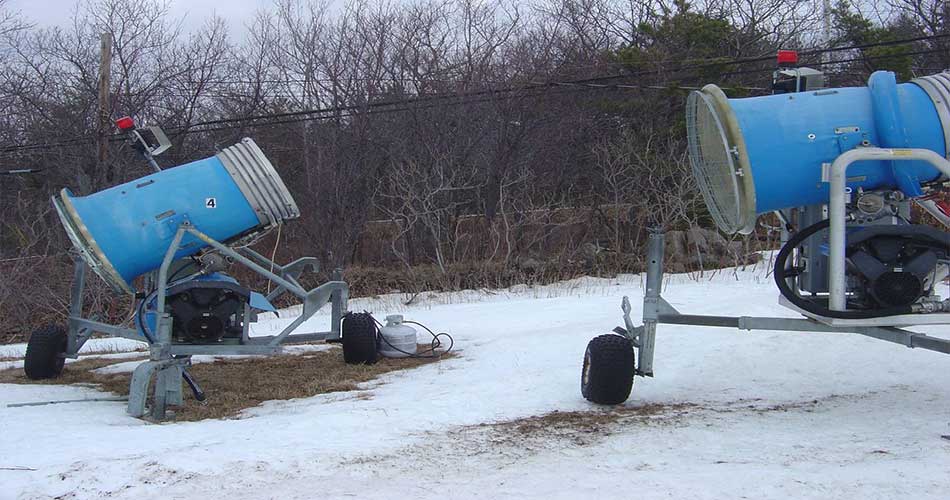 All of Blue Hills Ski Area's trails are equipped with snow making. They strive to have perfectly manicured snow and take great pride in their trails. Their hard work makes the ski area have some of the best groomed trails in the state.
How Many Trails Does Blue Hills Ski Area Have?
A total of 16 trails are offered at the ski area, and they are serviced by 4 lifts. Over half of the trails on this mountain are beginner trails, which makes it a great place for beginners due to its more accessible trails. 
On many of the trails that the Blue Hills offers, the summit of the mountains offers an expansive view of the Boston skyline, which is beloved by many skiers. 
Does Blue Hills Ski Area Have Snow Tubing?
One thing that the ski area doesn't have is snow tubing. They cater to snowboarding and skiing only! They put all their effort into maintaining the slopes for riders and it shows. Riders at the ski area will tell you there is no need for snow tubing.
Is There Summer Mountain Biking at Blue Hills?
During the summer months, Blue Hills slows down considerably. As of now, they do not offer mountain biking, so the resort becomes fairly dormant. However, they do offer hiking along their trails during summer, which is a great way to spend a day if you're in the area.
Final Thoughts
Blue Hills Ski Area has fewer skiable acres than some of the other resorts in Massachusetts, but because it's not too far from Boston, it's easily accessible for a day trip.
All in all, this is a great resort to head to if you're itching to hit some slopes and not travel far! What do you think of Blue Hills Ski Area? We'd love to hear about your favorite trails!
Explore More Massachusetts Ski Resorts