Butternut Ski Area provides good value in the Berkshires. Do you like to ski and snowboard trails with little to no crowds that aren't far from home? If you live in the Boston or New York area than this could be the case. Now, you'll have to go at the best times to beat the crowds but we'll share that with you.
Read on, why you should consider Butternut Ski Resort for your next mountain getaway and to find out everything you need to know before you go!
Where is Butternut Ski Resort?
Butternut Ski Area is located in Great Barrington, Massachusetts. The resort is 2 hours and 15 minutes from Boston. It is also 2 hours and 45 minutes from New York City. Scranton is 3 hours and 15 minutes to the West of Butternut Ski Resort.
Being on the West side of Massachusetts, Butternut Ski Resort can get a lot of traffic from the surrounding states.
Does Butternut Ski Resort Have Lodging?
Butternut Ski Area has so many options of lodging to choose from just nearby even though they don't have onsite lodging. Some great places to stay in different price points are the Berkshire Courtyard by Marriott Lenox, Berkshire Fairfield Inn & Suites and the Berkshire Holiday Inn Express.
The Courtyard Marriott has rooms from $130-$400 depending if you go on the weekday or weekend. It is 30 minutes from the resort. You know what you are getting with a Marriott property.
Fairfield Inn & Suites is 5 minutes away and the rooms go for $150-$300. It has everything you'd look for including a fitness room, pool and hot tub.
The Berkshire Holiday Inn Express is 3 miles from Butternut and ranges from $120-$300 depending if it is a weekday or weekend. They have free hot breakfast.
If none of those options help you than there are also plenty of condos, bed and breakfasts and higher end resorts in the Berkshires too.
Does Butternut Ski Resort Have Night Skiing?
Butternut Ski Resort is not a resort to go to if you fancy night skiing. The trails close in late afternoon. After this, your best bet is to grab a bite to eat or make use of your lodging.
Key Takeaways: While other resorts in the area have night skiing and snowboarding, don't expect Butternut to have it. Make sure you have some evening plans.
The Best Time to Go to Butternut Ski Area
Butternut Ski Area can get crowded in peak season from being so close to the surrounding states and from people within the state. The best time to go is early in the morning during the week.
Mid January is a good time because by then a lot of people have already been out to the resort and the weekdays get lighter crowds.
Does Butternut Ski Area Have a Ski Shop?
Butternut Ski Resort has everything if you are looking to buy a new kit. Their ski shop has skis, snowboards, helmets, base layers and more. They feature Burton, Oakley, Rossignol, Atomic and Roxy to name a few.
One tip is if you can make it up to the Butternut Boardshop in the Fall, they generally have a large sale on their inventory from last year. It is a great place to pick up a deal!
Highlights of the Butternut Ski Area
Butternut Ski Area is one of Western Massachusetts best known ski and snowboard areas. Some of the highlights of the ski area include –
22 Trails
100 skiable acres
10 Lifts
1,000 feet of vertical
2 Terrain parks
Easy to get to in Berkshires
Terrain Parks at Butternut Ski Resort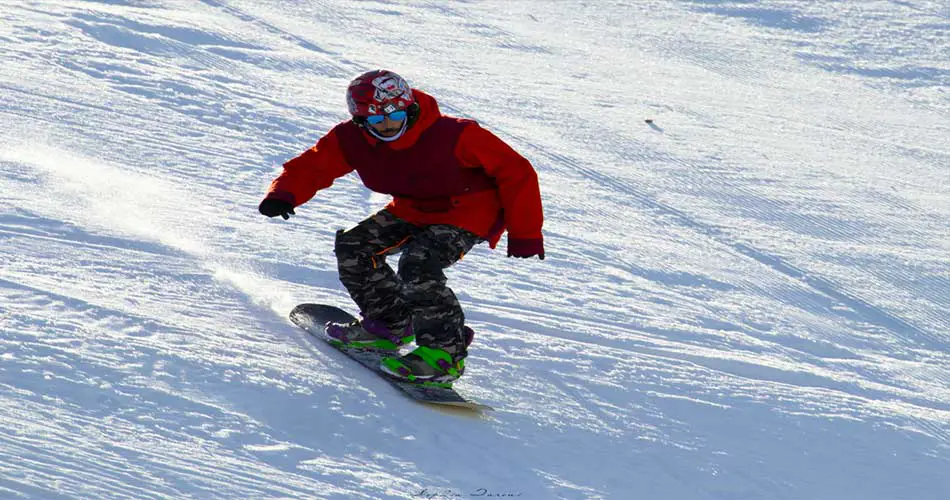 There are two terrain parks at Butternut Ski Resort. The easier one to start on is cruiser progression park. Once you have had a feel for it and gained your confidence than you can move up to the Twisted Terrain Park. Butternut had rails, jibs and features for all levels of riders to try.
Is Butternut Ski Resort Good for Beginners?
Butternut Ski Resort has so many programs to get new skiers and snowboarders onto their trails. The first timer package is the best deal since it includes lift tickets, rental and lesson. You need to email for reservations because space is limited and it is highly popular.
In short, yes, Butternut is great for beginners. There are both first timer lessons and multi week programs for more of the local crowds.
Does Butternut Ski Area Blow Their Own Snow?
Butternut Ski Area has snow making coverage on 100% of their 100 skiable acres. Butternut doesn't rely on natural snowfall as much as some of the other ski areas nearby. As long as it is cold, they will be pumping out the snow.
How Many Trails Does Butternut Ski Resort Resort Have?
There are 22 named trails at Butternut Ski Resort. The breakdown is as follows-
20% beginner
60% intermediate
20% advanced
Two of our favorite runs are Crosstown for a long ride and Upper Applejack for a bit more progression. You can take the Top Flight Quad to get to both.
Here is the Butternut trail map to explore the rest.
What Are Some Other Winter Activities at Butternut Ski Resort?
Butternut Ski Resort has snow tubing which is a great activity for individuals, couples, families and groups. There is 100% snow making on the tubing slope.
Sessions are two hours and tubing is open both during the weekdays and on the weekends. In addition to over hundreds of tubes and 11 tubing lanes, Butternut has a carpet lift so that means no walking to the top of the hill.
Tubing is open till 8 p.m. on Fridays and Saturdays so it is a good activity to do after a day of skiing or snowboarding.
Is There Summer Mountain Biking at Butternut Ski Area?
Butternut Ski Resort doesn't have mountain biking in the Summer. The resort stays busy in with weddings and special events. Butternut is a great place to have weddings and parties. They can seat 350 people!
Conclusion
Butternut Ski Area is one of the most popular ski areas in Massachusetts and the Berkshires. While they don't have night skiing, it is made up for everything you can take advantage of in the day time.
The Berkshires are a beautiful place to get away to, no matter what season it is. Let us know in the comments if Butternut is your favorite Berkshire Ski Area of if it is another mountain!
Explore More Massachusetts Ski Resorts