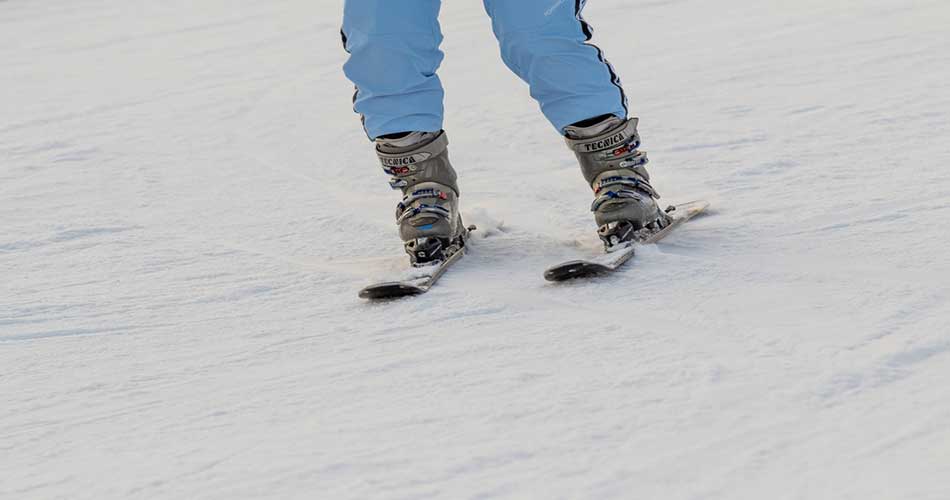 Don't want to drive all the way to White Mountains? You don't have to and shouldn't if you want to ski or snowboard at a family ski area in Eastern New Hampshire. One option to avoid the drive up to the big mountains and crowds is to head over to King Pine Ski Area this Winter.
It isn't going to win any awards for the largest mountain or biggest vertical drop but it is very friendly to full families and beginners.
Highlights of King Pine Ski Area in NH
King Pine is a class display of what New Hampshire skiing and snowboarding is all about. Some of the highlights include –
17 Trails
50 skiable acres
5 ski lifts and a tubing tow
Terrain park
100% Snowmaking
350 feet of vertical
10 Trails of night skiing
Where is King Pine Ski Area?
King Pine Ski Area Resort is located in Madison, New Hampshire. The ski area is an hour and a half to Concord, New Hampshire. Wolfeboro is 30 minutes south. Portland, ME is an hour and 20 minutes to the east and Boston is two hours and 30 minutes south.
Sure, there are a lot of ski area choices between New Hampshire and Maine but not all have the small mountain charm of King Pine Ski Area.
Read More: Want to a Resort with 100+ Trails Instead?
Does King Pine Ski Area NH Have Lodging?
King Pine Ski Area is part of the Purity Spring Resort. The resort is just seconds down to the road next to Purity lake. It is open year around so you can have a weekend winter getaway or come back in the summer for a vacation. While the resort is a terrific place to stay, it probably won't be the cheapest place to stay. Rooms can be well over $350 a night.
One way to get a cheaper option still nearby is Vacation Rental by Owner. There are often some cabins and local residences in the sub $275 range.
Key Takeaway: There is some convenience to staying just a minute away at Purity Spring Resort, plus with 100 years of history, they have learned how to make it a great experience.
Does King Pine Ski Area Resort Have Night Skiing?
King Pine Ski Area is known for their night skiing. The mountain lights up at night at the 10 trails have their lights come on. Twilight skiing is from 3:30 p.m. to 6 p.m. every day of the week. It is just one of the many reasons to stay at Purity Springs Resort down the street. In just minutes, you can be off the slopes, getting a hot shower and hot food.
Read More: Have You Been to This Ski Resort Near Lake Winnipesaukee
The Best Time to Go to King Pine
The best time to go to King Pine Ski Area is to take advantage of the midweek and their evening hours. Twilight tickets are a great way to ride uncrowded trails and just really get a different feel at King Pine. When the sun sets over the trees, there is nothing like a crisp run.
Does King Pine Ski Resort Have a Ski Shop?
The Back Shop at King Pine is the solution when your skis or board need a tune. The shop can pretty much do it all in terms of repairs if you have an issue before or on the mountain. The front of the shop handles all the rentals of skis and snowboards. It is also the place if you want to rent a nordic package or snowshoes as well.
If you are visiting, don't forget to swing by The Ice House for their gift shop and retail area. There is a limited bit of winter apparel if you forgot something, otherwise plenty of souvenirs to take for the road.
Key Takeaway: Don't worry, if you get an on mountain equipment problem, King Pine Back Shop can sort you out and get you back on the trails.
Is King Pine Ski Area Good for Beginners?
King Pine Ski Area is a great ski area for beginners because the vertical rise is only 350 feet. First, this makes it rather non-intimidating to new skiers or snowboarders. Second, this means most of the trails are beginner and intermediate trails with the exception of the few advanced mixed in.
Staying just for a few days at Purity Spring Resort, renting gear and taking a lesson can take someone from never riding to being pretty competent on a small mountain.
Read More: Want to Go to Ski Maine? Check this Resort Out.
Does King Pine Ski Area Blow Their Own Snow?
King Pine Ski Area has snowmaking capabilities on 100% of it's mountain. That means once it is cold enough, the team at Kine Pine will start blanketing the ski area with a lot of the fresh blown powder.
The Trails at King Pine – What to Know
There are 17 trails at King Pine Ski Area. That is spread out over 50 skiable acres. 10 trails are open during night skiing The breakdown is as follows-
(44%) Beginner
(31%) Intermediate
(25%) Advanced
What Can I Do At King Pine Aside From Alpine Skiing and Snowboarding?
In addition to the downhill skiing and snowboarding, there is also cross country skiing, snowshoeing, ice skating and tubing. There is over 15km of snowshoe and cross country trails to enjoy. Whether you are advanced or a complete beginner with Winter activities, there is something for everyone at Kine Pine.
Terrain Park at King Pine
Freestyle terrain at King Pine? Check. They have it. It's not the biggest jumps but there is a nice array of features to hit or practice on. From the bonk barrel to the battleship box, there is a long list of features that the crew changes up over the season at King Pine terrain park.
In fact it is one of the better parks around for beginner freestyle riders in New Hampshire.
Is There Summer Mountain Biking at King Pine?
Want to come back in the Summer to King Pine Ski Area? Purity Spring Resort will be open! There isn't downhill mountain biking but there is classic lake life. Whats that? Swimming, water skiing, canoeing and kayaking are just a few of the activities in the summertime. King Pine slows down of course but Purity Spring Resort keeps going, which is affiliated.
Final Thoughts on King Pine Ski Area
Starting over as a beginner, we would recommend King Pine to anyone in Eastern New Hampshire as a great place to learn. It is also a cheeky little spot for a weekend getaway. There is everything you'd want in a Winter getaway without the big crowds. Fresh powder, well groomed trails and beautiful forests.
We wouldn't want you to tell all your friends and have them crowd the trails at King Pine Ski Area but couldn't we really blame you for their fun trails.
Explore More New Hampshire Ski Resorts