Having a large head can make it difficult to find the perfect ski helmet. It's important to find a helmet that fits properly, providing maximum protection from potential impacts and accidents on the slopes. Thankfully, there are numerous ski helmets for big heads available on the market today.
In this article, we'll dive into what makes a quality helmet for larger heads, how to measure for your size, and which helmets offer the best fit and protection for skiers with big heads.
Do Large Heads Need Different Ski Helmets?
For those with larger heads, finding a comfortable and safe ski helmet can be a challenge. In order to fit correctly, if you have a large head, you may need to use an XXL or XL-sized helmet. You just won't fit in a medium or large.
To know if you need one of these XL or XXL ski helmets, you need to do two things.
Measure the size of your head. Take a sewing measuring tape and measure the circumference of your head.
Next, compare that to the manufacturer's recommended sizing. You should be able to find that for every helmet.
Some manufacturers even include removable pads that can be to firm up the interior of the helmet or to reduce padding.
Where Can You Find Large Ski Helmets?
There are plenty of places online and in stores that sell large ski helmets. The House is an online store that sells a wide range of ski gear such as snowboards, skis, helmets, and other accessories. They have several different types of large ski helmets available in various colors and designs.
Skis.com is another great source for buying larger-sized ski helmets. They have dozens of models to choose from in various sizes and styles. Additionally, some local sporting goods stores carry larger sizes of ski helmets so it's worth stopping by and seeing what they have in stock.
What Makes a Good Ski Helmet?
When it comes to skiing, safety is a top priority. Finding the right helmet can make all the difference in an accident, so it's important to choose wisely.
For starters, look for reputable brands with solid construction and made-for impact. A good ski helmet should be able to absorb shock and disperse energy from impact. If you see a helmet that is MIPs rated then it is rated for taking impacts.
The foam liner should feel comfortable against the head but not too firm where it is uncomfortable. Look for helmets with adjustable straps and BOA systems that allow you to adjust how tight or loose your helmet fits on your head.
Head Vico Ski Helmets: If You Have a Huge Head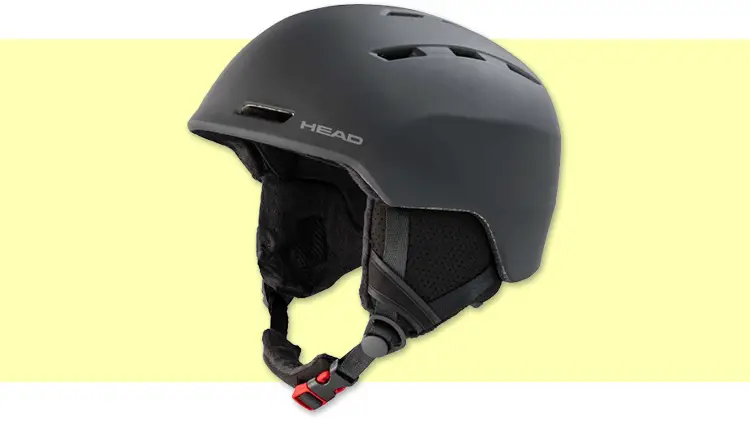 If you're in the market for a ski helmet and have a big head, you may want to consider a Head Vico Ski Helmet. This helmet is huge – it comes in XL and XXL sizes that are sure to fit even those with the largest of heads. The exterior shell is made from ABS material, giving it plenty of protection against impacts on the slopes.
And while you won't be winning any fashion awards with this one, its adjustable chin strap makes up for that by providing a snug and secure fit no matter your head size.
Inside, there is an inner foam that absorbs shocks from bumps and falls so your noggin will remain safe and comfortable during your ski runs. Plus, air vents keep your head cool when things heat up on the slopes.
Read More:
How to Ski Moguls: Make Mogul Trails Easy to Ski (3 Tips)
The History of Skiing – A Look Over the Years
Giro Ledge Snow Helmet: A Clean Look for Large Heads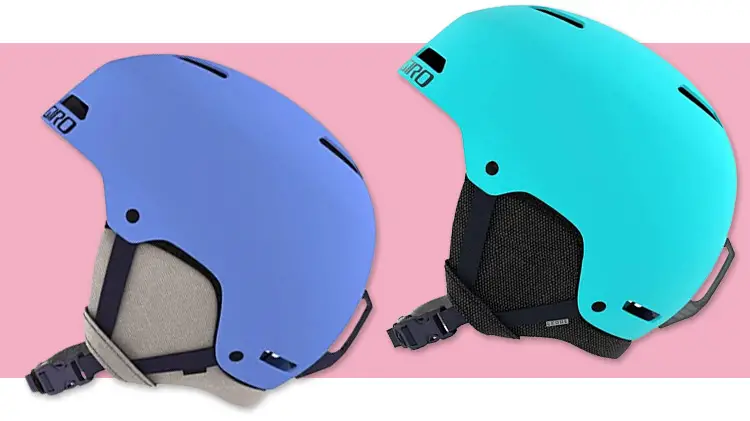 When it comes to hitting the slopes, the Giro Ledge Snow Helmet offers a clean look and solid protection no matter what size head you have.
This simplistic ski helmet features an in-mold construction. It also has vents for airflow and an adjustable fit system to ensure a comfortable yet secure fit on large heads.
The sleek design of the Giro Ledge Snow Helmet helps it stand out from other helmets on the market. You don't have to sacrifice style or safety when choosing the Giro Ledge because it gives you both – soft padding interior and modern styling. Not to forget that it keeps your head warm and comes in tons of colors.
Anon Windham Wavecel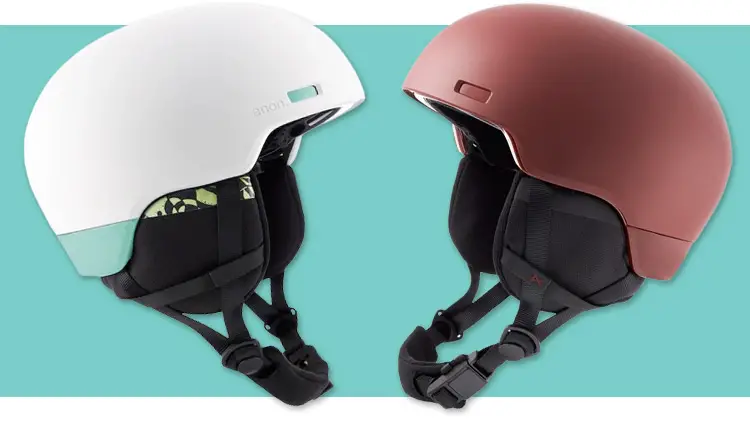 The Anon Windham Wavecel is the perfect helmet for all types of riders, but if you are a big terrain park rider then you may want this one. It features a hardshell design that provides superior protection through its WaveCel design inside.
Two great features are the easy and precise adjustments since it uses a BOA system and the magnetic helmet strap buckle.
Lastly, the low profile design gives plenty of room for goggles and won't get in the way when you're shredding down the slopes in this big helmet.
K2 Phase Pro: You Might Want to Avoid This Ski Helmet
If you're looking for a ski helmet, the K2 Phase Pro might not be your best choice. It checks all the safety features but the helmet itself is pretty bland and won't give you the style that some of its competitors offer. The headphone slots are oddly shaped and don't fit most headphones securely, so they could easily fall out while skiing.
Plus, it can get quite sweaty even with moderate activity; users have reported feeling uncomfortable after wearing it for only an hour or two.
Ultimately, the K2 Phase Pro just doesn't quite measure up to other ski helmets on the market in terms of comfort and protection. It may be affordable in comparison to other options, but consider investing in something more reliable if you plan to do a ton of riding.
Giro Trig MIPs Helmet
The Giro Trig MIPs Helmet is a great ski helmet for any skier. As we said, it is good to see MIPs helmets. MIPs stands for Multi-Directional Impact Protection System. The Giro Trig has well-designed venting to keep your head comfortable and not overheating using it's thermostat control.
The construction of this helmet is lightweight yet solid and goggles fit snugly under the brim. The adjustable dial fit system ensures a secure fit, while its goggle retainer makes it easy to store your goggles when you're not using them.
With its reliable brand name and customizable features, it's no wonder why the Giro Trig MIPs Helmet is one of the most sought-after ski helmets for big-head riders.
Read More:
How to Ski Green Runs: Tips for Skiing Greens as a New Skier
Ultimate Beginner's Guide on How to Ski: [Full of Resources]
POC Meninx: Another Ski Helmet to Possibly Avoid
The POC Meninx Ski Helmet is an inexpensive, lightweight helmet that is marketed toward skiers on a budget. The product has a retro look, giving it the appearance of being outdated compared to other ski helmets on the market. Some people like it, others, not so much.
The features and design are minimal, offering basic protection without any extra bells and whistles. While it can provide adequate protection, this ski helmet may be something to avoid if you're looking for style or want more features than just a traditional helmet.
Anon Raider 3 MIPs: An Affordable Large Head Ski Helmet
Another MIPs helmet is the Anon Raider 3. It is one of the most popular ski helmets for large heads. The Raider 3 has a classic design and provides great value for money. Not only does this helmet provide excellent protection from any potential crashes, but it also looks stylish and offers superior comfort.
At an affordable price point, the Raider 3 MIPs is a great choice for skiers of all levels. It isn't as technologically advanced as the Anon Wavecell but is rather a more entry-level helmet. If you want to have a spare bit of cash for lift tickets after buying a helmet then an Anon Raider is a no-brainer, for the big-head riders.
Final Thoughts on Ski Helmets for Big Heads
When it comes to ski helmets for big heads, there are plenty of options but it still narrows down the ones you can choose. The most important thing to remember is to get the fit right first. After that, you can go wild with the color of the helmet. Once you buy a helmet, don't go skiing or snowboarding without it. It can be a lifesaver.