Updated August 27, 2023 by Alec Wilson. This post contains affiliate links at no additional cost.
Learning how to ski can be one of the most exciting things you have done in a while or are thinking about doing. Not only will it get you outside in the winter but it is a fantastic way to get some exercise.
We round up everything that beginner skiers need to know from the age they can start, to the first lessons, what gear you need and how to progress after the beginner stage.
We hope to leave you with more answers on how to ski than questions, so let's get into it.
Learning How to Ski: Where to Start
The best age to learn to ski is to start young. If you have kids, you can start them skiing at an early age. One of the most popular questions we get is if people are too old to ski. Realistically there isn't really any age that is too old to learn to ski.
Some skiers still ski into their 70's and 80's. The earlier you learn how to ski, the more skiing you will be able to do in life.
Everyone starts off at the same place when learning to ski. They first learn how to ski green slopes. This is where the building blocks of skiing are made.
Usually, a lesson is the best way to learn how to ski because it only takes a few days to learn skiing with proper instruction.
Skills to Master When Learning How to Ski
During your first few skiing lessons, you will learn some basic skiing skills. These include:
How to get on and off a ski lift
How to stop on skis using a pizza technique
How to turn on skis
Some additional skills you may even learn as a beginner are how to ride a T-bar or a poma lift. These are two lifts that you will see over your skiing journey.
How to Ski Harder Trails: What to Know
We get it, beginners want to get off the green slopes as soon as possible. They see all that terrain on the map and want to explore it but it takes time to get to ski harder slopes. Ultimately you should take some ski lessons, be familiar with the levels of skiing and the difficulty of the slopes.
The more lessons you take, you'll begin to learn over time:
Riding intermediate trails can come in days or weeks while riding black diamonds can take up to most of a season before even attempting.
What Gear Do Your Need When Learning How to Ski
Most beginners don't need their own ski gear on their first day out. In fact, we recommend trying out a few lessons on rentals before getting your own ski gear. You can often find good deals on used ski gear pre and post the winter season.
That takes us to the next point, when should you buy ski gear as a beginner?
Renting Vs Buying Ski Gear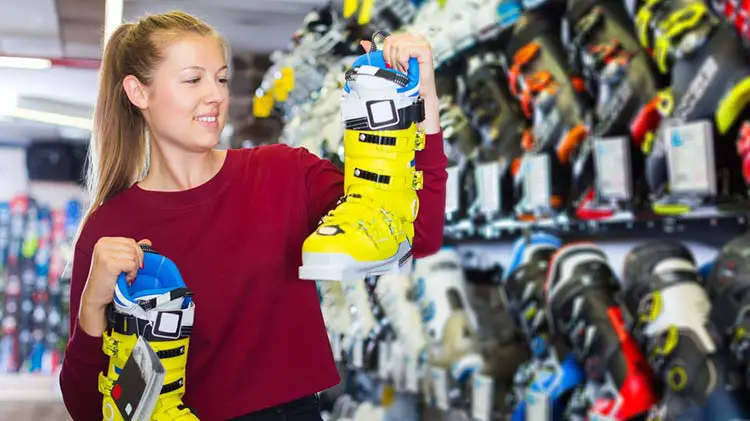 Some beginner skiers go out to the slopes a single time and are hooked. Others wait a full season to buy their gear. If you plan to do a lot of skiing then it makes sense to buy ski gear instead of renting it.
The first piece of skiing gear we would start with is a helmet. We'd even make an exception to the rule and say if you are going to get one piece of ski gear before your first lesson, it would be this one.
Skiing With a Helmet
The reason we recommend getting a helmet of your own so early on is that it is more of a personal item. I know they clean out the helmets at the resorts but I like to keep my own sweaty helmet to myself. While we think all beginners should wear helmets, they don't necessarily need to be a rental.
Plus, if you get your own helmet, you can make sure it has the best fit and is extremely comfortable. Some ski helmets are even music compatible so you can listen to music when skiing.
What to Wear for a Ski Base Layer
There is nothing worse than learning how to ski and being hot or cold on the slopes. A base layer is the first piece of clothing you will put on like legging or a cold gear top. You will want a material that wicks out moisture and keeps you warm.
Merino.tech Merino Wool Base Layer Set
From conquering powder-covered slopes to enjoying winter hikes, the Merino.tech Merino Wool Base Layer Set guarantees unbeatable comfort and performance. Elevate your cold-weather experience with a base layer that combines the best of comfort, functionality, and style. Stay warm, stay active, and embrace the season's challenges with confidence, thanks to Merino.tech.
From there, you will need layers on top. Let's look at those.
Ski Jackets and Pants
Another item that resorts and local ski shops don't usually rent is ski jackets and ski pants. You can get some that range from cheap to high-end brands like North Face and Helly Hansen where the sky is the limit.
You'll Want a Bandana or Face Cover
Unless you want to be beaten in the face by wind and snow then it makes sense to get a skiing bandana. You will certainly be more comfortable during your lessons and on the slopes if you are dressed properly.
To myself, a bandana is a must-have. It doesn't matter if you are a beginner or an expert, everyone wears them.
Choosing Ski Goggles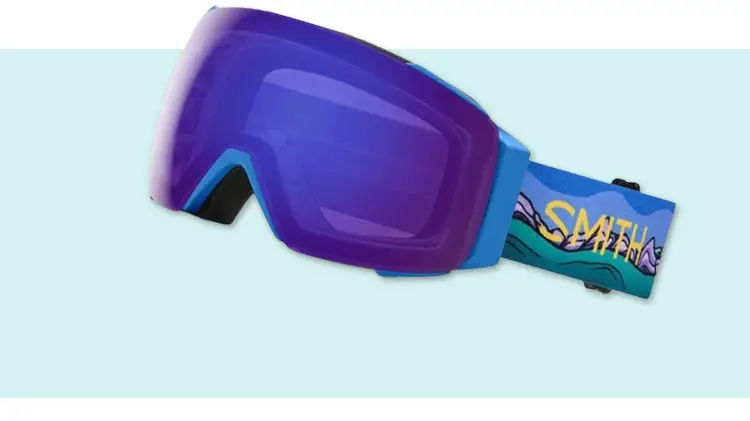 The majority of beginners either choose ski goggles based on price or looks. We don't recommend doing either. You need to prioritize functions. While it can be confusing to beginners, visible light transmission ("VLT") plays a part into which goggles to get.
If you plan to ride extremely sunny days then you will want a low VLT lens that is darker. A high VLT lens is often best for night skiing,
In addition to that, you need to consider things like if you wear prescription glasses. People who wear glasses have their own style of goggles called OTG goggles or Over the Glasses goggles.
Two other popular fits are Asian fit goggles and women's fit goggles. Asian fit goggles are for individuals with a low nose bridge while women's goggles are shaped for a smaller face.
Goggles aren't usually a piece of equipment rented at ski resorts so you may want a cheap pair for your first lesson and then upgrade from there.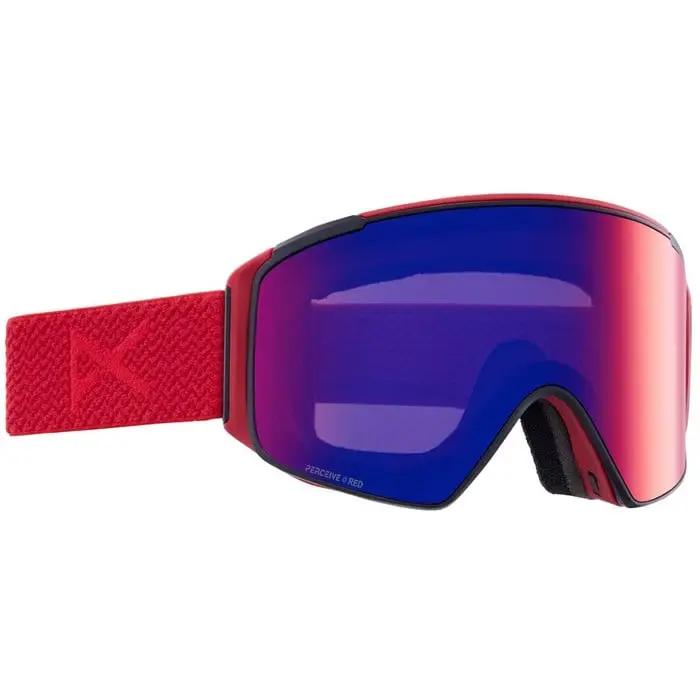 Gloves Matter: Don't Skimp Out
There are a few more items that you'll need when learning how to ski and gloves are one of them. Any ski glove in the $30-$60 will do but if you spend a bit more then you'll be able to get something a bit nicer like a Gore-Tex glove.
If gloves aren't your style then you can also try mittens. As long as they are warm and waterproof, it doesn't really matter which you go with.
How to Pick Ski Socks
Don't make one of the biggest mistakes when learning how to ski – wearing socks that are too low. You need to have the correct ski socks to protect against any rubbing and prevent blisters.
Ideally, ski socks should come just above the boot. The difference between a comfortable day on the slopes vs an uncomfortable one all starts with the socks you wear.
Sale
Merino Wool Ski Socks
Crafted with care, these socks offer targeted cushioning in strategic areas, providing extra support and reducing impact during high-intensity skiing. The seamless toe design prevents friction and discomfort, allowing you to fully enjoy your time on the slopes.
Finding Ski Boots that Fit
Ski boots are something you can rent your first few times out to the slopes. Some people even rent them with skis for an entire season. If your feet have stopped growing and you found that you enjoy skiing then it might be time to get ski boots.
Getting your own ski boots means you will be more comfortable on the slopes and you can even pick the perfect flex so you have the easiest time skiing. Boots aren't the first gear we grab but they are nice to have.
Ski Poles
There is no need for going out and buying ski poles before your first lesson or a few trips to the ski area. You will likely be renting skis so you can just collect poles in the rental shop. If you eventually buy skis then that is the time to get poles as well.
Skis
Some people buy skis even before taking lessons. We recommend taking a lesson and learning some foundational skills first. If you love skiing after that, great. Then try renting a few brands through demo skis.
Once you are finally ready and have decided on your ski length, you can choose from the tons of skis online.
Optional Ski Gear
Aside from clothes that aren't often rented, you don't need much else to show up to a ski resort and learn how to ski.
As you get a bit further in your learning and you notice that you love the sport, the next pieces of optional gear that make sense are putting a car ski rack on your ski vehicle or going with something like a smart skiing watch so you can count your laps and elevation.
With all your new ski gear and once you have finished a lesson, you'll be ready for the ski culture.
Embrace the Ski Culture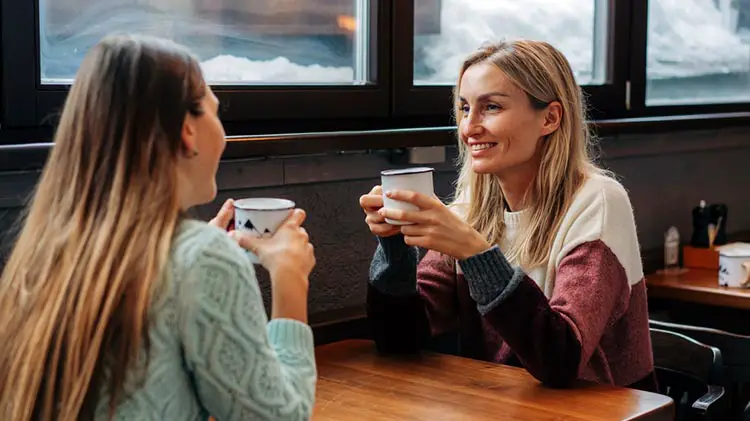 Trust us, learning how to ski builds up an appetite. It doesn't matter if you are skiing or snowboarding, they both burn a ton of calories. So what is the ski culture?
After a long day of skiing, most skiers head to the resort bar, restaurant or local bar for après-ski. They often have a few nibbles and drinks while chatting about the day. Personally, it's one of my favorite parts of the skiing day and I'm sure it will be one of yours as well.
Progressing in Your Ski Journey: What is Next
Lessons, gear and après-ski. That will be the first trips to the mountain. After that, we know you'll be progressing along nicely, so what's next?
Learning to Ski New Areas
It might be months or on your second season that you learn how to ski new areas but here are some areas that skiers learn to ride as they advance:
Learn how to ski moguls.
Look to explore tree skiing. Here's how to ski trees.
Venture into backcountry skiing and learn how to ski in the backcountry.
New skiing areas mean more mountain and more terrain. Progress your skiing skills and you will unlock more of the mountain. There is one way we tell people you can progress fast and it is practice but a season pass helps.
Getting a Multi-Resort or Season Pass
If you have tried a few lessons and enjoy skiing then a season pass is a great way to go for a first season. You can learn how to ski at one resort and get comfortable. After that 1st season, a lot of skiers opt for a multi-resort pass like the Epic, Indy or Ikon pass.
They are all exciting options to give you access to tons of resorts for a fraction of the cost of buying tickets at each.
Once you have a multi-resort pass or even if you don't, there is still one thing you need to do. That is plan a ski vacation.
Planning Your First Ski Vacation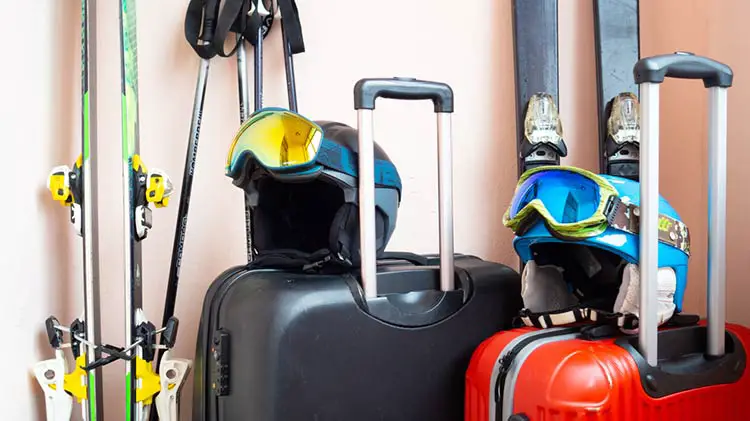 Pack your bags! Once you have some skiing skills under your belt you will be ready to book a ski vacation.
The ultimate setup for a ski vacation looks something like this:
The hardest part once you have a multi-resort pass can be finding accommodation. I look at the hotels near the resort but since most of the prices are high, I usually settle with VRBO. That's my secret to keeping my accommodation low, while being able to ski a bunch of mountains in the winter.
Final Thoughts on Learning How to Ski
Learning how to ski is something every beginner goes through. Embrace that you will fall a bit, enjoy the learning process and get yourself some shiny new gear. Once you have all that, you'll just need to find new ski resorts to go to and explore.
Have fun on the trails and enjoy the outdoors!