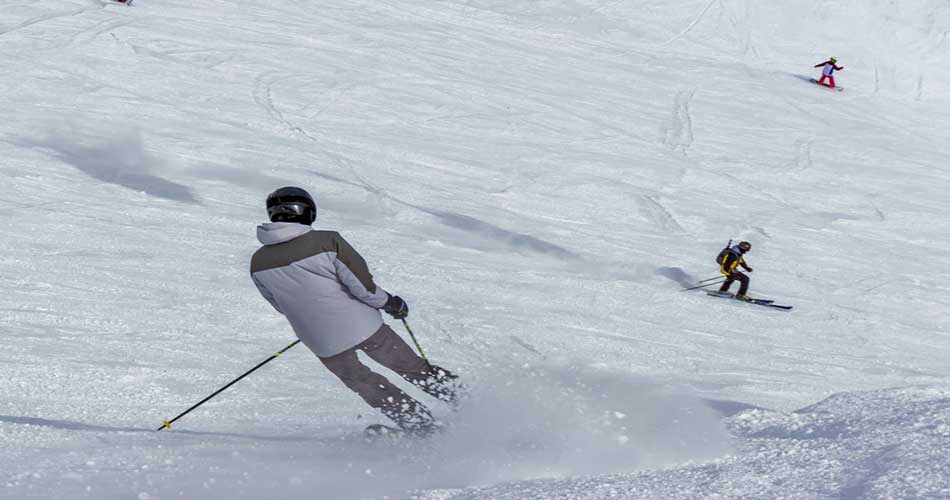 You might know the name Darmouth College, the Ivy League School in New Hampshire but did you know Dartmouth Skiway is twenty minutes to the north and open to the public. It is a great place not only for the college students and local residents but also for a visit this Winter.
Here is what you need to know about Dartmouth Skiway before you visit.
Highlights of Dartmouth Ski Mountain in NH
Dartmouth Skiway isn't just open to the college to ski and snowboard. Some of the highlights include –
30 Trails
104 skiable acres
4 lifts
Terrain park
58% Snowmaking
968 feet of vertical
Where is Dartmouth Skiway?
Dartmouth Skiway is located in Lyme, New Hampshire. The skiway is 25 minutes north of Dartmouth college which is located in Hanover, NH. It is a little less than 2 and a half hours from Boston, Massachusetts. It is just 30 minutes north of Lebanon, New Hampshire and almost 3 hours west of Portland, Maine.
Although Dartmouth Ski Area is a favorite of the college students it can be a favorite ski area of yours as well!
Read More: Want to Drive to the White Mountains Instead? Go to this Resort
Does Dartmouth Ski Mountain NH Have Lodging?
Dartmouth Ski Mountain doesn't have lodging on site but The Lyme Inn is close to the mountain as is Six South St Hotel. The Lyme Inn is only a little over 3 miles to Dartmouth Skiway and has a nice homey feel when you get back to the rooms. The Inn is a mix of history, luxury and friendliness. Check it out if you want to be really close to the mountain.
A little bit south is the Six South St Hotel. It is a boutique hotel in downtown Hanover, New Hampshire. That puts it about 25 minutes from the ski slopes. There is a bit more to do in Hanover if you are looking for a little night life. In fact it is just 2 minutes to Dartmouth College so there is a quite a bit of restaurants nearby.
Both are great choices and you can't go wrong but the Inn is a small town feel and Hanover is a little bit more going on feel.
Otherwise, look for a private rental and you might be able to snag a cabin close to the mountain.
Does Dartmouth Skiway Have Night Skiing?
Dartmouth Skiway does not have night skiing. The latest tickets are twilight tickets and they run from 1 p.m. to 4p.m. That is why we suggest looking into your lodging if staying by. The Lyme Inn is close by but if you drive back down to Hanover, you'll have a much bigger selection of restaurants.
Key Takeaway: The latest tickets at Dartmouth Ski Area are twilight tickets until 4 p.m. There is no night skiing.
Read More: Want to Go to A Resort Nearby with Night Skiing? Try This One!
The Best Time to Go to Dartmouth Skiway to Ski or Snowboard
The best time to go to ski area is early morning on the weekends. Generally you'll hit no traffic going up to the mountain and you can make the most of the day by starting right when they open.
Does Dartmouth Ski Area Have a Ski Shop?
Dartmouth Skiway has both a rental and retail shop. McNay's retail shop has any of the essentials you might need to buy like a helmet or gloves. They also stock souvenirs from the mountain and can tune boards or skis.
The rental shop not only does daily rentals but if you are a student or local, it might be a good idea to check out the season long rentals. Season rentals are a great option if it is your first year and you get a season pass. It is a good step to rent at Dartmouth Skiway before buying.
Is Dartmouth Skiway Good for Beginners?
Dartmouth Ski Mountain is a great place to learn for beginners with their multiple beginner trails. Locals and college students have been learning for years at Dartmouth Skiway. If you get the season pass and some season rentals, there is no reason you can't pick up skiing or snowboarding in just one winter.
Read More: Want a Resort with a Ton of Beginner Trails in NH?
Does Dartmouth Ski Mountain Blow Their Own Snow?
Dartmouth Ski Mountain has snowmaking capabilities on 58% of it's mountain. That is over 60 acres. By mid December they look to get opened up and if not than definitely by just after Christmas. There is no waiting to start the snowmaking at Dartmouth once it gets cold enough.
The Trails at Dartmouth Skiway – What to Know
There are 30 trails at Dartmouth Skiway 104 skiable acres. The breakdown is as follows-
Beginner (25%)
Intermediate (50%)
Expert (25%)
Dartmouth keeps a update on the conditions and trails that are open which you can have a look at before visiting.
Key Takeaway: 25% beginner trails is more than enough for beginners to feel comfortable learning at Dartmouth Skiway.
Is There Summer Mountain Biking at Dartmouth Mountain?
Want to come back in the Summer to Dartmouth Ski Mountain Resort? They don't have mountain biking but if you want to book an on mountain wedding or corporate event at the McLane Family Lodge, Dartmouth Skiway can accommodate.
Final Thoughts
Don't think it is just a mountain for college kids or the locals. While that is a lot of the regular riders, it is also worth a trip if you aren't from near by. The mountain is beautiful, Lyme, NH is beautiful and so is Hanover, NH to the south.
Let us know if you learned to ski or snowboard at Dartmouth Skiway or if it is your local mountain!
Explore More new hampshire Ski Resorts