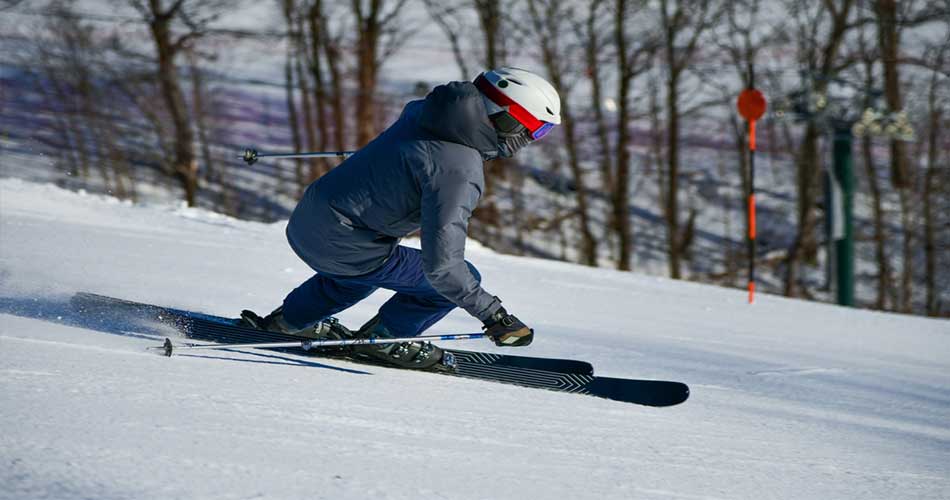 You don't have to venture far up into New Hampshire to start riding great Ski Resorts. Crotched Mountain Ski Resort is only 90 minutes from Boston and has a vertical drop that will make anyone want to leave Massachusetts and drive up. Crotched Mountain proves that you don't have to drive all the way up to the White Mountain for great trails.
Here is why Crotched Mountain is worth a visit this year, be sure to read on!
Highlights of Crotched Mountain in NH
Crotched Mountain pumps out snow all Winter to make some amazing trails in New Hampshire. Some of the highlights include –
25 Trails
100 Skiable acres
5 Lifts
3 Terrain parks
100% Snowmaking
1,000 Feet of vertical
100% Lit for night skiing
Where is Crotched Mountain Ski Resort?
Crotched Mountain Resort is located in Francestown, New Hampshire. Based in south central New Hampshire, the ski area just over an hour and a half to Boston, Massachusetts. It is 40 minutes south of Concord, NH and only a little over 2 hours west of Portland, Maine.
Being close to the New Hampshire and Massachusetts border, Crotched Mountain can get quite a few out of state visitors on the weekends.
Does Crotched Mountain NH Have Lodging?
Crotched Mountain Ski Resort doesn't have lodging on site but there is enough nice places to stay close by to make a weekend trip out of Crotched Mountain.
The Inn at Crotched Mountain Bed & Breakfast is just a mile from the slopes. You can't get closer lodging to the slopes with such nice views. Also breakfast is included. Be sure to check it out if you want to stay close to the slopes.
Another place to stay close to Crotched Mountain is of course called the Crotched Mountain Resort. Rooms start at just over $150 a night and have everything you need for a comfortable Winter vacation.
Lastly, we always recommend to have a look at private vacation rentals. Often you can find a cabin or condo near by if you want something in the woods or more modern.
Does Crotched Mountain Ski Area Have Night Skiing?
Crotched Mountain Skiing is one of the favored resorts in south New Hampshire since is is 100% lit. It is also the only resort on the east cost with skiing and snowboarding to mid night on select days.
Regular season night skiing is till 9 p.m. on Mondays through Saturdays but Saturdays in January and February are the ones that are open till 12 a.m.
Key Takeaway: For the only mountain on the east coast, don't miss their sessions of skiing and snowboarding to mid night in January and February!
The Best Time to Go to Crotched Mountain to Ski or Snowboard
Tuesdays at 9 a.m. That is the best time to ride at Crotched Mountain. Everyone is headed back to work for the week and a lot of weekend guests have already left the area. If you can get a day off work or school than those mid week days will be best.
Another good time is to make use of the night sessions. Any crowds usually go away as people leave for dinner and to go home when night skiing starts.
Does Crotched Mountain Ski Area Have a Ski Shop?
Rentals, repairs and retail. Crotched Mountain has it all. Vertical Outfitters is the place to go if you are looking to grad some new gear. They carry Burton, Giro, Marmot and other high end brands.
If you are looking to rent than Crotched Mountain has a whole fleet of HEAD snowboarding and ski equipment. Unlike other mountains where you reserve online, you just need to show up in person to purchase rentals at Crotched Mountain.
Pro Tip: Just because you are renting skis or a snowboard, there is no obligation to stick with it all day at Crotched Mountain. If you are struggling, head back to the rental shop and feel free to switch it up, free of charge.
Is Crotched Mountain Good for Beginners?
Crotched Mountain is a great place to learn for beginners with their multiple beginner trails. Start out on the Launch Pad to learn the basics. Once you master turning and stopping, step it up to Comet. Hang in there and you'll be riding the mid mountain trails in no time.
Does Crotched Mountain Blow Their Own Snow?
Crotched Mountain has 100% snowmaking capabilities. Once it gets cold, they get blowing at the resort. Their trails don't rely on that natural snowfall although they get quite a bit every year.
The Trails at Crotched Mountain – What to Know
There are 25 trails at Crotched Mountain 100 skiable acres. The breakdown is as follows-
Beginner (28%)
Intermediate (40%)
Expert (32%)
Key Takeaway: Although it may seem like a lot of terrain for the intermediate and expert riders, the lifts are very friendly to beginner riders.
Is There Summer Mountain Biking at Crotched Mountain Resort?
Want to come back in the Summer to Crotched Mountain Resort? They don't have mountain biking but if you want to book an on mountain wedding or corporate event, they can accommodate.
Final Thoughts
There is no other place on the east coast that has night skiing and snowboarding to midnight on select nights. If you aren't local and are going to drive up to Crotched Mountain for a visit, thinking about going up on one of those extra long days. It is a really fun experience.
Let us know in the comments below, if you think more resorts have night skiing to late in the night like Crotched Mountain. We sure do!
Explore More new hampshire Ski Resorts