Chairlifts to new skiers can be daunting. Not only do you have to worry about learning to ski but we get it, the chairlift itself can be a hurdle when starting out. New skiers often ask, are chairlifts safe? Generally speaking, they are. With recent news stories of chairlifts malfunctioning and injuring skiers, it's a valid question.
Let's look at ski chairlifts, if they are safe and curb some of your worries before riding them.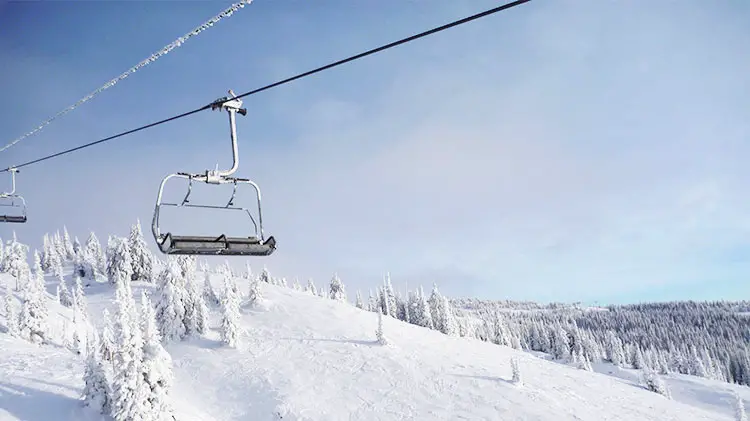 Are Ski Chairlift Accidents Common?
Ski chairlift accidents are not common, even more so in the U.S. Generally speaking, resorts are always out checking the safety and maintaining their lifts. Even with constant maintenance though accidents can happen.
These accidents are rare and ceratinly aren't common. Every winter you hear of a few across the U.S. but it isn't something you should expect. In fact, the ski patrol practices rescues from lifts as well so while getting stuck on a lift is one of the most common ski chair accidents, it doesn't leave anyone injured usually.
How to Prevent Accidents on Chairlifts
When it comes to riding chairlifts, safety is key. It is something every instructor goes over when you are starting our on skis. Here are some tips on how to prevent accidents while riding to the top of the slopes.
1. Always keep the safety bar down and locked while the chairlift is in motion.
2. Pay attention to the operator's instructions before getting on the lift.
3. Sit properly in the chair with your back against the seatback and your feet firmly planted on the footrest.
4. Hold onto the safety bar handrail at all times.
5. Don't sway in the chair when riding it up.
6. Do not try to get off from the chairlift until reaching the unloading platform.
7. Make a clear exit from the unloading zone.
Using a Safety Bar on Chairlifts
There's a reason keeping the safety bar down makes it to the top of our list for safety tips when riding a ski lift. Chairlifts are designed to bring us up the mountain safely and using the safety bar is one of the most key features.
Once everyone is settled in at the start of the lift, pull the bar down and leave it down until you get to the exit zone or see the resort's posted sign to lift up the safety bar. A large amount of chairlift injuries can be avoided by just keeping the safety bar down while in motion.
Will My Backpack Be a Problem?
When you're packing your skis and poles for a day on the slopes, the last thing you want to worry about is whether your backpack will be a problem on the chairlift. Here's what you need to know about bringing your backpack on the lift with you.
First, check the size of your backpack. If it's too big you might be asked to leave it at the bottom of the lift or take it off before heading up. Hydration packs and normal sized backpacks usually aren't an issue but you'd be surprised what some people try to take up the mountain.
Second, think about what's in your backpack. Heavier items should go towards the bottom of the pack, so they don't throw off your balance when you're getting on and off the lift.
Lastly, look out for any loose straps or areas that could snag on the lift when getting on and off. You don't want to get hung up when getting off.
Keep all of that in mind and riding a chairlift with your backpack on for skiing is no issue.
Why Don't Ski Lifts Have Seat Belts?
Ski lifts don't have seat belts so you better get used to the safety bar.
There are a few reasons why ski lifts do not have seat belts. The first reason is that seat belts can be uncomfortable for passengers. There's no way you are strapping on a seat belt with all those ski clothes.
Second, seat belts could interfere with the operation of the lift. Imagine people trying to click and unclick a seatbelt. You'd be waiting in the lift line forever.
Finally, most importantly, ski lifts have safety bars that prevent passengers from falling out. This is the speediest way for chairlifts to operate while remaining safe.
Don't discount the safety bar! It is the most important factor in preventing accidents on ski lifts. It is designed to keep passengers safely in their seats in case of sudden stops or jolts.
The safety bar is tested regularly to ensure its effectiveness in keeping passengers safe so place some confidence in it. I do when I'm on the lifts so you should be able to too!
What Happens if You Fall off a Ski Lift?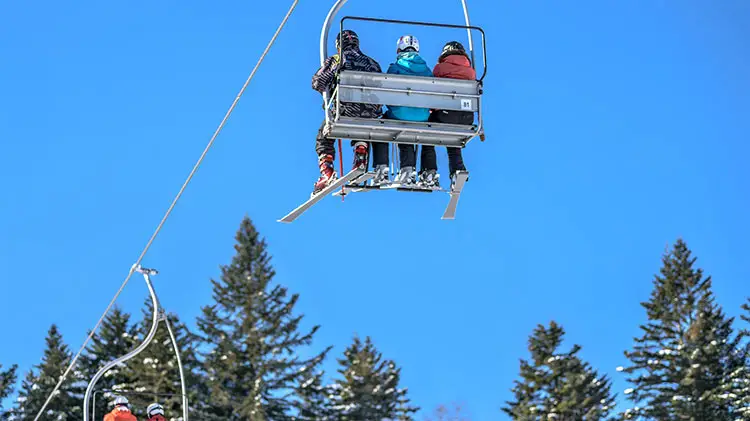 If you fall off a ski lift, there are a few things that could happen. You could hit the ground, which depending on how high up you are, it could be fatal. You could also get stuck hanging off the lift if your gear gets caught. In some cases, people get run over by the lift in the exit zone if they fall off.
To prevent the first two, keep that safety bar down! Preventing any accident in the unload area often comes down to knowing where everyone will exit the lift and doing so in a controlled manner.
What If I Drop a Ski or Gear From the Lift?
It's happened to the best of us, including myself where i've dropped a pole off the lifts at Stowe inadvertently a few years back. You're enjoying a nice day on the slopes when suddenly, your ski or gear falls off the lift. But what should you do?
First, don't panic! I was getting my kid's situated on the lift at the time and luckily my pole fell when I wasn't far from the loading area. It may seem like a daunting task to retrieve your gear, but it's important to stay calm. Second, assess the situation.
In my situation, they stopped the lift and handed up my pole since the lift operator saw it. If your gear is in an easily accessible spot, you may be able to retrieve it yourself. However, if it's in a difficult or dangerous location, it's best to wait for help from the lift operator or ski patrol.
Are Chairlifts Safe? Final Thoughts
While there are risks associated with chairlifts, they are considered safe. You have to keep in mind that thousands of people ride ski lifts every year in the U.S. with no issues.
With regular maintenance and inspection, as well as following the proper safety procedures, the chances of an accident are greatly reduced. So next time you're at the ski resort, don't be afraid of the chairlift and embrace it. After all, it is pretty much the only way to get to the top of the slopes.