Ski runs are groomed to make it easier to ski. Would you really want to ski over ice clumps, bumps and divots? Groomers use a variety of equipment to smooth out the snow and remove obstacles. To make skiing a better experience for everyone, snow grooming is a must-have at resorts.
We'll look at some of the reasons resorts groom the snow and how they do it.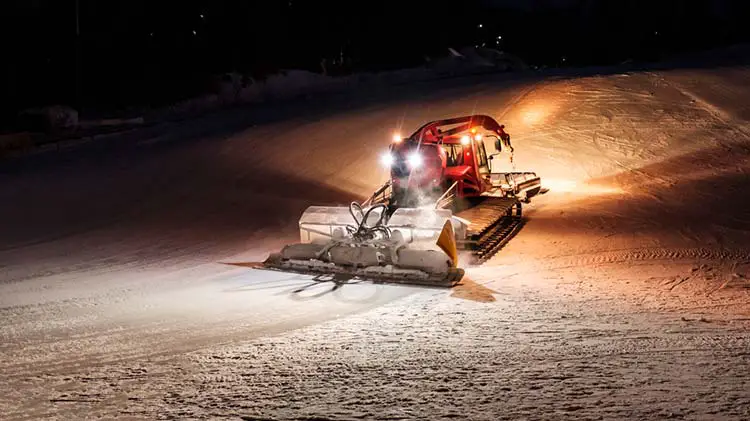 Why Do Resorts Groom Snow?
Resorts groom their snow for a few specific reasons.
Here are 5 popular reasons ski trails are groomed:
Grooming ski runs takes out any bumps.
It smooths out the snow from divots.
Well-groomed trails generally mean faster skiing.
Snow grooming can break up the ice that has formed from skiers taking laps.
Resorts try to put out the best snow possible which means grooming and making it fresh.
You've probably ridden down a slope in the afternoon after it has been all torn up. Compare that to the fresh tracks in the morning on a groomed run. It's a night and day difference. Bad snow conditions are one of the biggest reasons that patrons want a refund for their lift tickets. No resort wants that!
How Often Do Ski Resorts Groom Snow?
Ski resorts groom snow on a daily basis, with many doing it at night. However, not all trails are groomed every day, and some resorts only groom certain trails. It's important to know which trails are being groomed in order to make the most efficient use of your time on the slopes if you want to ride groomers.
Other resorts will groom during the day as well but when they do, they section off the trails for now riding. Usually, you can the respective resort's site and see which trails are being groomed.
What is Corduroy Snow?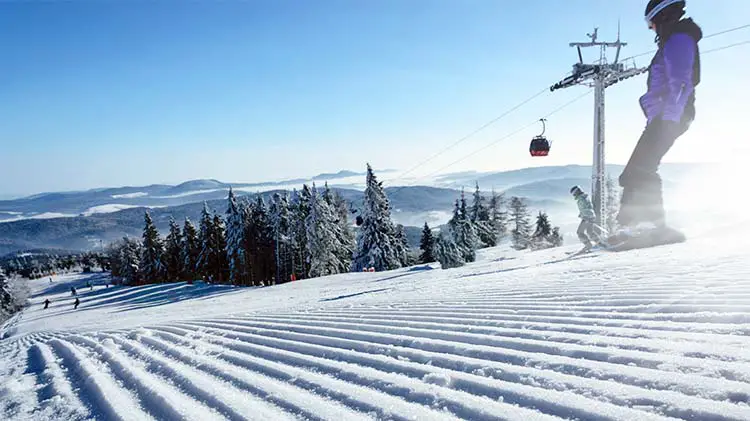 You may have heard skiers talking about skiing fresh corduroy. Corduroy snow is fresh, groomed snow that's also called groomers. That's all it is.
At ski resorts, corduroy snow is named for those crisp trail marks that a groomer has left behind on the trail. Riding corduroy snow is riding the "good stuff".
Why Do Ski Resorts Groom at Night?
Often, ski resorts groom at night to avoid skiers. They have the whole mountain to themselves and can do whatever they please, which is why they typically groom at night. This not only saves time, but it also keeps skiers from getting in the way of equipment and other resort personnel.
This leads to fresh tracks in the morning. Fresh runs as you might know are one of the most sought-after times to ski.
Ski Trails: Why They Aren't All Groomed
Many ski resorts don't have the financial resources to keep their trails groomed year-round. Think about a huge resort you may know. There is no way to get enough snow groomers and operators to hit all the trails. This leads to certain trails not being groomed.
Also, you have to consider how time-consuming it is to groom trails. So what's a ski resort to do? Priority trails get groomed first. Usually, this is the green slopes then the blues and finally the blacks. Groomers generally have to open the beginner slopes first since that is the most favorable to all levels.
Is a Groomed Ski Run Better Than Ungroomed?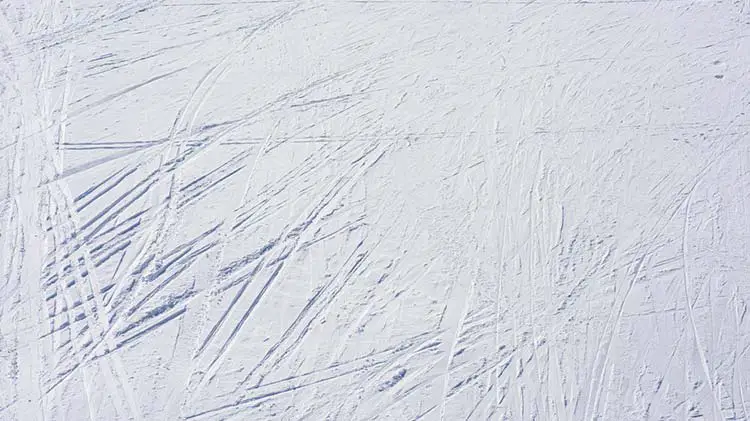 Groomed ski runs are often seen as being more enjoyable for some riders, as the snow is usually smoother and less bumpy. For others, who enjoy skiing on fresh snow, ungroomed slopes can be a better experience. It all comes down to personal preference.
I love a good ungroomed powder run like most people but I know others who show up to fly down groomers. It's really a take-your-pick sort of thing. One isn't necessarily better than the other.
Are Ungroomed Ski Runs Hard to Ride?
Ungroomed ski runs can be a bit more difficult to ride, but this doesn't mean that they are not worth trying out. Grooming ski runs makes them much easier to navigate, and helps keep them in good condition.
If you're uncomfortable on groomed ski runs, then ungroomed runs may not be for you. However, if you're up for a challenge, an ungroomed run could be the perfect way to spend your day skiing. You often see much fewer people.
Plus, once you move towards powder, it isn't groomed and that is the best snow to ride. One way or another, it's the nature of the game that you will be riding some ungroomed runs. In fact, as I mentioned, you want to if you want fresh snow.
Two Types of Snow Grooming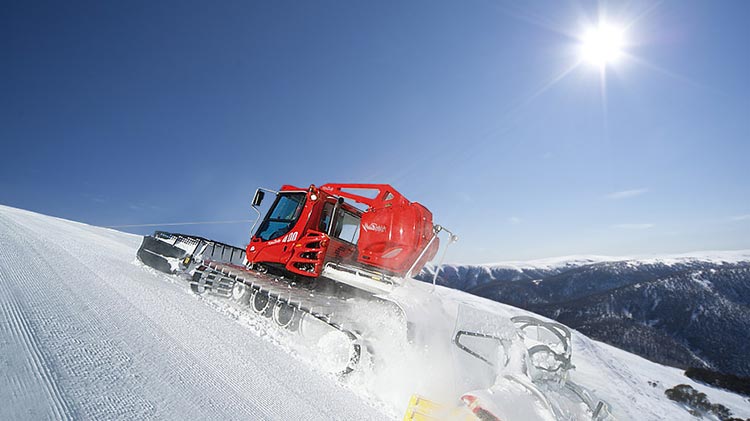 When you think of snow grooming, two types of grooming usually come to mind: corduroy grooming and mogul grooming. Corduroy grooming is when the groomer uses a brush to create a corduroy pattern on the snow. This is grooming 101. Every resort grooms some of its trails like this.
Mogul groomers is the other common type of grooming. Groomers use this technique to make their trails look like giant mounds. Once you advance to mogul trails, you'll realize there is a technique to riding them. Just like there is a technique to make ski moguls.
Conclusion: Why Ski Runs Are Groomed
Grooming ski runs puts the snow in the best condition possible other than fresh snow. This leads to a better skiing experience overall. Resorts know, to keep a smile on their guests' faces, they need some well-groomed runs for skiers and boarders to ride.
Now that you know all about why ski runs are groomed, I'll see you out there on them!