Thinking about skiing in jeans? Don't! Skiing in jeans is one of the worst clothing choices you can make when choosing ski clothes. If you decide to ski in jeans, be prepared for what can happen. That is being wet, cold and possibly miserable on the ski slopes.
Let's take a look if you can go skiing in jeans and why you shouldn't.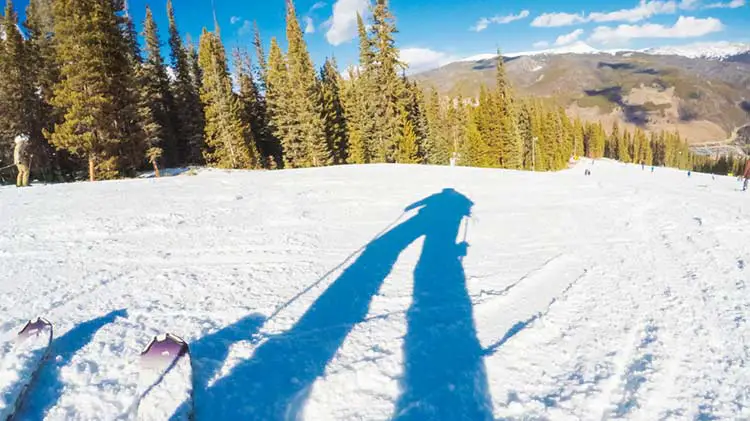 Should You Go Skiing in Jeans?
There are a few reasons why you might want to avoid wearing jeans while skiing. For one, jeans can be quite uncomfortable when wet. Imagine your denim bogged down, cold and soggy. Jeans can also make it difficult to move around in, which can impact your skiing performance.
It doesn't stop right there. Jeans can actually be quite dangerous on the slopes. If they get caught on something, they can cause you to fall and hurt yourself.
So, while you may think it looks cool to ski in jeans, it's probably not the best idea. It's better to stick to more comfortable and safe clothing options when hitting the slopes like ski pants.
Why Skiing in Jeans Isn't a Great Idea
Spring skiers are the ones often seen in faded ripped blue jeans or jeans on the slopes. However, there are certain things that you should not do while skiing and one of those things is wearing jeans.
Here are three reasons why skiing in jeans isn't a great idea:
Jeans can be very restrictive and uncomfortable when wet. When you fall down while skiing, your jeans will likely get wet, making it difficult to move around and enjoy the rest of your day on the slopes. Do you really want to pay $100 for a lift ticket and then be miserable?
Jeans can also be quite cold when they're wet, and this can lead to you feeling uncomfortable and even cold while you're skiing. Trust us, even with a base layer, jeans can still be cold.
Finally, wearing jeans while skiing can also make it difficult to stay warm after you've finished for the day. This is really a combination of 1 and 2. You won't want to rock up to apres-ski in cold wet jeans.
You Might Be the Meme of the Mountain
You might be the meme of the mountain wearing jeans when skiing. Don't be that skier in jeans on the slopes.
Skiing in jeans has been a popular meme for years, and it seems like every winter, someone new tries it out. If you're thinking about giving it a go, there are a few things you should know.
First, skiing in jeans is not as easy as it looks. They can be stiff. Second, you'll probably be cold. Even if you're wearing thermal underwear underneath your jeans, they're not going to be as warm as proper snow pants.
And finally, you might be the butt of some jokes from your fellow skiers. If they refer to you as a ski jerry, don't be surprised. But if you can handle all that, then go ahead and give it a shot!
Are Ski Pants Better Than Skiing in Jeans?
When it comes to hitting the slopes, there is some debate over what type of pants are best to wear. Ski pants are designed specifically for the sport and offer a number of benefits, but some people still prefer to ski in jeans. Here's a look at the pros and cons of each option to help you decide which is best for you.
Ski pants or also known as snow pants, are made with waterproof and windproof materials that help keep you warm and dry on the slopes. They also often have features like reinforced knees and seat areas, as well as zippered vents that can help regulate your body temperature.
Ski pants also tend to be more comfortable than jeans, thanks to their stretchy fabric and loose fit.
Jeans on the flip side are quite the opposite. We've mentioned they are restrictive and not warm but they also don't have venting.
Hands down, ski pants are better than blue jeans on the slopes.
Can You Cross Country Ski in Jeans?
Whether you're a beginner or a seasoned cross country skier, one burning question always comes up: can you ski in jeans? The answer is yes, but there are a few things to keep in mind if you're planning on hitting the slopes in your denim.
First and foremost, jeans are not the most comfortable choice for a day of skiing. They can be stiff and constricting, and they don't offer much in the way of flexibility or breathability. That said, if you're determined to ski in jeans, you can do a few things to make the experience more bearable.
Opt for a looser fit. Skinny jeans are definitely not going to cut it on the trails. Go for a relaxed or straight fit instead – something that will give you some room to move without being too baggy.
Even with a loose pair of jeans, you are likely to get the denim around the ankles wet. While you can cross-country ski in jeans, we'd caution you to avoid it. Instead, just get a pair of cross-country ski tights like Salomon makes. They are specifically made for cross-country skiers.
Final Thoughts on Skiing in Jeans
You heard it here first, skiing in jeans is not recommended. The fabric is not meant to withstand cold temperatures and does not provide the same level of flexibility as ski pants.
However, if you are in a pinch and need to make do with what you have, layering is key. Wearing a base layer can help to keep you warm if you have to ski in jeans. Just don't forget your beanie too! See you at the slopes.