Proper Peaks may get a small commission from in-content links. We'll look to put any of it towards lift tickets and gas to the slopes.
It doesn't get much better in a Pennsylvania winter when the snow starts to blanket the ski slopes or the temperatures get cold enough to blow. The best of it all is that you don't even have to drive to the Poconos when there are Ski Roundtop cabin rentals near Harrisburg, Dillsburg and Mechanicsburg.
We're going to look at 4 really cool cabins for lodging options if you plan to ski Roundtop.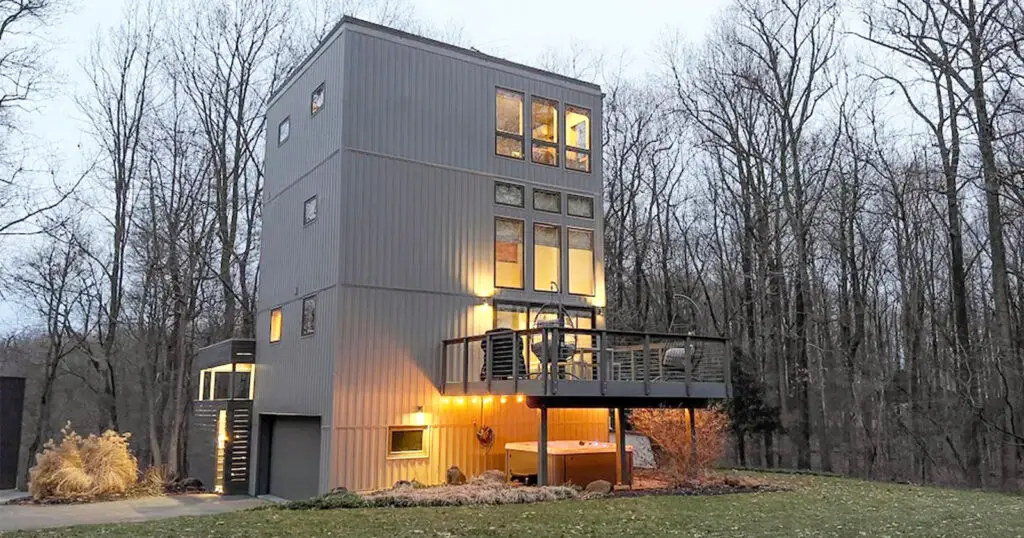 Pet-Friendly Cabin with a Hot Tub Near Ski Roundtop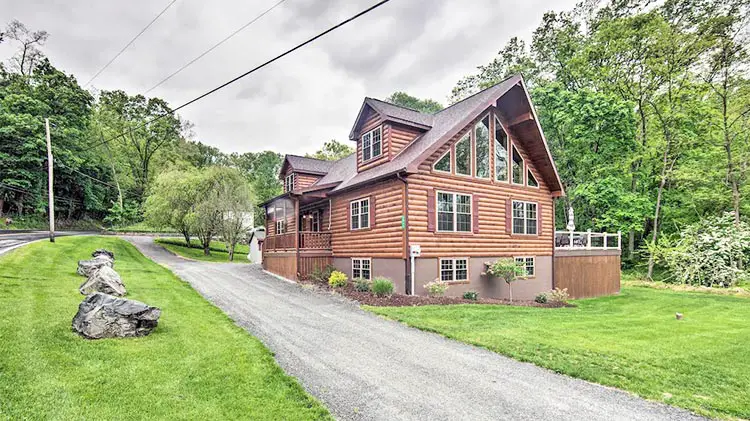 The first one on our list certainly isn't the closest but it does sleep up to 9 and has a hot tub. It is more of a getaway than being right on the slopes. The cabin is steps from Clarke Lake and not too far of a drive to Ski Roundtop.
After a long day at the slopes, you'll be able to fire up the hot tub or throw something onto the grill. There is a massive common area for entertaining a bunch of ski buddies and while you may not be deep in the woods, you'll feel like it in this beautiful wood cabin.
Distance to Ski Roundtop: 50 minutes
Amenities:
Hot tub
Large entertaining area
Grill
Lake view
Massive Cabin by Michaux and Roundtop Mountain
If the last one wasn't big enough or your group wants a bit more privacy then this cabin that sleeps 12 might be exactly it. You can't get a hotel room near Ski Roundtop that compares to this type of lodging. Just minutes from Michaux State Forest and Roundtop Mountain, the cabin features a cozy design with indoor and outdoor fireplaces.
You'll definitely find this option a bit more secluded and that's the benefit of a little drive. A large space and a true in the woods winter experience.
Distance to Ski Roundtop: 50 minutes
Amenities:
Indoor fireplace
Outdoor firepit
Large deck
Secluded
The More Modern Ski Roundtop Cabin Rental Option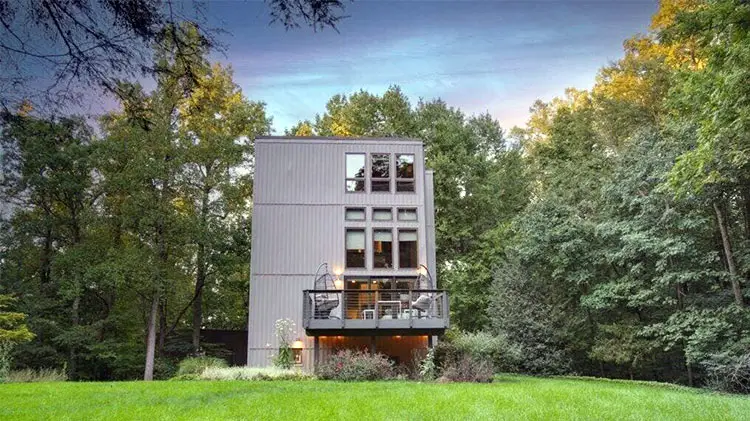 Don't knock us too hard on the next one. We get it isn't your typical log cabin near Ski Roundtop but it's modern flair on 15 acres and proximity to the ski resort makes this one of the top lodging options.
As soon as you arrive, you'll be struck by how much land there actually is on the property. Then the impressive height of the cube hits you. Head out to the back patio on the ground level and you'll find a hot tub that seats 7. Is there really a better way to warm up after a bunch of runs at Roundtop than that?
Sleeping up to 7 people, less than 15 minutes to roundtop and all of that for generally under $350 a night, this modern cabin in the woods is value.
Distance to Ski Roundtop: 15 minutes
Amenities:
Hot tub
15 private acres
Modern interior
Large windows looking at nature
Peak Tranquility A-Frame Cabin With the Best Mountains View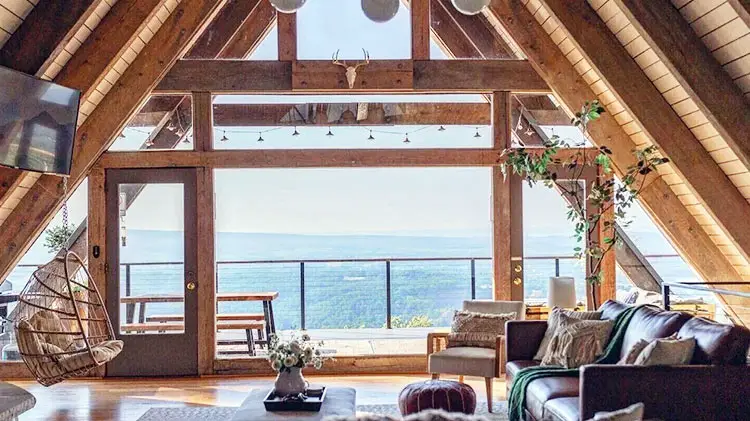 This last one is a bit of a drive from Ski Roundtop but one you get up there, you'll understand why it made the list. Overlooking Perry county, the view is a must-see for yourself. Since this property sleeps 10, it is perfect for skiers and the non-skiers in the group who want to relax in the hot tub.
As the A-frame reaches up higher towards the sky, the main room feels completely open and inviting. Aside from a ski trip to Roundtop, if you just need to switch off from work and enjoy a bit of nature then this is a great option. It feels similar to a retreat.
Distance to Ski Roundtop: 60 minutes
Amenities:
Amazing view
Set on 30 acres
Tennis court
Hot Tub
Ski Roundtop Cabin Rentals: Final Thoughts
Just because Ski Roundtop feels close to Harrisburg and the more populated areas, doesn't mean you can't find a cabin to rent for a memorable ski weekend. Some are a bit of a drive while others are much closer. Whichever one you choose, you'll instantly see the beauty of each property once you arrive!