Proper Peaks may get a small commission from in-content links. We'll look to put any of it towards lift tickets and gas to the slopes.
Known as Squaw Valley Alpine Meadows for 60 years, this sprawling resort became 'Palisades Tahoe at Alpine Meadows' in September of 2021, changing its name out of respect for the local Native American community. Originally offering three lifts for the 1961-62 ski season, the expansive resort opened shortly after the 1960 Winter Olympics were held here.
Known for consistent snowfall in most years, Palisades Tahoe takes pride in offering winter downhill enthusiasts one of the longest seasons in the U.S., often stretching till late spring. Palisades offers unique top-of-the-mountain 'learning zones' for newer skiers and boarders, as well as stunning powder, steep chutes and bowls for experienced enthusiasts seeking an energetic ski culture.
Visit Palisades Tahoe to see the shimmering vistas of Lake Tahoe down below, and you'll surely return to this world-class resort over-and-over again. Read on to learn how to get to Palisades Tahoe, the lodging options, food choices, ski lessons and more.
How Do I Get to Alpine Meadows?
Alpine Meadows is easy to find. Most travelers will be coming from California by way of Sacramento via I-80. Exit at Truckee (#185), high up in the Sierra Nevada Range, and head south just 14 miles on Route 89, following the posted directions as you approach Lake Tahoe from the north.
Total trip time from Sacramento is about two hours. Skiers arriving from Reno will take I-80 westward to the same Truckee exit as above, and then turn south to Palisades Tahoe at Alpine Meadows.
Time en route from Reno will be about 50 minutes. For GPS purposes, the official address is in Olympic Valley, California.
Mountain Stats
Now THIS is a ski resort! With 3,600 skiable acres, you'll never run of new terrain to conquer.
9,050-ft. summit/6,200-ft. base/vertical drop of 2,850 feet
170+ runs including one that's 3.2 miles in length!
25% rated as beginner,

45% intermediate

, 30% advanced
13 ski lifts including the high-speed quad KT-22 "Mothership", the six-person Headwall, the fully-enclosed Aerial Tram, and Red Dog, the quickest lift for those stormy days where you find to seek out the freshest powder
Alpine Meadows receives an average of 400 inches of snow annually. Snowmaking capabilities are available, just in case, to provide man-made powder just off of 11 of the 13 lifts.
What Are the Lodging Options at the Resort and Nearby?
At the foot of the mountains you'll find The Village at Palisades Tahoe, where shopping, dining, activities, and lodging all come together to make for a fabulous getaway. Accommodations are designed for skiers, with units for singles, couples, families, as well as groups. Most rooms feature a fireplace, kitchen, and private balcony. The Village also offers free underground parking and eight hot tubs!
Nearby, VRBO fans will find literally hundreds of lodging options. Palisades Tahoe shuttle service will get you to the slopes and back 'home' quickly, eliminating the necessity of driving your own car to the resort each day. For larger groups, grabbing a large ski house or Tahoe luxury rental is the way to have an ultimate Tahoe ski trip.
What's the Best (and cheapest) Way to Buy Lift Tickets?
As is often the case, the early bird gets the worm. In other words, buy in advance, as early as possible, and you'll be assured of finding the best pricing on lift tickets. And this is certainly true at Palisades Tahoe. Buy online, buy at least 10 days in advance of arrival, and your lift tickets will be mailed to you. Otherwise, you'll be in yet another line before hitting the slopes.
With a few seasonal exceptions, midweek lift tickets are less pricey than those for weekend runs, and low season skiing costs less than during the peak weeks in the heart of winter. To avoid the busiest times, steer clear of holidays (Christmas, New Year's, MLK, and President's Day come to mind), when lift tickets are the most expensive.
Palisades Tahoe Night Skiing: What to Know
Yes, there is night skiing at Palisades. The 3.2-mile mountain run is open nightly in-season until 9 p.m., as is the Riviera Halfpipe and Terrain Park.
There's also snowtubing under the lights, with disco nights on select Thursday evenings.
Going Hungry is NOT an Option at Palisades Tahoe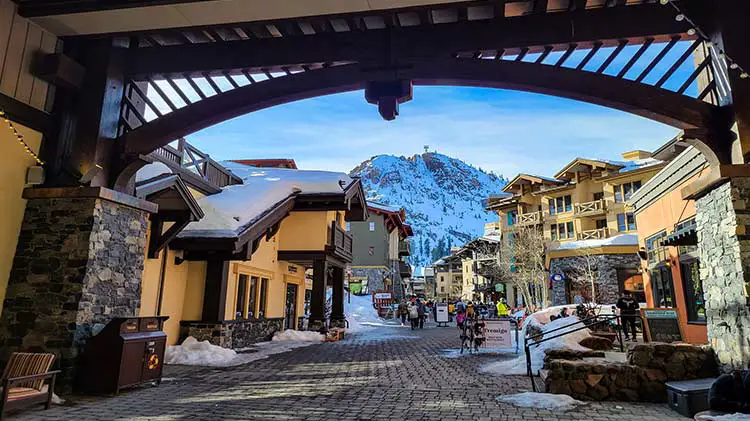 It's abundantly clear that the culinary pros at Palisades Tahoe ski resort want you to stay on-property during your visit. With so many dining options available, there really is no necessity to go anywhere else for food. Options include:
Mexican at Tremigo
22 Bistro's social plates
Fast-casual Zeus Mediterranean
The Soup Spot: A great place to warm up
Euro Crepes
The Mogrog Café for all-day breakfast and lunch.
These are just a few of more than two dozen food, snack, and adult beverage venues at the mountain. Whether you're looking for a burger, pizza, an upscale meal, liquid libations, or prefer to just grab something on-the-go, the choices are limitless.
Tell Me About Equipment Rental Options at Palisades Tahoe
While not required, it is recommended that ski and snowboard rental equipment be reserved at least 48 hours prior to arrival, to ensure availability. It's easy to reserve your equipment online, or by phone. Rates are slightly lower during midweek, and there are special package rates for combined lift tickets along with equipment rental. Lower prices are also offered for kids ages 12 and under, and for seniors ages 70 and higher.
Be sure to select "Alpine Meadows" for equipment being picked up at the Alpine Lodge, and "Olympic Valley" if you are starting out at Palisades Tahoe.
Ski packages include skis, poles, and boots. Snowboard packages include snowboard and boots. Helmets are highly recommended and may be rented for an additional charge.
Demo packages are also available and can be reserved online, too. The demo team will assist you in finding just the right equipment for that day's weather conditions.
Read More:
Tahoe Luxury Rental Properties: 3 Must Book Homes for Skiing
Can I Get My Gear Tuned Up at Palisades Tahoe?
You sure can! There are two tuning centers at the resort, with one strategically located for each mountain. Ski and snowboard tune-ups will improve your performance and make sure that your gear lasts longer, too. Tune-ups are offered with varying services performed.
The World Cup Tune includes machine sharpened edges, ceramic finish, hand polished edges, a stone grind, and your choice of race wax. The Pro Tune Gold and Pro Tune Silver tune-ups are less expensive and will serve the needs of recreational skiers just fine.
Where Can I Shop for Gear at Palisades Tahoe?
Whatever you need for skiing or snowboarding, you'll find it at Parallel Mountain Sports at Paradise Tahoe. A full-service shop located adjacent to the Aerial Tram building, this is the place to find amazing outerwear and a wide range of accessories from such popular brands as Spyder, Armada, Kjus, and Marmot.
Boarders will be in awe with the selection at The Ledge Boardshop, where anything and everything for all kinds of board sports is available. Whether you are a downhill boarder, skateboarder, or surfer, you'll find clothing and equipment to suit your needs.
Palisades Tahoe at Alpine Meadows: Terrain Parks
A truly amazing ski resort needs to provide a challenging terrain park for skiers and boarders of all skill levels. Palisades Meadows certainly sets the standard here with four, count 'em, FOUR terrain parks located in various locations on the mountain. Belmont Park at Palisades, and Gold Coast at Palisades are favorited by those in-the-know, but each park offers plenty to challenge you.
Test your skills riding the half-pipes, rails, and boxes each day, and before you know it you'll be moving up to the next level of difficulty.
Take-a-Look Before You Visit: Palisades Tahoe Webcam
Palisades Tahoe has multiple webcams strategically located around the resort. Be sure to check the Palisades webcams to see the crowds and trail conditions before heading out to the slopes!
Learn to Ski: Palisades Tahoe at Alpine Meadows
Top-notch ski and board lessons are available from seasoned professionals at Alpine Meadows. Choose private sessions or participate as part of a group. There are also first-time and beginner child lessons offered. If you know that you want lessons and that one or two won't be nearly enough, check out the Alpine Unlimited package which allows for as many lessons as you may care to take. This unique option pays for itself when you reach eight lessons.
Unlike most ski resorts, beginner lessons at Alpine Meadows start at the top of the mountain, where you'll have spectacular views of the lake and mountains, in addition to great powder for your instruction. The lesson area is located just off the incredible Aerial Tram.
Does Palisades Tahoe Have a Tubing Hill?
Tubing is always a fun downhill option at Palisades Tahoe. Located adjacent to the parking lot in the Olympic Valley base area, the area is aptly named 'SnoVentures Activity Zone'. A great spot for fun with family or friends, there's even disco tubing on specified evenings.
Sessions are 55-minutes in length, and admission tickets are limited to ensure the best possible experience for guests. The minimum height required is 40-inches, with adult and kid-sized tubes offered. A carpet-lift takes tubers back up the hill efficiently after each run, maximizing your time sliding back downhill. If you don't want to learn to ski, snowboard or simply want a family event, Palisades snowtubing is the way to go!
Some Final Thoughts About Palisades Tahoe Ski Resort
It's no wonder that we say Palisade Tahoe is a must visit ski destination in North America. Everyone knows that a skiing or snowboarding hobby isn't cheap, but at this sprawling resort you'll definitely get your money's worth, and then some. Nothing has been overlooked, and it's all close-by once you get there.
World-class runs, spectacular views of Lake Tahoe, endless dining options, fun activities, and so much more is at Palisades Tahoe. Even non-skiers will find great trails for cross-country skiing or snowshoeing. Visit once, and this is bound to become your Lake Tahoe ski resort of choice for years to come.