Proper Peaks may get a small commission from in-content links. We'll look to put any of it towards lift tickets and gas to the slopes.
Skiing and snowboarding in the Lake Tahoe area is some of the most sought-after skiing in the country aside from other bucket list names like Jackson Hole and Vail. The ultimate way to have a Tahoe ski vacation is to book a Tahoe luxury rental property.
Fortunately, the area around Tahoe is packed with luxury rentals. We're going to tell you what to look for and even give you three really good options so you can get on the slopes at Tahoe.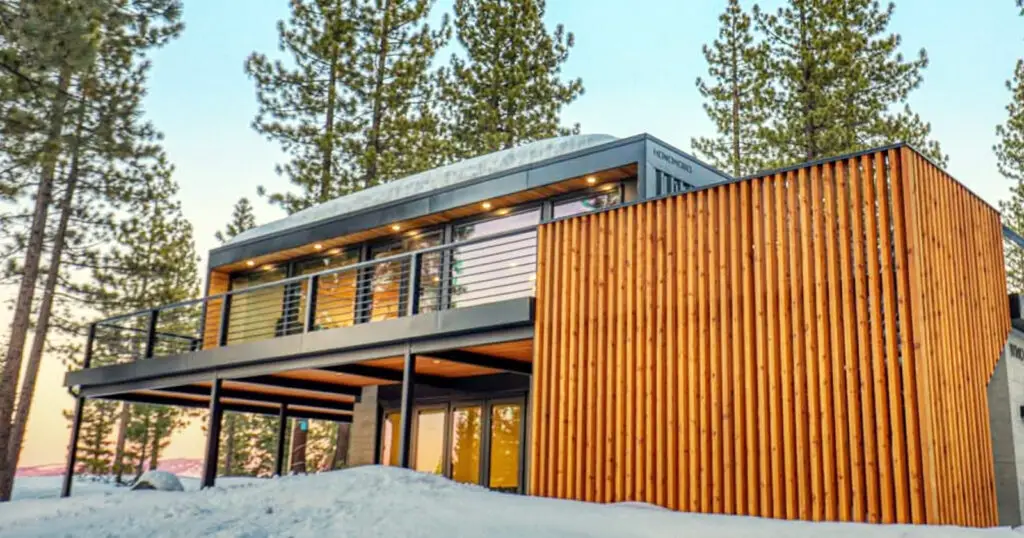 What Makes a Good Lake Tahoe Luxury Rental Property?
When booking a Tahoe luxury rental property, you'll want it to check certain boxes so to speak. We sure do. The key ones being:
Location to the ski slopes
Adequate size for your party
Luxury amenities
High-end finishes in the rental
Services like housekeeping or concierge if needed
If you can check off most of these then you are looking at a good rental. To us, location is the most important. The last thing you want to do is sit in any more traffic than you have to. A prime location near the slopes is crucial and one of the reasons to go with a luxury rental property.
Generally speaking, luxury properties in Tahoe will be the ones closest to the slopes. Let's dive into 3 excellent options for Tahoe luxury rentals now that you know what to keep your eyes out for.
1 – Wander Tahoe Slopes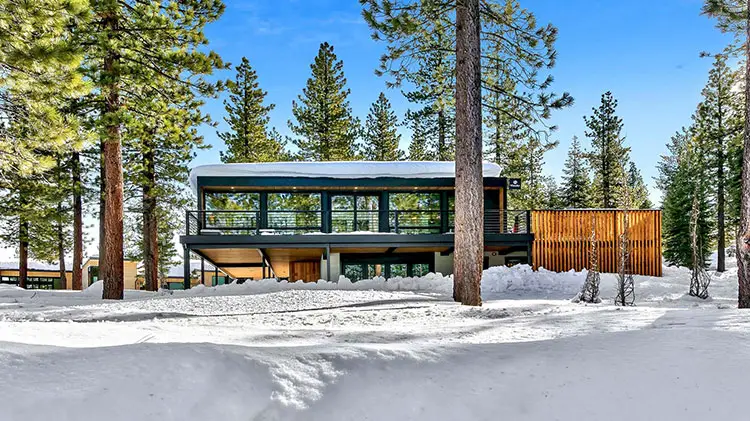 What it Offers:
The first one on our list is the well-known Wander Tahoe Slopes. Part of the Wander family of houses, it has all the high-end amenities you could dream of. It sleeps up to 10 which is perfect for a family, group of ski buddies or even two families.
We love this property because it screams Tahoe Luxury rental. You can be at the slopes in just minutes but then back and sitting in the hot tub without getting caught up in any traffic. The property feels secluded enough to where you have your own space and privacy.
There's no reason to stay at a resort in Tahoe when you can book a property this good. The one issue is getting it. It tends to fill up for the winter season due to the long list of luxury amenities as follows.
The property offers:
Ski in/ski out
Sauna
Hot tub
Gym
Tesla to use
Excellent workstations including fast internet, large monitors a Herman Miller chair
Fire pit
Mountain views
Ski Resort Nearby
If you know anything about Proper Peaks then you know one of our favorite resorts in Tahoe is Northstar. Can you imagine being less 15 minutes from it? That's right, you can be in the heart of the village in less than 15 minutes, grabbing food, enjoying the nightlife or riding over 3,000 acres.
You don't just set yourself up for a great time on the slopes but if you book Wander Tahoe Slopes then you are going to have just as good of a time, if not better, off the slopes!
2 – Northstar Mountain Luxury Rental Home
What it Offers:
Do rustic and luxury speak to you? If you want something that feels less modern but still upscale then this property near Northstar isn't a bad option. This property doesn't have all the amenities like the first one but it does have a hot tub and you can walk to Northstar.
Again, this property lets you feel secluded enough in the woods to enjoy a full mountain experience after a long day on the slopes.
You get a bit more house, it's certainly not as modern but we know some of you like the rustic feel so this one made our list.
Nearby Attractions:
You can either walk or drive to the famous Northstar ski resort. With live music, restaurants, a shop and a movie theater in the village, there is something for everyone. If the walk is too far, you can also take the complimentary shuttle down to the village.
3 – Palisades Tahoe Luxury Ski Home
What it Offers:
Want to ski Palisades instead of Northstar? This home in a private gated community is only 5 minutes from the lifts. It is incredibly modern with all of the high-end amenities you could ask for. Just a few of the amenities include heated floors, a top-of-the-line chef's kitchen and a gas fireplace.
While it doesn't have a hot tub, gym or sauna, there is still plenty to enjoy at this luxury Tahoe rental. This designer home is impressive in its own right and can sleep up to 8.
Nearby Attractions:
Minutes from Palisades, you'll be able to ski to your heart's desire. On top of that, there is ice skating, cross-country skiing and snowmobiling close by as well.
Final Thoughts on Tahoe Luxury Rental Properties
It's not hard to find a Tahoe luxury rental but finding a good one with tons of amenities can be difficult. Properties book up quickly and it's not uncommon for families to take the same rentals year after year if it is a good property. Lock in your dates if they are free on the rental calendars and you'll be sure to have a Tahoe trip of a lifetime.