Skiing moguls can be a fun and challenging way to ski. It can also be frustrating if you don't know how to do it correctly. Luckily I've skied plenty of them.
I'm not a professional but as your average joe who skis some double black diamond moguls, this article will give you some tips on how to ski moguls so that you can have more fun and less frustration on the slopes.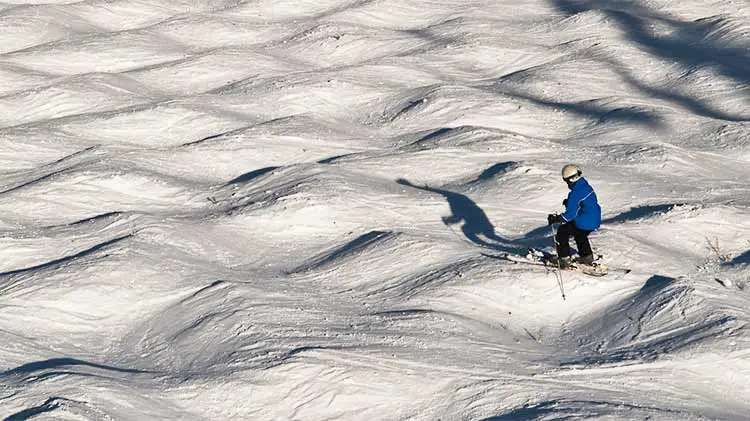 So You Finally Want to Learn How to Ski Moguls?
If you've been watching the Olympics and are feeling inspired to take up skiing moguls. Maybe you have just been in envy of the people on the slopes skiing the moguls and you can't yet.
We have some tips for you. Learning to ski moguls is exciting and advanced skiing, but it takes time to learn. Here are a few things to keep in mind as you start your journey.
First, make sure you have the proper equipment. You'll need a good pair of skis, boots, and bindings that are designed for mogul skiing. You should also invest in some good protective gear, like a helmet. You won't catch me skiing without a helmet on.
Second, be prepared for a lot of falls. Mogul skiing is very challenging and you will likely fall many times before you get the hang of it. It's important to stay patient and keep practicing.
Don't let a few falls keep you from mogul skiing. It happens, even for advanced riders just starting out on moguls.
Finally, make sure you find a good instructor. This can be a buddy or a private lesson but I recommend having someone with you the first few times you are trying to ski moguls.
What's the Best Way to Learn Mogul Skiing?
Mogul skiing is a challenging yet rewarding discipline of the sport. It will get you off those crowded blues and even some crowded blacks.
While it may look intimidating to newcomers, there are a few ways to get started that can make the learning process less daunting.
One of the best ways to learn mogul skiing is to take a lesson from an instructor. They will be able to give you personalized attention and help you develop the skills you need to progress at your own pace.
Additionally, most resorts offer group lessons which can be a great way to make new friends to ride with post any lessons.
Another option for those looking to learn moguls is to find a friend or family member who already knows how to ski and is willing to teach you. This can be a more affordable option and can be customized specifically for your needs and level of experience.
I prefer this route if you know someone competent and willing to teach you.
How to Get Started Skiing Moguls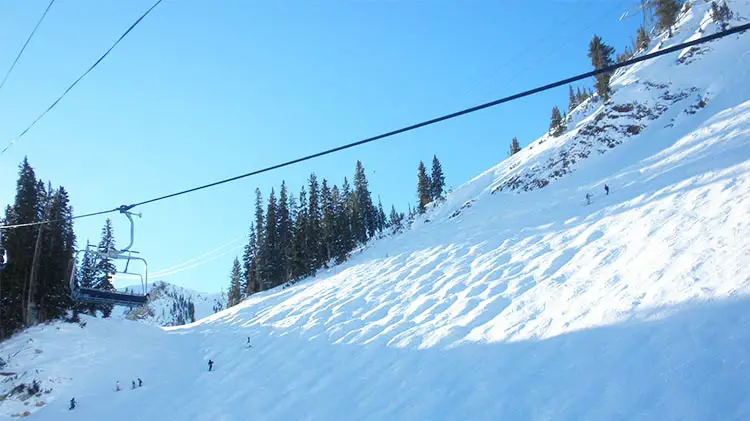 Skiing moguls can be daunting for beginner skiers, but with a few pointers, anyone can learn to ski them once they are advanced enough in their skiing journey. The key is to start small and work your way up.
Look for easy mogul runs to start on, and ski in pairs so you have someone to help you if you get stuck.
An instructor or experienced friend can be a big help in getting started skiing moguls as I mentioned. Not only will they help keep you calm but if you have to stop at the side of the mogul field, they can help you read a mogul line.
The most important thing is to be confident and have fun – once you master the basics of skiing moguls, you'll be hooked!
1 – Reading Mogul Field: What to Know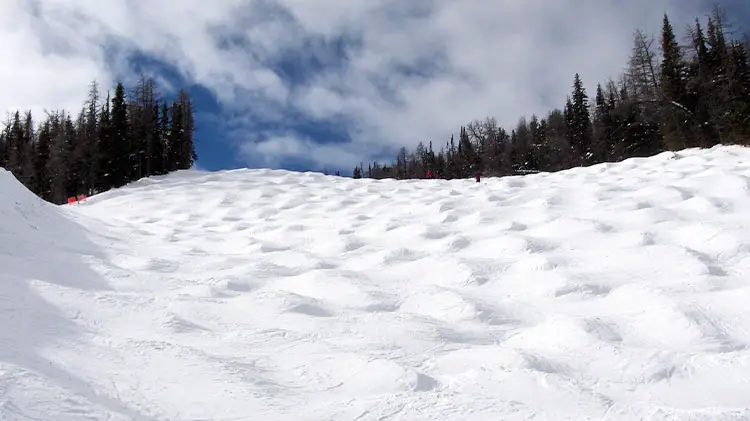 When skiing in a mogul field, it is important to look ahead at the path you want to take. This will help you avoid the tops of moguls, which can be difficult to ski over. Keep your eyes up and focus on the path ahead of you.
This will help you stay balanced and make it easier to navigate the moguls.
Picking where you are going will increase your success in the moguls but it is also crucial to avoid other skiers.
2 – Keep Your Knees Bent for Skiing Moguls
When skiing moguls, it is important to keep your knees bent in order to stay loose and act as a shock absorber.
This will help you keep your balance.
I like to feel loose when skiing through the moguls. Drop your hips a bit and absorb from mogul to mogul in the troughs.
3 – Practice Your Moguls
The key to skiing moguls is practice. The more you ski, the better you will become at handling the bumps. Start by taking short runs down the slopes and gradually increase your speed as you become more comfortable with the moguls.
Remember to stay relaxed and keep your weight evenly distributed on your skis.
With time and practice, you will be able to ski any mogul trail with ease. So don't be afraid to challenge yourself – your skiing skills will thank you for it in the end!
A good instructor will only speed up your practice and skill level. They can often see things you may be doing wrong that you don't see. A second set of eyes will certainly help your practice be more productive.
Things to Avoid When Skiing Moguls
One of the most important things to avoid when skiing moguls is tensing up. When you tense up, you lose balance and control.
It's almost goes without saying but I'll say it anyway – it's important not to cross your ski tips. A lot of the time it isn't on purpose but crossing your tips can be avoided if you go back to tip 2 and bend your knees.
Finally, don't ski on the tops of moguls. This is a total Jerry move. Need I say more? Skiing the top of a mogul just shows you might have missed some lessons. Go from trough to trough.
Final Thoughts on Learning How to Ride Moguls
Skiing moguls can be daunting but with the proper technique it can be an enjoyable experience. I vividly remember when I first started moguls and I was scared.
Now it's part of my go-tos. Get out there, try it, ride moguls, take a lesson, keep the tips in mind and have fun! See you on the trails and see you at the top.