Anyone that skies in the Midwest has likely heard of Devil's Head Ski Resort in Wisconsin. This well-known resort is set in one of the highest mountains in Wisconsin among Merrimac's glacier-formed Baraboo Bluffs and offers more than just skiing. Swimming, cross country skiing, and other entertainment offerings make this a popular destination for families.
Seasoned skiers and boarders love the resort for its long, cruising slopes, and with a terrain park with more rails in one run than any other resort in the state. This causes Devil's Head resort to attract avid skiers and snowboarders year after year. Here we'll show you why people love this resort.
Highlights of Devil's Head Ski Resort
Devil's Head is a long-time favorite with:
Low lift wait times with 6 quad chair lifts and 2 magic carpets
30 trails
300 acres of skiable terrain, the 3rd largest in the Midwest
Two ski/snowboard terrain parks
A vertical drop of 500 feet
A longest run of 3,500 feet
100% snowmaking coverage
A 3.5-mile cross country loop
Where is Devil's Ski Head Resort?
Devil's Head Resort is nestled in the heart of south-central Wisconsin, just north of the Wisconsin River. Its central location makes it easily accessible from anywhere in the state and a manageable drive from Wisconsin's neighboring states.
Its an attractive vacation spot for Wisconsin's big cities like Madison and Milwaukee. It is also a popular destination for Illinois skiers since its only three hours from the Windy City. Here are the travel distances from some of the Midwest's big cities:
Madison, WI – 50 minutes, 39 miles
Milwaukee, WI – 1 hour 40 min, 112 miles
Chicago, IL – 2 hours 45 min, 184 miles
Minneapolis, MN – 3 hours 30 min, 238 miles
Des Moines, IA – 4 hours, 45 min, 294 miles
Does Devil's Head Ski Resort Have Lodging?
Devil's Head Resort has many different options to best fit your group's needs. There are plentiful options for traditional double or king bedrooms, and there are options for larger groups as well.
Two-room suites sit atop the 6-story inn and feature picturesque views of the resort or golf course and river valley. The suites have added amenities like a pull-out sleeper-sofa, a jacuzzi tub, and a wet bar too!
For the most luxurious accommodations, book a Glacier Ridge Condo: a 3-story fully-furnished condo that can sleep 8 to 10 people comfortably with granite countertops, stainless steel appliances, memory-foam beds, gas fireplaces with plasma screens atop, and a great room with 18 foot ceilings and giant window banks.
The Great Wolf Lodge is a fun family friendly place to stay near Devil's Head ski resort.
The resort is 30 minutes from the Wisconsin Dells, one of Wisconsin's top vacation destinations. Wisconsin Dells is also home of numerous theme parks, entertainment centers, and hotels with indoor water parks.
If you want to add a little more fun to your trip, stay at the Kalahari, The Great Wolf Lodge, or The Wilderness and enjoy their indoor water parks and recreation after you come in from the cold. Nearby Devil's Head Ski Resort hotels are easily accessible, or you can also look up house rentals near Devil's Head Ski Resort if you're looking to stay off the resort.
Does Devil's Head Ski Resort Have Night Skiing?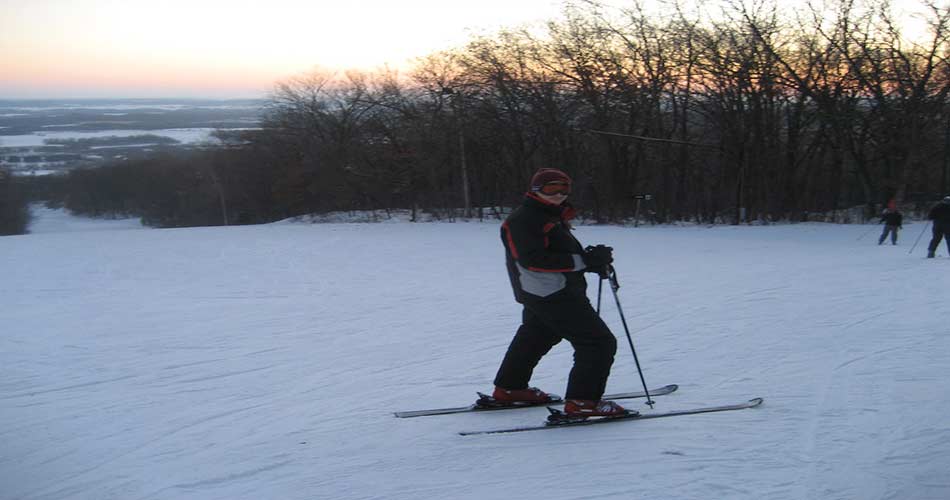 You're in luck, Devil's Head Ski Resort does have night skiing! Night ski tickets are available at a lower price than tickets to ski during the day. The resort even hosts a Thursday night special with lift tickets at a discounted rate. If you're looking to ski on a budget, night skiing could be a great way to get out on the hill for four or five hours without breaking the bank.
Does Devil's Head Ski Resort Have a Ski Shop?
Yes! Devil's Head Ski Pro Shop carries the latest brand-name clothing and accessories you need to stay comfortable while you ski. The Pro Shop can also cover all of your rental needs. Devi's Head Resort ski rental is a breeze and available at affordable prices. Rentals include all you'll need: skis, bindings, poles, boots, and helmets for skiers and a snowboard, boots, and helmet for boarders.
If you want an added edge, visit the Tech Shop next to the rentals to get a sharpen, wax, buff, and binding adjustment.
Terrain Parks at Devil's Head
Sidewinder Terrain Park gives an out west feel in a mid west park. With over 35 features and five jumps available at any point in the season, you'll love this premier midwest terrain park. If you're just starting out or wanting to give it try, visit the mini-park to build your skills at your own pace.
Is Devil's Head Ski Resort Good for Beginners?
Beginners can enjoy an easy, enjoyable introduction to skiing at Devil's Head Ski Resort. A designated beginner area with two wonder carpets at the base of the area provides a safe environment to get comfortable before trying out the hills. And of the 30 trails, 30% are for beginners, so new skiers can have plenty of variety in their experience.
Professional ski instructors certified by the Professional Ski Instructors of America (PSIA) or the American Association of Snowboard Instructors (AASI) are available seven days a week for private lessons.
Does Devil's Head Ski Resort Make Snow?
Yes, Devil's Head has 100% snowmaking capacity, making sure you're all set with a great base of snow. The only caveat is that the cross country ski loop only uses natural snow. Check the resort's snow conditions page to see if the trails are open.
Trails at Devil's Head – What to Know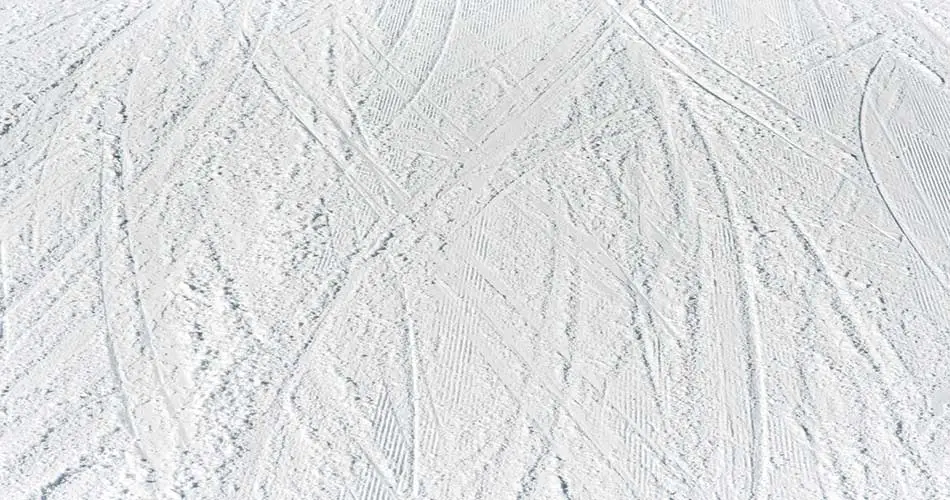 Devil's Head Ski Resort has 30 trails over 300 acres. The resort classifies the trails as:
30% Beginner
40% Intermediate
30% Expert
With eight total lifts, you'll also have relatively lower wait times, maximizing the time you can spend out on the hill.
Other Winter Activities at Devil's Head Ski Resort
Wind your way through the resort's Glacier Golf Course on the 3.5-mile cross country loop that begins at the first hole. The trail uses natural snow, so check the website for course conditions and availability.
Heat up from a long day on the slopes in one of the hot tubs.
Take refuge from Wisconsin's cold winter at the end of the day by accessing the resort's indoor amenities. Relax in the heated pool, sit in one of two hot tubs, or access the game room complete with foosball and ping pong tables. Or, visit one of the resort's dining options for some warm food and cold drinks.
Is There Summer Mountain Biking at Devil's Head?
Yes! Devil's Head Resort hosts some of the most challenging mountain biking in the Midwest with miles of single track trails among the slopes. Road biking is also a good option for bikers as the quaint village of Merrimac is only a two-mile ride.
Summer visitors can also enjoy the resort's championship 18-hole golf course or its heated outdoor pool. With 20,000 feet of banquet and meeting space, Devil's Head Ski Resort is an attractive location for weddings, reunions, meetings, or conferences.
Conclusion
Skiers and boarders return to Devil's Head Ski Resort year after year. With a family-friendly and group-friendly atmosphere, this hill is a great place for novices and experts to come together for a weekend of winter fun. Convenient hours and affordable lift tickets allow visitors to customize their experiences, and there is no shortage of recreation to enjoy after a day out on the hill.
Centrally located between several cities in the midwest, Devil's Head Ski Resort is a great place to experience some great local skiing. What does your group love about Devil's Head Ski Resort? Tell us in the comments below!
Explore More Wisconsin Ski Resorts