Tussey Mountain Ski Area is a small family ski area that offers more than just skiing at their four season fun center. A lot of people think of the Poconos and not central PA when thinking of skiing and snowboarding. Now there is a reason to drive to central Pennsylvania.
Find out why you should visit Tussey Mountain and what it has to offer, below.
Where is Tussey Mountain?
Tussey Mountain Ski Area is located in Boalsburg, Pennsylvania. The ski area is 15 minutes from State College and an hour and 20 minutes from Harrisburg. 2 hours and 45 minutes South will put you in Baltimore, Maryland and 3.5 hours will get you to or from Washington D.C.
If you are looking to try a new ski area on your list this year than Tussey could be a great option.
Does Tussey Mountain Ski Area Have Lodging?
Tussey Mountain doesn't have on site lodging at the mountain. There is a Hyatt in State College just nearby if you are looking for lodging. The lodge at Tussey is rented out more for functions and weddings since they don't have rooms for overnight stays.
If you want to go to Tussey Mountain but want a mountain feel than renting a cabin on owner ("Vrbo") is an option too. You can a little place tucked up in the mountains for the same price of staying at the hotels in town.
Does Tussey Mountain Have Night Skiing?
Tussey Mountain Ski Area has night skiing on 90% of their trails. When a lot of families are putting the younger kids to bed or getting off the slopes, it can be a great time to take advantage of the less crowded Tussey Mountain trails.
When Is the Best Time to Go to Tussey?
The best time to go to Tussey Mountain Ski Area is a Monday through Friday when everyone is at work. The ski area is only open on the afternoons and evenings during the weekdays. On the weekends Tussey Mountain is open all day.
Does Tussey Have a Ski Shop?
Tussey has an independent ski shop at the ground floor of the lodge. You can seasonally lease equipment which is a great alternative to buying it. The staff are able to take care of any equipment issues or tune up gear as well.
The nice thing about their seasonal rentals is that you aren't just limited to using the gear at Tussey but can also take it to other resorts as well.
Key Takeaway: Seasonal rentals from the ski shop at Tussey are a great way to use gear for a whole season without buying it.
Highlights of the Tussey Mountain Ski Area
Tussey Mountain is State College's backyard ski area providing a place to ride to many area residents. Some of the highlights of the resort include –
8 Trails, 2 chair lifts, 1 tow and 1 T-bar
Terrain park
34 Skiable acres
500 foot vertical drop
Night skiing available
Is There a Terrain Park at Tussey Mountain Ski Area?
Tussey Mountain's terrain park features everything from handrails, to flatbox, rainbow boxes, jumps and more. The staff is always building and adding features during the season. If terrain park riding gets you up in the morning than there will be plenty of things to hit at Tussey.
Is Tussey Mountain Good for Beginners?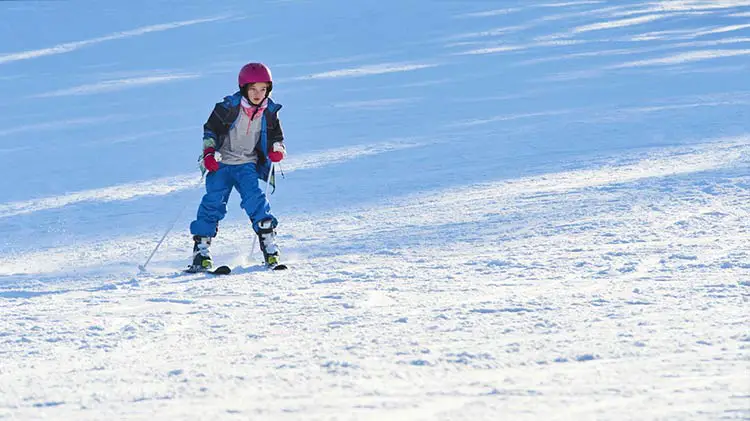 Tussey Mountain Ski Area has a terrific staff for teaching new riders. They also have some really gentle trails for beginners to learn on including Lion's Way and Deer Run. Once you have those all figured out and your turns dialed in, the next step is to move up to the trails Grizzly or Utah.
Does Tussey Mountain Ski Area Blow Their Own Snow?
Tussey Mountain Ski Area blows their own snow on 90% of the mountain. As long as it is cold and dry enough, Tussey is making snow. They look to get the Mountain open by December and running into March.
How Many Trails Does Tussey Mountain Have?
There are 8 trails at Tussey Mountain serviced by 2 chair lifts, 1 tow and 1 T-bar. With only 8 trails, Tussey sells ski and snowboard tickets on a first come, first serve basis. Once they have too many people on the slope or sell out, they don't see anymore for sometime. Keep that in mind for a ski area of this size when planning your trip.
Does Tussey Mountain Ski Area Have Snow Tubing?
Tussey Mountain has everything set up for fun Wintertime snow tubing. Buy your tickets online and show up to hop in a tube. Once you fly down the hill, their pulley system will take you and the tube right back to the top. It is a really fun and easy activity for most ages!
Is There Summer Mountain Biking at Tussey Mountain Ski Area?
Tussey Mountain doesn't have downhill mountain biking but they have a ton of other things to do. They have go carts, mini golf, batting cages, a skate park and a driving range just to name a few. The fun park has so many things to do, year around that it makes a great destination to bring the family.
Conclusion
Tussey Mountain Ski Area is conveniently located just outside of State College PA. It's certainly not the largest ski area but there is enough to cure the skiing or snowboarding fix. Plus Tussey isn't just a ski area. They are a full four season's place for family fun.
Let us know in the comments below if skiing and snowboarding is your favorite thing to do at Tussey or if it is one of their many other activities.