There is no ski town in the country quite like Breckenridge, Colorado. Nestled at the base of the Rocky Mountain's Tenmile Range, this historic mining town offers some of the country's best skiing and snowboarding paired with jaw-dropping alpine scenery.
The resort contains close to three thousand acres of terrain, thirty-four lifts, and one hundred eighty-seven trails. This includes a gondola that takes you straight from town to the slopes and the Imperial Chair, the tallest chairlift in the United States.
Here I am going to share with you three of the best spots for Breckenridge apres ski to check out and a few activities to do when you're not busy making turns down the mountain.
Breckenridge Apres Ski: Restaurants and Bars
Post Morning Runs Apres Skis Breakfast at Crepes a la Cart
Start your day off right with a big plate of award-winning crepes from Crepes a la Cart. If you can brave the lines, you will be rewarded with the best crepes this side of the Mississippi. With numerous sweet and savory options, there is something for everyone here. It is a perfect place to load up on calories before a long day of skiing.
Try The Lunch Time Apres Ski Food at Cabin Juice
Grab lunch from one of Breck's newest restaurants, Cabin Juice. Their cuisine is fully farm-to-table, local, and organic, sourced from Front Range and Western Slope farmers and ranchers. Not only is it delicious, but you can also be assured you're getting the highest quality ingredients.
If you are a breakfast-all-day type of person, the eggs benedict are to die for. However, they also offer a variety of standard lunch options such as burgers, sandwiches, and bowls. The building has a charming atmosphere with beautiful wood paneling, soft lighting, and ski-themed decorations.
Perhaps the best part is that they are conveniently located next to the base of peak nine. This makes it ideal for a quick easy transition to the mountain after filling up on a fresh and delicious meal.
Read More:
How to Wax a Snowboard at Home (Step by Step & Video)
Arbor Snowboards (How Are They?) The Verdict
Dinner & Drinks at The Gold Pan Saloon: A Breckenridge Apres Ski Staple
Finish off your day at The Gold Pan Saloon, one of Breck's oldest bars. Long before Breckenridge was a ski town, it was a mining hotspot in the peak of the gold rush. The Gold Pan Saloon, then called Long's Saloon, served as a watering hole for miners to grab drinks after a long day's work.
Now it serves a similar purpose for thirsty skiers getting off the slopes!
With a building that has been standing for over one hundred forty years, stepping in here is like stepping back in time to a different era– it still truly has the feeling of an old Western saloon. On top of their wide selection of beers, cocktails, and wine they cook a mean burger and have several different dinner options.
They also often host live music, so if your legs aren't too tired from skiing, you can wrap up the day here with dancing and beers.
Activities To Check Out in Breck Post Skiing
Try Out Dog Sledding with Good Times Adventure
Yes, you read that right, dog sledding. You can take a breathtaking 6-mile dogsledding tour through The Swan River Valley, just outside of Breckenridge, with Good Times Adventure. With the help of experienced guides, a team of huskies will pull your group through the remarkable backcountry around Breckenridge.
Along the way, you will learn all about dogsledding and get chances to try out all the different roles and responsibilities involved with leading a sled. This a unique way to explore the dramatic wilderness landscape that surrounds Breck. It is truly a once-in-a-lifetime experience and is not to be missed if you can fit it into your schedule!
Make sure to check out their website for current rates and availability.
Go Ice Skating at the Stephen C. West Ice Arena
Nobody likes ice on the mountain, but if you trade out your skis or snowboard for a pair of skates, it can be loads of fun. Stephen C. West Ice arena is home to both an indoor and outdoor rink and is just a fifteen-minute drive from the resort.
Admission rates are affordable for adults and kids with skate rentals just adding a few more bucks. Make sure to check this out on a Friday for their disco night, a local favorite! Or if you have some experience on the ice, you can visit during one of their adult drop-in hockey sessions.
Another option if you prefer natural scenery is to rent some skates from The Village at Breckenridge and drive over to Maggie Pond. Here you can tap into a sense of awe, skating under the stars, with the kind of stunning mountain backdrop only Colorado can provide.
This makes for a great date or an activity the whole family can enjoy. Just make sure to keep up with current weather conditions and check that the lake is properly frozen before venturing out.
Explore the Arts District of Breckenridge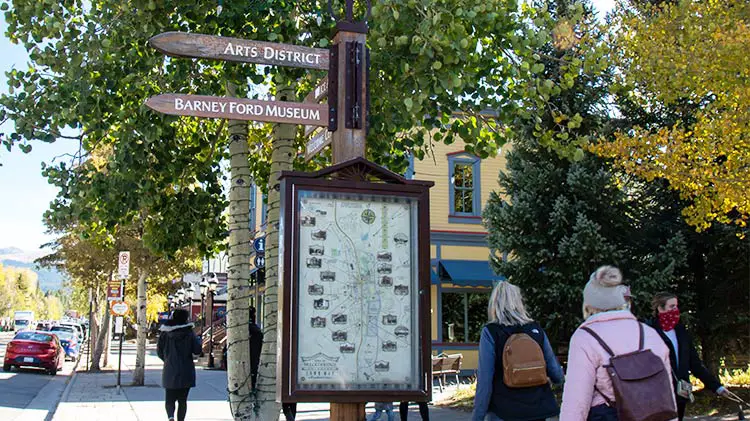 Breck's art district is not something you want to miss out on during your visit. With numerous classes such as ceramics, glass blowing, and metalsmithing offered to the public, as well as movie screenings and concerts, there is something for everybody here.
While taking a class or seeing a show here is highly recommended, it is also a fantastic spot to simply pass the time wandering the campus and admiring the historic buildings and theaters. It is located just two miles from the resort base.
Read More:
Interview With a Snowboard Instructor: A Day in the Life at Breck
How to Become a Snowboard Instructor: Getting PSIA-AASI Certified
Visit Rocky Mountain Underground: A Must-Visit Ski Shop
Update your ski arsenal with some new gear from RMU. This employee-owned ski company is local to Breckenridge and offers high-quality gear and apparel guaranteed to keep you feeling solid on the mountain.
Even if you're not in the market for a new pair of skis, make sure to stop by the original shop and hear their story of growing from a handful of friends building skis in exchange for thirty-racks to the successful international ski company they are today. They are located right on main street making it a quick and easy stop.
The building now includes a bar, a grilled cheese stand, and heated huts in the back, making it double as a great place to hang out and grab food and drinks!
Spending time in Breckenridge is like being inside a picturesque snow globe, with beautiful scenery in every direction and a charismatic town that perfectly complements it. It is a slice of winter paradise in the Rocky Mountains. On top of being home to one of the premier ski resorts in the country, Breckenridge as a town is a destination of its own.
Whether you pass your time off the mountain exploring the arts district, dog sledding, ice skating, or grabbing food and drinks at its variety of bars and restaurants, you will be sure to walk away from your trip with a sense of contentment and peace that charming little ski towns like this always provide. Enjoy your trip and stay safe on the mountain!
Breckenridge Apres Ski: Final Thoughts
You could spend a lifetime skiing in Breck without a dull moment– and many do! Just a short drive from cities like Boulder, Denver, and Colorado Springs, it is a favorite for many. Whether you like tree skiing, park, powder or just making turns down perfect groomers, Breck has it all.
It's not just the skiing that makes this town such a gem. With a rich historical district at its core, Breckenridge offers lively restaurants, an absorbing nightlife, and plenty of activities to keep you busy for apres ski after hitting the slopes.