Where Is Whitefish Mountain Resort?
Located in Western Montana, 145 miles north of Missoula, Whitefish Mountain Resort is as complete as a ski resort can be. The planners clearly dotted all the 'I's" and crossed all the "t's" when envisioning this spectacular resort that lies on the edge of Glacier National Park. While Whitefish may not be the easiest mountain to get to, upon arrival you'll immediately see why this is one of the top-rated ski areas in North America.
How Do I Get to Whitefish, Montana?
Okay, we already said that Whitefish Mountain Resort isn't the easiest place to get to, but on the other hand, it isn't terribly difficult either. It'll just take some time unless you choose to fly here via commercial airline. Glacier Park International Airport is just 19 miles from the slopes with nonstop peak season service from Chicago O'Hare, Minneapolis-St. Paul, Denver, San Francisco, Salt Lake City, Portland and Seattle.
For train enthusiasts there's regularly scheduled service to Whitefish from Chicago via St. Paul, Minnesota, as well as from Portland and Seattle via Spokane. There is one overnight aboard Amtrak in either direction.
Driving here is easy and scenic throughout, but also requires several hours of windshield time. Here are a few examples:
Missoula/145 miles, 2 hours 40 minutes
Spokane/261 miles, 4 hours 25 minutes
Seattle/539 miles, 8 hours 10 minutes
Whitefish Mountain Resort Stats
Number of trails: 111 marked, spread over 3,000 acres of skiable terrain
Longest run: Hellfire, at 3.3 miles
Trail difficulty: 12% Easier; 37% More Difficult; 44% Most Difficult; 7% Double Black Diamond – designated as 'use extra caution'
Number of lifts: A total of 14. Three high-speed quads; two quads; six triples; three surface lifts (one surface lift is for competition use only, one triple lift is for a direct connection to the resort's subdivisions.)
Seasonal snowfall average: 320 inches
Each morning and afternoon during the winter season a Mountain Ambassador offers for a free mountain tour explaining the vast terrain here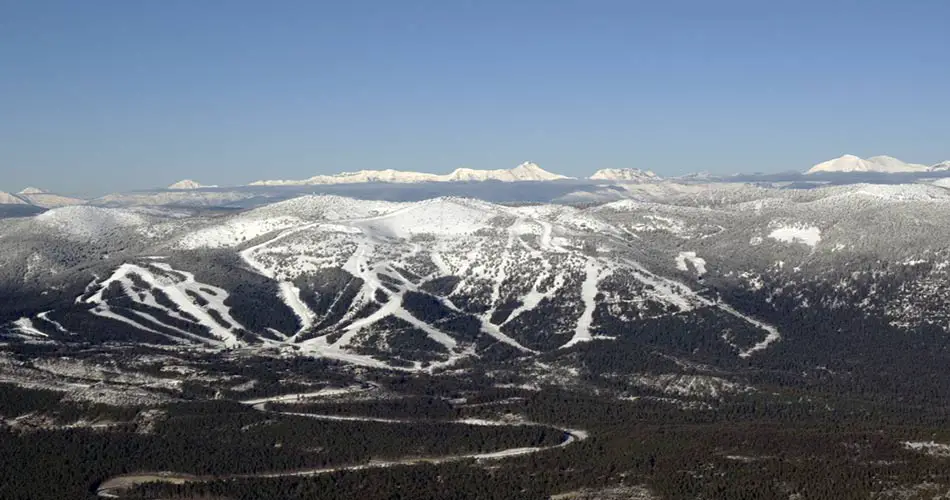 Whitefish Mountain Resort Accommodations
While the town of Whitefish is just nine miles away and some visitors like to stay close to where they play at night, most skiers and boarders are here to do just that. And that means staying at the mountain to maximize your snow time. Whitefish Mountain Resort offers the following housing options on-mountain:
Condominiums
Mountain homes
Hotel rooms
If you're visiting during an off-peak time including midweek, be sure to check for special offers with lower prices. If you insist on staying in Whitefish itself, there are plenty of other accommodations available including AirBnb and VRBO properties.
Restaurants at Whitefish Mountain Resort
It just isn't possible to go hungry while here. Whitefish Mountain Resort offers a café, cafeteria, coffee bar, and three full-fledged sit-down restaurants. There's also The Bierstube and Hellroaring Saloon & Eatery to help you recover after a full day of activity. Currently, Café Kandahar is the only dining spot that requires reservations. Be sure to check for operating hours during your planned dates as these do shift based on expected occupancy at the resort and day of week.
Is There Night Skiing at Whitefish?
Whitefish Mountain Resort DOES have night skiing on a limited number of trails. However, be aware that this is offered only on Fridays and Saturdays starting at 4 p.m., and only from New Year's Eve until early March.
When Are the Slopes Less Crowded?
Midweek, midweek, midweek. Off-peak, off-peak, off-peak. Got that? Weekends are very busy, of course, and holiday weekends even busier, i.e. MLK and President's Day weekends. January and April, especially during the week will be far less crowded, and less expensive!
Lift Tickets & Season Passes at Whitefish Mountain Resort
As we always recommend, reduced price lift tickets and season passes should be purchased in advance, online. Not only will you save money, and we all know how pricey a skiing hobby can be, but you'll avoid the lines that inevitably occur at the ticket windows. Saving time + saving money = more runs down the incredible slopes at Whitefish.
Pro Tip: While season passes are sold as non-refundable, Whitefish Mountain Resort has a unique program for locals to be aware of. Understanding that unexpected circumstances may make complete use of a season pass not possible, the resort will consider medical conditions or if a pass holder is required to move more than 100 miles away to be grounds for possible partial reimbursement. A form is available on the Whitefish Mountain Resort website to request such consideration.
Whitefish Mountain Resort Winter Gear & Shopping
There's really no need to leave the resort once you arrive as this place has thought of everything. From clothing to ski equipment, a market for food basics and a gift shop, it's all here at Whitefish Mountain Resort. Check out our favorites while you're here:
Stumptown Snowboards
Base Lodge Traders
Village Rentals
Village Market & Glacier Gifts
Ski Lessons for Everyone at Whitefish Mountain Resort
Who doesn't need a lesson or refresher with an instructor? If you're a newbie, consider Whitefish's 'Learn to Ski or Ride' package which includes two days of gear rentals, two days of lift tickets on the beginner slopes, plus two half-day lessons.
The Ski & Ride School offers individual and group lessons for everyone, no matter how experienced you may be (or think you are), or your age. Even the best of skiers acknowledge that some local tips make for a more enjoyable experience.
Tell Me About Whitefish Mountain's Terrain Parks
Whitefish Mountain Resort is serious about terrain riding. So much so that they continue to upgrade the five parks by adding lights for better night visibility and clearing trees to provide a better fall line slope. The parks and suggested proficiency levels are as follows:
Minnow Park/for those new to terrain parks
Depot Terrain Park/smaller jibs and jumps and a great place to learn
2nd Street Park/work your way up to the larger Central Avenue jumps
Central Avenue Park & Railyard/Whitefish's 'bread and butter' park. Here you'll find jumps, a rail line with medium-sized features, multiple take-offs and a packed rail garden.
Goat Haunt Skier-Boardercross Course/this skier and boarder park is full of banked turns, small jumps & rollers
Is There a Tubing Hill at Whitefish?
No, Whitefish Mountain Resort does not offer snow tubing. Hopefully, with 111 downhill runs and five terrain parks, you'll still be able to keep busy.
Do They Make Snow at Whitefish Mountain Resort?
As needed, and even at Whitefish Mountain Resort, they do resort to making snow. When Mother Nature doesn't cooperate, the capability is there to make sure that this massive facility stays open. Even with 320 inches of annual snow on average, there are times that snow needs to be added to assure an adequate base is in place for skiers and boarders. This is especially crucial nowadays with climate change-induced on and off droughts complicating things, but Whitefish is ready for the challenge!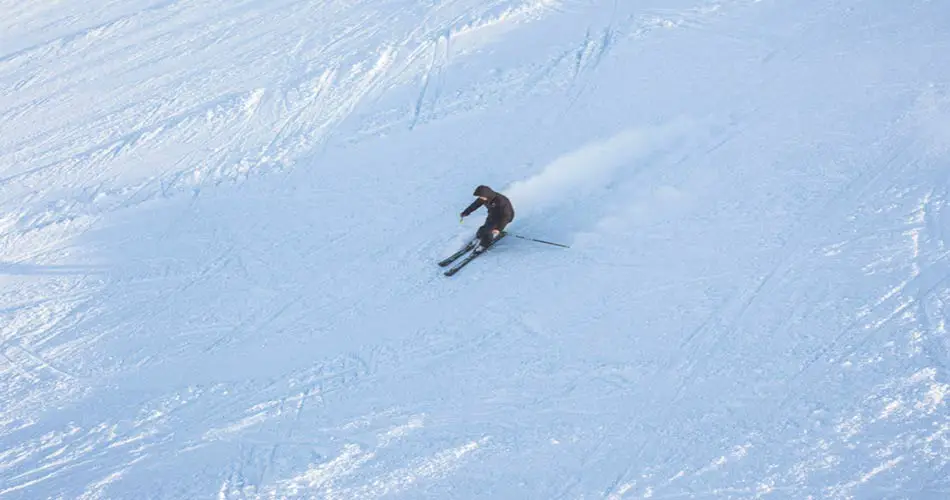 Some Closing Thoughts
In addition to all that we've detailed above, Whitefish Mountain Resort offers even more to make your stay as smooth as possible.
• The Kid's Center is home to the Day Care Center where children ages 6 months to 6 years can spend part of, or a full day having their own fun while Mom and/or Dad is out skiing. Reservations are required.
• During the winter season the Logan Health Walk-in Care facility in the Base Lodge is open during the day to deal with diagnosis and treatment for minor illnesses, sprains, strains, laceration repair and uncomplicated extremity fractures. The staff is made up of Board Certified physician assistants and nurse practitioners.
• The S.N.O.W. bus, Shuttle Network of Whitefish, is a FREE service of Whitefish Mountain Resort. This convenient and revered transportation runs a set schedule throughout the resort's Village. Schedules are available on the resort's website and is posted at bus stops.
• Additional shuttles operate from the Base Lodge to the Village, Hibernation House, and Lodging Front Desk. The Willow, Willow Tail and Yew parking lots also have shuttle service to the Base Lodge.